Fashion Designer Giambattista Valli prepared a digital presentation of his Spring Summer 2021 ready-to-wear collection. Opting for a digital lookbook presentation this season instead of a show ranks Valli in the group of designer willing to take no covid-19 risks. Valli and his team shared:
The line-up is fluid and uninhibited and proposes cottons, heavy poplins and flowing georgettes printed with "rose branches", "palm leaves" and "flower blossoms" as well as light macramés, needle-and-thread embroideries and black lacquered sequins. The approach to the silhouette is dynamic and marries agile day looks to the more special and emblematic pieces, "happy moments" garments whose objective is to celebrate comfort in ones femininity and to share the cheerfulness of human connection. Graphic "chess" prints and denim canvas trousers are paired to trimmed bouclé ensembles, answering the modern need to a truly versatile wardrobe.
RELATED: SPRING SUMMER 2021 COLLECTIONS
For the Spring Summer 2021 collection Valli enlisted photographer Jérémie Leconte and models on the rise Ajok Madel, Eliza Rutson, Evelina Lauren, Maggie Cheng, Mariana Pardinho, Miriam Sanchez, Sarah Dahl, Sculy Mejia, Valerie Scherzinger, and Vilma Sjöberg.
Spring Summer 2021 collection focuses in it's large portion on dresses ultimately defining the Giambattista Valli brand. The designer and his team have prepared fifty-one new looks for the next year's Spring.
Discover all the looks from Giambattista Valli Spring Summer 2021 Ready-To-Wear collection in our gallery: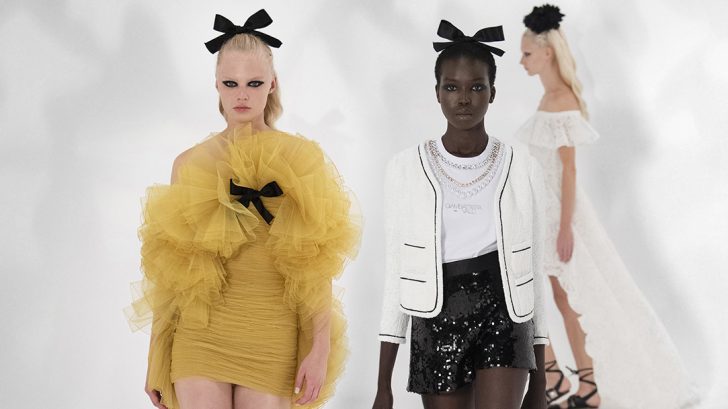 Photographer: Jérémie Leconte
Designer: Giambattista Valli
Hair Stylist: Odile Gilbert
Makeup Artist: Isamaya Ffrench
Casting Director: Piergiorgio Del Moro
Models: Ajok Madel, Eliza Rutson, Evelina Lauren, Maggie Cheng, Mariana Pardinho, Miriam Sanchez, Sarah Dahl, Sculy Mejia, Valerie Scherzinger, Vilma Sjöberg