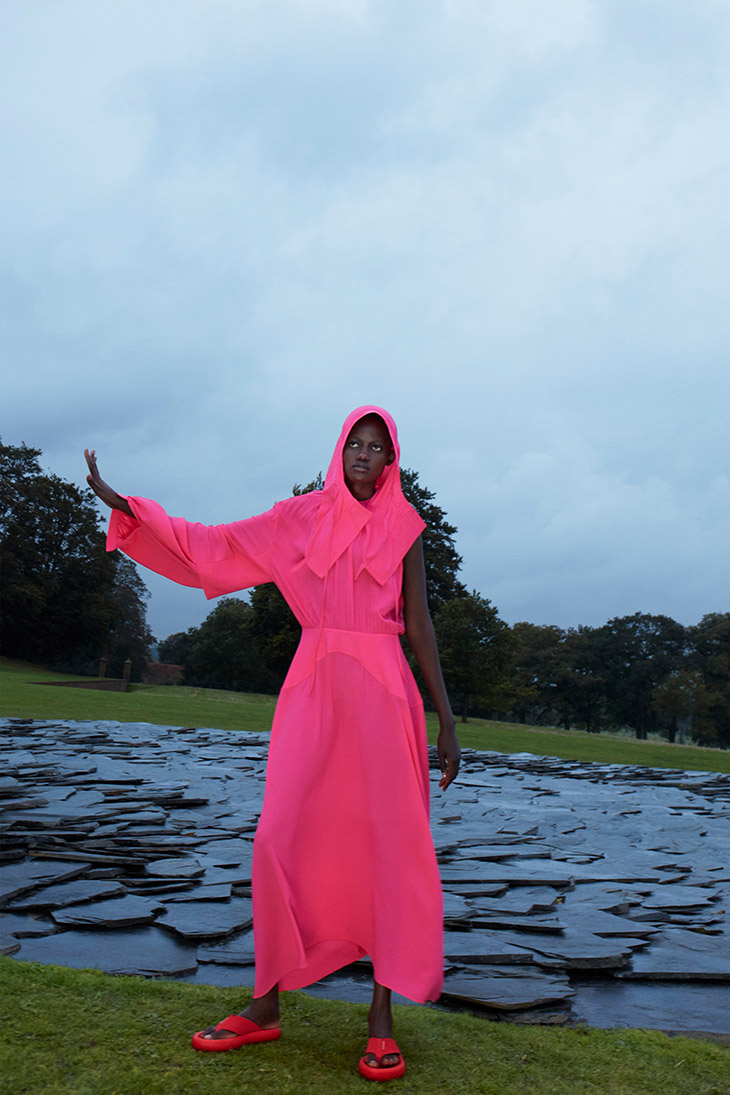 Designer Stella McCartney presented the Spring Summer 2021 A to Z Manifesto collection that explores desire for connection with our bodies, nature, art and fashion. The collection was inspired by women using athleticism for escapism, as well as with the importance of reconnecting with nature.
During lockdown, I put into words what defines what we love, know and believe about fashion – an A to Z of Stella McCartney. It became a guiding alphabet to hold ourselves accountable for our values, what we do and where we want to go, while always producing the most desirable and sustainable fashion that can be cherished forever. In short, this manifesto reflects who we are, and who we hope to be – Stella McCartney
Stella McCartney A to Z Manifesto video was filmed at Houghton Hall and Gardens in Norfolk by fashion photography duo Mert & Marcus. Stars of the session are Grace Clover, Quinn Elin Mora, Elyssa Norin, Caren Jepkemei, Jan Baiboon, Hannah Motler. In charge of styling was Jane How, with casting direction from Julia Lange Casting, and production by April Production. Makeup is work of beauty artist Sofia Tilbury for Charlotte Tilbury Beauty, with hair styling from Aveda, and manicure by Kure Bazaar.
"Stella's signature British tailoring included timeless menswear-inspired silhouettes made feminine worn over Stellawear; dichotomies of fitted jackets and billowing trousers, khaki safari jackets and short skirts. Distilling a longing for travel, fluid satin dresses and jumpsuits were adorned with oceanic prints of classical shells in navy and white and fluo coral patterns. Continuing this vibrancy, our iconic jumpsuits were refreshed with a hand-done dip dye." – from Stella McCartney
"A is for Accountable, B is for British, C is for Conscious, D is for Desire, E is for Effortless, F is for Falabella, G is for Grateful, H is for Humour, I is for Intimacy, J is for Joy, K is for Kind, L is for Linda, M is for Mindful, N is for Nature, O is for Organic, P is for Progressive, Q is for Question, R is for Repurpose, S is for Sustainability, T is for Timeless, U is for Utility, V is for Vegan, W is for Womanhood, X is for Kiss, Y is for Youth, Z is for Zero Waste" – Stella's A to Z Manifesto