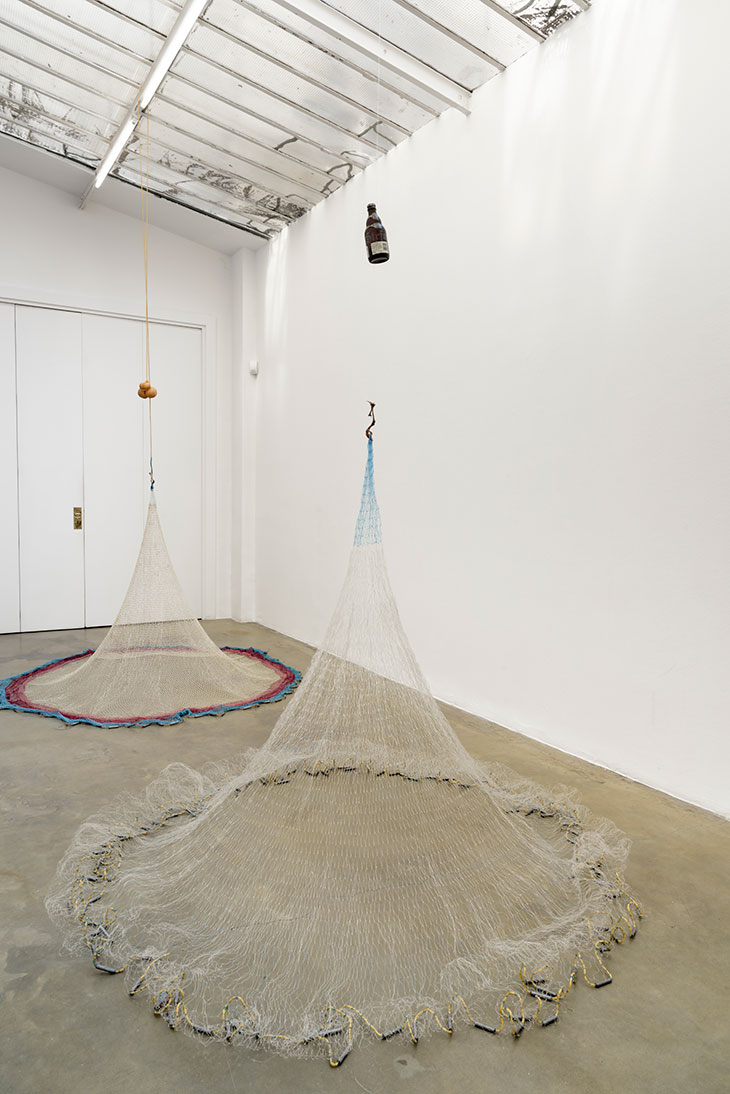 Rhé, from the Greek word Panta Rei, means that all is fluid. Galerie Chantal Crousel presents The Rhé project, an art initiative led by a number of fellow galleries worldwide, sharing their vision on issues surrounding the theme of Water, its disappearance, outbursts and cultural value.
Presenting eight works, artist Abraham Cruzvillegas, Jean-Luc Moulène and Melik Ohanian will articulate their own narratives and interpretations, highlighting the forcefulness of this irreplaceable substance.
Abraham Cruzvillegas presented his work Ichárhuta atonal en cientotreyntaidosavos de tono (para Luis González y González). He suspended a traditional canoe used on the lake of Patzcuaro – Michuacan, (in the West of Mexico), that represents the water shortage level, indexed according to the past fifty years. On the wall, we are struck by a large print on canvas, pinned by knives – a reproduction of a vintage postcard representing the lake of Pátzcuaro.
The artist also presented nylon fishing nets, raising the issue of fishing and nourishing, as well as a fifty pesos banknote (facsimile) displaying a fisherman in his canoe.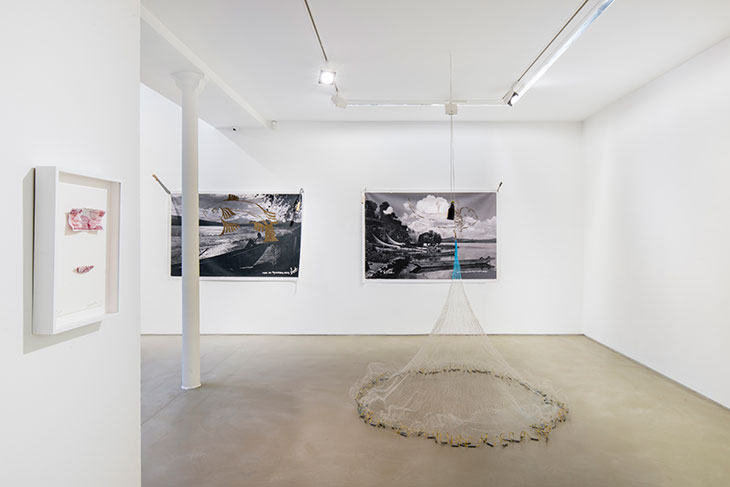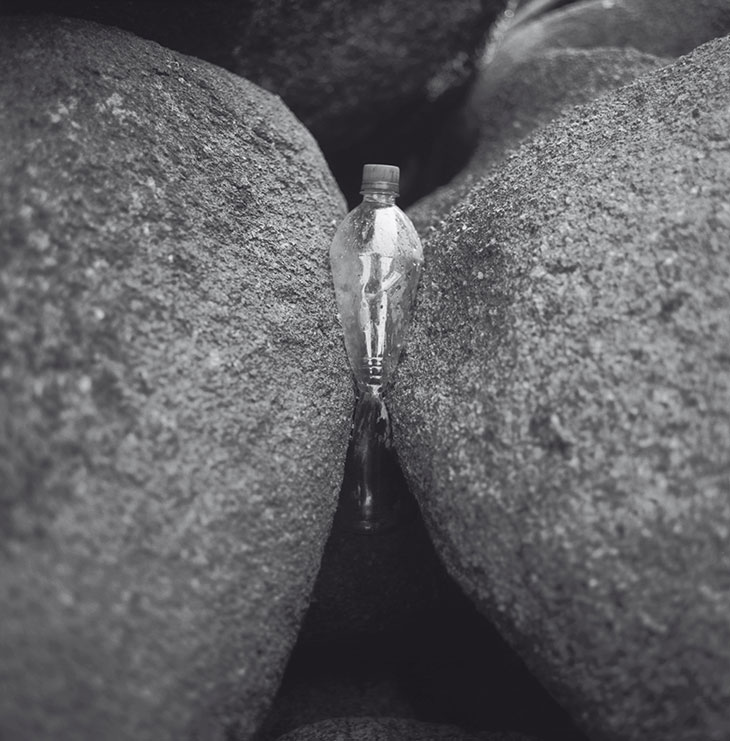 Jean-Luc Moulène's works 04 11 11 1,5L eau – Documents: Produits de Palestine and Régulier embody the ephemeral materiality of objects and the dialogue they maintain with life and nature, when it comes to primary goods and trading.
The trace of a human activity is directly linked to water and its extraction. In these photographs, water is portrayed as an object. The object being the core pattern in Moulène's work. A large color photograph, Vanité – Saïda speaks of the doomed fate. It is a reflection on the awareness of humankind and its excesses.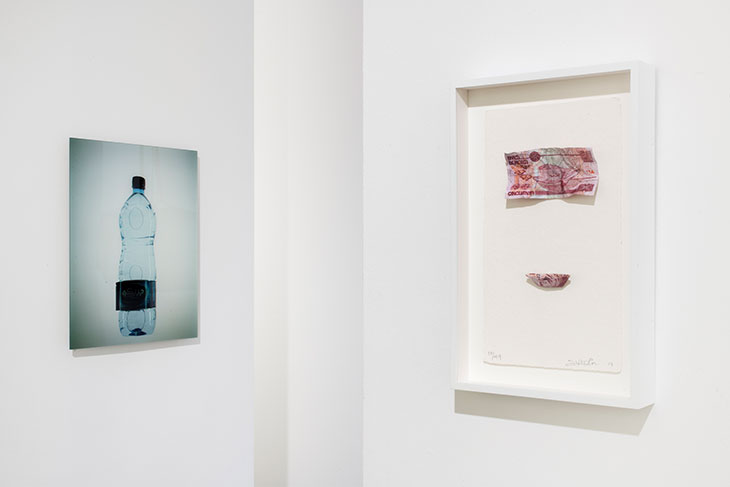 Melik Ohanian's work Shell. In the 8th century in the African continent, the Arab trade caravans, used it as an exchange and trade value, and progressively it expressed fertility and wealth throughout the continent until the end of the 19th century. The Cowries grow on loose rocks and dead corals. Water was their original environment, yet civilization has impacted their habitat and value.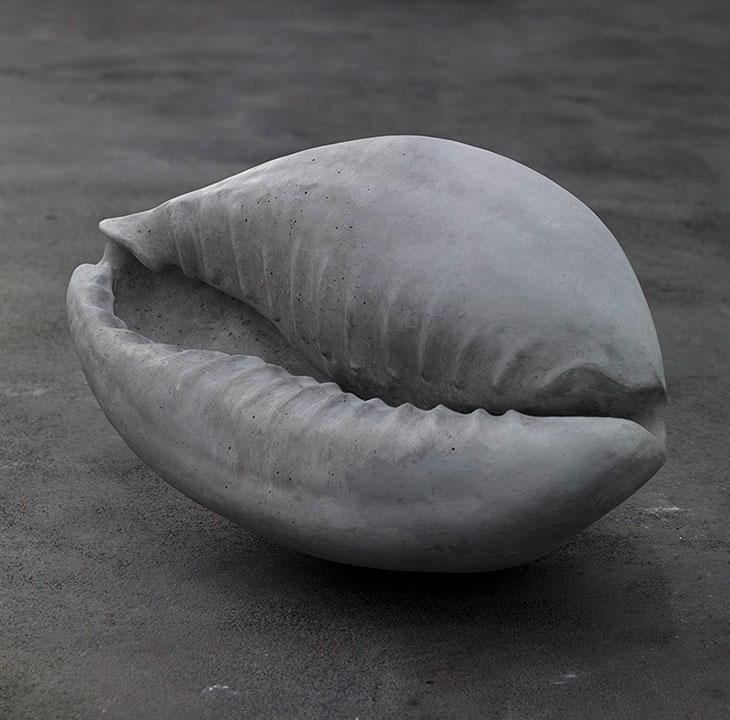 RHE (from Greek for that which flows) is a platform for exhibitions, performances, and public interventions that loosely address the theme of water—geographically, politically, economically or metaphorically, involving projects with twenty-one galleries, both online and on-site.
On view is also Abraham Cruzvillegas solo show La Señora de Las Nueces from January 23rd to February 27th, 2021.