Maria Grazia Chiuri presented DIOR Fall Winter 2021.22 collection in the heart of the Palace of Versailles, during the ongoing Paris Fashion Week. Inspired by the world of fairy tales, where the time-space dimension is erased, suggestions and intentions give form and contours to an articulated constellation of clothes and accessories.
The catwalk was punctuated by an exclusive installation by Italian artist Silvia Giambrone and choreography by Sharon Eyal. The collection celebrates contemporary culture, its audacity, and its magnetic power, highlighting Silvia Giambrone's The Hall of Shadows, an ode to inventiveness in a context where access to museums is limited.
The enchanted and evocative world of fairy tales provides the starting point for the Dior Fall Winter 2021 collection, but instead of happy-ever-after, it taps into the dark undercurrent inspired by French women writers, in which the female protagonists have far more complex characters. A network of symbols, the tale is hardly just a means of escape: it serves to challenge and revisit stereotypes and archetypes. It consists of a narrative projected into the future.
This idea of sweetness with a twist comes through simple black and white dresses with puff sleeves or pinafore detailing, and the traditionally white embroidered effects.
The looks allude to the strong female characters of earlier fairy tales, frequently found concealing their identities before revealing their true, assertive selves. A contemporary fusion of fairy tale inspirations and iconic House codes resurrect the protofeminism of 17th-century fantasy stories, evoked in looks that mix sharp tailoring with airy tulle.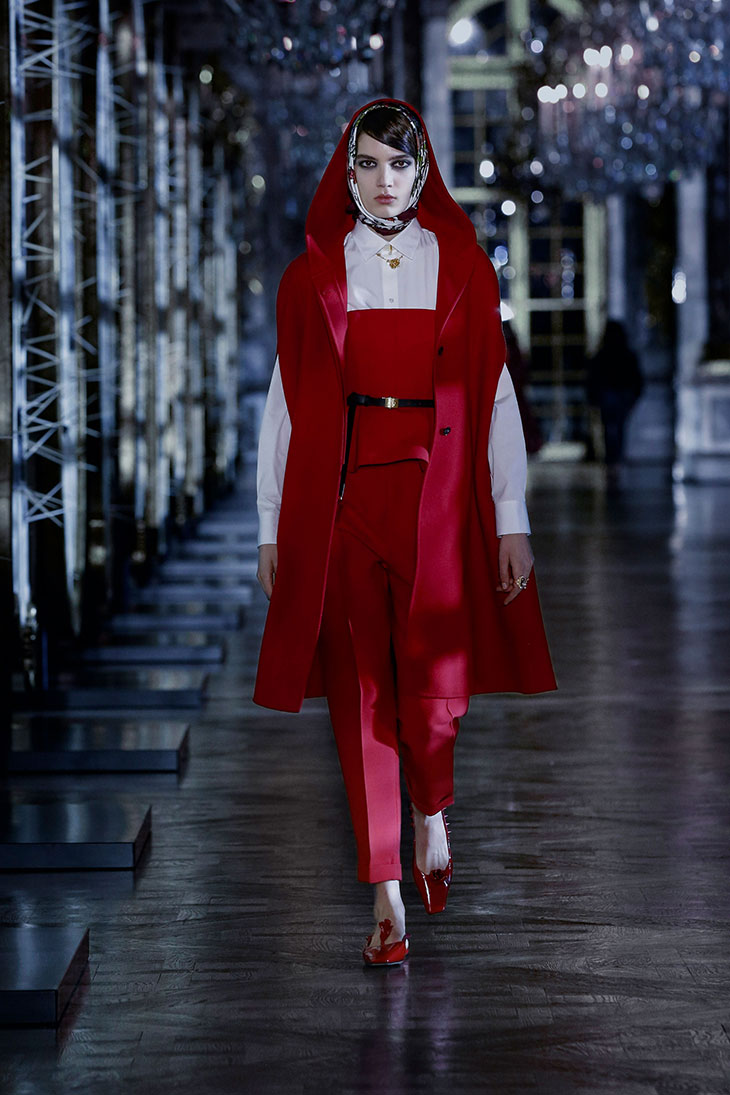 Traditional Dior tweeds are mixed with innovative upcycled weaves, romantic froths of flower-infused eveningwear with unabashedly sensual diaphanous draping. The collection also sees the resurrection of two original 1950s motifs by Andrée Brossin de Méré, Monsieur Dior's pioneering textile designer. They remind of a contemporary camouflage with a rich motifs that tap into the fairy tale symbolism.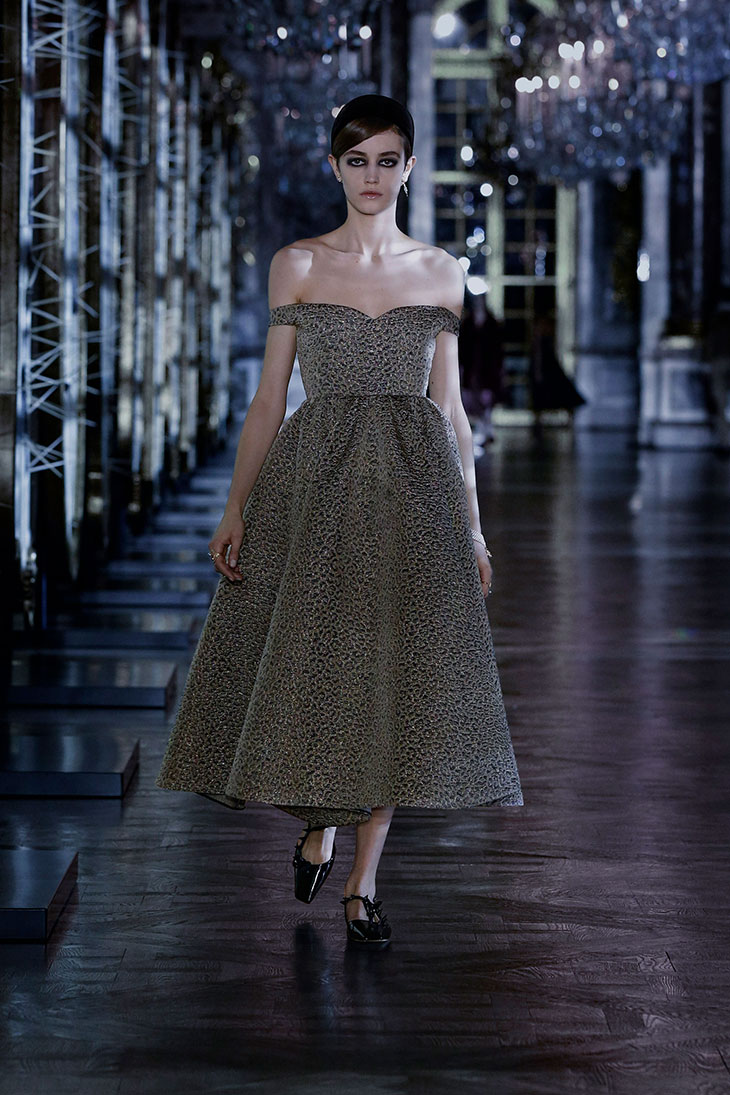 A new self-awareness, born of a feminine sensibility that knows how to blend memories of the past and maturity, as if by magic.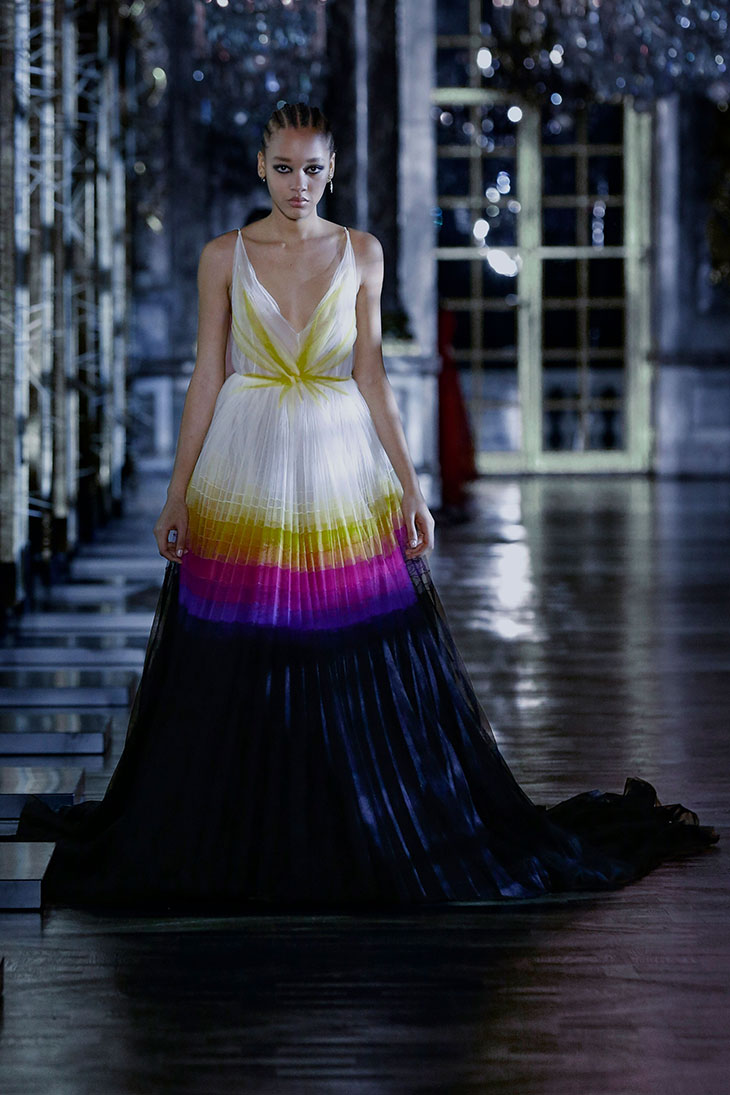 Maria Grazia Chiuri took one of the most enduring aspects of fairy tales, the spectacular gowns, and mixed them with the Dior Savoir Faire, imagining characters wearing them at pivotal moments in the story. Evening gowns are fit for princesses, in layered tulles that seem to evaporate in a froth of marvelous colors. There are white collars, plastrons inbroderie anglaise, and white bobby socks recalling the world of childhood.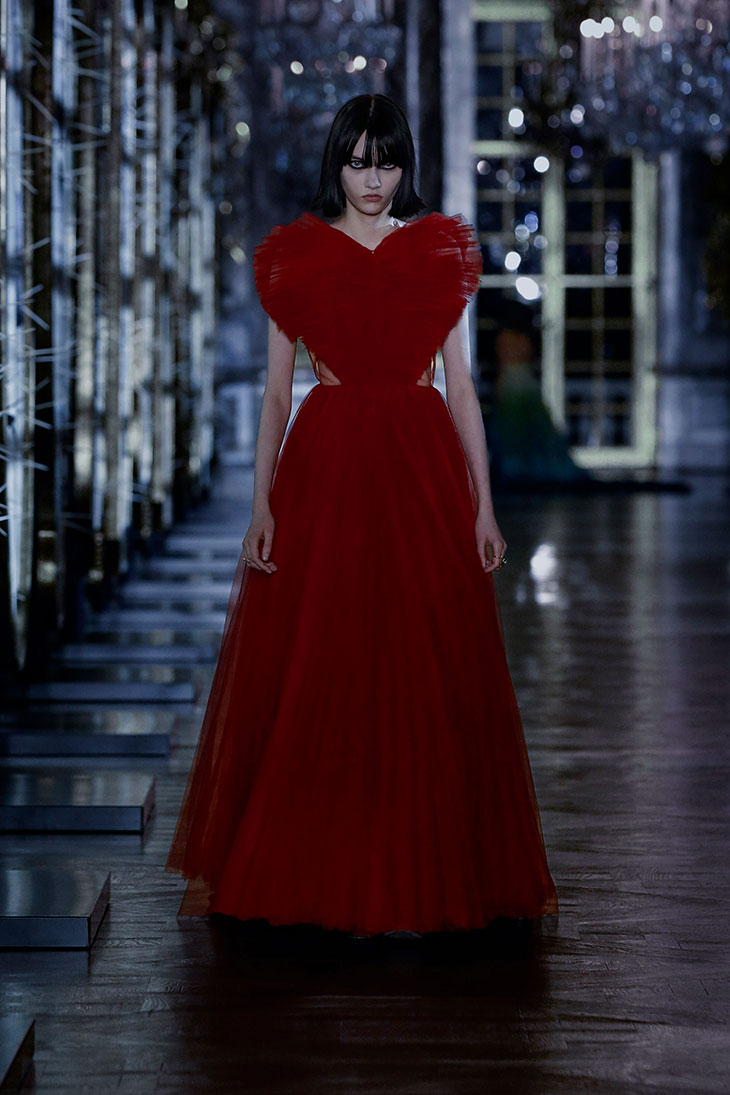 This modern reworking of fairy tale and fantasy, ends with a final look made in passionate red tulle, Monsieur Dior's "color of life". It is tamed into a heart-shaped bodice, and strong suggestions of the twisted tale of 'Alice in Wonderland'.