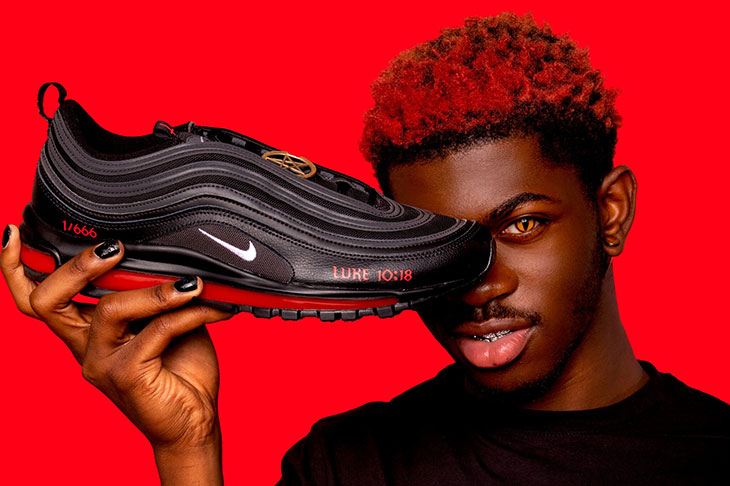 Following the debut of his new single "Montero," Lil Nas X has collaborated with Brooklyn based company MSCHF on a limited edition (666 pairs) of "Satan Shoes". The custom Air Max 97 comes from the same people that created the Air Max 97 "Jesus Shoes" in 2019.
The shoe comes in an all-black colorway with red embroidered detailing and a bronze pentagram clipped to the laces. It includes "Luke 10:18" embroidered on the front lateral, referencing the line from the Bible, saying "I saw Satan fall like lightning from heaven". An exclusive collection of 666 pairs is each numbered "x/666" in red embroidery.
However, the most unconventional detail lies in the soles, which is filled with a drop of human blood mixed in with ink that fills an air bubble in the sneaker. According to the MSCHF's founder, Daniel Greenberg, six of the company employees donated the blood.
Nike was not involved in the process, saying that they do not have a relationship with Little Nas X or MSCHF.
The MSCHF x Lil Nas Air Max 97 "Satan Shoes" drop on March 29th through the MSCHF app with a price of $1,018 USD.