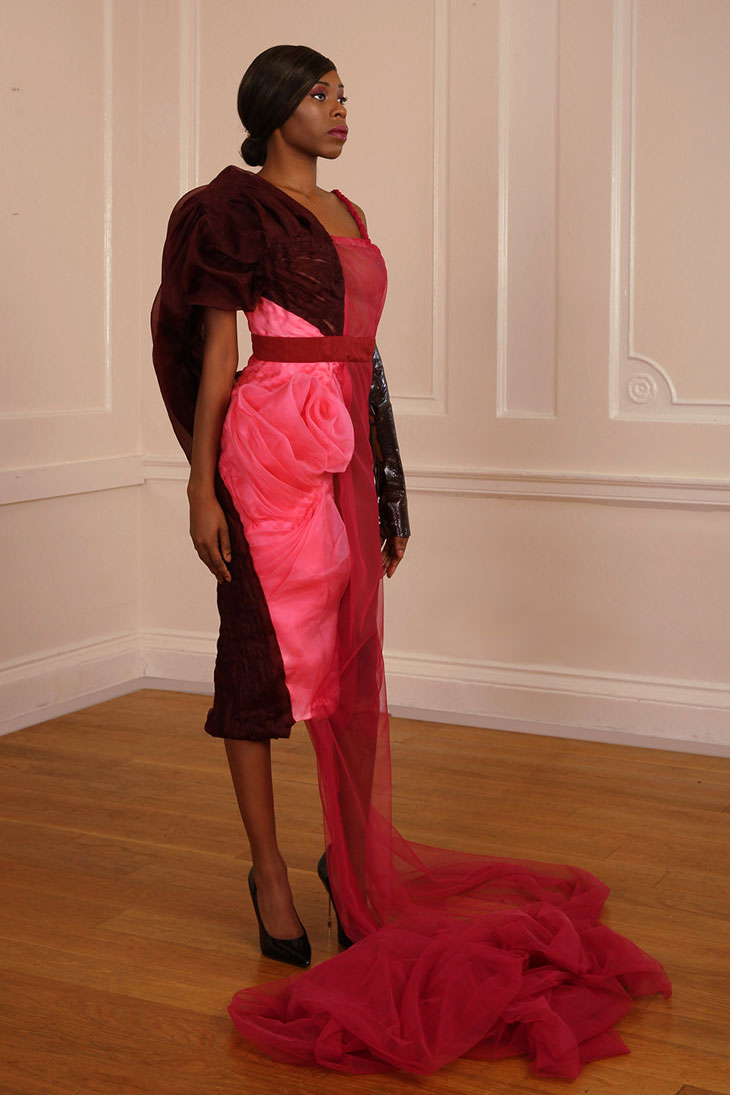 A new name on the global fashion scene, couturier Angelo Fair is breathing a fresh life into the world of couture. With his poetic Spring Summer 2021 collection, 'A Beautiful Melody', Fair has showed an unconventional yet incredibly unique side of couture in his creations. Carefully respectful of the female silhouette, Fair is pushing the boundaries and limitations of draping. What truly sets aside his collection from the work of other designers lies in his commitment to detail, with each of the collection's 12 garments draped, cut and hand sewn by the designer himself.
From his early childhood, American-born Angelo Fair knew that he wanted to work in fashion. The talented young man decided to explore and embrace the art of dressmaking, and went on to work with many famous fashion designers. With a British training and French couture education, Angelo works out of London and takes the inspiration for his designs and techniques directly from his experiences across different tailoring disciplines. Always in search of a new silhouette, the designer approaches his work with a sculptor's hand using cloth as his medium instead of clay.
Read the interview after the jump: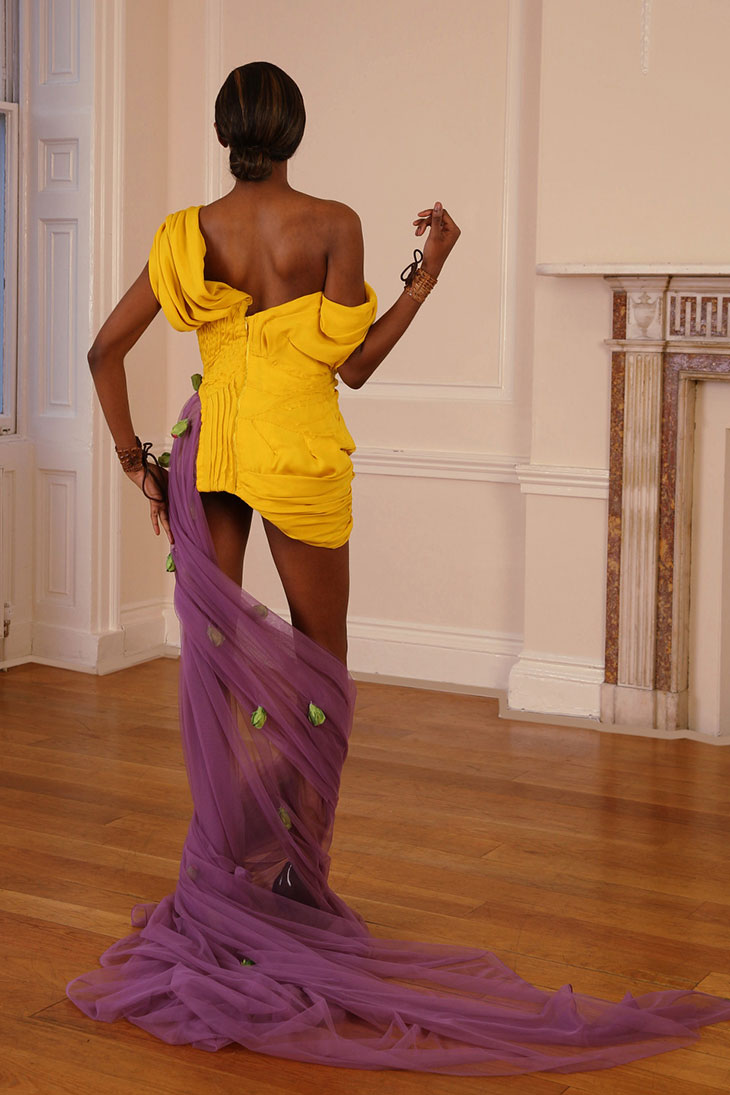 Tell me about the beginnings. How and when did you get interested in fashion?
Fashion magazines could always be found around my childhood house. My grandmother and her sisters were seamstresses and they used to keep the latest version of Vogue and Ebony on their work table. I would pore over the pages reading about the couturiers in Paris attracted by all of the beautiful images.
Of all of the beauty I saw though, it was Emanuel Ungaro who's designs attracted me the most. The drapery and the colours, his philosophical approach to fashion was quite unique. By the time I was 17 I knew I wanted to be a couturier, I was calling Ungaro's office trying to get an internship (to no avail). From there I went on to apprentice in Tuscany with a former designer of Enrico Coveri which began my journey.
What inspires you?
My main inspiration comes from sculpture, it's at the root of all my work. The black and white photos of Auguste Rodin in his studio in Meudon, the dynamic drapery of Bernini and Canova, and the beautiful folds in the marble and the way the fabric floats off the model exposing certain areas of the body in the works of the baroque masters.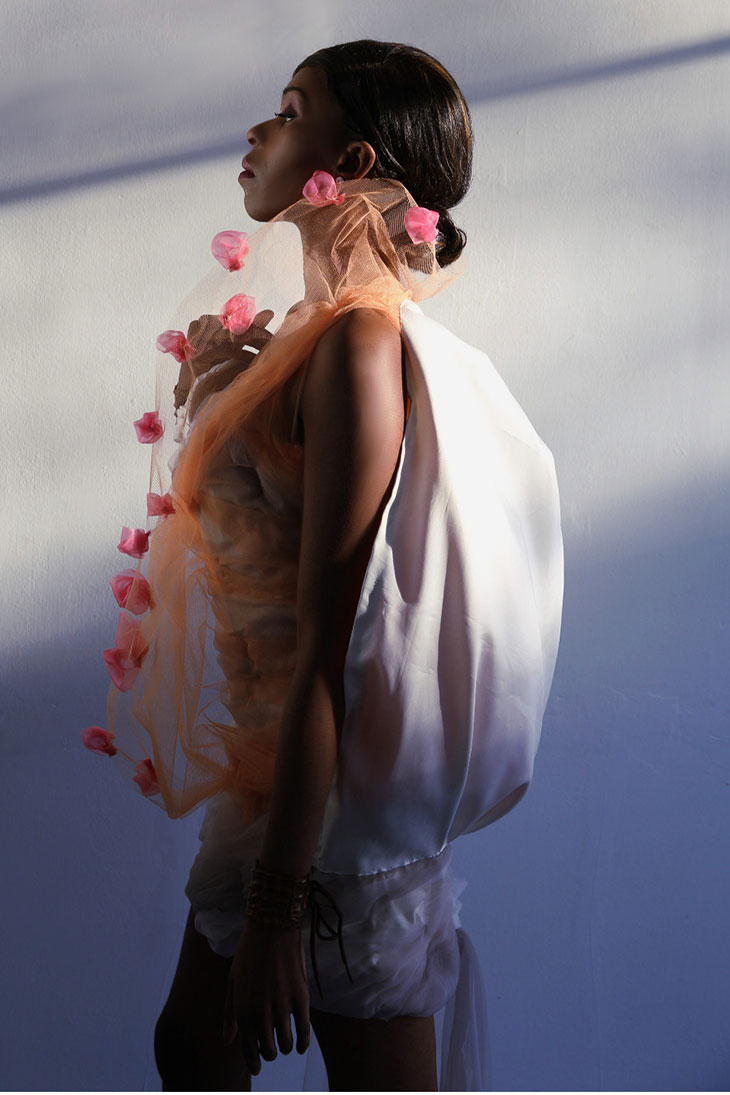 Tell us about your creative process. Do you design with a specific woman in mind?
Everything for me starts with the fabric, It's like clay to a sculptor and a brush to a painter, it's my medium of expression. The origins of my work is determined by the fabric and its properties. With gazar and organza I know I can recreate the floating shapes of the baroque masters, and with crepe and jersey I can achieve the soft folds of a classical Greek sculpture.
I love women, and my personal idea of beauty has been stamped by every woman who has been a part of my life.
From there I create my designs either through draping or paper sculpting. Sometimes I work on a half scale mannequin or wooden artist dummy to determine the cutting technique, but often I work directly in the final fabric on a full scale model with no previous toile or pattern, relying on hands and imagination (it's all very aleatoric, but my work is always to bring out the purest qualities of the fabric).
In relation to rather I design with a specific woman in mind the answer would be no. I find it to be restrictive to growth. If you look at Picasso, his work changed and transformed every time he had a new woman in his life. I love women, and my personal idea of beauty has been stamped by every woman who has been a part of my life.
What is the most important ingredient for the perfect dress?
It doesn't matter how amazing a couture dress is, if it doesn't reflect the woman wearing it. A dress has to fit not only the woman's body but her life and her personality as style is a mirror of life experiences. What your mind and senses have been exposed to is shown directly in your taste.
Every woman has a feature the couturier either wants to enhance or minimize and I think this is important when creating and presenting your pieces to couture clients. Some pieces in my collection work with certain women and other pieces with other women, but it's the woman's essence which is the deciding factor for which piece I propose.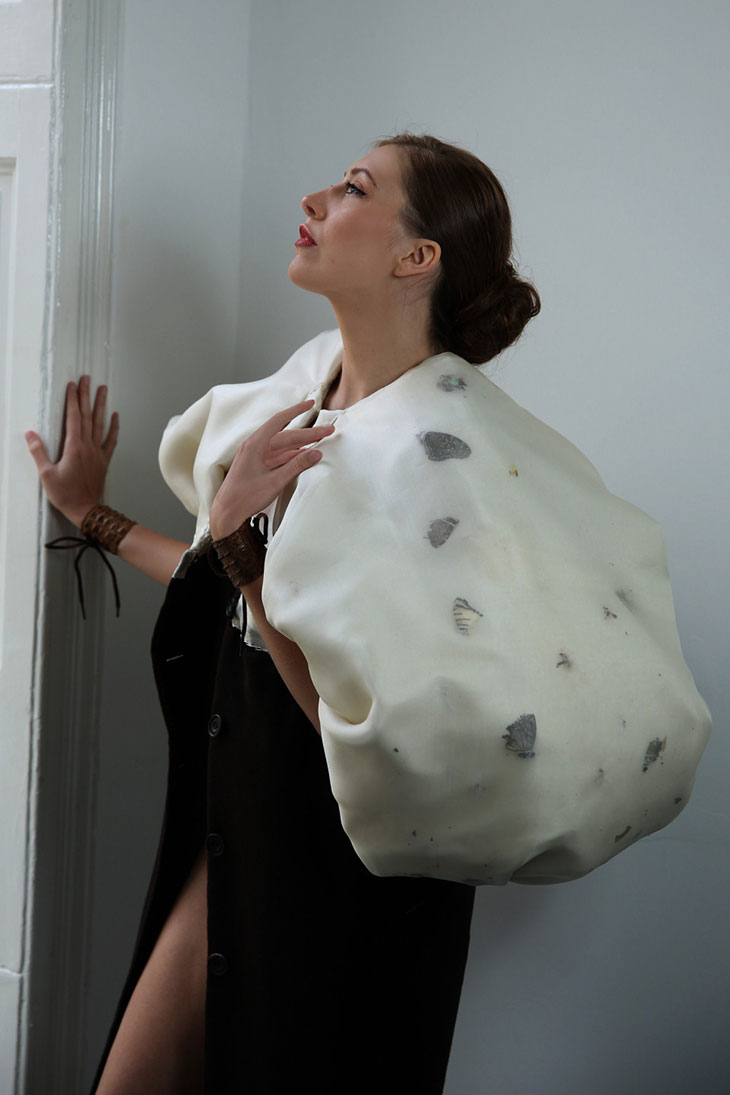 How do you decide on your theme for each collection? Do they all have a story to tell?
The theme evolves while working on the collection. What I find is that because I'm so entrenched into the technical aspects of fashion, testing cutting techniques, draping ideas on mini mannequins, that through my exploration a few specific shapes start to emerge in the beginning of the collection that propels my work into a certain direction.
For my SS21 couture collection " A Beautiful Melody" I was listening to Schubert and Debussy and started to notice a lot of floral silhouettes, so the collection just went that way in part.
If you could describe your design aesthetic in three words, what would they be?
Unique, statuesque, painterly.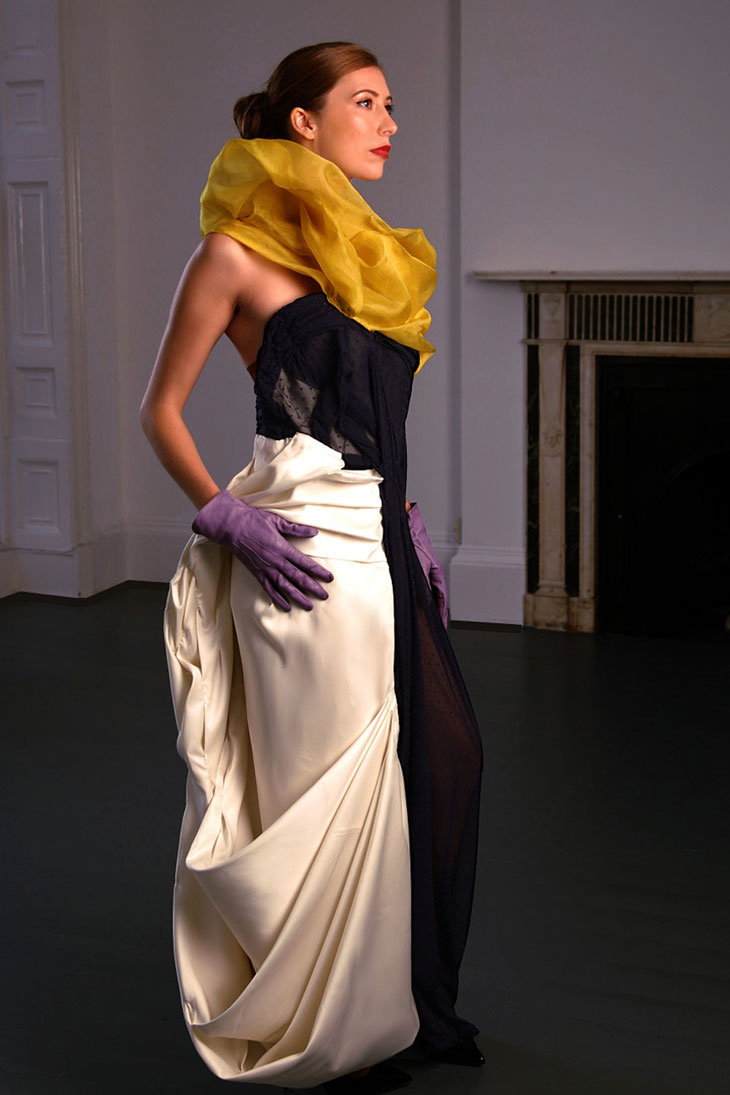 What advice would you give to young designers wanting to start their own label?
Practice makes perfect – Exploring the fashion world in full can be very enriching.
I had a chance to explore fashion design as well as garment construction from the US through to Italy, UK and France. I was eager to analyze and learn every technique used in workshops, studios and ateliers. This was essential in expanding my capabilities and in helping me to develop a working style that's suitable to my taste.
Whatever your discipline is, focus and perfect it and make that your hallmark.
If you had one fashion statement, what would it be?
In the end a couturier's only job is to be a beautifier, a decorator of the female body. The woman and her silhouette sits at the heart of our artistic expression, rather you want to enhance or conceal.
What's next for Angelo Fair?
I'm currently working on my F/W 21 couture collection entitled Aldebaran/Rohini which is being released in July, and we're trying to grow our couture clientele internationally. Beyond this I got my eye on the future with possible collaborations in film.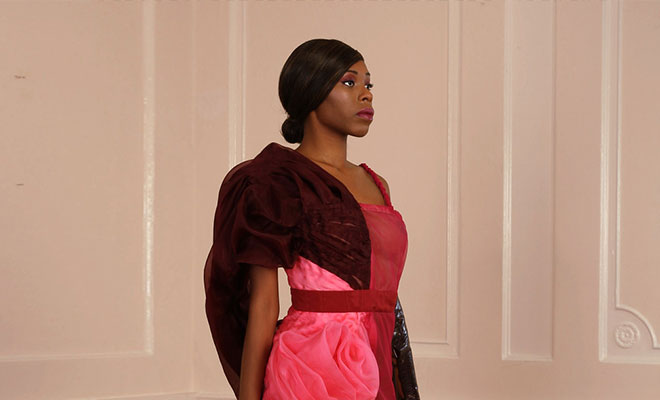 Keep up with Angelo Fair couture – www.angelofair.com.