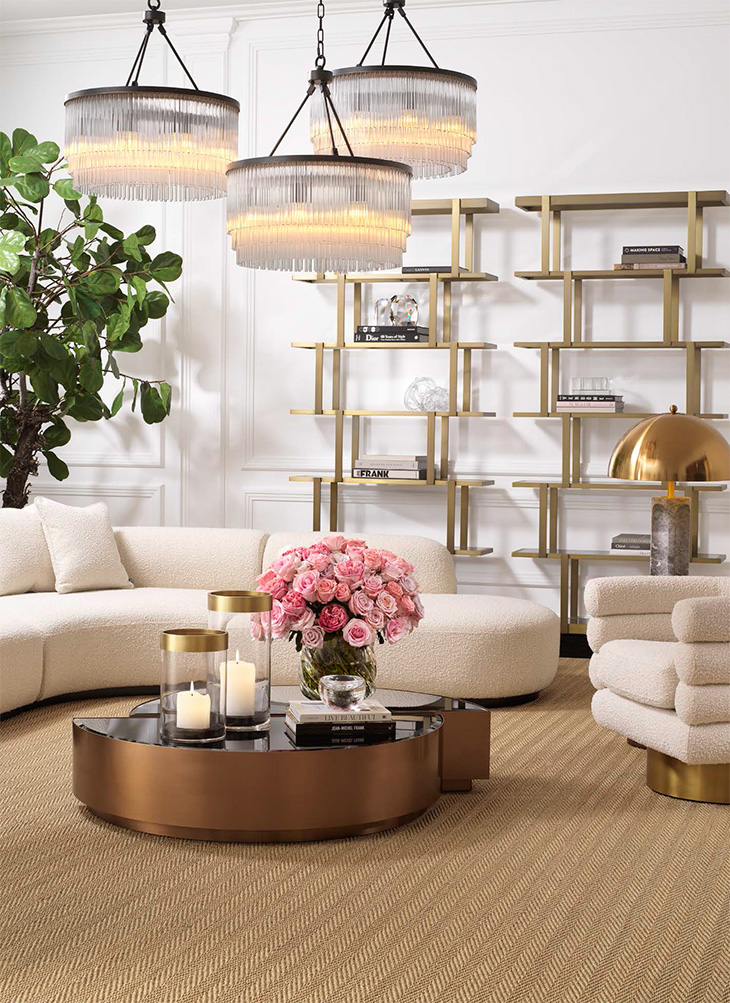 With the development of technology, our environment has become a really important aspect of our lives. The majority of people are more aware about the surroundings and the places they live in. With that, the home design industry has seen a great increase in people's interest during the last decade. Designers are coming with innovative ideas and products, combining aesthetics with functionality when inventing the furniture pieces .Furniture is definitely the first thing that catches our eye when we enter the space, whether it is an antique, classical or a high end luxury piece. It becomes useful in both the practical and the emotional way, providing comfort and utility and creating a space where you can express yourself.
Among the immense number of furniture brands are the high end luxury brands, which make every space a unique experience. From the prestigious fashion brands that dive into furniture designing providing the brands worshipers an exclusive branded crafted piece, to furniture companies with a long history of making extravagant and unique shapes, we are here to name the best of them.
Fendi Casa
Founded in 1988. by Alberto Vignatelli and Anna Fendi, Fendi Casa represents the first home décor company pioneering from a fashion house. Made in Italy brand focuses on tradition, innovation, research, and quality craftsmanship. It suggests a graceful and pleasing to the eye, cosmopolitan lifestyle. In essence, codes of the Roman Maison serve as a driver for elite and limited trends for in and out the house, making glamorous, intense modernity.
As a part of Luxury Living Group, Fendi Casa has collaborated with many designers, such as Toan Nguyen, Thierry Lemaire, Marco Costanzi, Dimitri Rybaltchenko and more. The signature pieces like Cosima dormeuse (1994), Eros sofa (2004) and One sofa (2018) were re-imagined for the 30th anniversary of the brand. From this year, the brand will no longer be a part of Luxury Living Group brand portfolio. LVMH owned brand Fendi will collaborate with Design Holding on a joint venture called Fashion Furniture Design. The project will be revealed at the Milan's Salone del Mobile design show next year with the creative guidance of Silvia Venturini Fendi.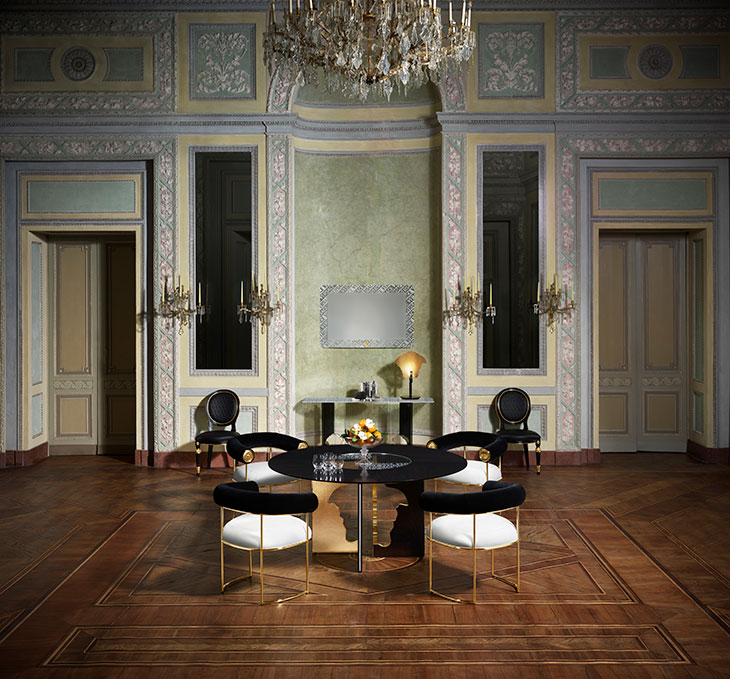 Versace
The world known fashion house Versace dipped it's toes in home design in 1992 with tackling textiles followed by porcelain dinnerware. Today the brand produces a range of homeware in their unique style, featuring the brand's Medusa symbol, Greek and baroque emblems, marble as well as golden accents and much more. The brand's Vice President Donatella Versace believes in the uniqueness of the furniture brands, the excess of colours, styles and patterns opposed to an increasingly common minimalistic approach. The latest collection from Versace Home in collaboration with Lifestyle Design further enhances the brand's vision – fusing the recognizable design with the incredible savoir-faire and years of furniture-making experience. The collection consists of three key designs – the Versace Venus armchair, the Goddess sofa and the Stiletto cabinet.
Missoni Home
After she handed the Missoni women's fashion collection to her daughter Angela, Rosita Missoni started making a homeware line. The Missoni Home label was officially launched in 1983 and has grown into one of the most successful fashion led luxury homeware brands available today The first full Missoni Home collection, with cushions, throws, rugs and ottomans, as well as linens and towels, launched in 1997.
With the signature Missoni prints, the brand is determined to dress every area of the house from the bedroom to the bathroom. The collections feature a wide range of artistic fabrics such as, tulles, distressed macramés, soft velvets, wool blends plus the knitwear elements and many more, there is also the high-performance fabrics used in a series of quality outdoor furnishing collections. For the 2021 Missoni presented four new collections titled Constellation, Garden Light, Iconic FR & Night Flower.
Boca do Lobo
The Portuguese brand was founded in 2005 and, early-on, it committed to reinterpret ancient techniques of fine craftsmanship to create unexpected pieces of contemporary design. Amândio Pereira and Ricardo Magalhães, the two design students who absorbed experience and inspiration from the capital of design and fashion, Milan, returned home with a wish to create a design a brand able to break the norms of conventional luxury and find a way to celebrate, the use of artisanal techniques by making a tribute to their roots.
Boca do Lobo strives to encourage sensational experiences by creating beautiful pieces which are inspired and handcrafted in Portugal. Having a Boca do Lobo creation in your home décor is a definite attention stealer. One of the most famous pieces from the company are the Soho Bookcase which was a part of the first collection, Mondrian, Heritage & Diamond sideboard & more.
Eichholtz
For the lovers of antique furniture, we have Eichholtz. It was founded in the 1990's when it's founder Theo Eichholtz wandered through Asia amazed by Chinese colonial furniture. Over the years, Eichholtz has grown into one of the world's most well-known and reputable wholesalers of luxury designer furniture, lighting and accessories. For the design team at Eichholtz, their constant source of innovation stems from mixing and matching influences from different eras and countries, reimagining the antiques into luxury contemporary pieces. Eichholtz offers quick design ideas with its design rooms inspired by movies, events, occasions. In celebration of minimalism, Eichholtz presented the Tribute collection inspired by iconic minimalist pieces of the late forties and early fifties.
Liang & Eimil
Husband and wife team Frank Eimil and Honghui Liang founded Liang & Eimil company with a goal to produce modern furniture in a time where ornate furniture and shabby chic prevailed. Liang & Eimil furniture channels classic contemporary vibes with high-gloss metal furniture and barely-there silhouettes.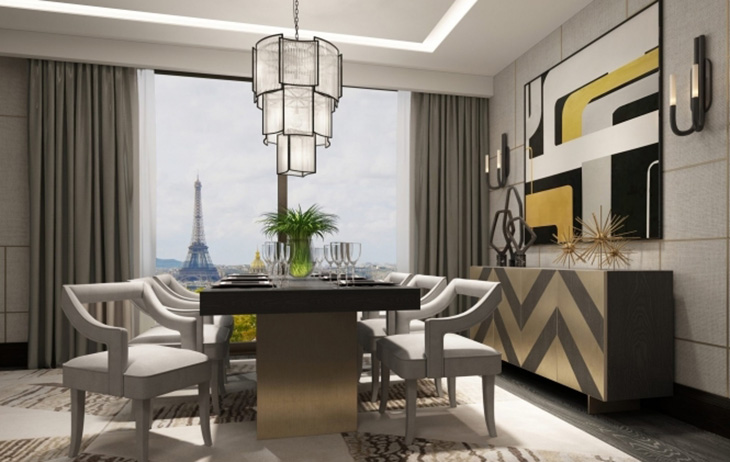 The inspiration comes from mid-century and modern designs – adding a contemporary, stylish twist to the products, oriental influences, re-interpreting forms and materials with clean lines and minimalist design. The Noma 9 and Nobbu collections symbolise the creativity and ethos of Liang & Eimil. Proving to be very popular with the client base, these collections contain oriental, mid-century design influences which the brand is well known for. Boasting timeless designs, these collections are ideal for any contemporary interior. The latest collection consists of signature coffee & side tables, as well as luxury oil on painting artworks.