I had never been interested in gardening before. It always seemed fun and noble to me, but I never found the time to actually try it. With the start of the pandemic and working mostly from home, I realized that gardening is one of the things that actually makes me happy and calms me. Since I live in a city center, the only option for me is an indoor garden, and that's how I found out about UrbiGo – a self-watering system that allows even the most amateur gardeners to quickly and easily grow herbs and vegetables.
It comes in a really nicely designed package, with a set of 4 biodegradable plant capsules and 100% organic seeds. The benefits of indoor gardens are countless, especially when there's convenient app that notifies you when your plant needs something. You'll be able to control your mini garden wherever you are, while the water level sensors will tell you when to add more water.
Week 1
Setting up the garden is pretty easy. You plug it in to the electricity and connect to your home Wi-Fi. Then you add water to the reservoir, insert 4 organic plant capsules and put 10-15 seeds in them (I've chosen basil). All you have to do now is to turn on the LED grow lights, and wait. For the first stage, each pod is covered with a transparent plastic dome that serves as a greenhouse for your seeds. Within just four days, the seeds had sprouted and I had tiny, little basils poking through the soil.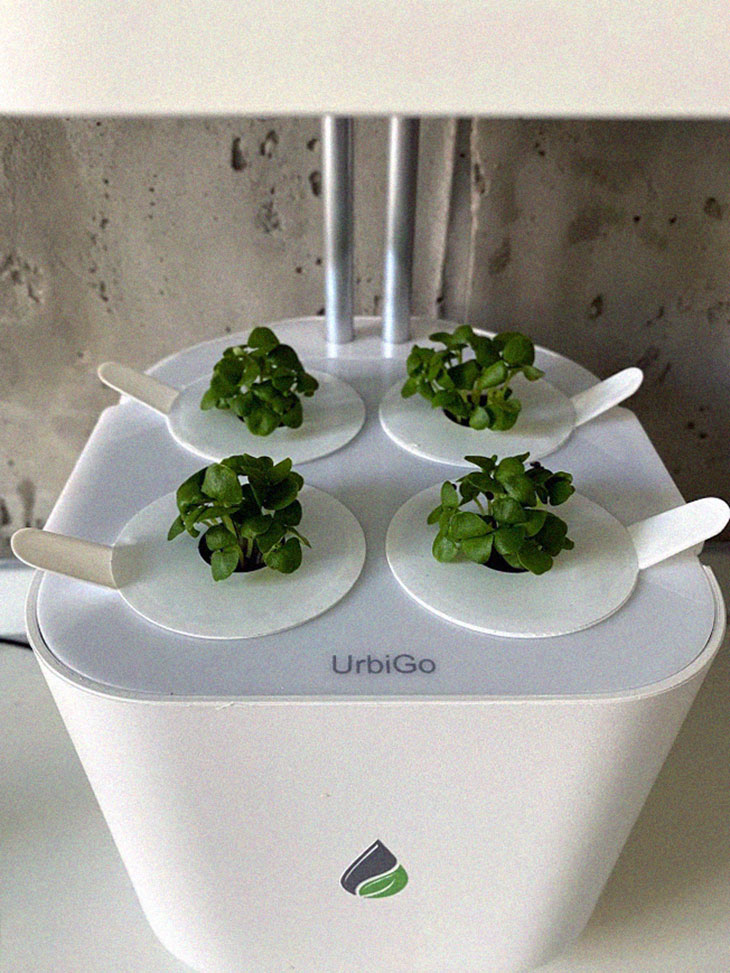 Week 2
As soon as the leaves started touching the plastic domes, I've released them. By the end of the 2nd week, I had tiny basil plants about the size of an egg. The garden in my kitchen was attracting all sorts of attention from my friends who were coming to my place. They were excited and intrigued by this tiny spaceship on my countertop and wanted to find out more about it.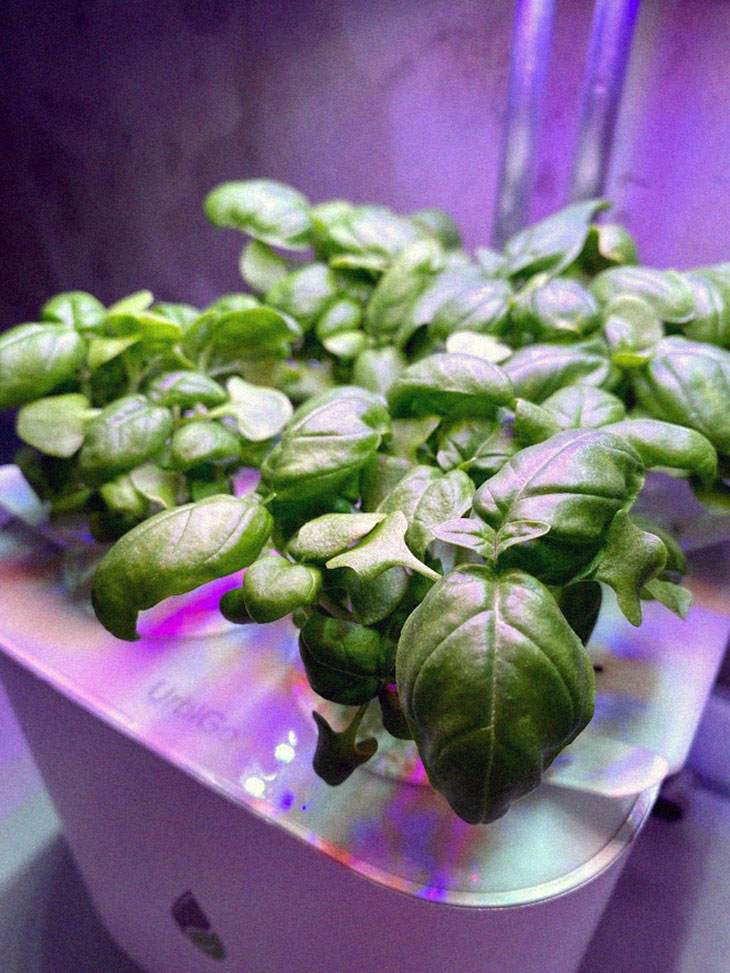 Week 3
By the week 3 my plants started looking like real basil and grew to about 10 centimeters. At this stage I was still too scared to pick any leaves. By the end of the third week my plants started touching the LED lights, so I had to set them on a higher level, so the plants don't get burned.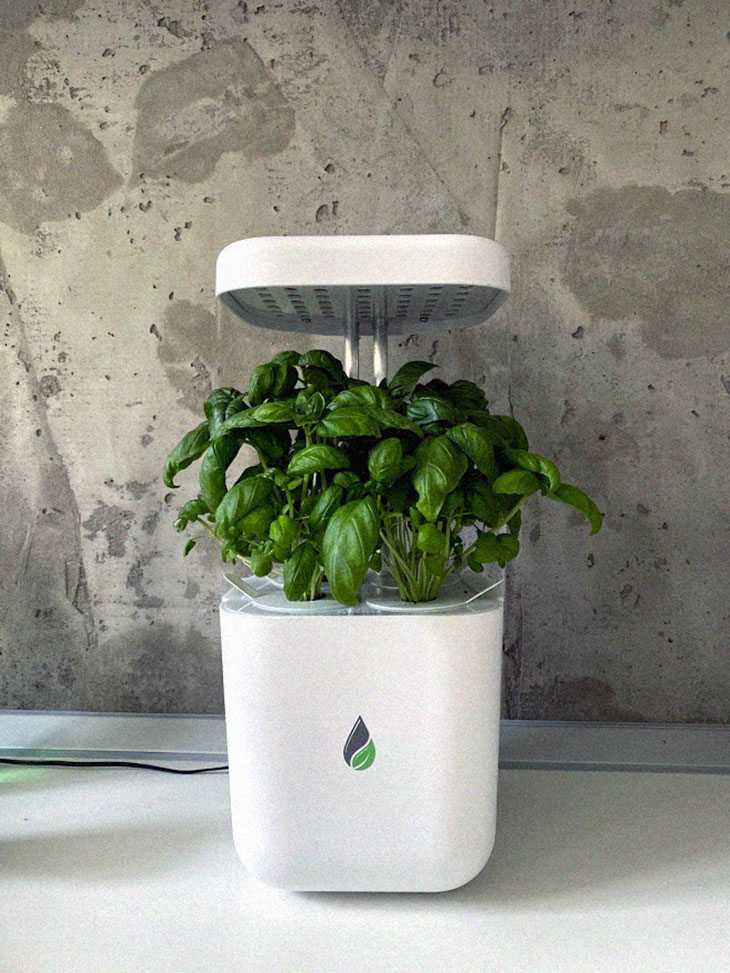 Week 4
For most of the week 4 I was out of town, but my plants didn't even notice I was gone. I checked the plug, topped up the water reservoir, and left home. After 5 days I returned home, and my basil looked better than ever.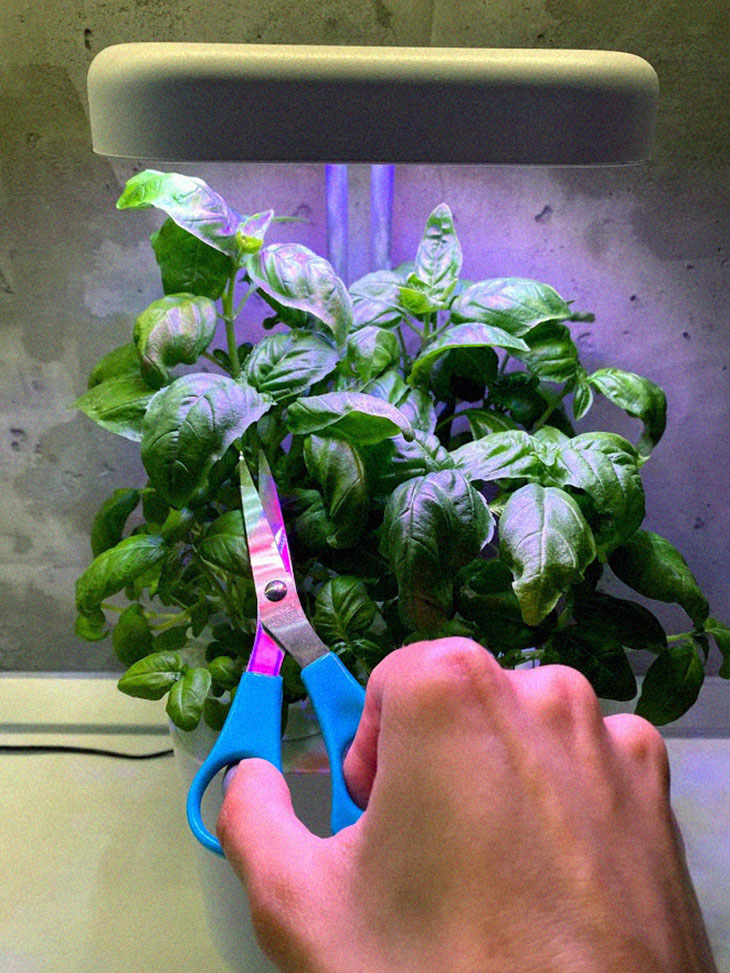 Week 5
At the beginning of fifth week, I got the notification that says "time for pruning", so I gave my basils a fresh cut. Pruning encourages growth, and allows the plants to develop bushier foliage. I used the cut parts for my Pizza Margherita and it was delicious. Since the soil doesn't contain any harmful substances I could rest assured that my basil is better for my body than anything from a grocery store shelf.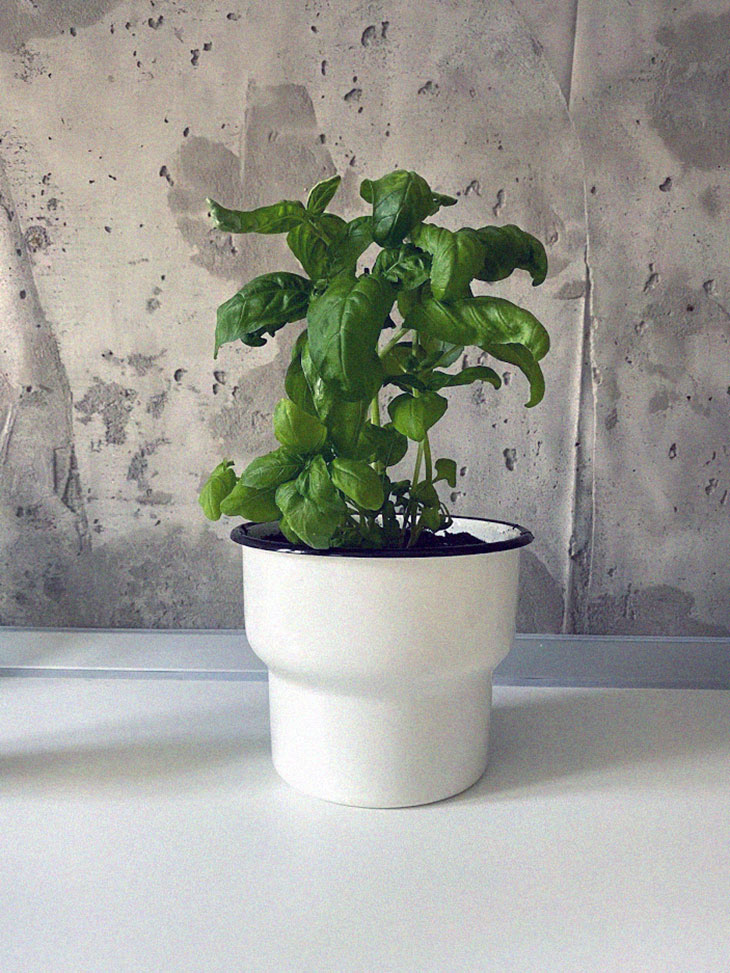 Week 6
By the sixth week, my plants were so big that they outgrown the smart garden. For the final stage of the experiment, I transplanted my basil into the pots, and one into the outdoor garden and they seem happy. I'm still figuring out what to grow next in my UrbiGo smart garden.
Check out the gallery below to see the progress throughout these 6 weeks:
A fledgling company "​UrbiGo​​", founded by Anja and Aleksandar Varnicic, Predrag Gajic and Milan Trajkovic in 2017, have decided to make urban gardening fun and accessible to everybody by creating smart and connected mini indoor garden. Having witnessed the challenges of an intensive urbanization and overpopulation in cities that led to a gradual shrinkage of green areas, these young people wanted to find a solution for a new generation that is raised in"​concrete jungle​​" and in an environment which is increasingly polluted. Mini garden combined with engaging and gamified app for garden control and learning, is an ideal choice for growing herbs or miniature vegetables throughout the year, in tiny places and without previous knowledge. – from UrbiGo.
UrbiGo starter pack with 4 capsules is available for 125 € at urbigo.me.
Text and images by Katarina Djoric.