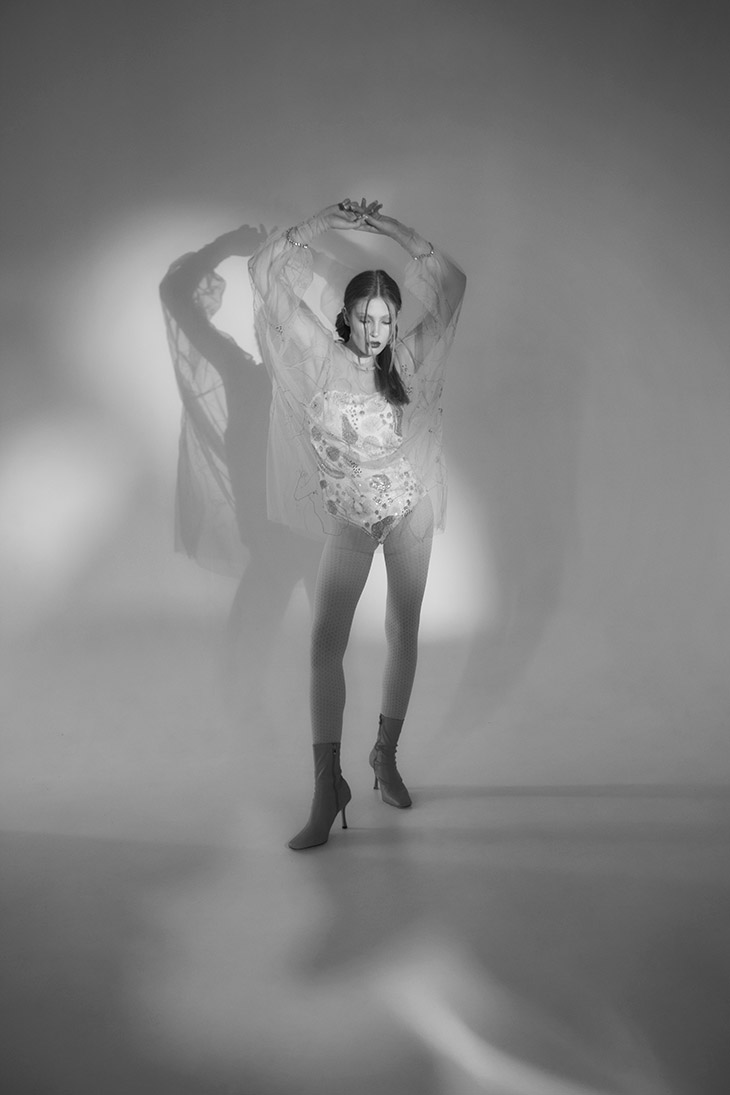 Musician and songwriter EM Glasser talks exclusively for DSCENE Magazine about her musical beginnings, influences and inspirations, as well as about future plans, and hidden talents.
Fashion photographer Marta Mamon captured the accompanying story with styling from Briana Paige Mawson. In charge of hair styling and makeup was beauty artist Lena Venos. Styling assistance by Hendrick Baarmann. The session was inspired by EM Glasser's new song All I Want, that will be released on September 23rd.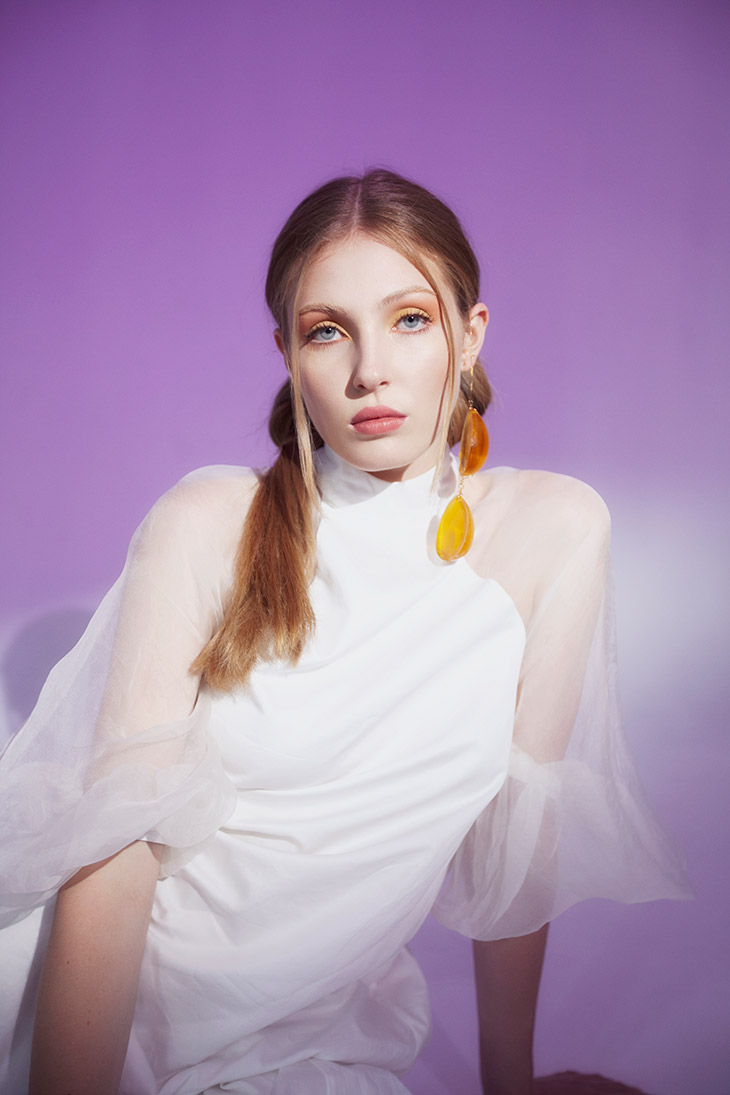 Can you tell us a bit more about yourself? Who is Em Glasser?
In my opinion, we define ourselves according to our experiences, our memories, and our growth over time. I was born in Miami Beach, but I ended up growing up in Europe. I visited my grandparents in Russia every summer when I was little, started first grade in an Austrian school with no ability to speak German, and ended up leaving to Berlin when I was 10 years old. These early days of my childhood defiantly made the core of me. Miami gave me my love for the ocean and this love evolved into the sound and atmosphere one can use to describe my music style. Vienna taught me the history of music, the classics, and my music theory. And finally, Berlin gave me open-mindedness, which in my music translated into my love for different genres and my experimentation. Throughout living in these three cities, my family and I traveled a lot. I would say all those memories I have exploring different places and meeting people made up who I am today and who I am, makes up my music.
Tell us about how you started making music.
I started writing my own songs from a very young age. But I think things truly started making sense when I released my first song on Soundcloud, I think I was 12? I recorded this song using my apple earphones and GarageBand, with no knowledge of how to do anything properly. I remember sitting in my room, extremely nervous, pressing the upload button. Little I knew that was the start of something.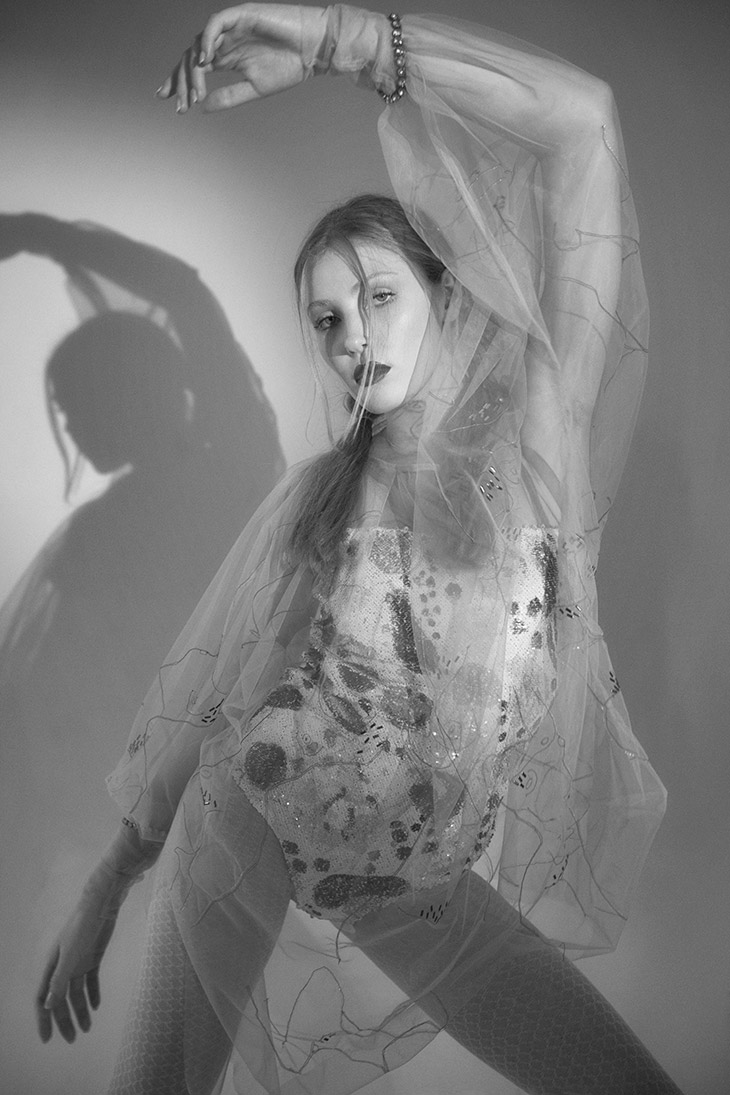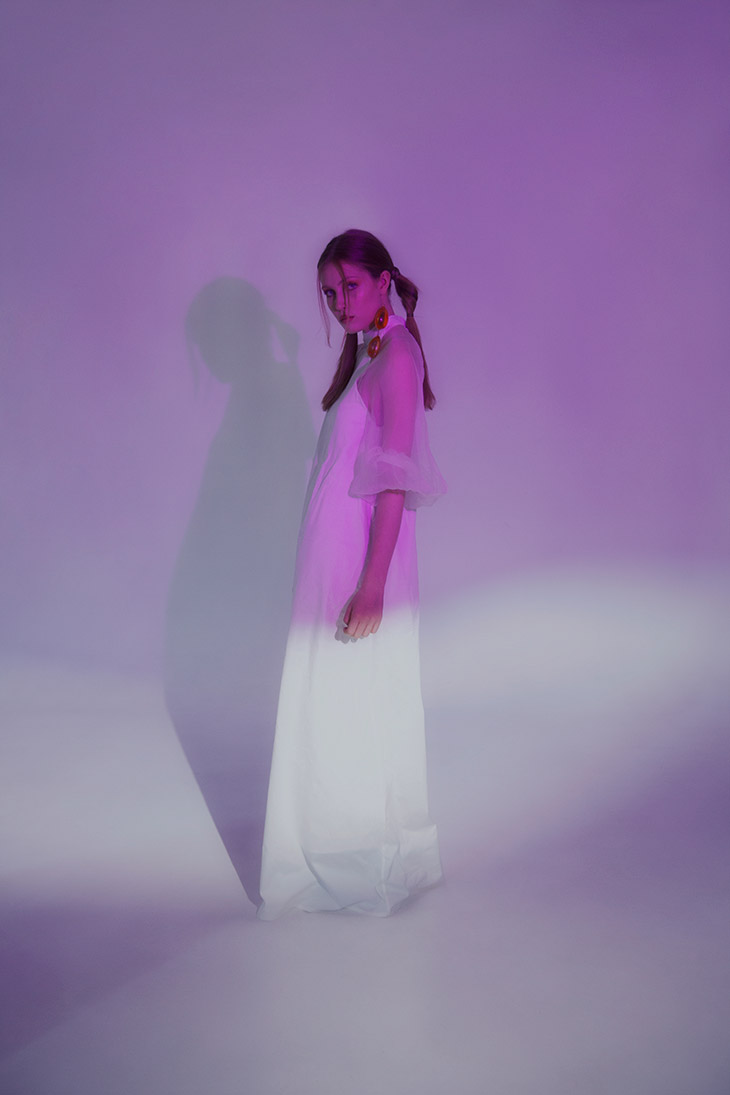 Was music always your passion?
I always wanted to be a singer. My grandma was an Opera singer and my Grandfather a musical director. Together they ran a music school for children in Russia, which I got to visit every summer. Being able to use melody and poetry combined to express whatever I wanted made me feel powerful. However, as I grew older my love for visual communication grew as well. Movies are a huge part of my life, and the idea of combining both music and visuals together is dreamlike to me. Ultimately this made me want to be a director, which is a passion I'm exploring along with music.
What is it about music that makes you feel passionate?
I'm a huge fan of literature and poetry. All of my songs start off as poems, meaning I can use words however I want to create any sort of meaning I want. And who says people have to understand what I'm talking about? What makes me feel so passionate about music, is that I'm writing for myself, and my audience is listening for themselves, making it their own, leaving my words and melody with them, for their own interpretation. I strongly believe music and words heal. That's why I write.
Describe your favorite and least favorite part about being a musician.
My favorite part is the process of creating music. I wouldn't say I have a least favorite part, but something that is not so enjoyable is the stress that comes with it. Meaning the nervousness, the process of patience, and the anxiety of whether or not people will like it. But when you truly love something, you learn to love both the good and the bad.
What has been the biggest surprise so far about making music your career?
The fact that people are listening. That people enjoy listening. That's so hard for me to grasp because I think if you start off making music for yourself, you kind of imagine that only your ears will listen.
Can you describe the creative process behind making your music?
It has to come naturally for me. I very rarely tell myself "I need to write a song." Either an idea comes to me, like a melody, chords, or words, or I simply feel the urge to sit down and create something. Sometimes I even find myself in the shower, getting a rush of inspiration and I end up running out grabbing my phone, and recording it. But mostly I write when things aren't looking so good. When I need to translate my thoughts. I start off by finding words that could potentially describe how I feel, but sometimes I just can't. That's when the music comes in. Melody takes over the translation and I end up creating a memory of how I felt, as I heal in the process of creating. It's very therapeutic.
What inspires you to be creative?
Everything. Literally. Haha!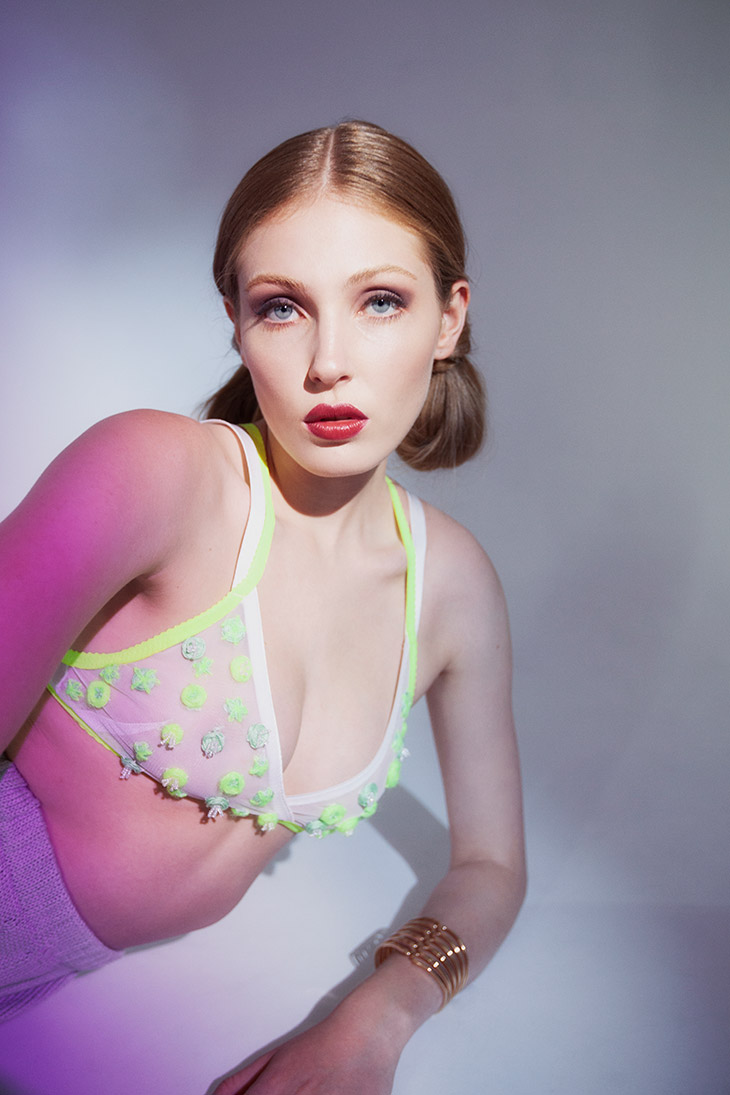 Do you find recording to be a challenge that you enjoy?
Yes. Definitely. Sometimes it can be so challenging. I'm quite a stubborn but determined person, so I end up seeing it through to the end.
Who is your greatest influence?
It changes so much! I actually found an email I wrote to Adele when I was 8 haha! She was a huge inspiration of mine! An artist I really look up to is Mac Miller. His creations are very powerful. I've definitely mentioned this before but I'm a major fan of Wong Kar Wai! I feel extremely inspired when watching his films. Films in general, inspire me extremely!
Any hidden talents?
I used to dance ballet, contemporary, and hip hop for many years. Now I do it more as a hobby but still, enjoy it just as much.
What is next for Em Glasser?
Ahh so much! Definitely a lot more music. I'm also going to be exploring new cities which means growth and change in my art! And hopefully, I'll be able to introduce my audience to some of my films.
Follow EM Glasser on Instagram – @em.glasser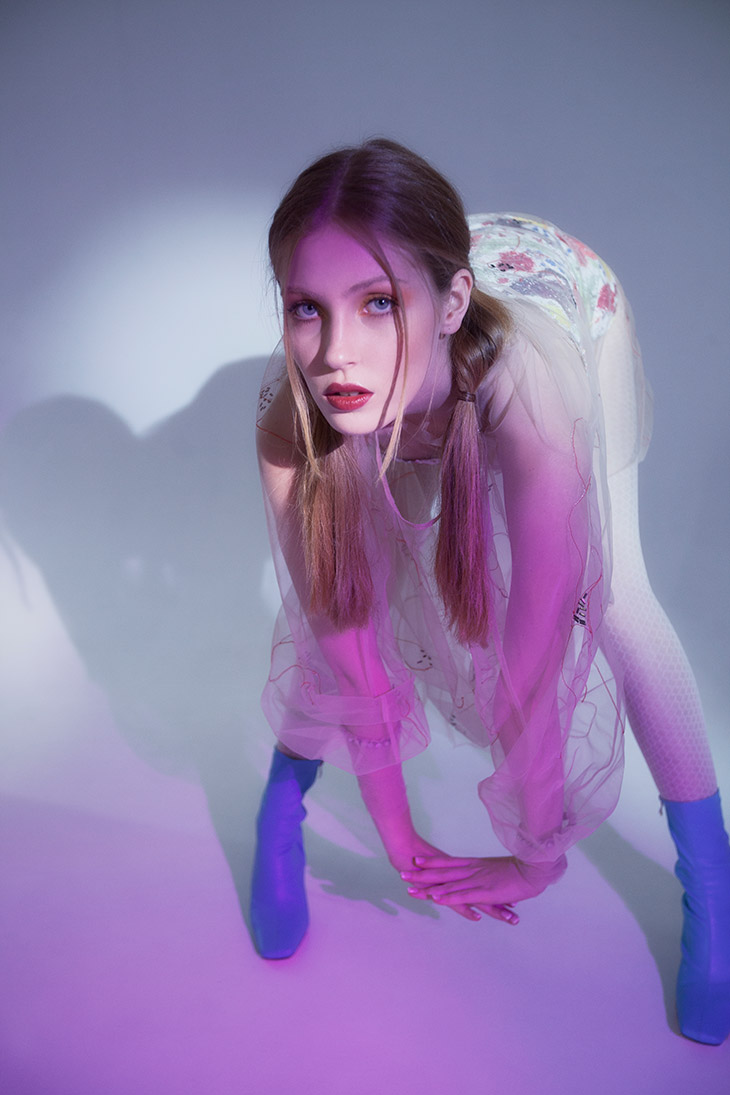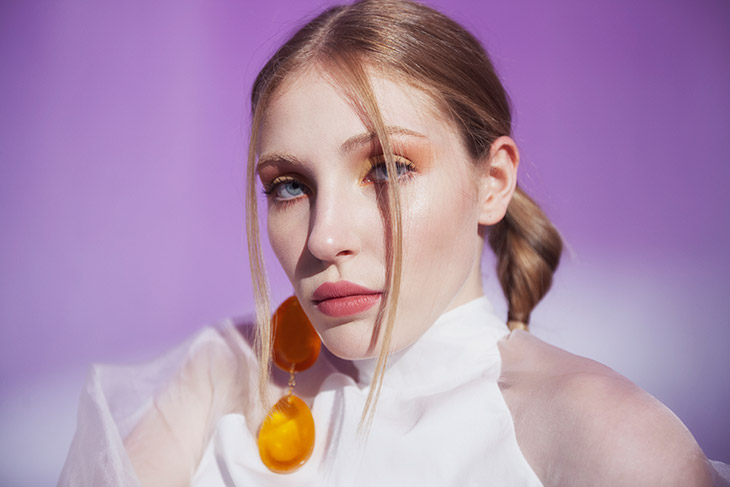 Photographer Marta Mamon – @marta.mamon
Stylist Briana Paige Mawson – @bpmstylist
Hair & Makeup Artist Lena Venos – @lenavenos.mua
Talent Em Glasser at IZAIO Management – @izaio.modelmanagement
Styling Assistant Hendrick Baarmann – @byhendrikbaarmann