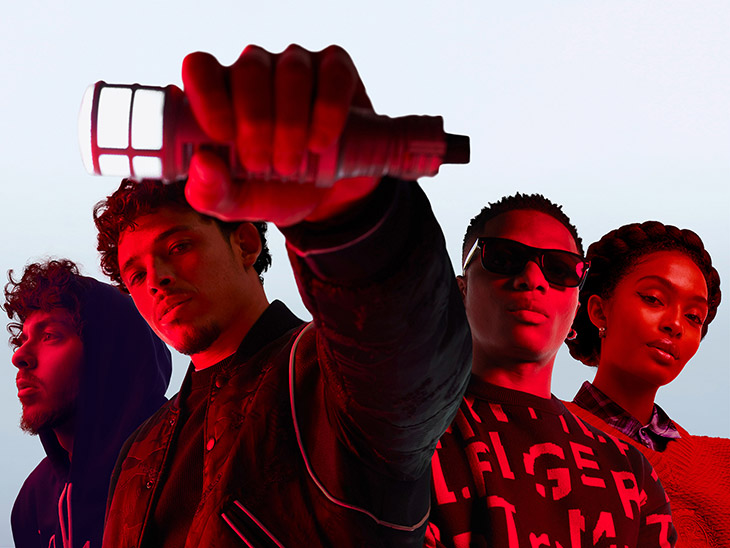 Fashion brand TOMMY HILFIGER presented their Fall 2021 "Pass the Mic" campaign starring award-winning actress and producer Yara Shahidi, Grammy-winning and Emmy nominated singer, actor and star of the upcoming Transformers: Rise of The Beasts Anthony Ramos, Grammy nominated rapper Jack Harlow, Grammy-winning singer songwriter Wizkid, South Korean actor Kim Soo-Hyun, and world renowned DJ Cassidy. With the campaign the brand is giving their costumers a global platform to share and amplify their message and inspire change. Focusing on a specific topic, each star of the campaign inspires fans by asking: What inspires you to make a difference? What would you say if the world was listening? What drives you towards the future? What do you have to say? The campaign features looks from Tommy Hilfiger's Fall 2021 collection as well as pieces from the brand's archives.
Every voice has the power to light up the world. We are here to quite literally 'Pass the Mic', first to the select voices and then to our global audiences, in order to drive meaningful and long-lasting change. I am proud that our Fall 2021 collection is represented by such an incredible and diverse group who are sharing their voices, on our platform. – Tommy Hilfiger

I am the 'I' in light. I am the reason the future is so bright. – Yara Shahidi on Confidence.

We change the world by redesigning who we are, but never forgetting where we came from. – Anthony Ramos on Community

Words mean nothing if they're not well said. – Jack Harlow on Commitment

How many tries? And still you rise. – Wizkid On Character

Our little movement towards the future makes beautiful waves and changes the world. – Kim Soo-Hyun on Change

Pass the mic and share your light. Every person, every voice can change the world. So, what do you have to say? – DJ Cassidy
The campaign launched on September 20th, with the consumer activation going live from September 25th.