In the sea of streetwear brands, each and every one of them are trying to bring the most unique merchandise in order to become a street heard name. The streetwear culture is rising each day, and more and more famous designers turn to this kind of collections because it attracts a large amount of customers. Now more than ever, customers are in need of comfort while keeping it stylish and cool.
Today, we are talking about one of the most famous streetwear brand, Anti Social Social Club. The brand was founded in 2015 by Andrew Buenaflor better known as Neek Lurk. Lurk was known to the world as Stüssy's Brand Marketing Manager and Instagram personality. The inspiration for the brand came from founder's mental health struggles. He used the brand to express his depression and his current state. For Lurk, it's not just a brand, it's a life project dedicated to weirdos, losers, people who are just far from the ordinary, misfits and rebels. You will surely recognize the brand by it's logo, a simple, serif typeface manipulated into a wavy form. The brand is also known for using various bright colours and phrases typed on to the range of hoodies, t-shirts and accessories. Anti Social Social Club releases several collections a year, and they are pretty much always sold out.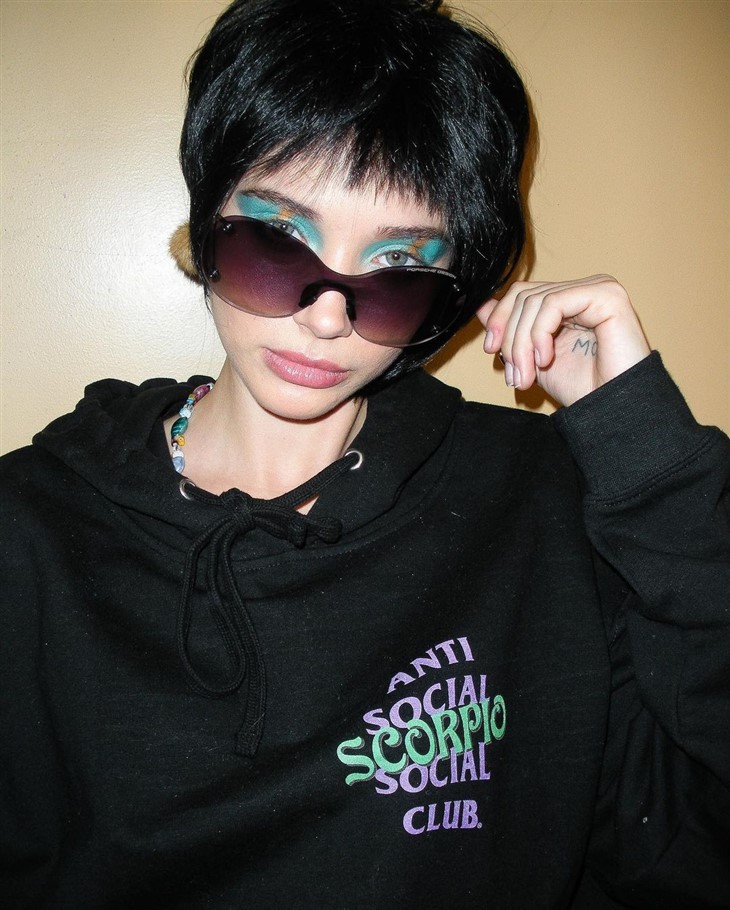 The brand is also famous for it's collaborations with big brands such as Rimowa, A Bathing Ape, Formula 1, Playboy, Hello Kitty, Hot Wheels, Mastermind Japan, Vans and more. The collaborations are pretty straightforward, mixing Anti Social Social Club favorite phrases with other brand's key pieces. The first celebrity who wore the Anti Social Social Club was Kanye West who actually brought international attention to the brand. After that you could see celebrietes like Kim Kardashian, BTS, Wiz Khalifa, Lewis Hamilton, Travis Scott and more wearing the brand throught the years in various occassions.
If you are a fan of streetwear, but you're stuck on how to style it or you need some new ideas, this is the place for you. Read below DSCENE's top tips on how to wear Anti Social Social Club.
A Full Look
For ones who are true to one designer, a full look is always the best pick. It's also the easiest way to achieve the perfect and stylish look. You can wear your Anti Social Social Club hoodie and sweatpants and match it with a hat or a backpack and you're good to go. It is guaranteed you will be noticed with brand's signature quotes like "Get Weird", "Never Not Weird", "I Miss You" or "Everything Goes Away In The End". Shop Anti Social Social Club tshirts, hoodies, and other apparel at GOAT.
Mix and Match
Nowadays, you can wear a couture piece and put a hoodie over it and it would turn heads. Something that has been unimaginable ten years ago is now the coolest combo. A lot of celebrities and streetstyle icons were seen in the recent years wearing hoodies with oversized coats, puffy skirts, high heels. The combinations are endless, as long as you are willing to take a risk and look fabulous. Upgrade your favorite hoodie or t-shirt from Anti Social Social Club with a fur coat and hit the streets.
Must Have Items
As we already said, a lot of Anti Social Social Club items sell out pretty quickly. Every streetwear fanatic knows a good outfit is even better if something you're wearing is limited edition. These pieces are often reselled through various markets, but at a higher price of course. So, if you're into the streetwear brands, make sure you're in the right place at the right time.