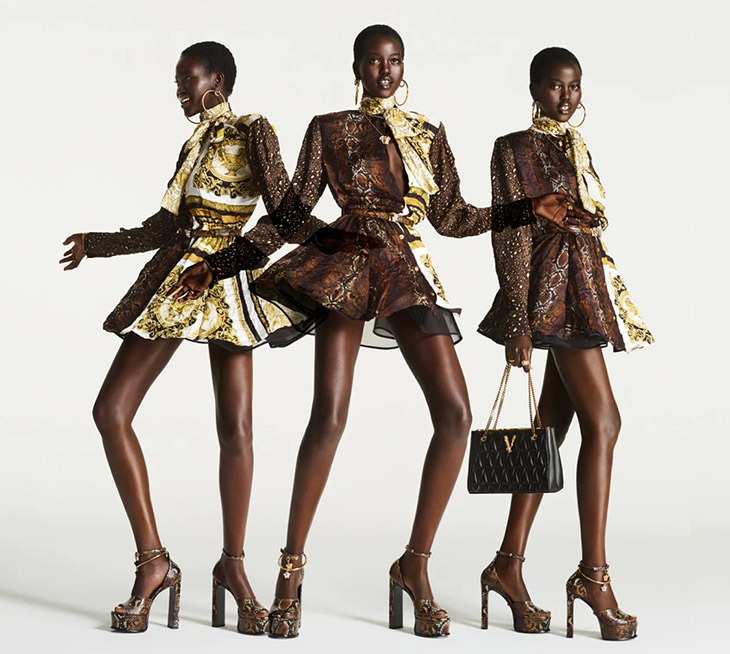 Versace is one of the few luxury fashion brands that has stayed true to its heritage. While fashion is constantly looking ahead to the next big thing, Donatella has a talent for reinterpreting classics and making them feel not quite fresh, but timeless. It's because of this winning mix that Versace's creations retain their attractiveness years after they originally debuted on the runway.
Founded in 1978 in Milan by Gianni Versace, it is one of the leading design houses and a symbol of Italian luxury world-wide. The head of Medusa, one of three Gorgons in Greek mythology, is the logo of the brand and an icon of modern Italian style. The iconic Medusa emblem is a perfect metaphor for the brand's powerful and seductive aesthetic and underlying philosophy. Anyone who looked at her before she became a monster couldn't help but fall in love with her. Even people who were scared by her after she became a monster couldn't look away.
Versace is and has always been a risk-taker. It shows no signs of shyness and is unapologetic about it. Versace's appeal is undeniably based on sex. It's something the brand exudes and fosters, cultivated by muses Liz Hurley, Lady Gaga, Jennifer Lopez, Zendaya, Dua Lipa and the supermodels of the 90s. Their clothes bring out a sense of confidence, authority, and, most importantly, sex appeal. You always feel attractive, stylish, and a tiny bit of smugness when you dress in Versace. Versace's DNA is imbued with these notions. "What women need today are classic things with an age, with fantasy, with a quality," Gianni stated decades ago. So he provided us clothes with bright, baroque prints, bondage-inspired bodycon dresses, and goddess-worthy golden chain-mail gowns — all of which spark our interest today.
Have a party to attend but are unsure what to wear? Perhaps you have an important business meeting coming up? DSCENE gives you five ways to style your iconic Versace pieces. Here are a few tips to make sure your outfit comes together and feels fresh.
Go for Total Look
Wearing similar pattern Versace pieces as an ensemble outfit as seen on the runway is an option. After all, a lot of thought has been put into creating this look. With trousers or a skirt, the complete Versace dress or a matching bralette may make a dramatic fashion statement. To finish the appearance, choose neutral-colored shoes with a matching purse or belt.
Allow the bold pieces to stand out
When it comes to making a statement, bold Versace prints practically speak for themselves. Wearing only one bold piece at a time is plenty. Pair your Versace print piece with something more understated to allow the statement item to shine.
You may pair it with a neutral color like black or white, or you could highlight one of the colors from the the statement piece. The piece will stand out if the rest of your outfit is in the same color. To complete the look, accessorize with Versace jewelry, purses or shoes. Looking for the perfect statement piece for the holiday season? Discover a wide selection of styles and buy Versace T-shirts, hoodies, and other apparel at GOAT.
Pair Black with Gold
A black outfit is a powerful statement in itself. It's what we'd call a fashion classic. What fascinates us is that, despite the uniform color scheme, there are so many personal aspects to this outfit that vary based on the individual. Golden Versace statement items, whether shoes, jewelry, purses, or other accessories, can elevate the classic elegance of a timeless black ensemble.
Leather
From classic leather items like trousers, jackets, and trench coats to modern must-haves, Versace has it all. Pair your statement Versace leather trousers with an understated silk shirt for a paired down, elegant outfit, or rock the latest Versace leather biker jacket with golden embellishments with a trendy monogram dress for a girls' night out.
Let's get tropical
A entire ensemble made up of tropical prints is always a success. For a more casual style, pair it with jeans and a white t-shirt; for a more glamorous look, pair it with shoes and a leather skirt. If you're a confident woman, try wearing this design from head to toe, or can even go a step further by mixing and matching this print with another.
The most crucial piece of advice for self confident ladies who want to wear Versace is to allow their clothes to represent their unique personality. Whatever you wear, stand tall and don't be afraid to be seen!