Represented by the words "You live alone and die alone", Vlone brand was launched in 2013, but it's story started earlier. In 2011, A$AP Group Members – Bari, Rocky, K, and Playboi Carti, boarded on a creative venture into fashion industry that later led to the foundation of the brand.
Born in Harlem, New York, Vlone easily went international, when A$AP Bari went on a world tour to promote the project. The brand opened pop-up stores in Texas, New Orleans, Tokyo, and many other places. In 2017, Vlone organized a pop up at the venue of Paris Fashion Week, in order to promote the latest assortment, including denim, sweatpants, hoodies, tees and many more.
It's early design language revolved around a heavy use of black and orange color palette, a prominent "V" logo and a recurring "Friends" motif. The logo appears in a form of a capital "V" in a strange font that mimics a graffiti written on the wall. There's also another variant of the logo with the "V" in a circle.
One of the most sought after collaborators in fashion, Vlone has partnered up with Off White and Nike in 2017. The collaboration was a instant success. It includes orange-black suits, long-sleeved sweaters, and track pants, all made in the brand's typical color combination of black and orange. The brand has also collaborated with Bravado on a limited-edition collection that honors the life and legacy of Tupac Shakur. It consisted of 18 pieces created by A$AP Bari, including graphic tees, hoodies, hats, and bathrobes. Some of the notable collaborations also include the products for The Weeknd, Juice WRLD X Vlone, NBA Youngboy Vlone, as well as the one with Pop Smoke, in order to keep the memory of the late rapper alive.
According to A$AP Bari, "V lone does not belong to either streetwear or haute couture rather it is a lifestyle brand".
Shop Vlone tshirts, hoodies, and other apparel at GOAT.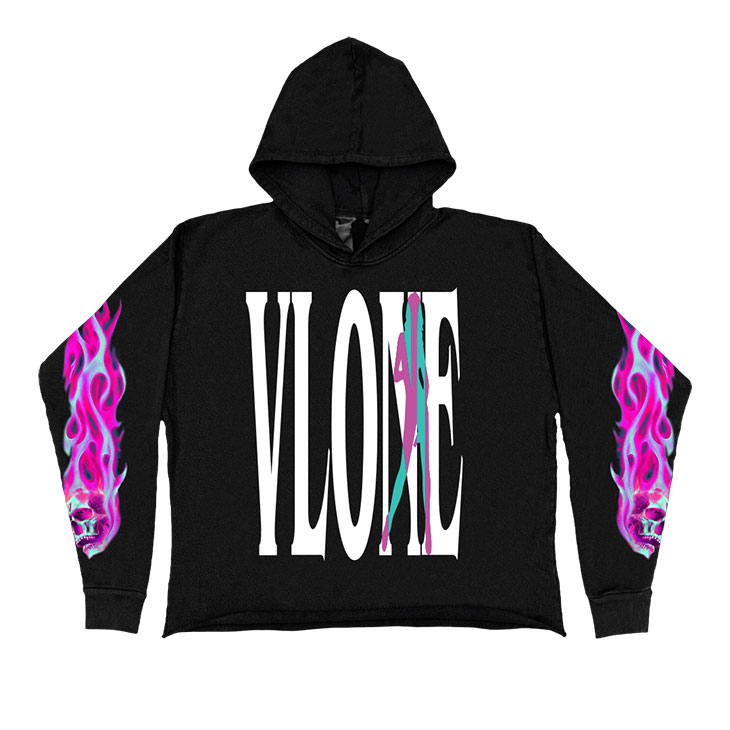 Even thought streetwear includes a wide variety of fashion styles, the best executed looks often focus on a basic elements. The undocumented rule you should follow is – If you can't skate in it, then it's probably not streetwear. Read below our top tips how to wear Vlone:
Play With Proportions
Streetwear won over the hearts of many, the moment the oversized hoodies got into the realm of high fashion. Now you can wear your favorite Vlone graphic print sweatshirt with a suit and don't look ridiculous. Break the rules of proportion by combining the loose-fitting garments together. For more fashionable effect, combine a baggy denim with a tight fit top, or an oversize hoodie with a slim jeans.
Match the Sneakers
The most important and most expensive part of a streetwear look are definitely sneakers. If you want to make a big style impact with just one clothing item, VLONE x Nike Air Force 1 High are the perfect move. Made in a black and orange tumbled leather to the high top silhouette, the sneakers are featuring the 'Every Living Creative Dies Alone' tagline in Old English. Pair them with your fav Vlone hoodie and you can't go unnoticed.
Extra tip: Undo your laces for even more casual look!
Stick to a Single Logo
One of the most important parts of streetwear culture, is definitely brand loyalty – layering different streetwear brands in a single look is a big NO. Since logo motifs are an inevitable part of streetwear design, try showing off one logo at a time. You can't really wear Vlone, without people knowing it's Vlone.
Limited Edition Items
Buying and selling limited-edition items is a big part of streetwear culture. If you missed some of the Vlone's limited items, you can always buy them at the secondary market, but at inflated prices. Be prepared to pay a lot!