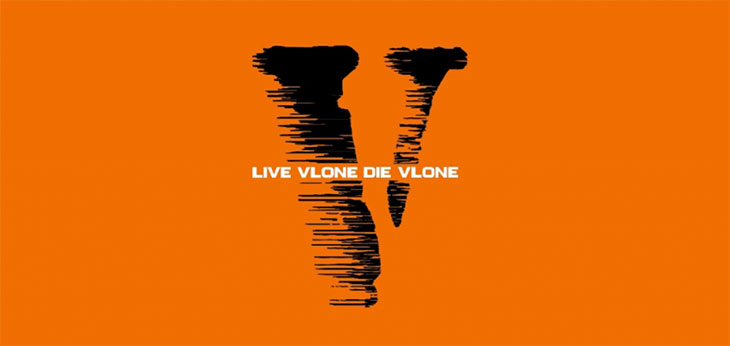 Launched in the streets of Harlem in 2011, Vlone was established by a band of different multi-talented musicians and fashion designers, members of the A$AP Group – Bari, Rocky, K, and Playboi Carti. Sharing the same music and fashion ideology, they decided to start a street fashion label named Vlone Clothing.
People who are into street fashion are well acquainted with the clothing line. Known for many collaborations with popular rappers and musicians, Vlone has released a significant number of capsule collections. We bring you our favorite collaborative hoodies, from the likes of Kodak Black, Juice WRLD, Weeknd and more.
Kodak Black x Vlone Zombie White Hoodie
Vlone has collaborated with Bill Kahan Kapri, better known by his stage name Kodak Black, in October 2019. The American rapper gained initial recognition with his single "No Flockin", released in 2014. while his debut album, Painting Pictures, peaked at number 3 on the US Billboard 200.
The Zombie Hoodie is undoubtedly the most eye-catching design in the collection. It features Kodak's zombie portrait on the chest, and Kodak Vlone HBK lettering on the sleeves, where HBK stands for Heart Break Kodak, the seventh mixtape by American rapper, released on February 14, 2018.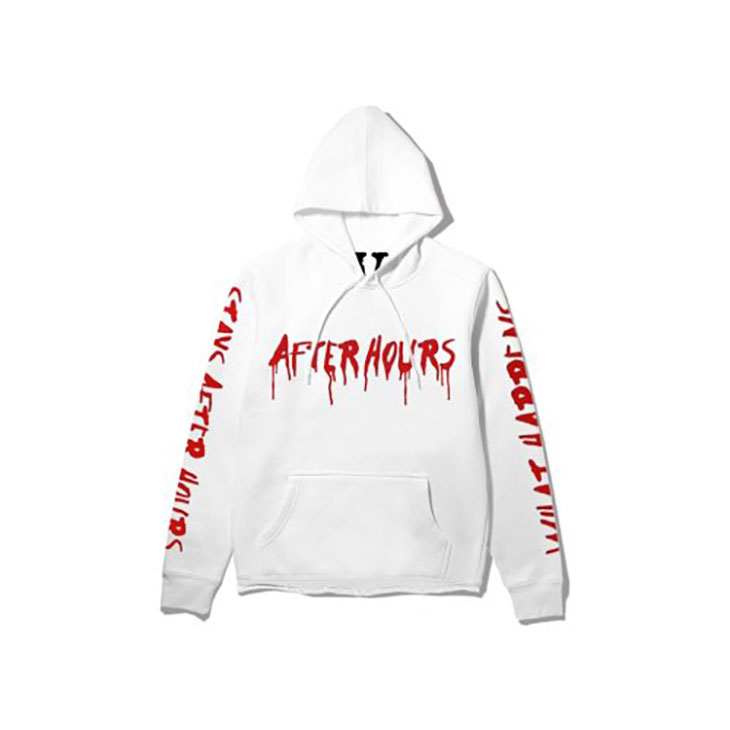 The Weeknd x Vlone After Hours Blood Drip Hoodie
The Weeknd and Vlone have collaborated on a merchandise capsule collection in 2020, that dropped alongside the artist's album, After Hours. The fourth studio album by Canadian singer and songwriter, After Hours is the artistic reinvention for the Weeknd, with the artwork and general aesthetic described as psychedelic and dreamy.
The front of this white hoodie features the album's title, After Hours, across the chest in a red dripping font. The back of the shirt features a red The Weeknd x Vlone logo, in which the artists face can be made out inside the logo.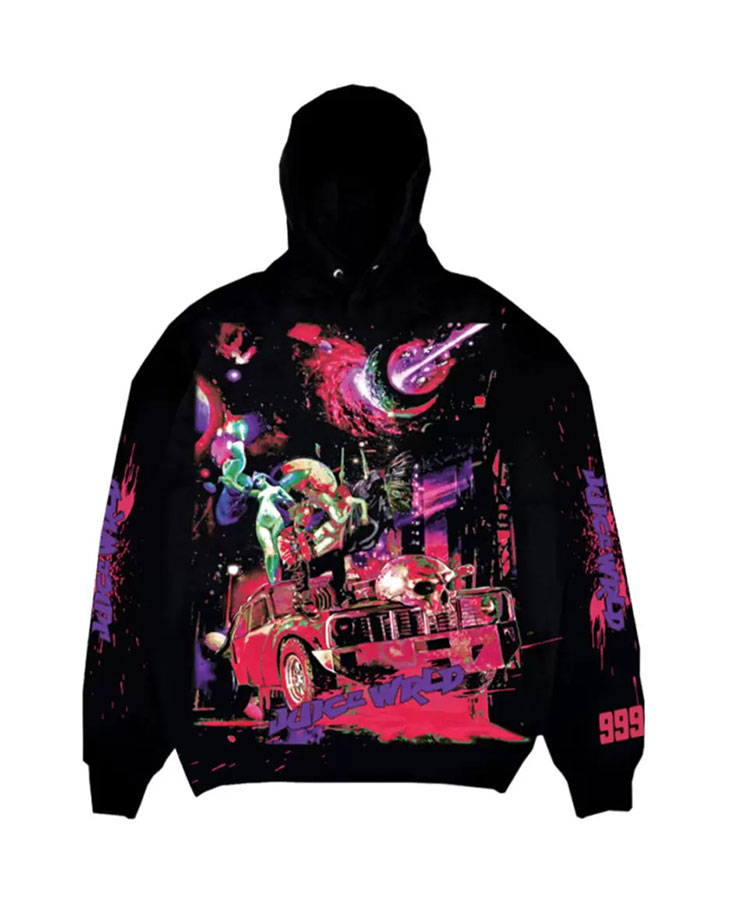 Juice WRLD Galaxy VLONE Hoodie
Vlone X Juice WRLD capsule collection is dedicated to American rapper, singer, and songwriter Jarad Anthony Higgins, popularly known as Juice WRLD. Born in 1998 in Chicago, the musician was a leading figure in the development and popularity of emo-rap and SoundCloud rap. He suddenly passed out in 2019, after suffering a seizure in Chicago's Midway airport.
This black Juice Wrld x Vlone hoodie was dropped in July, 2020, and has since become one of the brand's most popular apparel items. It features a galaxy print allover, a Juice WRLD graphic logo, as well as his signature 999, which he heavily used in his media presence. "In the last book of the Bible, it says that 666 is the mark of the beast, right? 999 represents taking whatever hell, whatever bad situation or whatever struggle you're going through and turning it into something positive and using it to push yourself forward." – Juice Wrld explained.
Find the latest Vlone hoodies at GOAT.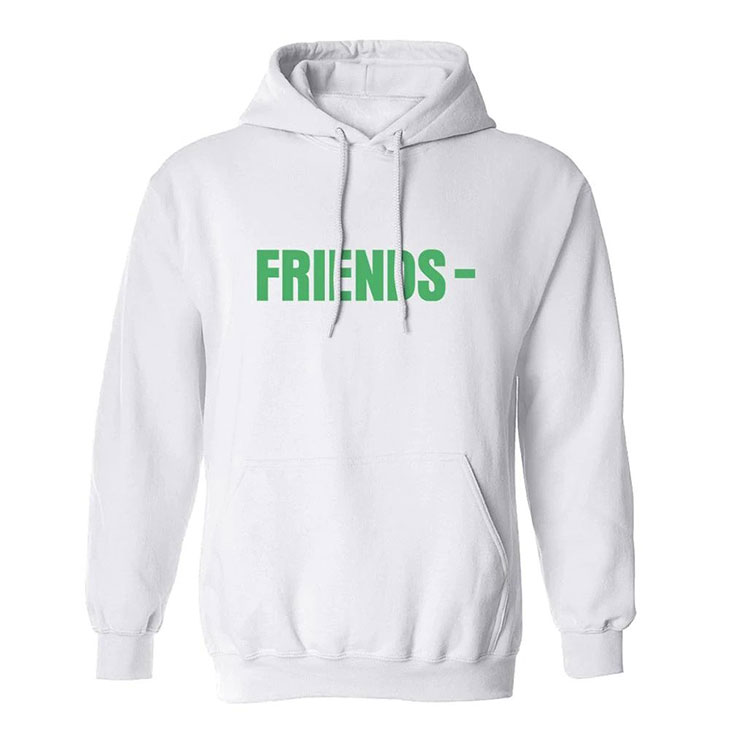 New VLONE Trend Friend Hip-Hop Hoodie
Vlone's Friends collection is inspired by the phrases "No Friends" and "Zero Friends", that brand is often using in its designs. Vlone x Friends always comes up with outstanding collections including tees, hoodies, sweatpants, and other accessories.
Vlone is always working hard on their designs to produce the newly and unique products every time. This time, the Friends hoodie comes in white colorway, adorned with a green graphic logo and very minimalistic design solution.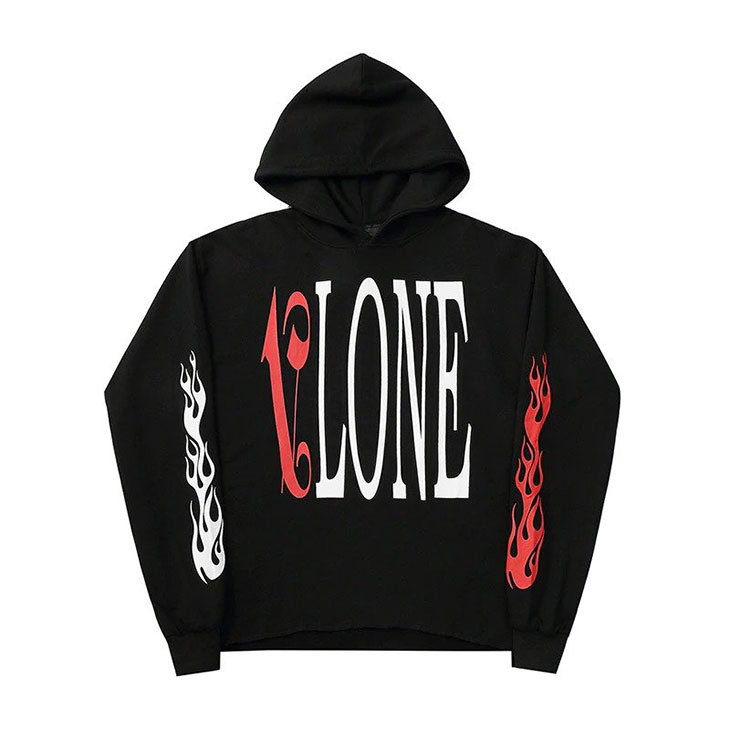 Vlone x Palm Angles Hoodie Red\Black
Vlone has collaborated with Francesco Ragazzi's Palm Angels on a limited edition four piece capsule collection, first released during the Art Basel in Miami in 2018. The Vlone x Palm Angels collaboration consists of a two hoodies and two t-shirts, featuring a combinations of the two brand's logos intertwined with each other.
Inspired by the California skateboarding scene, this black hoodie features red and white Vlone x Palm Angels branding on the front, a tribal print on the both sleeves, as well as a both brands logos on the back.