Billie Eilish is a breath of fresh air in a world dominated by gender norms. She is the one of the biggest style icons in music since she has always done what she wanted and defied all societal stereotypes. Her darker, more artistic music videos, as well as her genuine personality on social media, have made her a style icon. Her fans have witnessed her rise from a young 15-year-old breakout talent to a well-established star. Billie stays true to herself and her entire image as an artist. Her one-of-a-kind and unusual style has influenced a lot of young people. She is an inspiration for all those girls who don't feel at ease in traditionally feminine clothing, ushering in a new era in women's fashion. She is incredibly relatable, creates excellent music, and pushes young people to follow their ambitions. Many people look up to her and feel empowered to wear anything they want.
She knows what she wants and what looks good on her. She is a fashion icon because she is not afraid to take risks with her clothing. The artist has a flair for establishing a new style of fashion because she created a unique look by having the confidence to wear the most outrageous and imaginative outfits. Ms. Eilish loves a combination of oversized 1980s and 1990s hip-hop and skater outfits. Her looks capture the attention of a Gen Z generation skeptical of the artificial and blatant displays of sensuality.
"I just like dressing out of my comfort zone," Eilish said in an interview with Harper's Bazaar when asked about her style. "I want to dress in a way that if I was in a room full of people wearing regular clothes, I would be like, 'Oh I bet everyone's looking at me.'" This statement perfectly encapsulates why Eilish has become such a cultural icon: she takes risks and doesn't give a damn what others think. Eilish stays faithful to her own vision in all she does, whether it's song, performance, or fashion.
She has been endorsed by many high-end brands. Chanel, Gucci, Louis Vuitton, and Burberry have all designed custom looks for the 18-year-old, propelling her alternative style into the mainstream. Burberry, in particular, seems to be one of Eilish's favorite brands. We've rounded up some of Billie's best and bravest Burberry moments.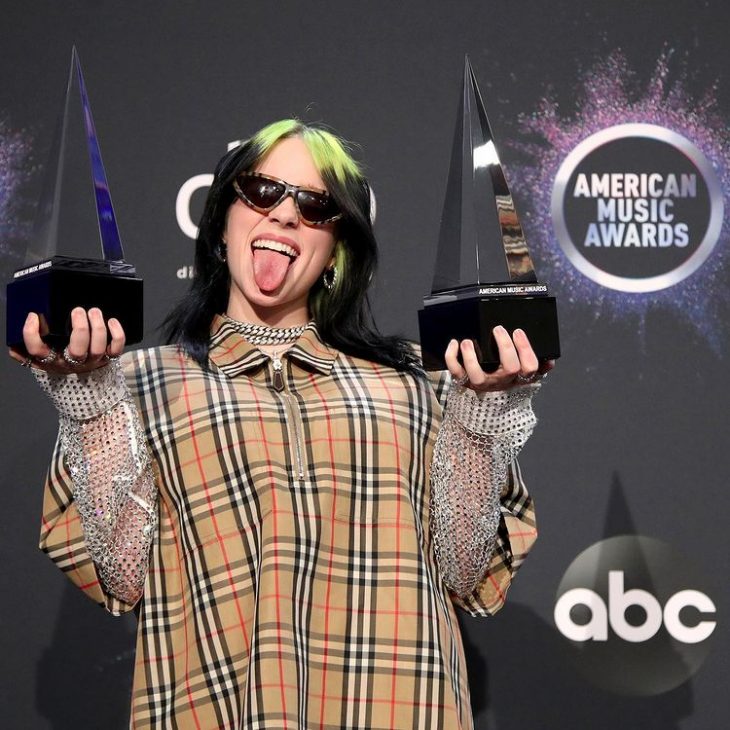 2019 American Music Awards
In 2019, Eilish wore a straight-off-the-runway crystal hood with a T-shirt and trousers in Burberry's iconic tartan to accept not one, but two American Music Awards. For this look, Burberry's vintage pieces have been reworked with crystal mesh sleeves. The bedazzled headpiece from Burberry's Spring 2020 collection features a veil that covered her face. It matched the sleeves of the shirt underneath.
She completed the look with diamond rings, silver hoop earrings, layers of chain necklaces and a pair of Burberry sneakers that matched her outfit's characteristic vintage check style. The sneakers feature contrasting white rubberized straps with Velcro fastenings, black lace-up closures, and hefty treaded rubber soles.
Discover authentic Burberry clothing at GOAT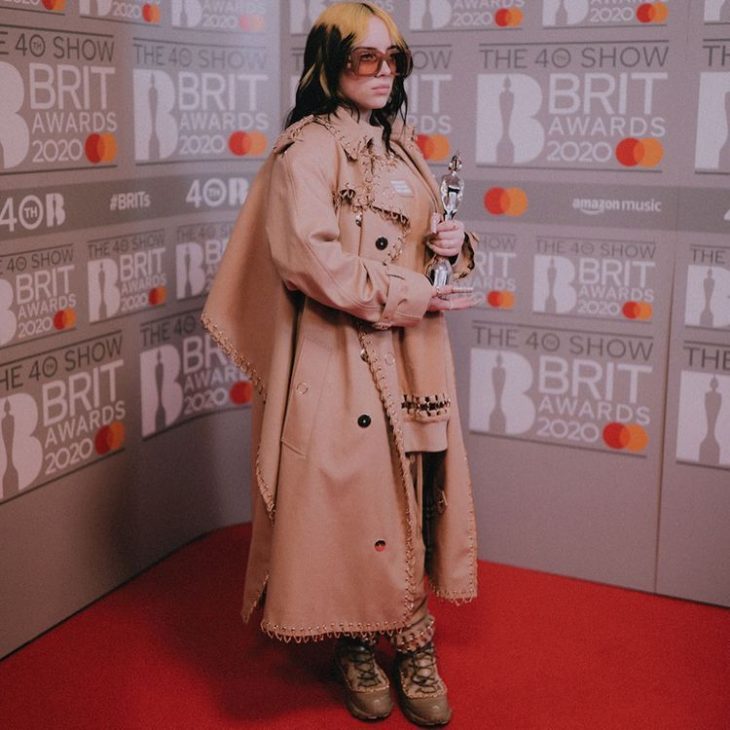 2020 Brit Awards
For the 2020 Brit Awards, Eilish wore a head-to-toe Burberry look again. And by head-to-toe, we mean she wore Burberry in pretty much every way imaginable. Burberry dressed the "Bad Guy" singer in her typical baggy style, fresh off its AW20 show. She wore a modern version of the iconic Burberry trench coat, which was also lined in the brand's instantly identifiable tartan plaid, and had metal embellishments that matched her tan velour tracksuit.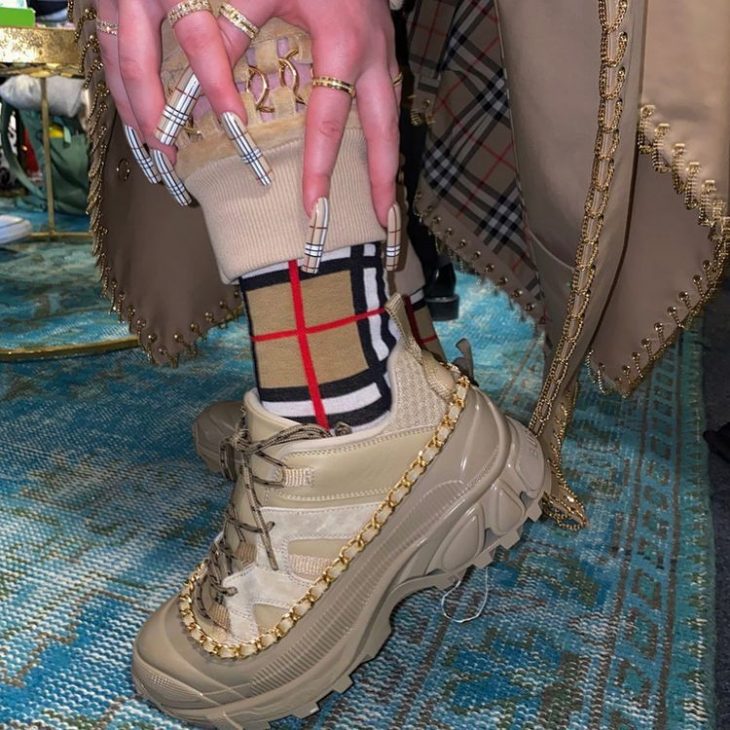 However, the checks didn't end there. Eilish carried the designer theme all the way to her manicure. Her nails were done in a hand-painted version of Burberry's signature print, check with a beige foundation crisscrossed in hues of white, black, and red.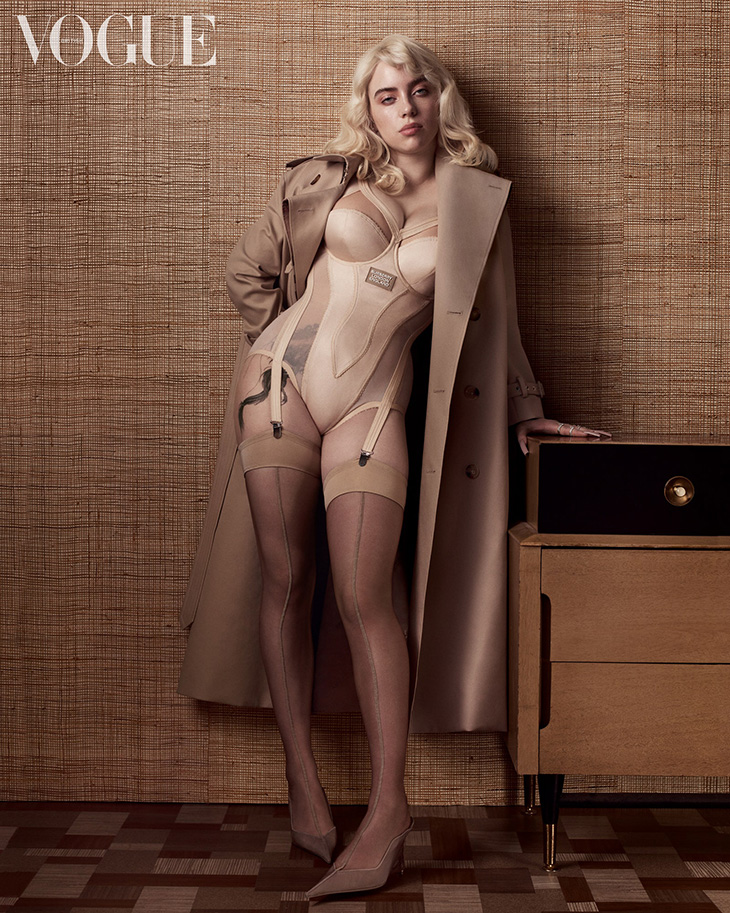 British Vogue
For the June 2021 issue of British Vogue, Eillish ditched her signature baggy style and revealed a new side of herself. She resembles a pinup model from the 1920s and/or 1950s, with strong remnants of Marilyn Monroe. She is, without a doubt, a bombshell. She wore a fitted brown trench coat over a custom beige Burberry corset with matching beige stockings and heels, as well as nails. Her natural makeup, as well as her blonde wavy hairdo, emphasized her overall look, giving it a nude feel.
Now, we've seen Billie strutting her stuff for a magazine shoot. There's something to be said about it, as well, as Billie mentioned in her interview. She discussed body image issues, not ones she had for herself, but ones that the media imposed on her as she was thrown into the spotlight over the last few years. Billie shared a quote from the issue in which she discusses how some publications freaked out when she stepped out in anything other than her signature style: "Suddenly you're a hypocrite if you want to show your skin, and you're easy and you're a slut and you're a whore. If I am, then I'm proud. Me and all the girls are hoes, and f*** it, y'know? Let's turn it around and be empowered in that. Showing your body and showing your skin — or not — should not take any respect away from you"