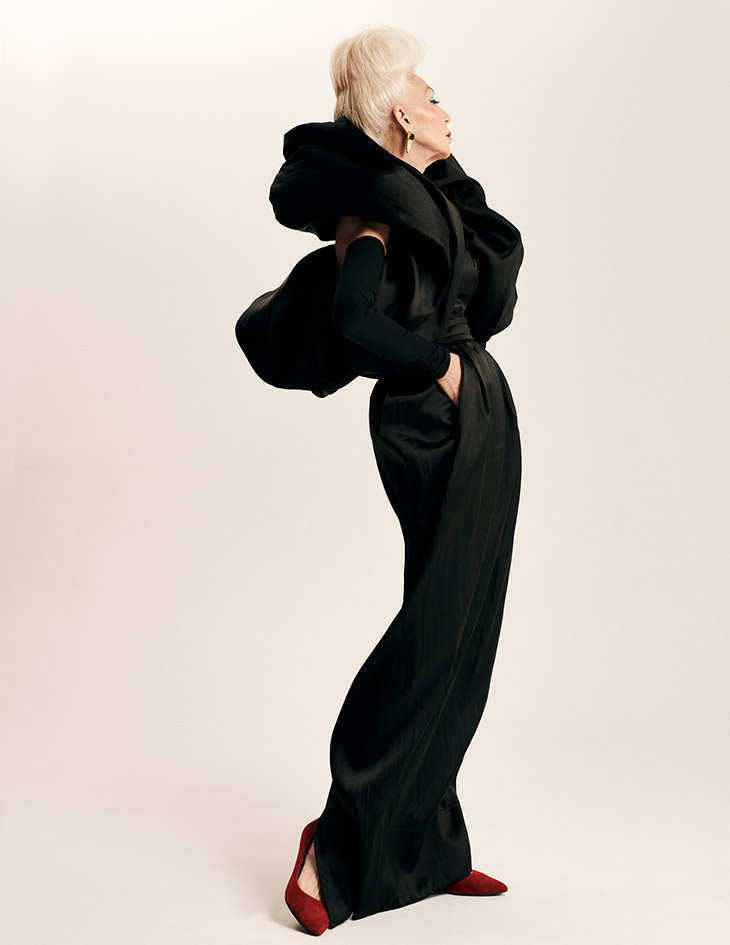 Model, actress, and inspiration to us all, Colleen Heidemann sits down for an interview with DSCENE editor Ana Markovic, to talk about her modeling and acting careers, style, beauty and representation of older women in the media.
For an exclusive DSCENE STYLE story Colleen at Next Management teams up with photographer Alena Sazonova. In charge of styling was Ilaria De Plano, assisted by Mia Orozco, with beauty from hair stylist Victor Mendoza, and makeup artist Janice Daoud, assisted by Hannah Jaclyn.
You are an inspiration to so many women out there, did you always have such a positive outlook on life?
I am always so immensely pleased to receive a compliment as gracious as is your assessment of the woman I am continually striving to become but in tandem with your observation must come my answer of honest and willing truthfulness… Thus, no, I have not always been nor have I had the strength to be as positive as I wish and as I CHOOSE to be today. Time and experience and a sincere desire for change are such enormously precious gifts.
How did it feel to start a modeling career at 69? Was modeling something you always wanted to try?
As a pre-teen, I was captivated with the loveliness and gracious aura of Jacqueline Kennedy and soon thereafter discovered the iconic beauty of actresses Sophia Loren, Audrey Hepburn, Grace Kelly, and Elizabeth Taylor. The cosmetic counters and magazines allowed me an awestruck proximity to the bodies and faces of Jean Shrimpton, Karen Graham, Twiggy, Iman, Linda Evangelista and Christy Turlington, to name but a few of the irresistibly stunning women who led me to the world's door of the magnificent SUPERMODEL! "Perchance, to dream", oh, yes! To be, oh, no… Not possible!
Thus, how has my career happened? It is sincerely and utterly incredulous to me, due only to the wonderful kindness and extraordinary generosity of others…..namely Ari Seth Cohen of "Advanced Style" who took a picture and placed it in a book he was soon to publish, Antonia Hemgesberg, a student of music in Vienna who saw my photo and wrote a most precious letter, Anna Costanza of AC Talent and Alexis Borges of NEXT MANAGEMENT, LA whom each I met and determined a conclusion I know not what! So extremely grateful to one and all, I forever shall be.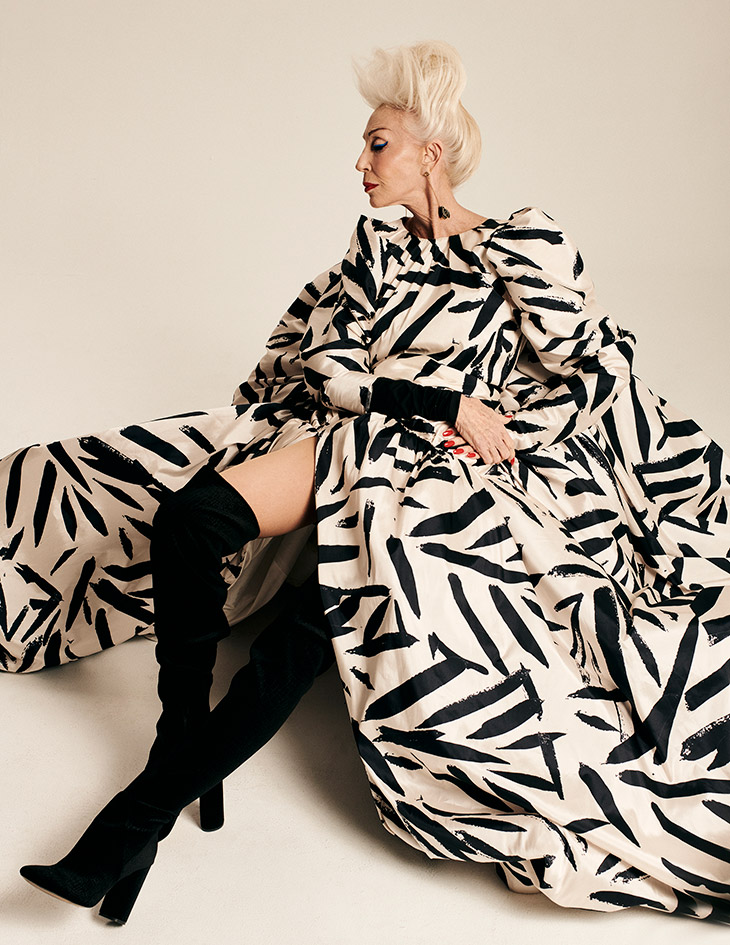 Tell us about your role in the "Father of Flies" movie. Do you enjoy horror movies, and was it fun to act in one?
No, I do not enjoy the genre of the horror film but was asked by my agency if I might read for the role of Mrs. Start, an elderly woman, a shaman sort who lives in a ramshackle house in the woods and has befriended a young neighbor boy. She becomes possessed with a haunting fear that a terrifying occurrence will soon consume his entire family…
I adore the element of teamwork within acting for it is such a uniquely interesting experience. I loved every moment of making this movie, as well as, having had the special opportunity to have worked with such gifted artists.
Is acting something you want to pursue further?
Oh, yes… Definitely! I am passionate about seeing older women cast in leading roles outside the traditional, stereotypical grandmother image. I want her seen and able to be believed as a wonderfully strong, immensely intelligent, worldly, capable person living life within her own reality-and one accepted universally by others-of steadfast, gracious and critically important self worth! A woman's significance must further evolve that always it will also be determined outside the realm of child bearing, for ever so numerous and oft-unheralded are her other staggering, glorious and myriad contributions to humanity.
How do you deal with ageism?
I encounter and rail against it on a daily basis, primarily because I vehemently believe in the ever so necessary, utterly special, and wondrously unique presence that is "WOMAN"!
A difficult truth is that women age so differently than do men, that with menopause comes the "Age of Irrelevance"! Well, I prefer it to be felt and seen as an "Age of Enlightenment", whereupon we realize just how much that is wonderful we yet have to learn, to feel, to think, to experience, and oh, yes, to laugh about. So let us not despair but continue to keep going, keep doing, keep moving, KEEP BEING ALIVE!
As a flight attendant you got to travel a lot, did that influence your sense of style?
I believe travel to be life's truest and most meaningful form of education as it not only allows for but insists upon a personal, far reaching and extended growth well outside one's daily repetitive occurrences. This being said, it therefore must be largely contributory but I must admit that I well remember my sense of style having formed at an age well before my years of cognizant travel began… Perhaps as far back as wishing to configure somewhat differently the beautifully made outfits my mother created for my dolls!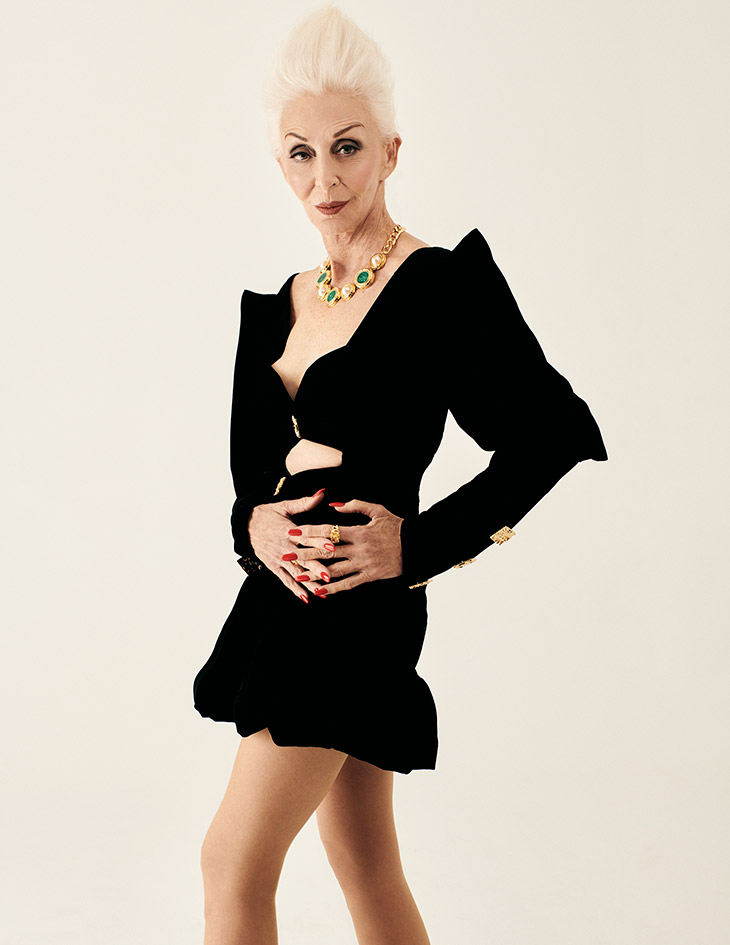 How would you describe your style? Who are your favorite designers?
I do not possess one definitive style as I tend to wear at this stage of my life clothing I never would have chosen when younger. I therefore do not stereotype any image of myself but prefer a more diverse selection process… I know it when I see it and usually realize immediately how best my body might wear it!
I know that I fell in love with fashion and the recognition of style upon returning home to America to live, falling head over heels straight into the pages and headlines of Jacqueline Kennedy…. thus surely my earliest designers of mention must, indeed, be Hubert de Givenchy, Oleg Cassini, Christian Dior and Coco Chanel.
Today, there are many designers whose creations I adore: Ralph Lauren, Carolina Herrera, Carolyne Roehm, Victoria Beckham and Tom Ford, to name but a few.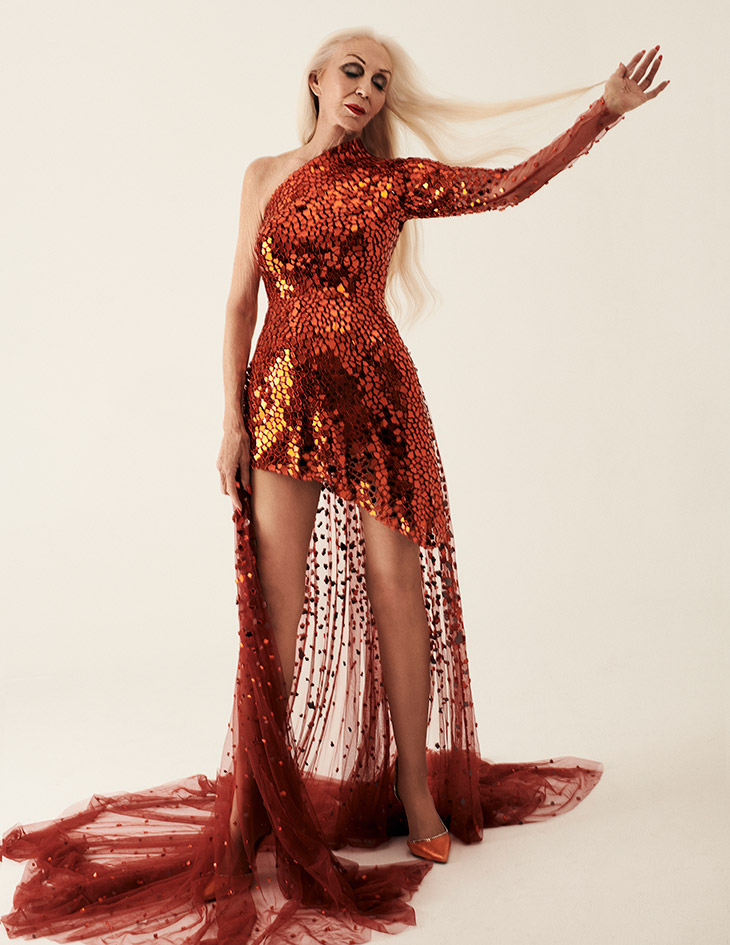 What is your beauty regime? And how do you stay in shape?
I think so much more today than when younger about the choices I put into my body. I do not smoke nor drink but never have. My emphasis is always on vegetables, raw or grilled, preferably. I eat very little meat, chicken primarily, beef but a few times during the year. In 2022, I SHALL make an effort to eat more fruit, to put less Cool Whip atop my raspberries! I try very hard to consume less sugar and am presently transitioning from Splenda to Stevia. With difficulty, I am committed to eating less dark chocolate. Very hot coffee is a passion, though never consumed, admittedly, unless with half and half!
I am giving so much more thought and consideration to the amount of physical activity in my life.. Swimming, biking, walking, stretching. In the months ahead, I would love to resume hitting a tennis ball, taking ballet at the barre, and perhaps, pilates classes.
I sincerely believe that physical and mental stimulation are not maybe but must toward obtaining a better life ahead, one, hopefully, which might allow for so much more personal freedom, dignity, pride and self reliance!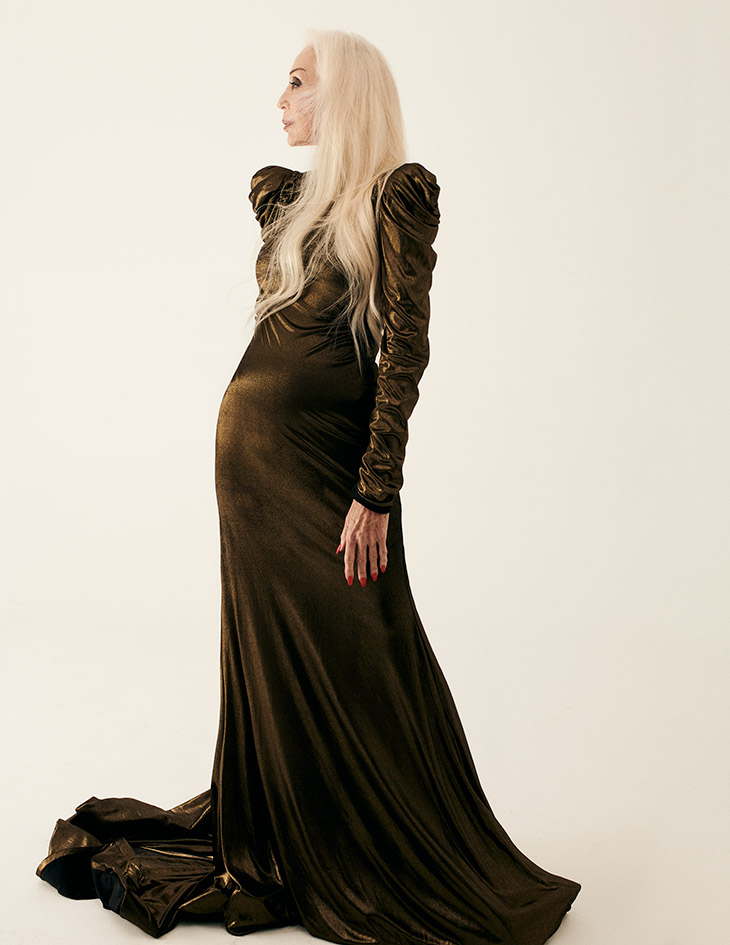 If you could go back in time, what would you tell your teenage self?
1. The life you are going to live will quite possibly and perhaps, most likely, not resemble the one you had so carefully planned…..
2. Don't spend so much time looking for answers which will never be yours to determine……
3. You will never have enough time, regardless of how much you are granted. It is a gift of such consequence to receive, as well as, to give……
4. Be kind.
5. Be generous.
6. Laugh more.
7. Love most of all
What makes you happy?
Puppies… And number 7 of number 9
What's next for Colleen Heidemann?
DEFINITELY, PUSHING AHEAD FOR THE PRESENCE AND RELEVANCE OF THE OLDER WOMAN…
Now having said this, having completed my questions, a really precious moment ahead for me would be about CAKE… I LOVE CAKE! WITH COFFEE, OF COURSE!
HUGS AND LOVE TO ALL… HAPPY, HAPPY 2022!
Keep up with Colleen @colleen_heidemann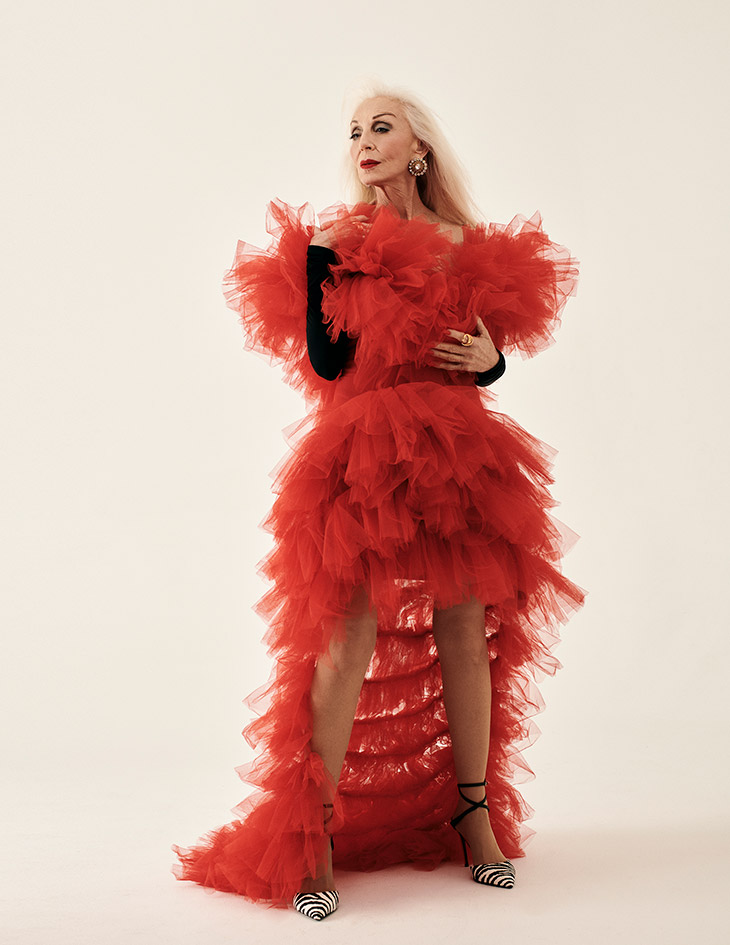 Photographer Alena Sazonova – @alena_saz
Wardrobe stylist Ilaria De Plano – @ilaria_de_plano
Makeup artist Janice Daoud – @janicedaoud
Hair Stylist Victor Mendoza – @mendozavicf
Model Colleen Heidemann at NEXT Management
Styling Assistance Mia Orozco
Makeup Assistance Hannah Jaclyn
Location Dogw
Special thanks to: Style PR, Mason Privée PR, The Trend Haus