With the Spring Summer 2022 Haute Couture Collection held at Paris Fashion Week, Schiaparelli introduced a black, white and gold collection as a return to basics as it was a move towards the elemental. Brand's Creative Director Daniel Roseberry switched from his surreal colllections to a more empyreal. This season orbits around an expansive redefinition of Schiaparelli gold.
The heavens as a place to escape from the chaos of our planet, but also the home of a mythical high priestess, at once goddess and alien, who might in fact walk among us. I imagined a being whose very clothes defied rules of gravity: She would wear razor sharp tailoring, with nipped waists and oversized "dove" collars ready to take flight. She would wear a short cream duckbill-backed jacket of tailors "U.S." cotton toile, embroidered with vintage Schiaparelli palm trees that actually lifted themselves from her shoulders and stood upright at attention. She would wear neat shorts trimmed in ecru silk faille, beige satin waist cinchers, aerodynamic bustiers with cream satin sashes, and fountains of black crin that trembled and bounced in movement. She would wear a long tailcoat in satin back faille, embroidered with a vintage Schiaparelli motif – the Apollo Fountain of Versailles. And finally, after the rigor of tailoring and exhausting a new, sharper silhouette, she would embrace her inner Folly – giving way to fountains of gold, black plumage, creepy crawlies in cabochons, and a crystal cocktail dress like the inside of a jewelry box. – Daniel Roseberry
For this season, Roseberry introudced a perfect shade of gold, executed in two ways. One for naive sculptures representing the codes of the Maison, in clay and foam. From here, the eyes and padlocks, the Lobster, the Dove, and a litany of bodyparts, become molds for tissue weight leather. The second you see in pieces like a columnar black silk jersey dress, its bodice overspilling with long, shivering strands of metal, as if a corset had overspilled its confines, comes from metal sheets and has been hammered, polished, and left to swoosh about like a jellyfish in water.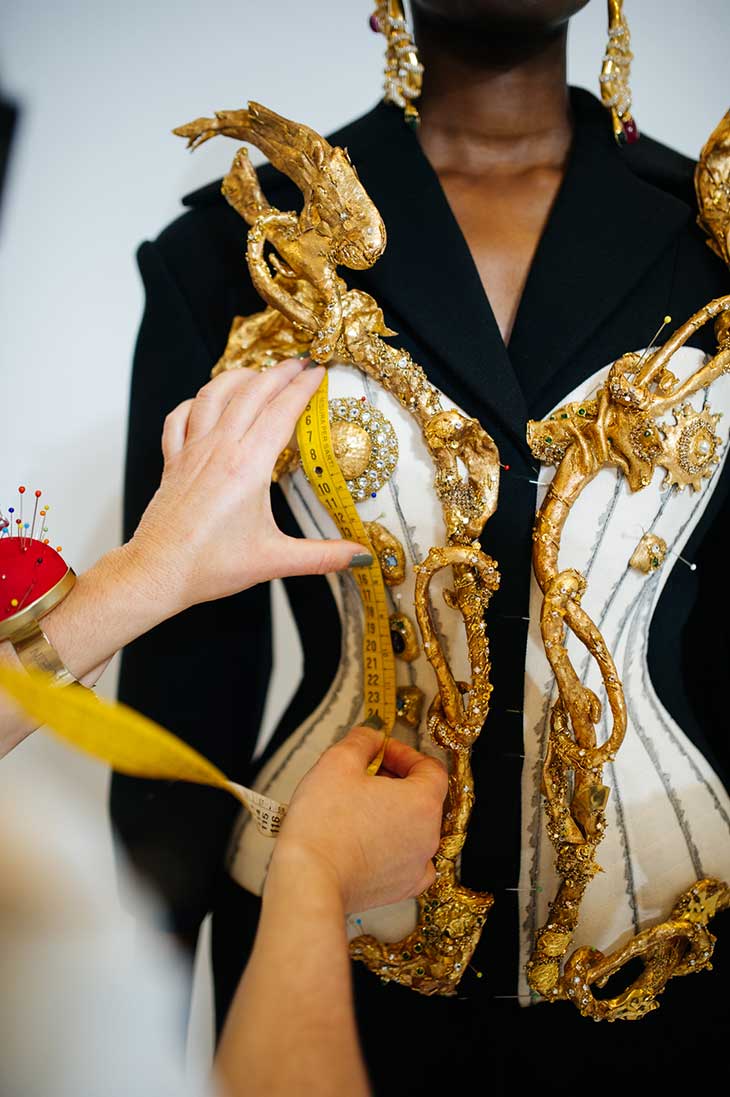 Designing this collection also made me realize something else. There are designers who design because they love clothes. There are designers who make clothes because they love the craft, because they love people. There are designers whose work is indebted to fashion as a concept, or to glamour as a business. But I design in order to make people feel something. When clothes and craft and hair and music and the wearer are in harmony together, when they are all trying to communicate something, we can be reminded why we love fashion— why I love fashion. It isn't for the celebrities. It isn't for the likes. It isn't for the reviews. It's because, when it's done right, when it has something to tell us, it can help us feel the inarticulable. It's because it still has the power to move us. – Daniel Roseberry