Kanye West's admiration of the top fashion brands is a long standing one, especially his respect for Demna Gvasalia, the Creative Director of Balenciaga.
The name of the collection is long but self explanatory. And what we know so far is basically only the name of the capsule collection – "YEEZY GAP ENGINEERED BY BALENCIAGA". Thanks to Kanye West fashion designer who brought hoodies to a couture house is now in a full circle swing coming to GAP. Yes, Demna Gvasalia is to collaborate with GAP in large portion thanks Ye. While as we said not much is known at the moment a logo is revealed:
The logo is pretty much the same YZY logo, just turned black. Demna Gvasalia is Kanye's and Kim's now long standing go-to designer. Dressing both of them in custom made looks for more than a year. In a reunion of a sort Kim Kardashian also wore Balenciaga couture wedding dress for the DONDA listening party concert. Followed by Kim's total custom made Balenciaga looks for occasions such as Met Gala, but also simple walks out from a hotel to her car. This collaboration between Kim and Demna turned the catsuit into one of the biggest trends of the pandemic year #02.
Without a doubt Balenciaga and Demna are there for Kim and Kanye. Yet the scale of the collaboration is at this point unknown. West's own much talked about collaboration with GAP fell short in comparison to expected major takeover of the American clothing giant. Instead, West delivered only an incredibly hyped puffer jacket shaped in honour of Cristóbal Balenciaga's signature bolero jacket.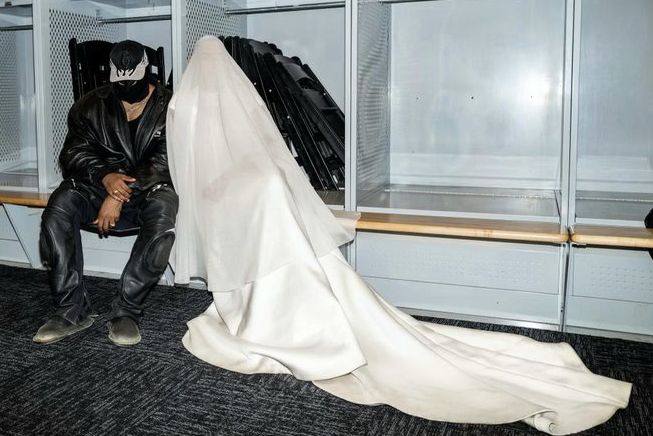 However this is not the first collaboration between West and Demna. The two collaborated in the DONDA merch resulting in "Engineered by Balenciaga" pieces. This was followed by their work on a tribute T-shirt design in the honour of the recently passed hip-hop legend DMX.
"The announcement came through via a press release from YEEZY and GAP. This first of its kind launch sees Ye's peerless vision bring together the most influential designer of his generation, Demna, with iconic American brand, gap. YEEZY GAP engineered by Balenciaga continues 'Ye's commitment to bringing creativity to the forefront and delivering his vision of utilitarian design for all," shares GAP.
The date is vaguely set up as in "later this year". Will it be more than a one piece collaboration? We are yet to see.
Find Yeezy Gap hoodies, jackets, and more at GOAT.
What do you think about the YEEZY GAP collaborating with Demna's Balenciaga? Let us know in the comments below: