On the night of February 13th every football fan was either at SoFi Stadium in Inglewood, California or at home watching one of the biggest sporting events ever – Super Bowl. The football game became a huge event in the last two decades mixing sport and performance and entartainment with the famous Superbowl Halftime Show. The Halftime show brings the biggest music stars and performers and helps broaden the television audience and nationwide interest. This year's halftime show brought the A listers like Snoop Dogg, Kendrick Lamar, Mary J. Blige, 50 Cent, Dr. Dre and the one and only Eminem.
The performance was a true throwback to 90s and 00s, and the stars brought their style A game. Eminem was dressed in his signature skinny jeans, t-shirt, hoodie, cap, and gold chains, but what stood out the most was his sneakers. The 'Lose Yourself' singer, premiered a brand new Jordans specially made for the event.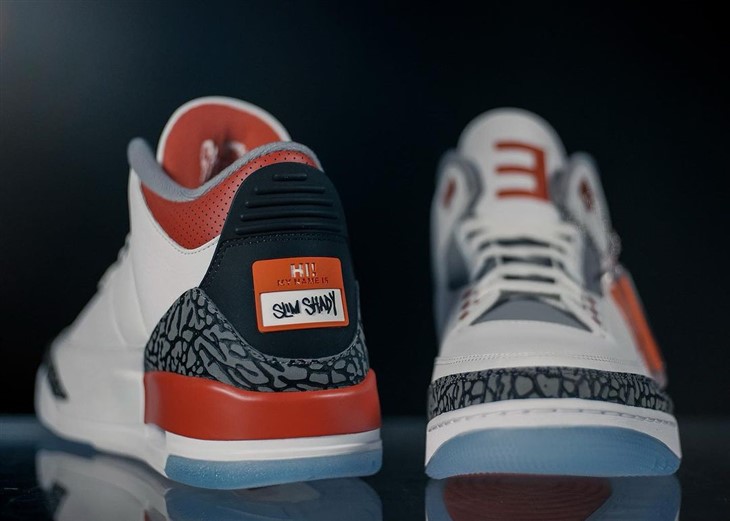 After the event, singer took to his Instagram to unveil the custom made Air Jordan 3 PE 'Air Shady'. The Jordan Brand pair featured black, white and red colorway with a translucent outsole, tongues accented with Eminem's signature 'E' instead of the signature Jumpan logo and rubber 'Hi! My name is…' name tag on the heel, complete with handwriting 'Slim Shady', also known as his rap alter ego. The inner tongue features a Shady Records logo, rapper's and his manager's record label. After Eminem's post everyone started wondering if this is an announcment of an another collaboration between Jordan Brand and Eminem, but no official statement has been released. Will they be available for everyone or will they be a limited edition pair, one thing is for sure, they sure made the headlines. If you're looking to cop similar Jordan pairs, head over to GOAT or Flight Club.
Eminem x Jordan Brand
Detroit rap god Marshall Mathers has collaborated with Nike and Jordan Brand a multiple times in his career. He covered a wide variety of silhouettes, collaborating with the brands, from Air Max to Air Force and Jordans. What is specific about his releases with Nike and Jordan is that the most of them are auctioned in charitable events. On the other hand there were a lot of collaborations that were made specifically for album releases, or events like 'Air Shady'.
The first collaboration between Eminem and Jordan Brand was in 2004 with Air Jordan 4 Retro 'ENCORE'. Just 50 pairs of this iconic sneaker was made for friends and family. The sneakers sported an eye-catching blue suede build with red, grey, and black accents with ENCORE and Eminem branding behind the tongue and heel tab. Luckily for the fans, 23 additional pairs went up for raffle in 2017.
For the 2008 'The Way I Am' rapper's autobiography, Jordan and Eminem presented Air Jordan 2 'The Way I Am'. A grey suede and black leather took over the sneaker, with Eminem's lyrics imprinted along the mudguard and collar. The shoe was limited to 313 pairs, in honor of Eminem's hometown of Detroit, and released exclusively online via the Air Jordan Flight Club.
In 2015 they released Air Jordan 4 'Carhartt' through a charity auction on eBay. Only 10 pairs were made. The Carhartt twill upper, chrome accents, waxed laces, leather interior and a translucent outsole made this classic sneaker an absolute favorite. Today you can find some of them reselling on sneaker sites for 30000$ or more, making it one of the most expensive Jordan brand sneakers.
Seven years later we get the fourth collaboration of the rapper and footwear brand. We're not yet sure if 'Air Shady' will be produced as a limited edition pair, or if it will go on raffle. Until then, get yourself a pair of Jordans – Buy authentic Jordan 3s here.