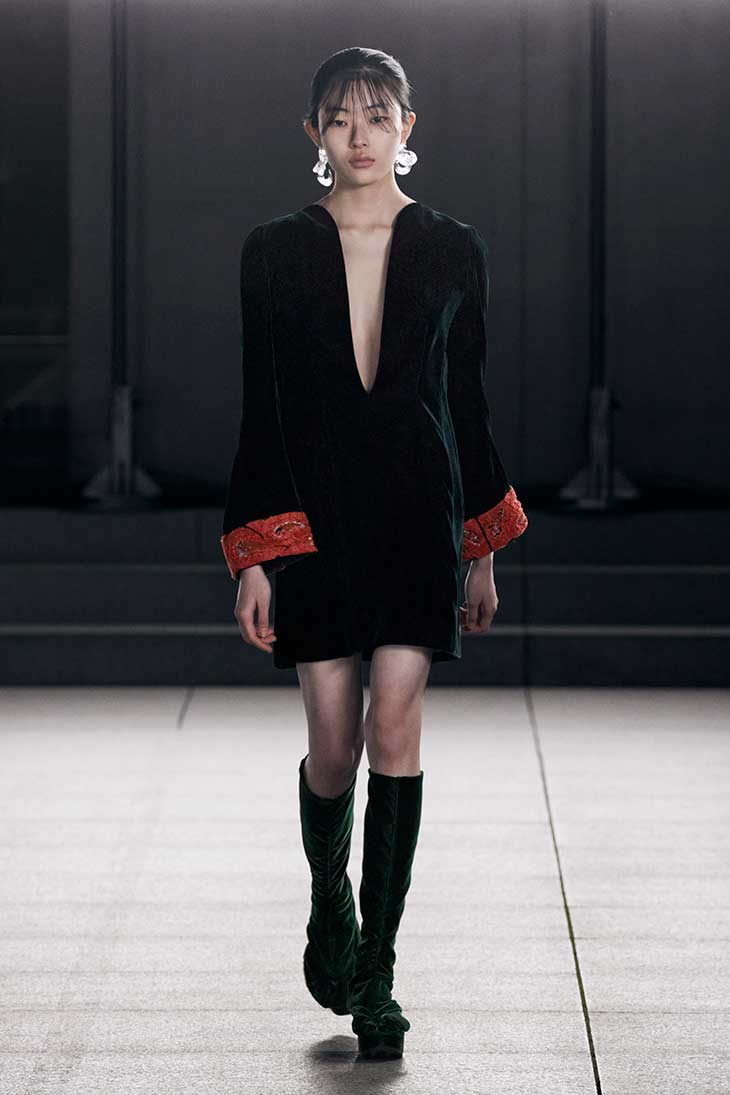 Fashion designer Maiko Kurogouchi presented MAME KUROGOUCHI Fall Winter 2022.23 Womenswear Collection , as a part of the ongoing Paris Fashion Week. The brand continues to unfold the story of Nagano, designer's homeland and explores the mountains to absorb various local cultures passed on from generation to generation, and finally landing at the Jomon period, the oldest cultural endeavours in the history of the nation. The collection shines light on 'presentness of the past' with modern perspective, recreating the texture and colourfully painted autumn fields by using original fabrics and sophisticated proportions, inviting a journey warping through the layers of time.
Whilst discovering the autumn landscape, the collection continued to deep dive into ancient remains, synchronising with people and culture flourished during the Jomon period at this very place circa 15,000 BC. Sensing from hand-crafted patterns on fragments of Jomon (cord marked) pottery, Kurogouchi sees the prayers and struggles of people at the time. The cord embroidery, an iconic technique utilising lace to create intricate patterns, was updated with new fabric. A soft touch mimicking the texture of moss laying on the snow melted ground, expressed in three-dimensional embroidery that embraces the dress with a primitive, exaggerated charm. The tactile arabesque designs inspired by the surface of Jomon pottery, are dyed from the silk thread and woven in three layers to recreate the Kurogouchi's brush stroke to detail, shown in various garments from voluminous military coats, collarless jackets, to skirts in sculptural proportion. All these signs highlighting the excellence of handcrafts in Jomon culture elegantly brought in the velour mini-dress with asymmetrical ropeworks and cord embroideries on cuffs. – from Mame Kurogouchi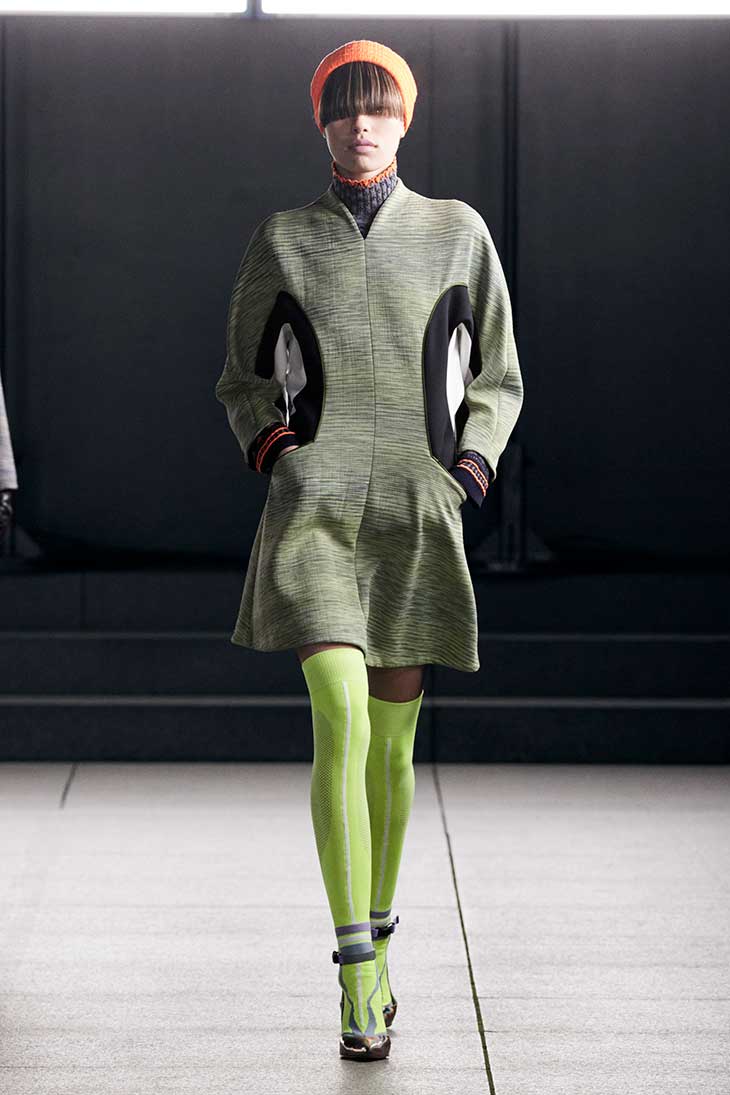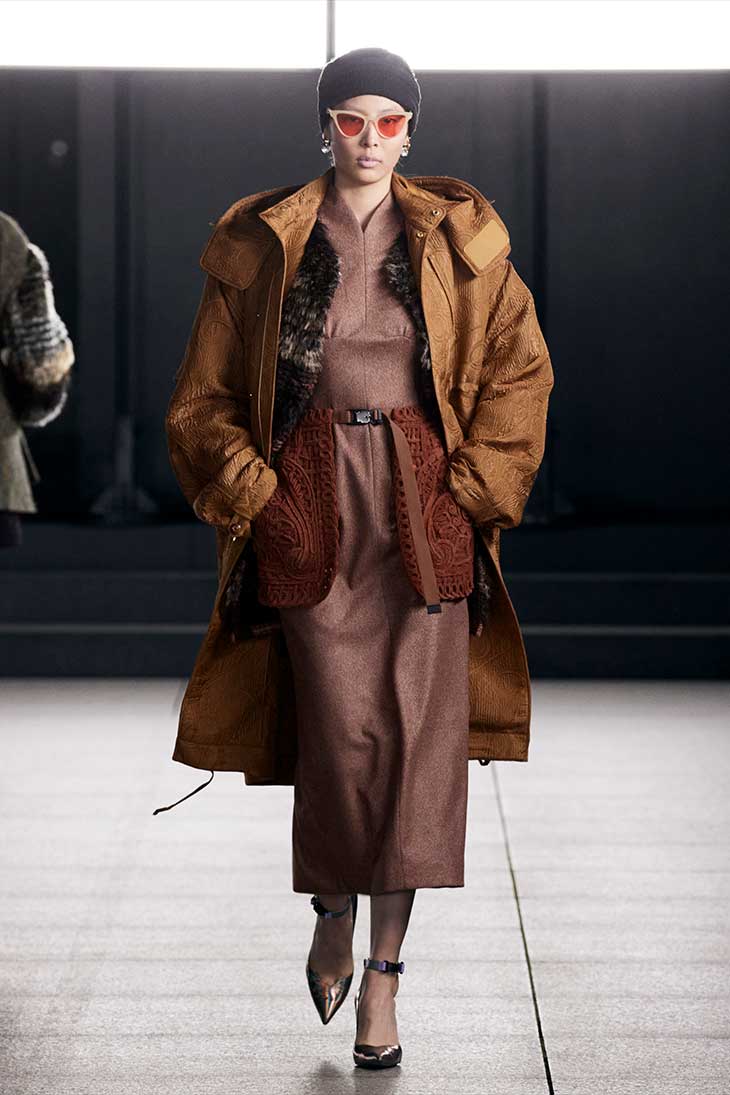 The rich nature brought prosperity for over 10,000 years to the Jomon period, similarly embracing Kurogouchi. Praising the natural surroundings of her upbringing, the chunky knit scattered with words defining the scenic memory. A series of landscape ski knits poetically expressing four seasons of Nagano in praise of nature's voiceless voice.
For this season, looks are all inspired by the landscapes of Jomon, bringing autumn colors woven together. From knitted coats and tops to velvet dresses with accentuated shoulders and knitted pouches, the collection gives a modern twist on classic ski style. For the collection, Mame Kurogouchi collaborated with hat maker Kijima Takayuki and footwear designer Hakimono Sekizuka.