American professional basketball player LaMelo Ball has teamed up with sports giant Puma on the latest version of their popular MB.01 sneaker. For this collaboration, Puma teamed up with Melo's favourite Adult Swim hit series, "Rick and Morty" to create an exclusive new line, with designs inspired directly by Rick and Morty's wild adventures.
While Melo's Pumas' Rick and Morty tie-in is new, the show has already collaborated with the NBA on a few occasions, including bespoke footwear worn by players such as Karl Anthony-Towns and Jaxon Hayes. Rick and Morty is no stranger to sneaker collaborations, having previously collaborated with Diadora for a 2018 collection.
MB.01 – A New Beginning
The MB.01, LaMelo Ball's first signature shoe with Puma, was released in December 2021. Puma's latest signature shoe since returning to the basketball category in 2018 was the new silhouette. LaMelo co-designed the MB.01, which features his personal style throughout the sneaker, from bright color choices to detailed, one-of-a-kind detailing. Fresh brilliant colorways with the same artistic design of flames shooting down from the ankle collar and the term "Rare" stamped on the shoe's rubber bottom will be available in February 2022.
Puma's MB.01 will be one of the brand's most valued belongings. The sneaker will be a major get for fans this year, thanks to the demand for an all-new wave of hardwood sneakers and the hype surrounding Lamelo and the Ball family name. With the release of standard colorways, more exciting collaborations are expected to follow.
Puma has made a number of moves outside of LaMelo since relaunching its basketball operations in 2018. Breanna Stewart was also signed by the brand, and her signature shoe will be released sometime this year. Stewart will be the WNBA's 10th player to have a signature shoe in the league's 25-year history. Mikey Williams, the No. 7 prospect in ESPN's high school basketball rankings for the class of 2023, also signed a contract. Despite the fact that no trademark shoe has been released, Williams is nonetheless excited about the opportunity.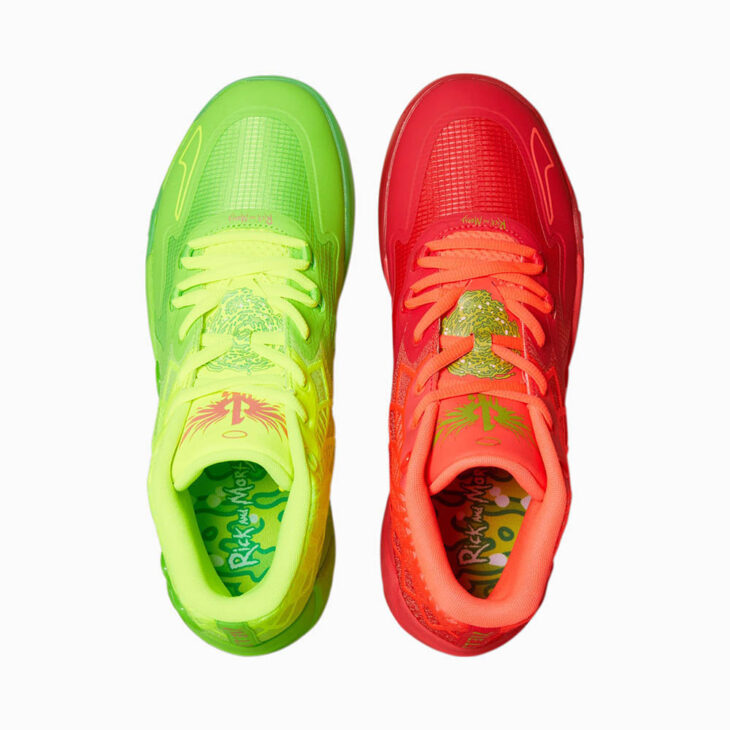 All Star Weekend and the Puma Effect
Even before Ball showcased his bright new pair of Pumas during 2022's NBA All-Star Weekend, marking the brand's first appearance at an All-Star Game since Isiah Thomas in 1990, the firm that re-entered hoops just three years ago had arguably the best showing during All Star weekend, making the MB 1s the winner in several popular votes.
Olympic high jumper Gianmarco Tamberi performed a tip dunk in the "Rick & Morty" MB.01, while Peloton trainer and Puma ambassador Alex Toussaint wore two pairs while winning the Celebrity All-Star Game MVP.
In the Rising Stars Game, LaMelo wore his Rick & Mortys before presenting a new vibrant purple pair at All-Star practice.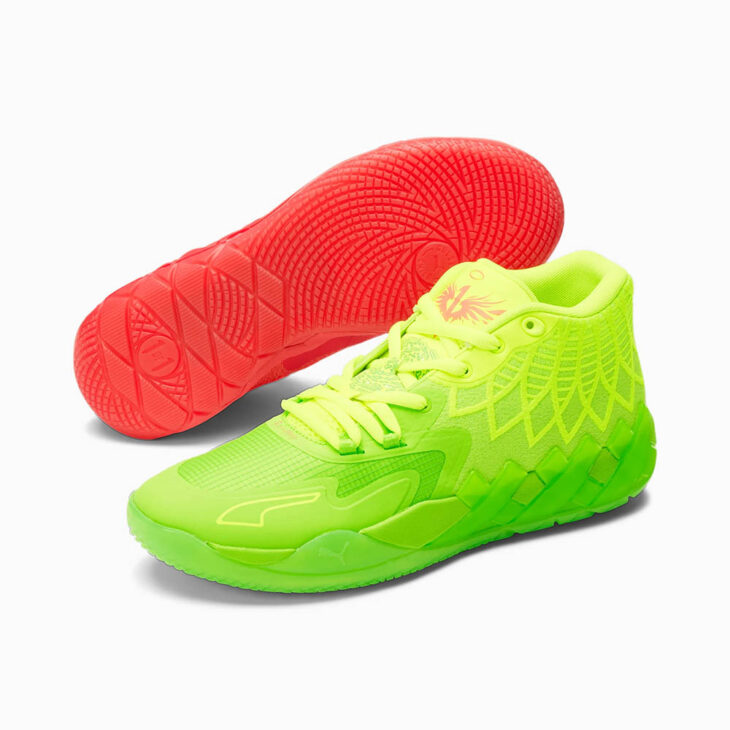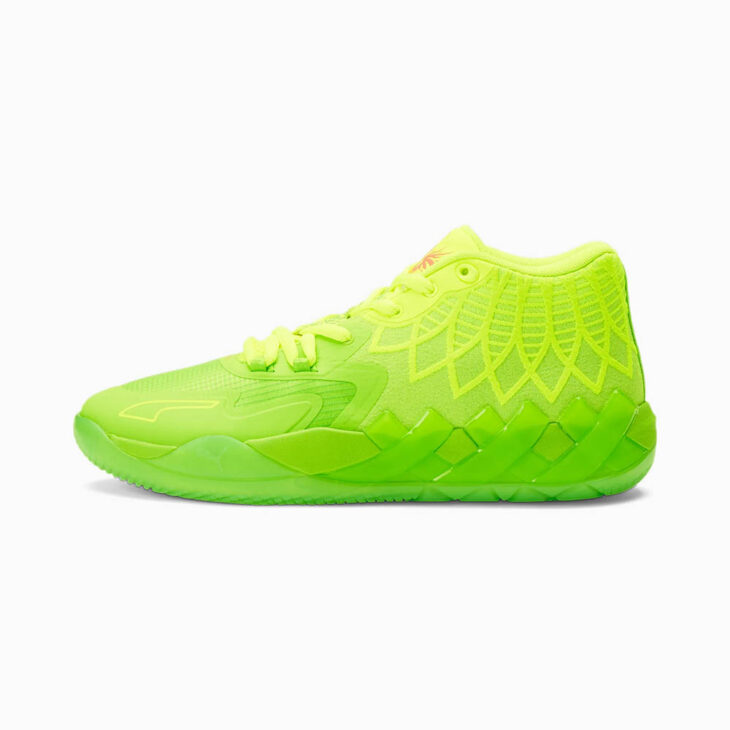 Rick and Morty x Puma MB.01 Design
The Puma MB.01 Rick and Morty is inspired by Rick and Morty's otherworldly adventures, and features a mismatched neon two-tone design. The left shoe features a slime green color scheme, while the right shoe comes in a neon red tone. The engineered mesh upper features Rick and Morty branding on the toe box and lace guard, as well as designs inspired by the show. A full-length Nitro Foam midsole provides lightweight cushioning.
In case you missed it – Check out our Favorite All Star Weekend Shoes of All Time.
RICK & MORTY X PUMA MB.01 Release Information
The Rick & Morty x Puma MB.01 was released in February 2022 for $125 at select Puma retailers and Puma.com.
If you missed the release, you can buy the sneaker at GOAT and Flight Club.
Rick and Morty x Puma MB.01 Information
Color: Jasmine Green-Nrgy Rose
Release Date: February 18, 2022
Style Code: 376682-01
Retail Price: $135