With every ending comes a new beginning. Guram Gvasalia chose the former Monoprix supermarket, that permanently closed-down during the pandemic, as a show space for his first VTMNTS show presented during the recently finished Paris Fashion Week.
While VETEMENTS focuses on deconstruction, VTMNTS puts the garment construction, tailoring and advance technologies in focus. Both brands exist in one Universe, explains Guram Gvasalia, and you can wear only VETEMENTS, be the fan of VTMNTS, or combine them and create your own, unique narrative.
The collection combines the traditional craftmanship with the latest material and garment making innovations. Sustainably is very important for the brand that constantly works on developing its own fabrics used for creating the unique constructions, that fit different bodies. This makes ready-to-wear fit like custom made pieces. This is game-changing! – said the designer.
With his latest show, and especially the casting, Guram Gvasalia stands against gender stereotypes, that are very visible in fashion industry, where we still have the Fashion Weeks separated by only 2 genders. The designer felt it was time to do things differently, and decided to show the genderless collection during the main Fashion Week, worn by a number of non-binary models.
VTMNTS stands for gender equality. Gender is such an important subject. Fashion is about identity, it is about expressing who you truly are on the inside. "Menswear" and "womenswear" terms are so outdated and old-fashioned, and not really represent how the world is developing and transforming into a better place for all of us, who do not particularly want to identify as male or female stereotypes. We are all so much more than what we are told to believe we are!
– Guram Gvasalia.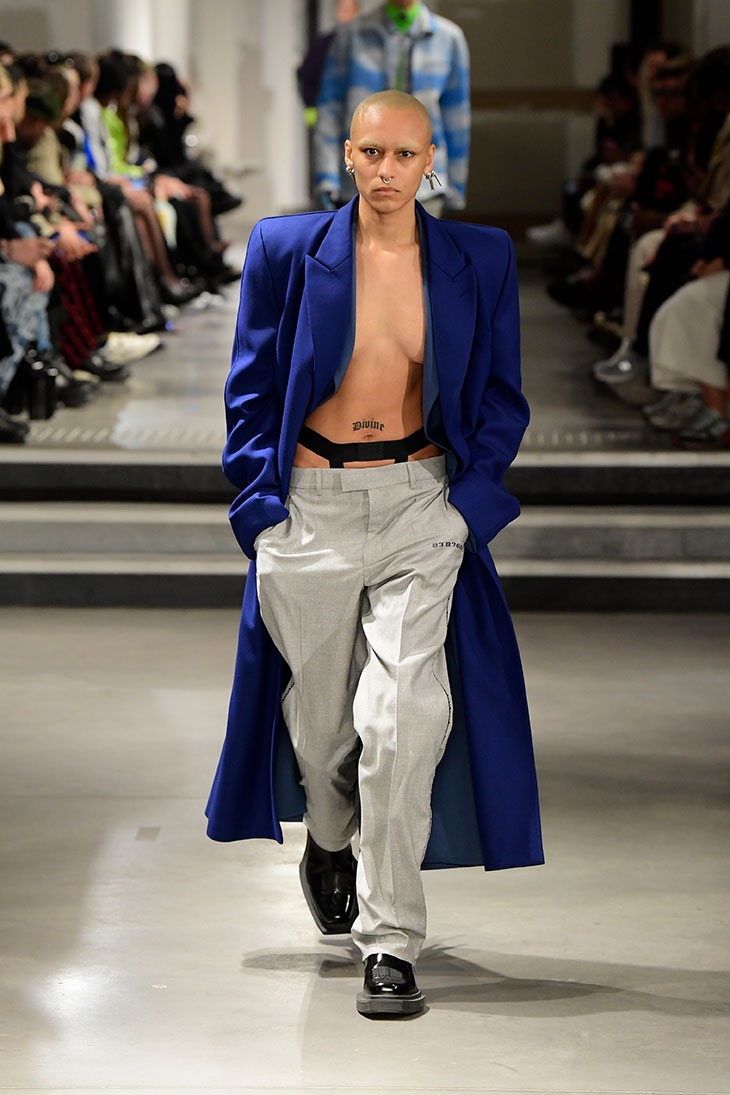 VTMNTS introduced the new tailoring codes, by putting the shoulders in focus, with exaggerated silhouettes, paired down with classic trousers and cowboy boots.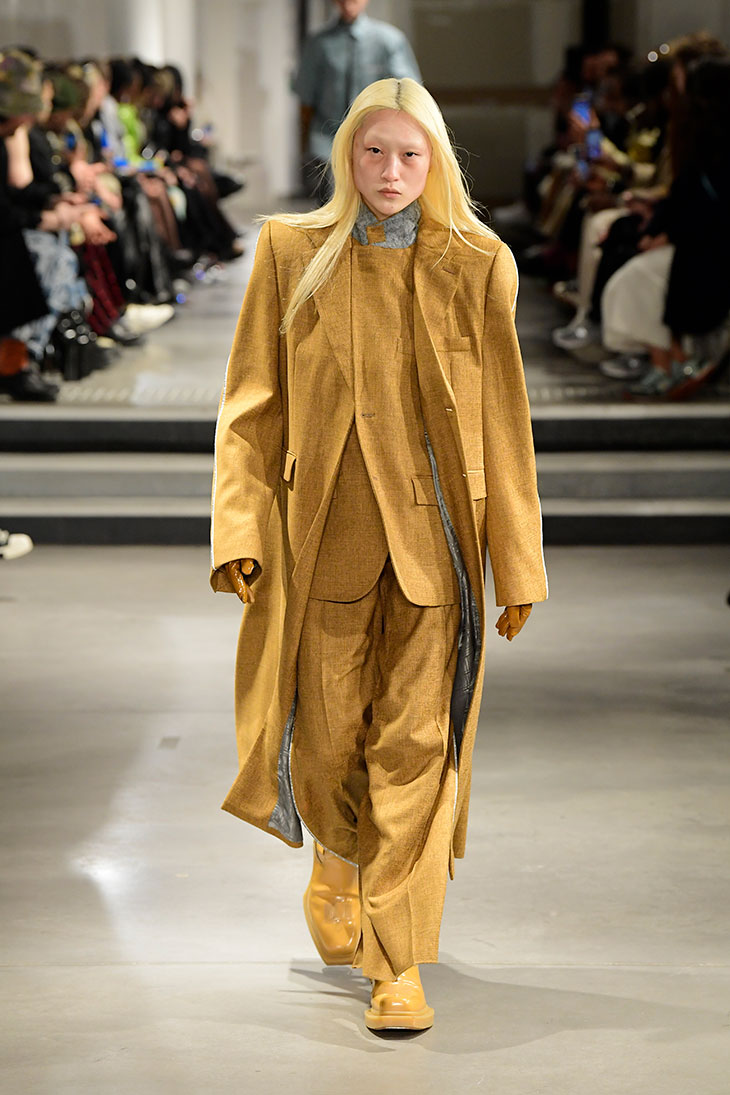 Gvasalia took the coated canvas, which is traditionally used for luxury bags by brands like Louis Vuitton and Goyard, and turned it into overcoats with barcode monogram, which became VTMNTS' signature element.
Another interesting technique introduced in this collection is the hand embroidery originally used for sportscar interiors, that is here applied on leather coats and jackets. The collection also features ultra soft shearling coats, and a double-layered outerwear.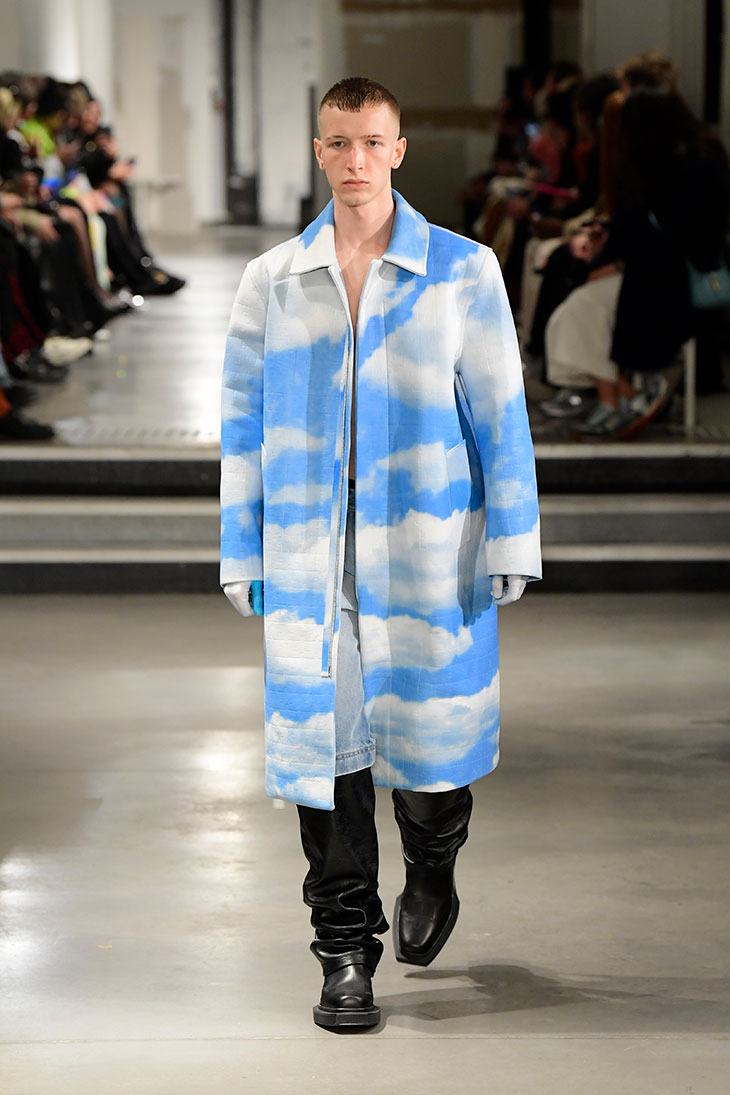 Blue sky as a beacon of hope. Presented as a final look, the leather coat with a sky print is a touch of nostalgia. It is inspired by Guram's first toy he got from his parents after the family escaped to Germany, running away from the war in Georgia.