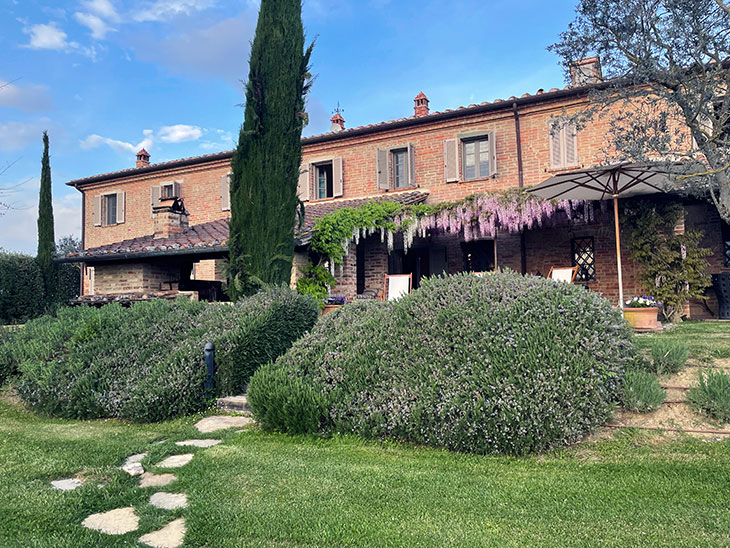 Whether you are seeking a relaxing retreat to get away from it all or a more active vacation with day trips and other activities, La Badiole offers the best of both worlds. Straddling the regions of Tuscany and Montepulciano, this secluded villa offers privacy and quiet so that even the most tired traveler can enjoy nothing but the buzzing of bees in the home's expansive and well-kept gardens. The villa is ideally situated between small towns, such that biking, walking, or driving to grab morning pastries or groceries is still a quick option despite the apparent seclusion.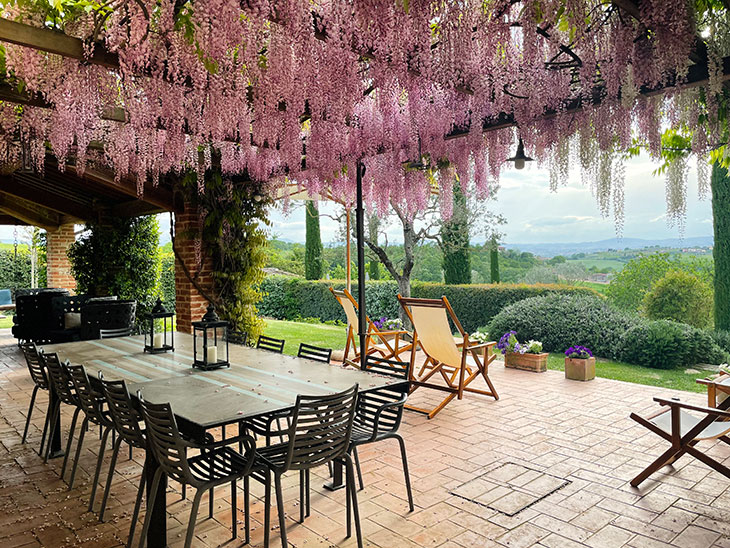 FIRST LOOK
Iron gates open to your first view of the villa, framed by a lavender-colored pergola and covered parking that provides ample space for all of your guests' automobiles. A small outbuilding provides all you need for laundry services, though the housekeeper Miriana will be more than happy to handle these. Upon entering the home, you are immediately taken by its warmth, complemented by the original stone renovated and maintained by the owners. Dual staircases provide access to both the west and east sides of the house, making it easier to climb up to one's bedroom after a night spent enjoying the beautiful outdoor weather.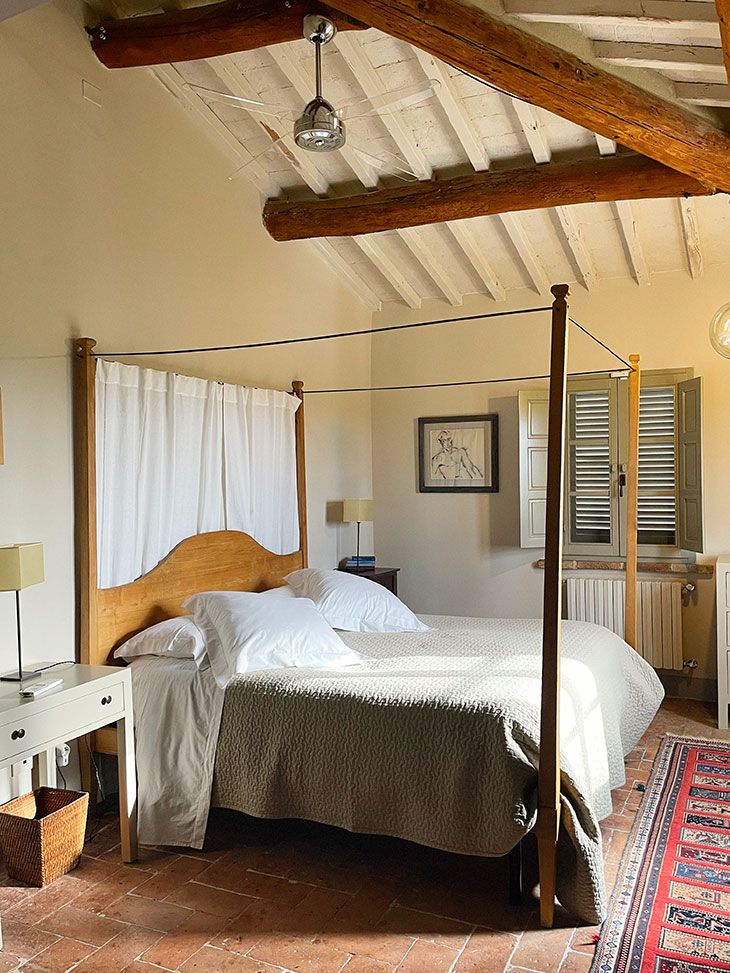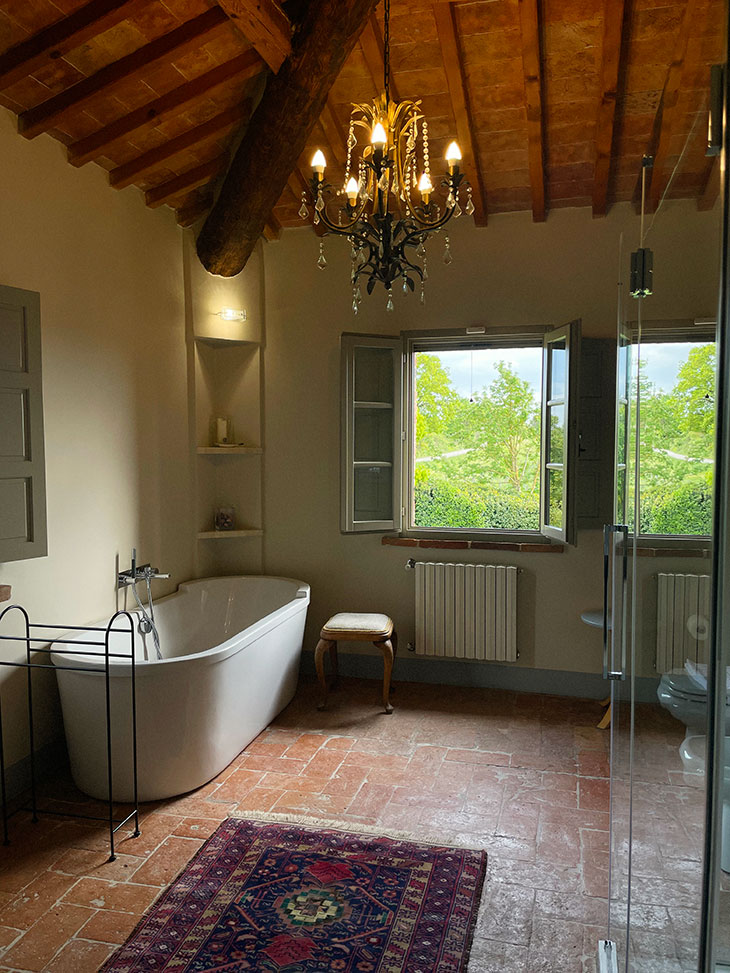 SLEEP IN LUXURY
The six bedrooms are well-equipped and allow one to maintain flexibility in terms of the types and number of guests staying at the villa. Master suites have views of rolling hills and en suite bathrooms with tubs, and indeed, all bedrooms have their own bathrooms for ultimate privacy and comfort. An office on the ground floor is especially helpful for guests choosing to work remotely, providing a quiet place to work off the kitchen, and the wi-fi connection is strong throughout the entire villa, even with a dozen guests logged on at the same time.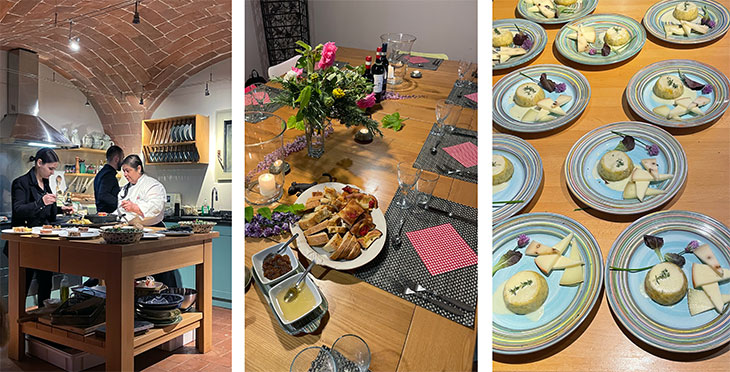 DINING WITH PANACHE
The kitchen itself will delight even the most avid chef, as it is equipped with everything you need to prepare an authentic Italian meal. It will easily allow you to cook for a large number of guests, who will find seating at the impressively long dining table that looks out to the garden and backyard.
Should you so wish, Tuscany Now&More (TN&M), the property management company in charge of overseeing the villa, will organize a talented personal chef and team to cook for you in-house. Having taken advantage of this experience, we can say with certainty that it will add an unforgettable flair to your trip and allow you to sample both food and wines of the region.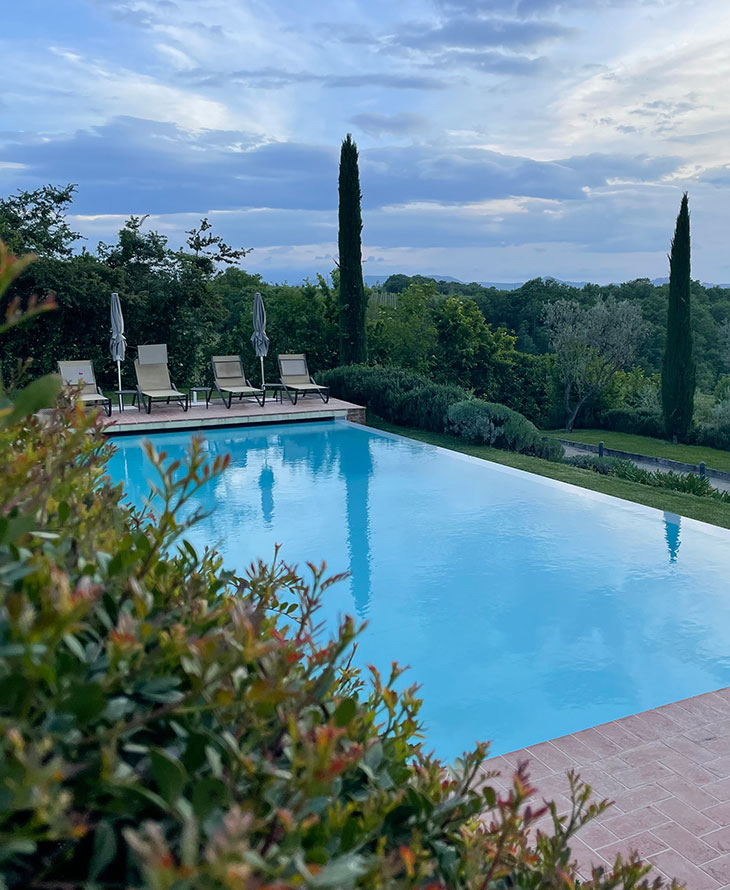 THOUGHTFUL TOUCHES, COURTESY OF TN&M
TN&M, with their long years of experience, have learned how to provide unforgettable experiences at competitive prices for their guests. The heated pool, situated on a lower level of the property, provided welcome relief during warm days, and those guests who sought time out of the sun could find shade in the covered seating area adjacent to the pool. Guests preferring more active pastimes could choose from a plethora of activities, including the most traditionally Italian of them all – bocce – as a pit is located under the pool area. Other activities include ping pong, croquet, and four bicycles available for use so that you can take a day trip or just ride around the hillside.
Should bad weather curtail your activities, an expansive DVD collection is available, as well as a grand piano for the most musically talented of your guests.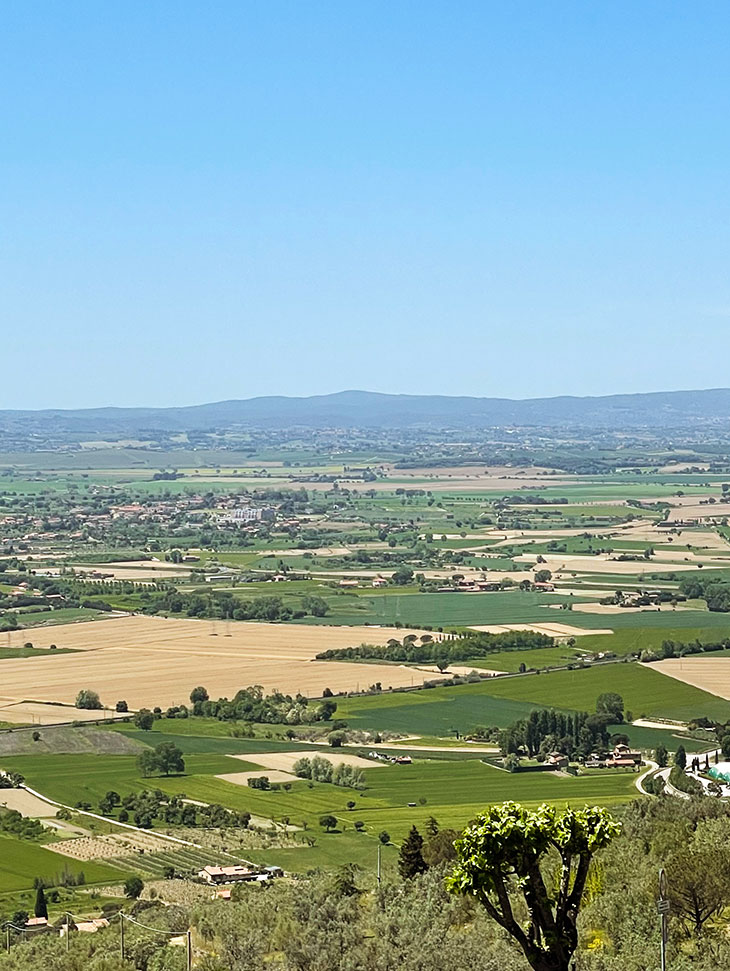 SURROUNDING COUNTRYSIDE & DAY TRIPS
Castiglione del Lago is a fifteen-minute car ride away and is worth visiting, as are the neighboring towns of Valiano and Petrignano. Trains to other parts of Italy are available in several towns close to the villa, and it is well-connected whether you wish to stay in the area of prefer to head south to Rome, for example.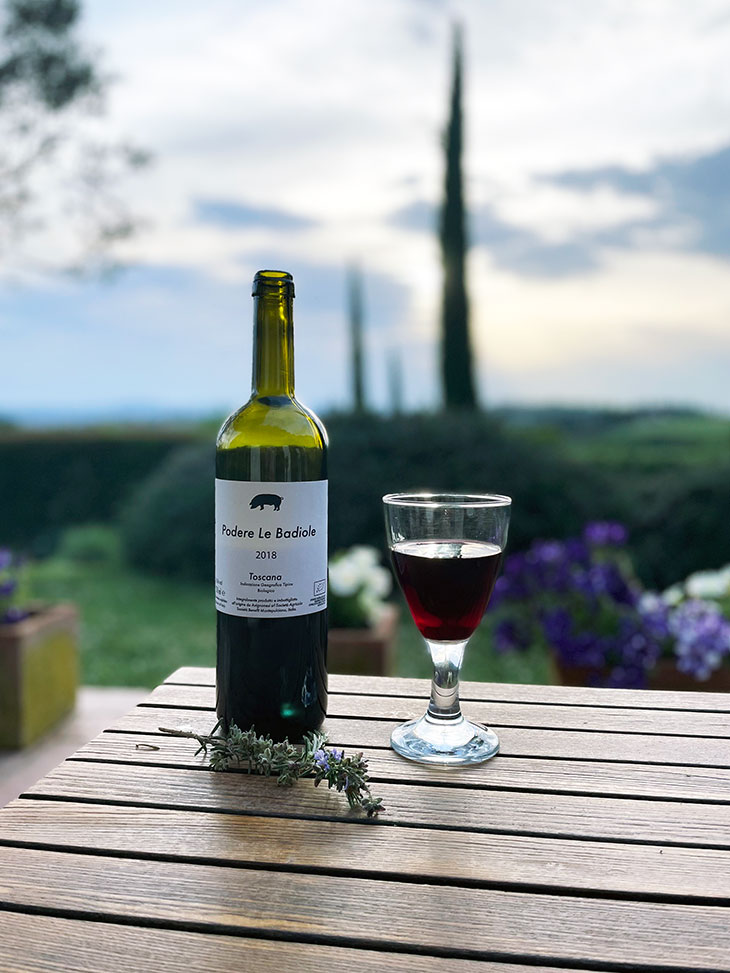 TN&M: ALWAYS THERE FOR YOU
No matter the purpose of your trip, TN&M will do their best to accommodate you and make your stay as effortless as possible. Their expansive and detailed written guide to the house provides everything you need to know about it so that all your questions are answered, whether you need a doctor on call 24/7 or just want to find the nearest bakery. Of note is the extensive alarm system, ensuring that each guest will feel safe at every moment. Whatever your needs, TN&M can be reached so as to ensure that your stay will be as magical as your surroundings.
Tuscany Now & More
www.tuscanynowandmore.com
+44 20 7684 8884
enquiries@tuscanynowandmore.com
Originally published in DSCENE Anniversary issue.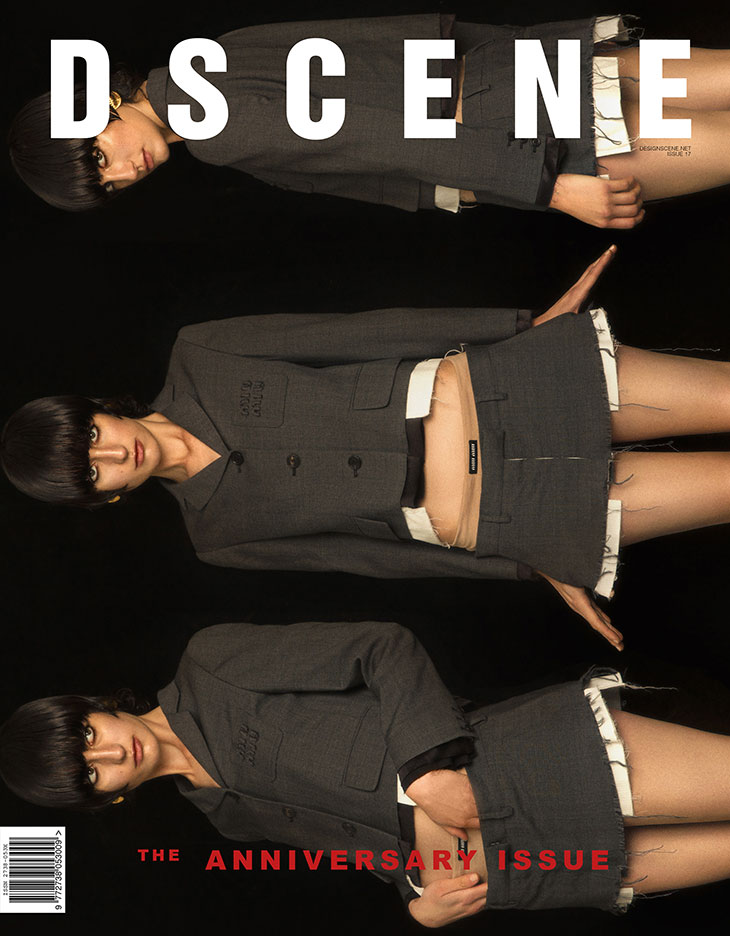 PRE-ORDER OUR ANNIVERSARY ISSUE
IN PRINT & DIGITAL