Rock the Halo
The traditional way of setting a large diamond is with a solitaire setting. Admittedly, a solitaire setting is the best way to showcase a diamond, especially if it is large and good quality. However, halo rings, pendants and earrings have slowly been increasing in popularity and are now one of the most popular styles.
The biggest benefit of the halo style is that the halo will make the centre diamond look bigger, at a fraction of the cost of a bigger diamond. Halos can also transform a round diamond into another shape, for example, a round diamond can be set with a cushion, or even a hexagonal halo.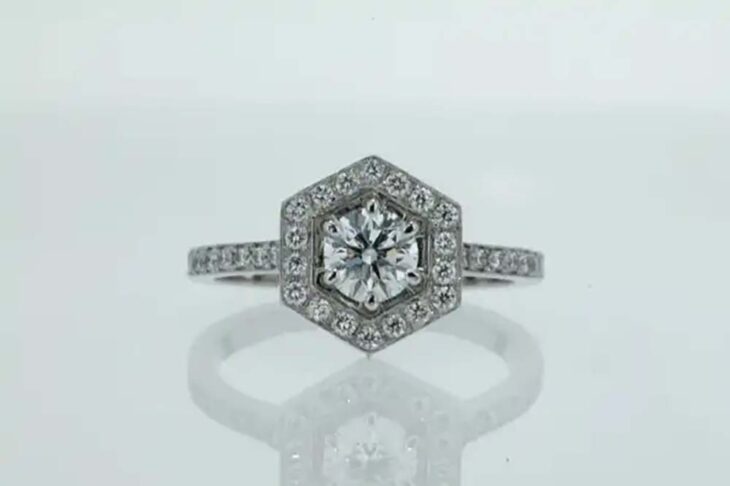 Another trend emerging is that of diamond "jackets". Essentially, jackets are removable halos that allow you to choose between a solitaire or halo. Jackets are perfect if you're on the fence between a solitaire or halo. Jackets can be made for rings and pendants but are most common for earrings.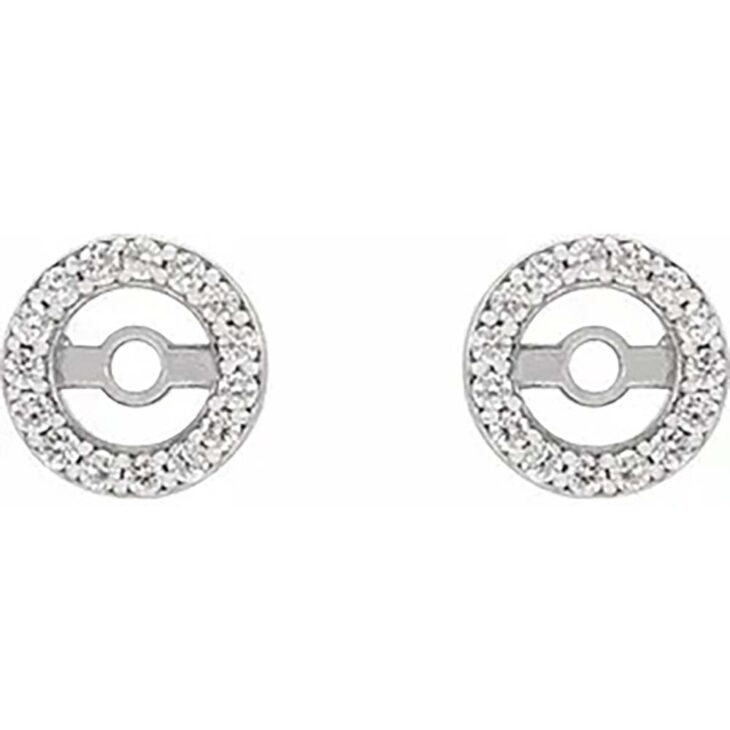 Stackable Rings
Often, people glam up their outfits with diamond earrings, a necklace, pendant or even a brooch. However, there is no reason for rings to be left out of the equation, and that's where stackable rings come in.
With stackable rings, you can mix and match metals, gemstones and ring styles.
Contrary to popular belief, or what jewelers tell you, a ring doesn't have to be designed or sold as stackable for you to stack them on your fingers. All you have to do is gather up all the rings you currently have and see what works best together, and on what finger.
Another reason to stack rings is to celebrate all of life's milestone. For example. You may already have a wedding and engagement ring, but you can stack rings for events such as anniversaries or the birth of a child.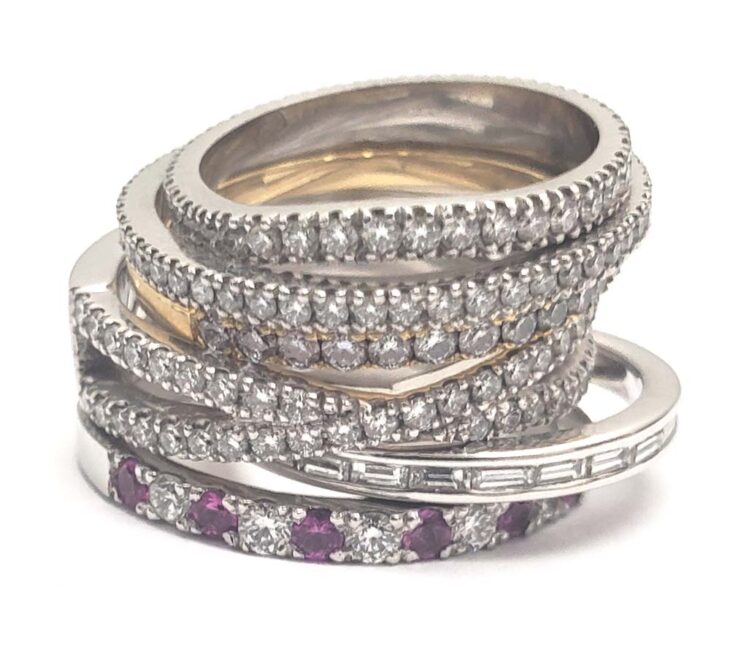 Combine Diamonds with Other Gemstones
Diamonds may be the king of gemstones, however, more and more, people are combining the allure of diamonds with other gemstones such as sapphire, emeralds, tanzanite, rubies or amethyst.
The beauty of combining diamonds with other gemstones is not only do you get the sparkle, brilliance and fire of diamonds, but you can also pick and choose what gemstones you want to combine with diamonds. For example, your favorite color may be red, so you may choose a ruby and diamond ring, or, your birthday maybe in February, so you  may opt for a diamond and amethyst ring.
Think Black
Black diamonds are essentially white diamonds, but with a large amount of inclusions that make them black in color, or industrial diamonds that have been heat treated to make them black in color. For most of living memory, they were shunned and used for industrial purposes. However, beginning in the mid-2000s, people started to embrace them, especially when paired with white diamonds to provide the perfect contrast. Whilst most people don't use black diamonds for say solitaire earrings or engagement rings, they are perfect for statement pieces such as necklaces.
Don't Forget Guys Can Also Wear Diamonds
Traditionally, men's rings, especially wedding rings, have been plain, or perhaps even made from different materials such as tungsten, titanium or different colors of gold. However, there is absolutely no reason why men's rings can't feature a diamond or two. Combining a traditional design, which is both thick and wide, some diamonds can add both value and a point of difference to any men's ring.
Lab Grown Diamonds
With natural diamonds being so expensive, it can be hard to find diamond jewelry that is both affordable and good quality. However, with technological advancements over the last decade, lab grown diamonds have come down in price from being on par with natural diamonds, to around one fifth the price of natural diamonds.
Lab grown diamonds, whilst some may call synthetic diamonds, have the same chemical structure of natural diamonds that are mined from the earth. Therefore, they have the same sparkle, brilliance and fire of natural diamonds. In fact, the only way to detect the difference between a lab grown and natural diamond is using expensive equipment, such as specialized spectroscopes.
Lab grown diamonds also offer flexibility in terms of colours. Some colours such as pink or blue are rare in natural diamonds, hence command a hefty price tag, sometimes in the millions. However, with lab grown diamonds, colour such as pink or blue only have a small premium over their colorless counterparts, meaning you can potentially buy a coloured lab grown diamond for less than one percent of  what you would pay for a natural diamond.