On Wednesday 21 September, a global apparel brand K-Way and the BasicNet group inaugurated the new Milan office with a pyramid-labyrinth installation by French contemporary artist Cyril Lancelin. Named Pyramid KW, the installation features curved, smooth, and shiny shapes, creating an immersive labyrinth through a revisited K-Way brand logo.
DSCENE Magazine's Editor In Chief Zarko Davinic met with Cyril Lancelin during the Milan Fashion Week to talk about the installation, connection between fashion and art, as well as the importance of social media today.
How has the city Milan inspired you to create this installation for KWAY at BasicVillage?
The City of Milan inspires me because there's always a lot of things happening across fashion and for design. Milan is an urban capital for art, for fashion and for design; especially Salone del Mobile and fashion weeks. There's a lot of things always happening around this capital of art, fashion, design, music, etc. More than the city itself, it's the energy of the city that inspires me as well as the memories that I have. As I'm based in Lyon (France), I often travel to Milan or Turin. Traveling to Milan is always a travel of pleasure.
View this post on Instagram
What other public space in Milan would you like to set up an installation at?
I would love to set up an installation on the Piazza del Duomo and Galleria Vittorio Emanuele II, or if it was indoor at la Teatro alla Scala. I like the building from Stefano Boeri with all of the tress and gardens draped across the skyscrapers. There are a lot of incredible locations around the city of Milan where I would love to set up an installation and experience.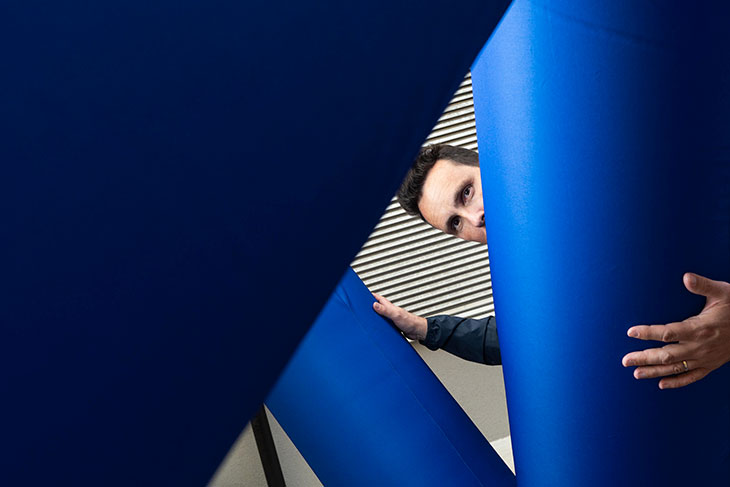 How do you see a connection between fashion and art industry?
Fashion must renew itself every year. There is a lot of pressure. At the same time, there is always a return to basics and classics. So, there is a delicate mix between a strong foundation of previous work from everyone and new works; and I think this applies for art as well. It's hard to be an artist without having a deeper and more profound understanding of art history. Both connect in this way, I think. It's seen even more so across architectural design and music. All the creative fields are connecting and are connected in this way.
Fashion brands are doing collaborations all the time, it's almost par for the course. Do you feel the culture of collaboration or working with artists has changed?
Yes, the culture of collaboration and working with artists has changed. Famous artists, like Andy Warhol, started collaborating with brands a long time ago. To be more specific to fashion, I think the fashion industry started to collaborate with artists, and to bring some stenographic ideas and prints for fabrics. There are so many ways to show clothes, for example, through choreography and dancers. There are a lot of collaborations possible, and I think it's just the beginning. As an artist, I read fashion magazines. I find them interesting, and fashion is a form of artistic expression. I know architects who read art books. All these forms of artistic expression are well connected.
You post a lot, how important is social media when it comes to present your work? And for artists today?
Social media is very important in a way that for an artist is like a dialogue with your public, especially with my immersive artworks. It's not only the artwork, but also the artwork with the public. It makes no sense if there is no public inside. So social media is a way to share it with the public. The public can then choose their creative response. They always amaze me with pictures in which they are exploring parts which I may not have seen. Some people make drawings or use my art in different way of how it was originally thought out. Some people have organized yoga classes in my art. There was a couple who got married in one of my installations. There are always unexpected interactions and that's why I like public art and especially, immersive art because life enters inside of the sculpture.
Do you prefer Instagram as a way to engage with fans?
Yes, Instagram is important for me. I started on Instagram, and it became a direct way to discuss with admirers of my work, but also to connect with other artists and musicians. It's much easier than sending an e-mail. You just send a quick message, and you receive an almost instantaneous response. I can tell that with brands it's the same thing. I like to go to see when a brand does a new product and then you see all of the artists talking as well as admirers. Anyone can be part of the discussion. For me, social media has changed a lot of things for creative jobs.