On September 06 2022, German traditional brand Marc Cain invited a carefully chosen selection of guests. As location, "Café am Neuen See", was picked. As theme of the evening the renowned German label had determined "Feel the moment". And, without any doubt, how could you not feel this moment? When taking a closer look at the guest list, we literally could not wait to be part of this event! American supermodel, entrepreneur and award-winning television producer Tyra Banks, who also started a respectable film career, arrived exclusively to witness Marc Cains' latest line. She stated: "It was my first time at a Fashion Show in Berlin and I had such a great time. I really loved the bold colours and the distinctive prints and when I told the team they were like, 'Tyra, those are Marc Cain signature elements.' And then I responded: Ok then, fill up my suitcase with those signature elements, because I wanna rock them in LA!"
Next to the iconic supermodel of the '90s, an array of several prominent guests, editors and leading fashion influencers did not want to miss the show.
The colourful collection containing of vibrant tones radiated pure joie de vivre. Floral patterns plus incredibly inspiring style breaks were another highlight that caught our eye. Then, the picturesque table decoration, the always so well-done organization, the view over the lake and, on top of that, the delicious dinner certainly stayed in mind. The feelgood factor of this evening was underlined by the authentic and modern interpreted vintage style of the location "Café am Neuen See". This surrounding could be perfectly united with the spirit of this range. The models were walking on a 135 m long catwalk through three differently decorated rooms. Beautiful fairy lights illuminated the space outside near the lake – holiday feeling deluxe!
When it comes to the print choice, palm and floral motifs played a central role. Animal pattern, one of Marc Cain's signature looks, appeared also this season. Therefore this inspiration reflected the idea of nature. Another fact that is worth mentioning was the vivid and clever play with harmonious breaks and contrasts in fabrics. However also sporty elements met elegant ones, for instance sporty shorts and tight cycling pants teamed up with elegant summer dresses and feminine knits. Several key elements could be noticed as well, such as airy-tiered dresses, wide flowing trousers and trendy crop tops. Colourful contrasts were used several times. Eyelet embroidery, pleated skirts and ombre prints underlined the very unique detail-awareness of this line. Some looks made us dream of going on a safari. Furthermore suits were anew shown in bright, vibrant colours – what a statement!
The range of colours could be described as powerful, bold and strong. Eye-popping hues, e.g. lime green, sunny yellow, scarlet, orange, azure and seafoam made us definitely "feel the moment". Sorbet tones, such as lemon, mango and rose, underlined the graceful approach of these oufits. Then, some colours you can notice on a walk through nature were repeatedly used too, such as farn, peanut, ultramarine, deep sky blue, lavender, mahogany and ivory. The nature-inspired topic clearly shone through. Mediterranean feeling could be recognized when azure blue met white in some outfits – so summery, so fresh! Fisherhats with eye-catching prints, visor caps, straw hats and cool caps were one of Marc Cain's Must-haves for the new season. The hair of the models was worn in a natural way and open, often with middle parting. The mood of the make-up was summery, fresh and with a soft blush on the cheeks.
"Feel the moment" is a very expressive, summery and sophisticated collection with many pieces in bold colours. It can be worn by the contemporary, cosmopolitan woman that celebrates life by wearing the most colourful hues in the most unusual combinations.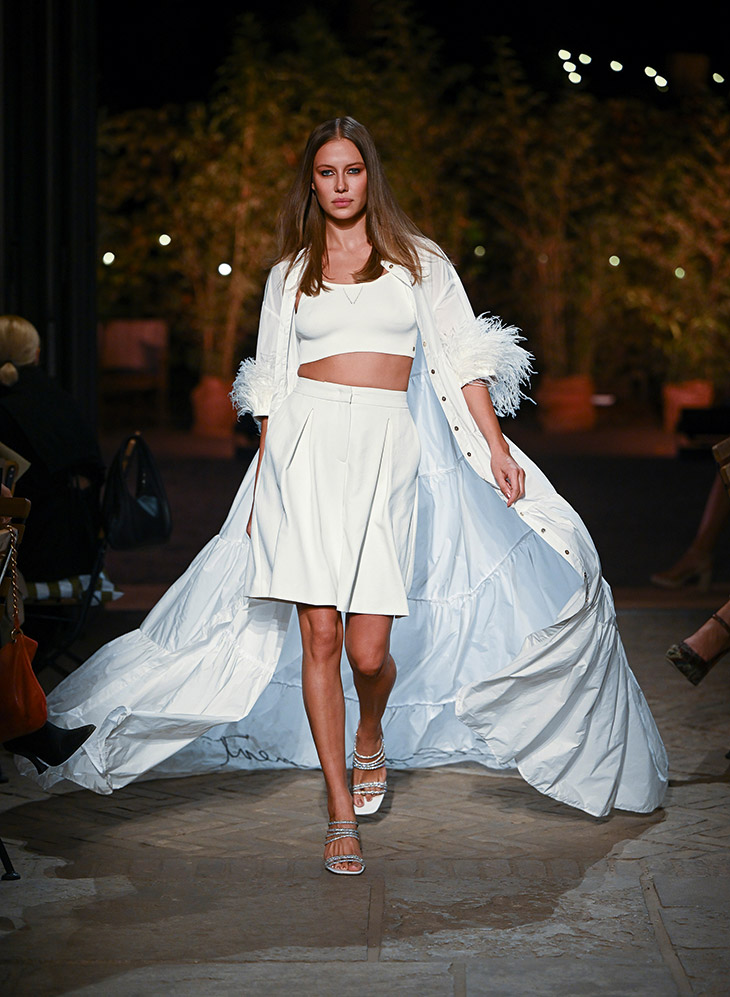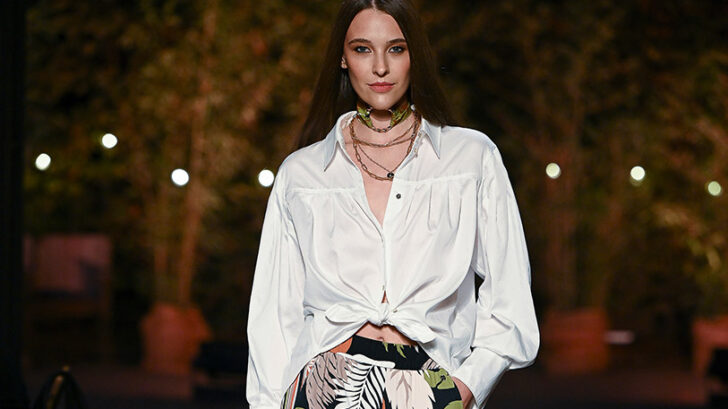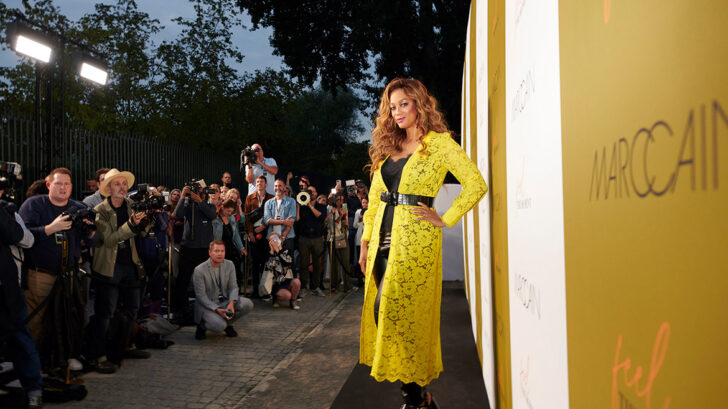 Review by Sussan Zeck for DSCENE Magazine.
Images Courtesy of ©MARC CAIN GmbH