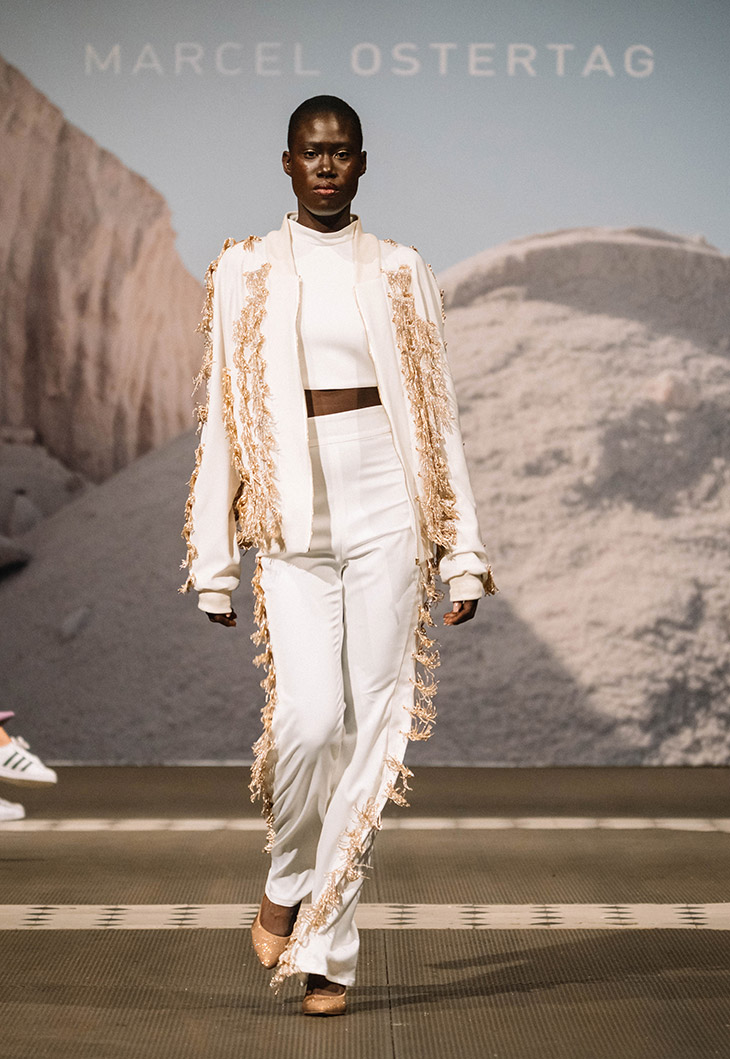 "The sea glistens and the soft waves dance rhythmically in the evening sun.
The sky shines in dark shades introducing the "blue hour".
The colours created by the sun sinking into the water gently stroke our contours.
The submerging sun creates utter silence.
However, this silence gives us strength.
And we return full of energy.
Summer! We feel and taste it!
Salt on our skin.
This tingling sensation…a feeling of nearness.
We experience magical moments – in a never-ending summer."
– Marcel Ostertag: 'SALT'-
Being significant for Marcel Ostertag's Spring Summer 2023 collection titled 'SALT' is its sophisticated, contemporary yet timeless approach. It is inspired by the "Salines d´Es Trenc", a nature reserve in Mallorca. You can wear these precious pieces for numerous seasons or even pass them to your next generation. The looks appear graceful, glamorous and light.
When you have a closer look at the silhouettes, you will recognize influences from the '70s and '80s clearly shine through. They are interpreted in a very modern way and therefore they underline the strength and self-confidence of the wearer.
The range of colours feels as refreshing as a summer day: it consists of colourful, eye-popping hues such as orange peach, papaya, coral, amber, mint, emerald, turquoise, lime and spring green. They radiate pure joie de vivre. Some timeless classics, for instance wheat, cinnamon and night black must not be missing as well. Blue and golden hues take their inspiration from the heaven and the sun. When it comes to the pattern choice, graceful floral prints and exotic palm leaf prints definitely deserve devotion. They make us dream of next spring, when nature blossoms and flowers bloom, and of our next summer holidays. Summertime, and the living is easy…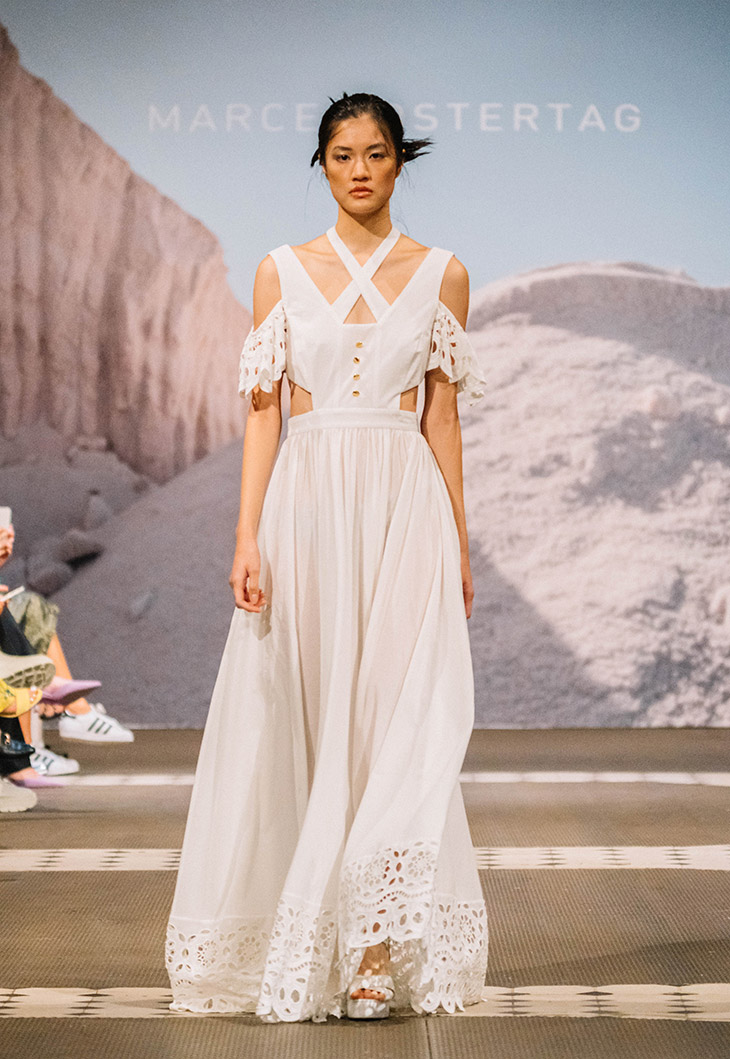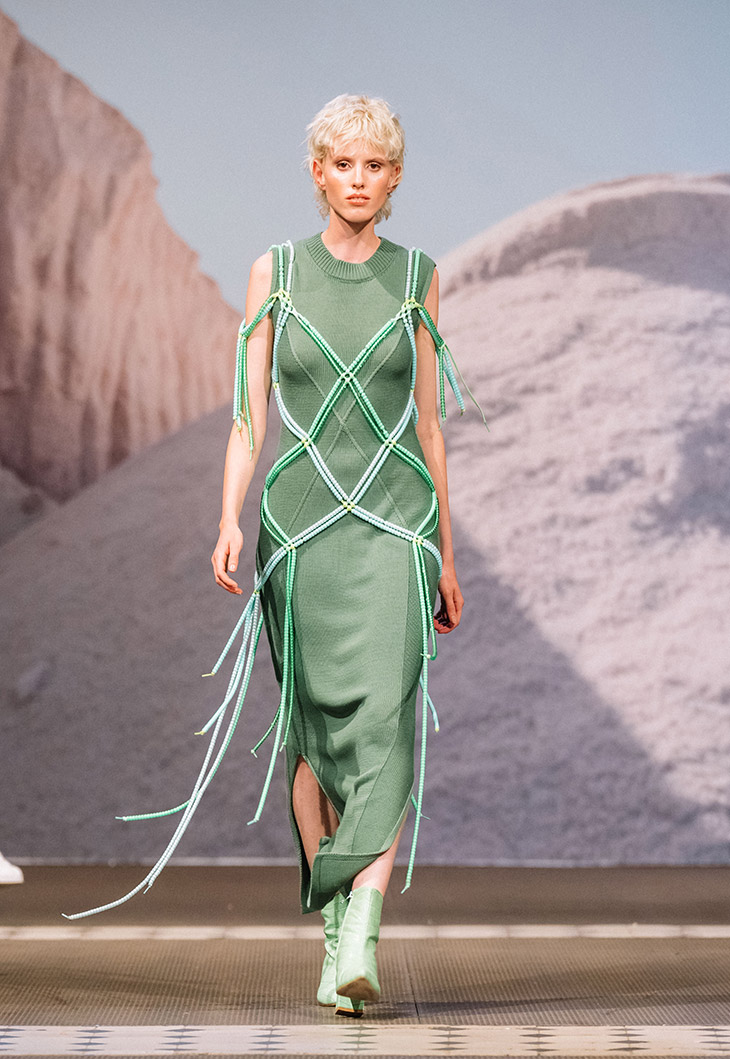 The whole collection can be understood as an ode to celebrate life in all the colours it has to offer and to stay optimistic. Life is depicted as a circle that always goes on and will always surprise you with the most vibrant hues. This collection contains a wide range of various pieces for different tastes: you can either pick a flamboyant kimono, palazzo trousers that are paired with cool oversized coats, swinging skirts or feminine dresses! Wear whatever makes you feel good and what you are in the mood to wear!
Worth of mentioning is the fact every piece of this line is unique. Furthermore the creations of this line are timeless and ageless. That can be noticed in the choice of his models as well – for the presentation of this collection the German designer chose women at any age! That choice can be understood as a statement to celebrate life and fashion at any age. No matter how old you are, what matters most is that you are enjoying life and the pieces you are wearing are exciting and wearable. Fashion should be fun and inspire you. Therefore this collection is not made for any special target group. The target group defines itself.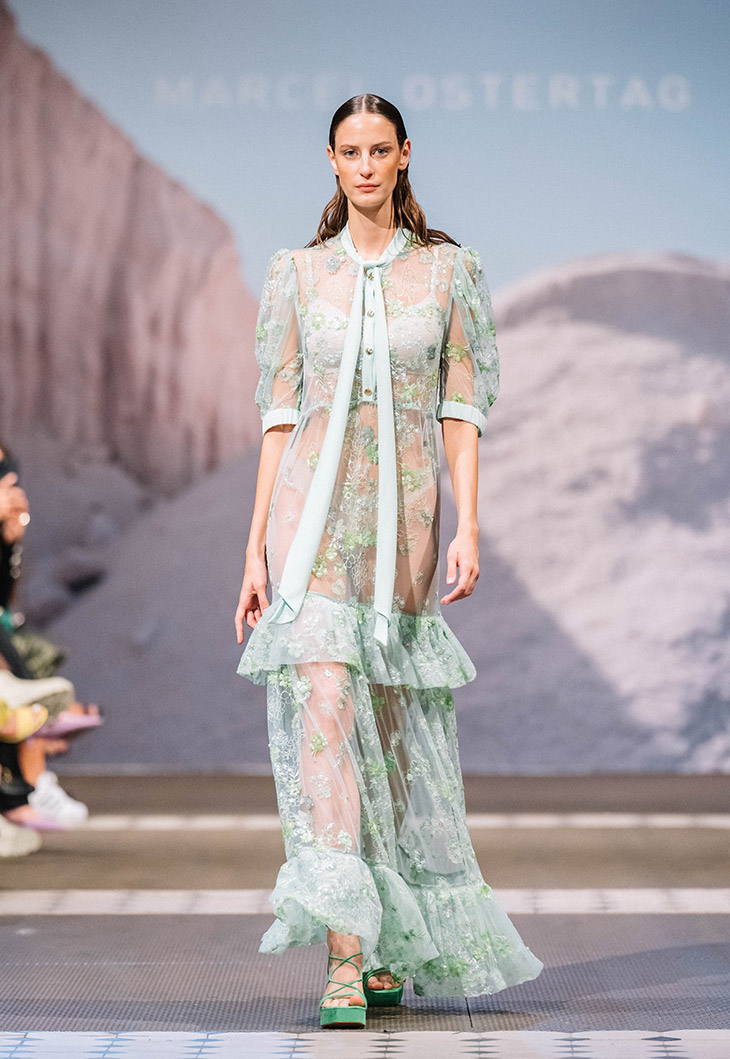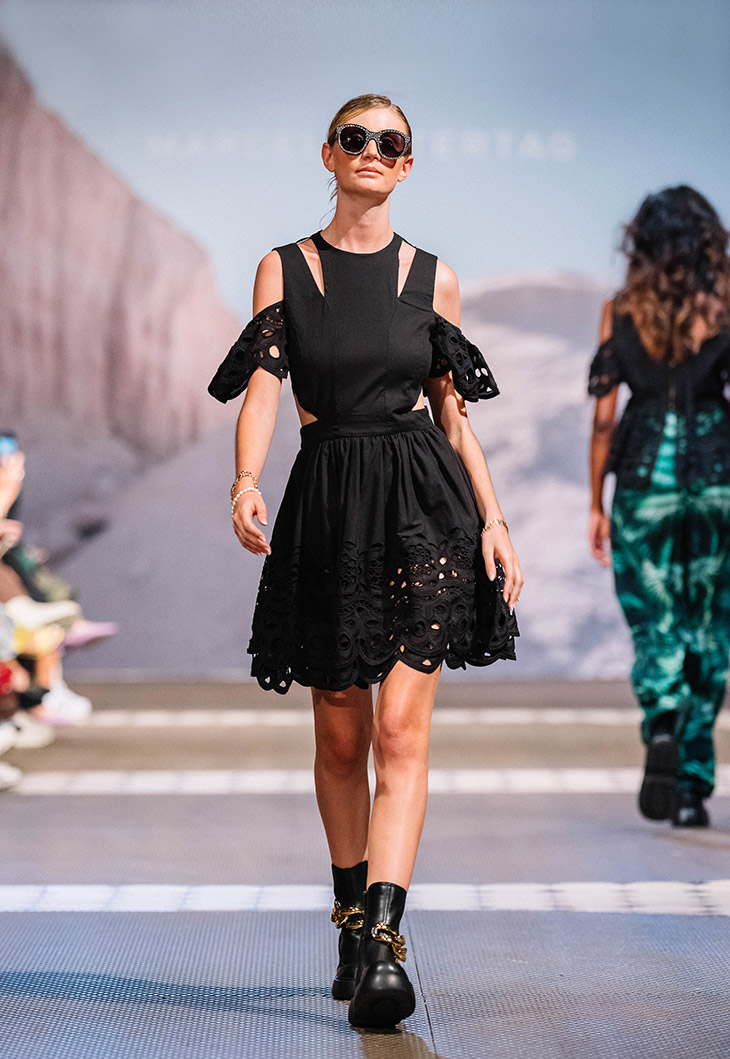 More than 300 pieces of jewellery that are included in the creations underline the glamorous approach of this line. This way Marcel Ostertag creatively plays with couture influences. For this purpose he was supported by BIJOU BRIGITTE in the realization of a small, exclusive and strictly limited fashion line. As a result exciting showpieces were created that sparkle and shine when moving.
The very special detail-awareness of this range can also be noticed in the use of knotted details. They are styled as garments and accessories and stand out due to their absolute uniqueness. Another highlight of this line are dresses in various lengths that are equipped with cut-outs. Trench coats and skirts that are provided with fringes seem dynamic and vivid when in movement. Summertime, and the living is easy…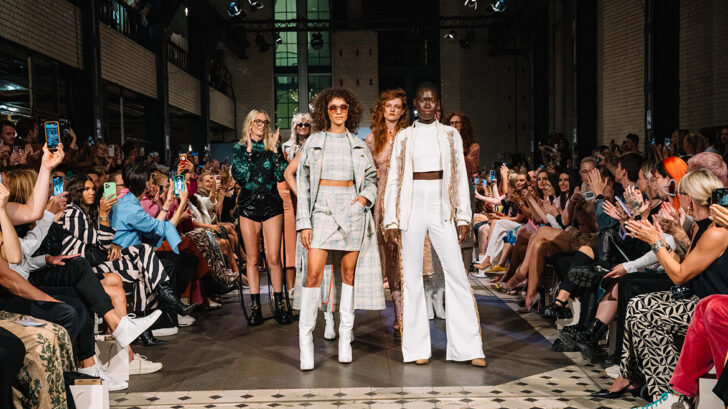 Photography © Robert Schlesinger
Review by Sussan Zeck for DSCENE Magazine.