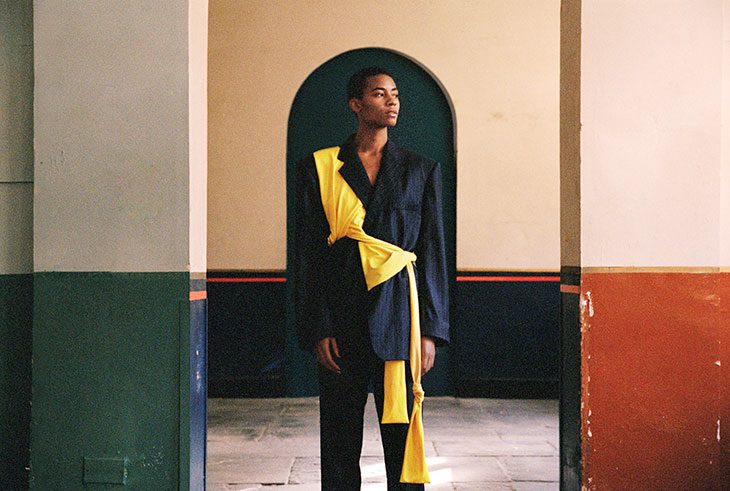 Our lives have changed significantly in 2020. It's incredible how much can happen in such a short period of time, and the same is true in the fashion world, where trends change at the speed of light. Fashion brands that until recently were completely invisible in the past months have seen a significant jump in popularity. The statistics clearly show what we are talking about. Popular online shopping destinations such as Lyst and Moda Operandi closely monitor and record the flow of trends on the fashion scene, as well as the increase in interest in fashion brands, and we know which brands we are talking about. Fashion experts predict a huge increase in popularity for these brands, some of which are completely new names on the fashion scene, while some we have already heard about thanks to leading trendsetters and Instagrammers. Check out below which five fashion brands you should keep on your radar in the coming months.
Thebe Magugu
Representing South Africa in the best possible way, Thebe Magugu is one of the leading fresh designers. Born in Kimberley, designer started his fashion journey at  London International School of Fashion (LISOF) in Johannesburg where he studied fashion design, fashion photography and fashion media. After graduation, Magugu established his eponymous label which rose to a quick success in Africa. It wasn't until 2019 that he became recognized internationally, when British Fashion Council announced him the winner of the International Fashion Showcase and LVMH awarded him with the 2019 LVMH Young Fashion Designer Prize. His rise in the fashion industry was also helped by the celebrities like Naomi Campbell, Charlize Theron, Rihanna, Kylie Jenner who all wore the designs heavily inspired by Magugu's African spirituality and his family's style and spirit. His designs that practically give out an insight into his life in Soth Africa caught the eye of AZ Factory, which appointed him as a guest designer, also adidas teamed up with him for a series of tennis appareal. This season marked maybe the biggest achievement in Magugu's carreer, when he partenered up with Maria Grazi Chiuri and Dior for a capsule collection highlighting the brand's signature New Look. Given the heat he is getting in the past two years, Thebe Magugu is surely becoming the A list favorite with his unique and captivating designs.
Interior
If you enjoy minimalistic design and tailored simplicity, you'll want to know about Interior. The brand was founded two years ago by Jack Miner and Lily Miesmer, and since then the brand has provided us with the wardrobe staples we all need. Debuting their collection in 2020, the brand introduced a set of functional pieces made for every day wear yet fascinating and elegant enough to make you stand out everywhere you go. The designers are completely dedicated to the fit, fabrication and craftmanship which is evident in their designs which are made from materials made in Italy, Japan and India. In the sea of flashy colours and designs fashion brands opted for these past few seasons, Interior goes by the less is more saying and we love it.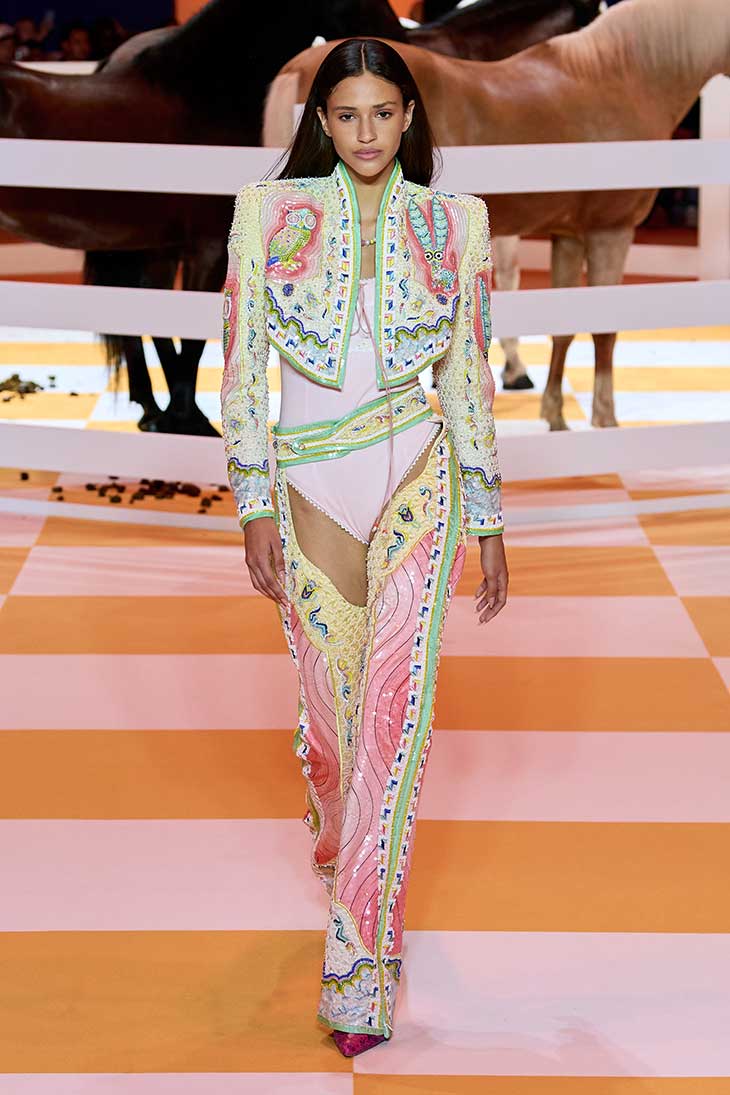 Casablanca
Already a well-known brand in the fashion scene, Casablanca continues to strive for more. Founded in 2018 by French-Moroccan Charaf Tejer, the brand is a modern reimagining of the timeless apres-sport aesthetic. Fusing the luxury with leisurewear, founder and designer inputs his mixed heritage into his collections offering a vast amount of silk shirts, matching sweat pants and sweatshirts, fun printed tees, colorful signature jackets, tennis dresses, and more. You can recognize the brand by it's bold colors, evoking both North African terracotta and the tennis courts of the Roland Garros stadium. The brand became known for the wider audience when they collaborated with New Balance on the 327 sneaker. Following the succesful shows year after year paving their way into French' luxury brands, Casablanca collaborated with LVMH-owned Bulgari. The collaboration definetly brought them a new customer base adding to the already loyal fans like Gigi Hadid, Travis Scott, Kasey Musgraves, French Montana and more.
Ahluwalia
One of our favorite sustainable newcomers is definetly Priya Ahluwalia, who founded her namesake brand in 2018, after finishing the University of Westminister's MA Menswear course. Her journey to the top of the fashion world was very quick, given thath she won the LVMH prize in 2020. The label combines elements from the designer's dual Indian-Nigerian heritage and London roots and it surely brings an interesting pieces to look at. The designers also takes big inspiration from art, music and literature. Championing the sustainabiility and sourcing of the materials, Ahluwalia produces mostly one of a kind pieces using deadstock and vintage and surplus materials. Starting off as a menswear brand, Ahluwalia quickly ventured into womenswear with a collaborative line with Ganni and Mulberry last year. Looking to expand in the future to footwear and accessories, Ahluwalia is truly one of the brands we are eager to see grow.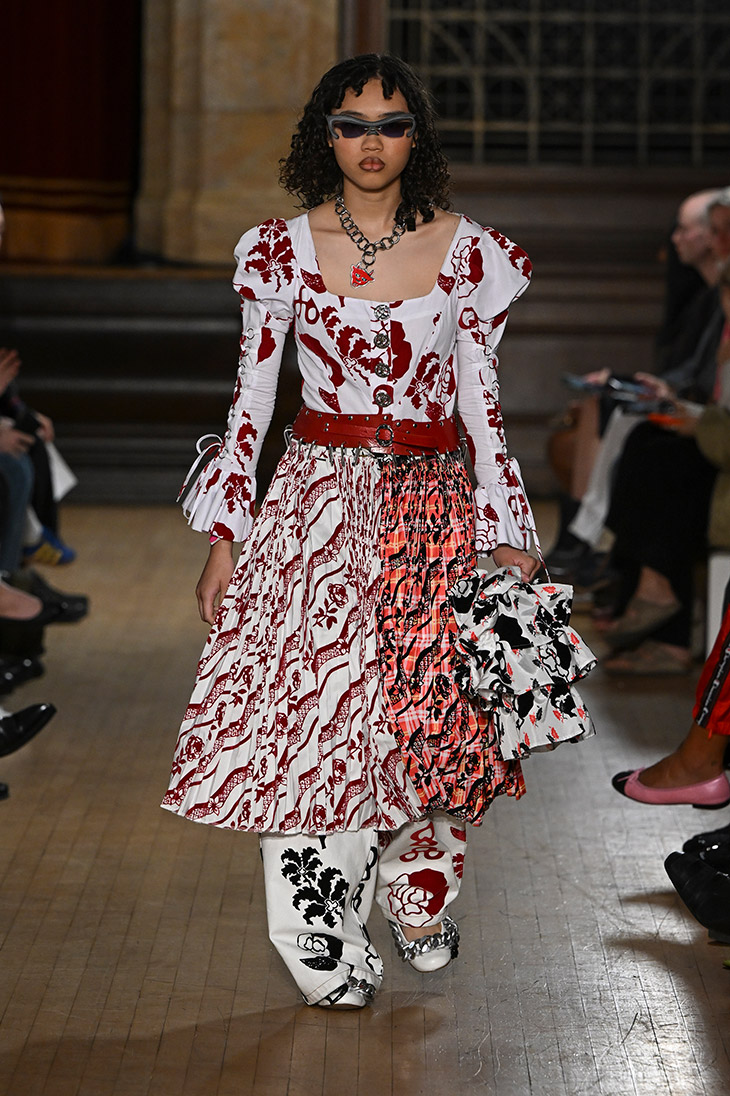 Chopova Lowena
Last, but not least, a brand inspired by the folklore and tradition, Chopova Lowena. Founded by Emma Chopova and Laura Lowena, the brand mixes folklore and sportswear with concentration on sustainability and craft. Creating the hybrid pieces mixing Bulgarian culture, Chopova's heritage, and 80s rock climbing style, the brand certainly gives a unique experience. To source the materials, Chopova goes back to her home country and searches for vintage materials, which they later produce and ship to their South London studio. Their signature school-like pleated skirts have been the talk of the fashion weeks. Celebrities like Dua Lipa, Olivia Rodrigo and Charli XCX were seen sporting the outfits from the brand, which also brought them a huge buzz. What sets them away from the other brands is that every piece is unique. We surely hope to see more from this amazing folklore meets grunge brand.