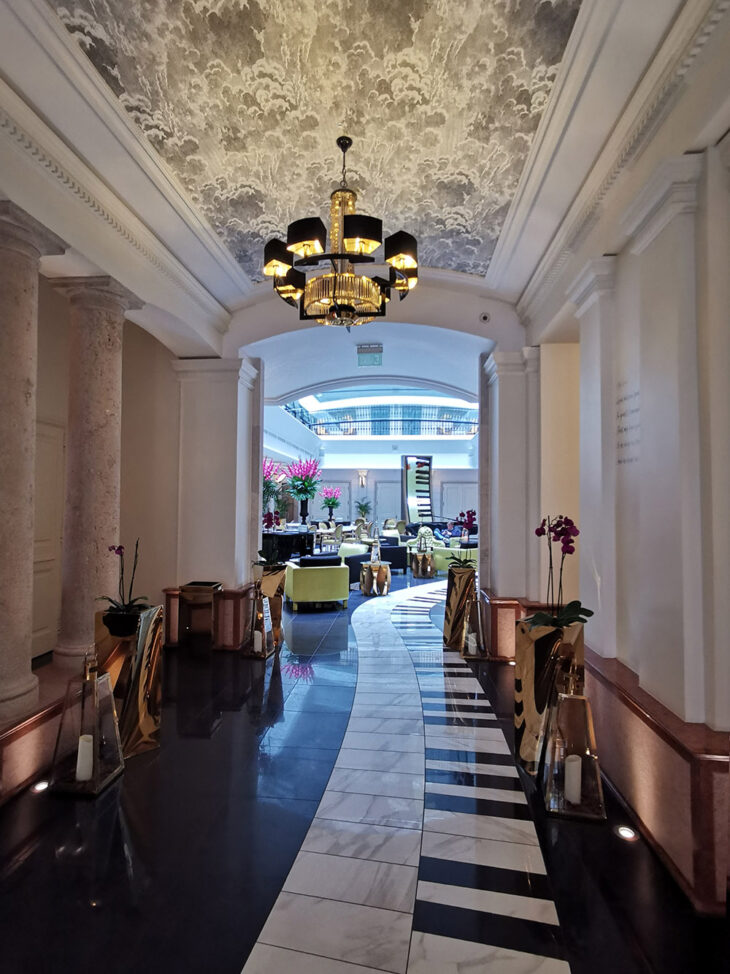 While in Budapest, we've chosen to stay at the 5 star music-themed Aria Hotel Budapest as our base to explore the city. Situated in the heart of Hungary's capital, right next to St. Stephen's Basilica. The hotel, which is part of the Library Hotel Collection, was named the Best Hotel in the World by Tripadvisor's Traveller's Choice Award in 2017. It also received the No.1 Hotel in Central Europe/ Conde' Nast Readers Choice Awards 2018 and Top 10 Best European City Hotel, Travel + Leisure World's Best Awards.
With so many highly renowned and prestigious awards to it's name, the hotel had much to live up to. Naturally, we had high expectations. And we were not let down. We stayed at the Aria for three nights and left wanting more! After checking in, we were given a brief tour of the hotel's facilities before being shown to our room, which was located on the fifth storey of the Classical wing of the structure.
In this article, we'll give you a brief review of the hotel and go over some of the hotel's facilities, which include the rooms, the spa, and the rooftop High Note Sky Bar.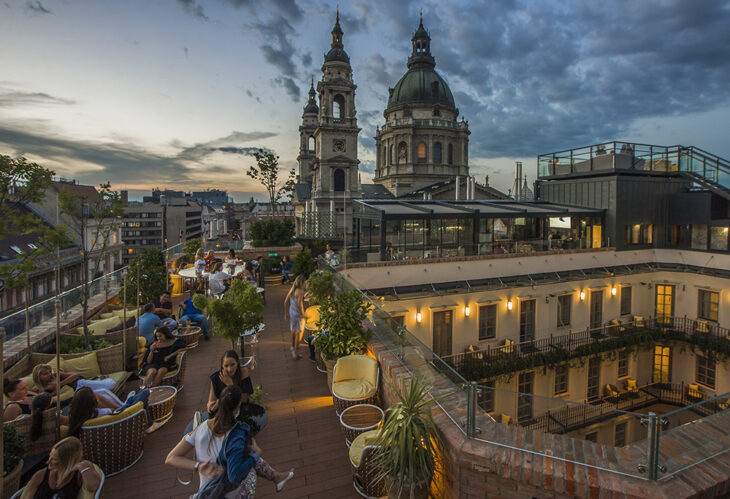 Location
Its proximity to St. Stephen's Basilica makes the hotel's location particularly convenient. Other significant Budapest sites are also nearby and within easy walking distance. A short stroll will take you to the Chain Bridge, the House of Parliament, the Shoes on the Danube Bank and the main shopping area. A bus or cab will take you to the Castle District and Fisherman's Bastion.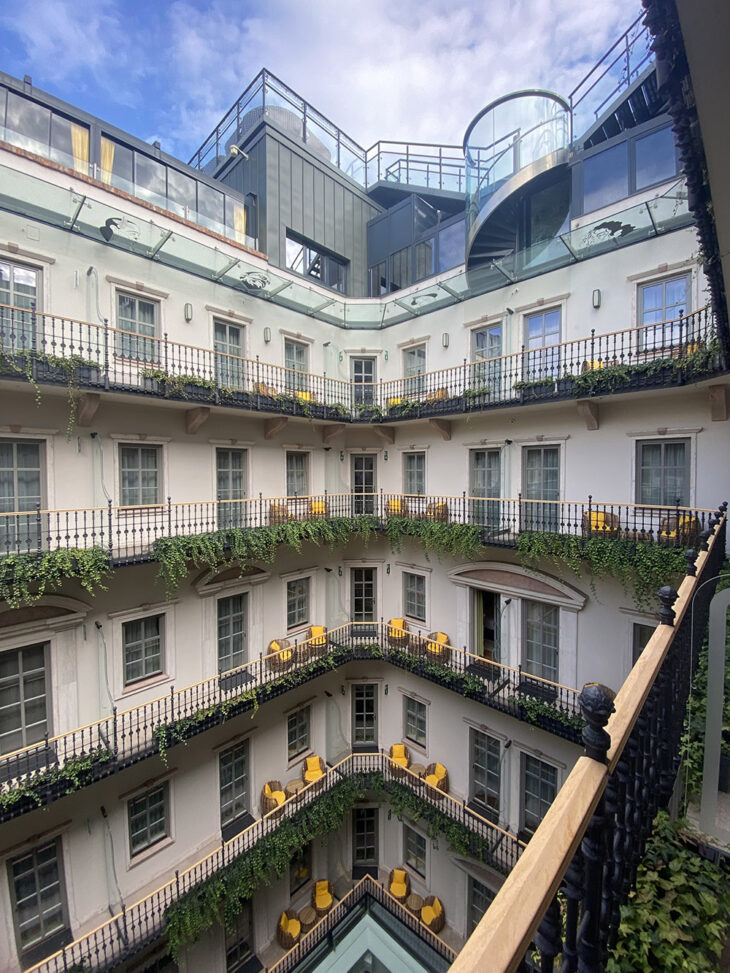 Architecture & Design
Prior to a large reconstruction project in 2015 to establish the Aria, the building had previously been utilized as a bank before being allowed to fade into oblivion;. Thankfully, the building has been restored to it former glory and transformed into this stunning 5-star boutique hotel, where each of the four wings celebrates a different major music genre. The outer façade has been complerely restored to its original state as well, to better reflect the Budapest streetscape. Once inside, you'll find a huge inner courtyard known as the "Music Garden," with a magnificent glass roof and a piano key walkway flowing through.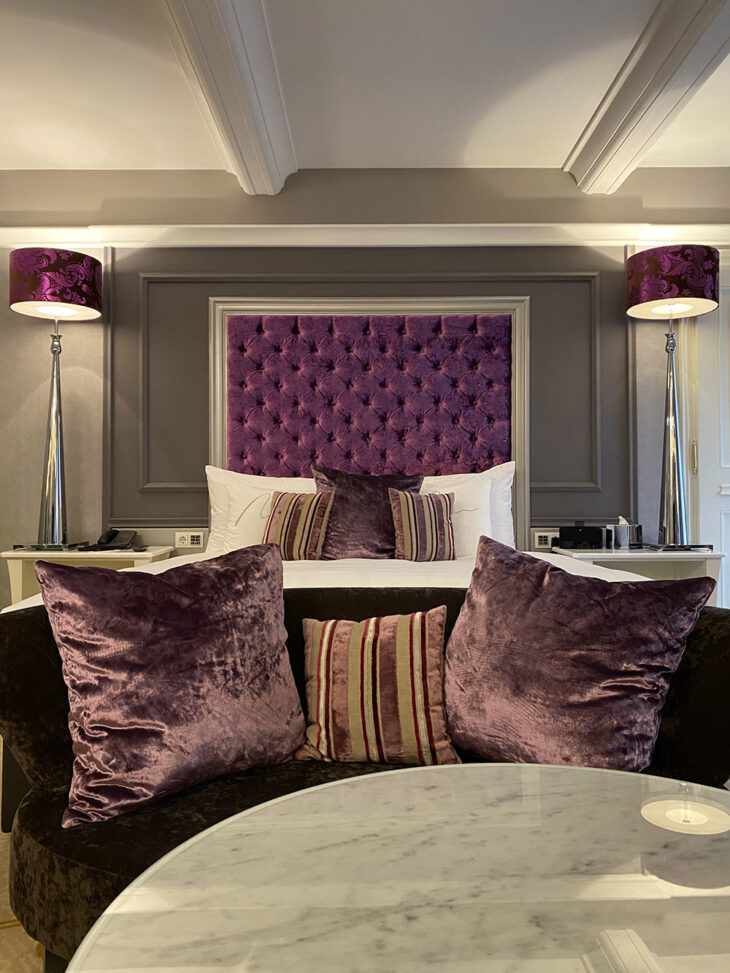 Designer Zoltán Varró, who was in charge of the interior project, wanted to merge the ambience of early-twentieth-century bourgeois mansions with stylish, meticulous exclusivity. Each of the four wings of the building representing a distinct musical style: classical, opera, jazz, and modern. The rooms have balconies that overlook the inner courtyard's glass ceiling. All four wings have separate elevators that limit visitor access to their own room sector, making the environment considerably more intimate because there are no outsiders wandering in front of the rooms and everyone gets to stay in their own private bubble.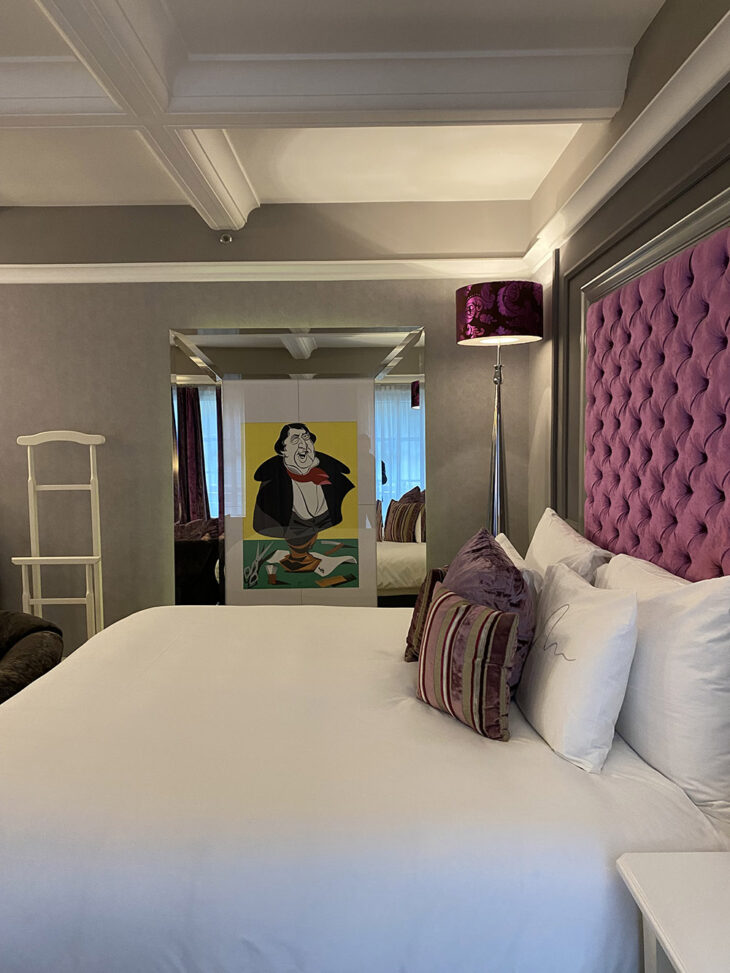 When you enter the hotel, you'll feel transported to another universe away from the mundane city streets. Every feature, from the entrance to the rooms, courtyard, or restaurants, exudes a delicate elegance that is not at all overwhelming. A great deal of thought went into selecting a skilled and dedicated team of staff that would make you feel at ease in this magnificent mansion of a hotel. The exterior of the building has been meticulously restored to its original 19th-century appearance.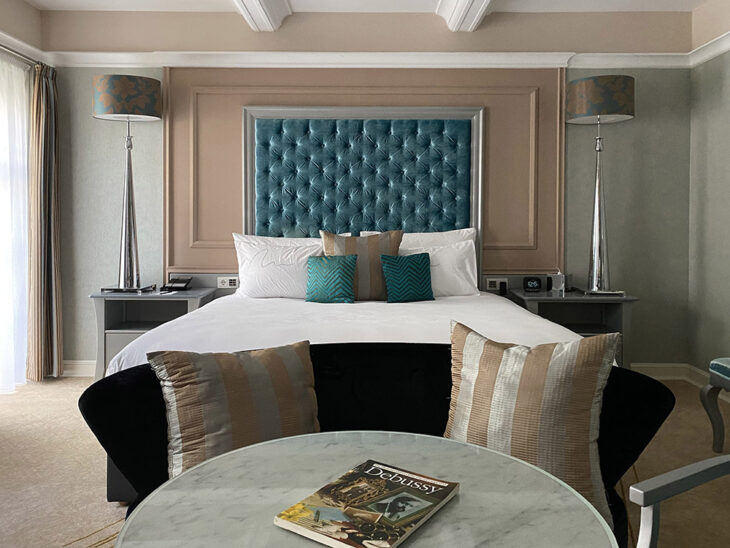 Rooms
The 49 guestrooms and suites are named after well-known musicians or composers and are organized into four wings: classical, opera, jazz, and contemporary. Each of the 49 rooms and suites provides its visitors with a one-of-a-kind musical experience. The carefully created, opulent room designs were created to evoke the specific feelings of the specific music genre. The rooms feature custom-made furnishings and cutting-edge technology, and they overlook the city or an internal Music Garden. They also include large format caricatures of music legends created by renowned artist Josef Blecha. All Aria rooms include an iPad, interactive multimedia entertainment system, smartphone docking / charging station (iPhone / Android), and a Nespresso coffee and tea machine (pods are replenished daily).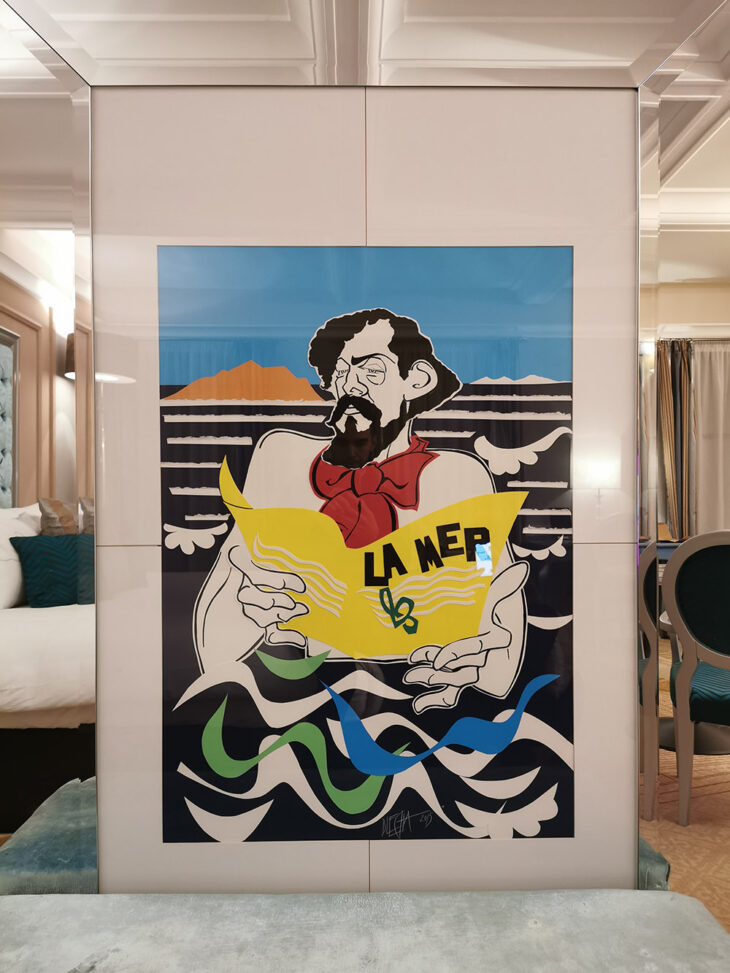 We stayed in the Aria Signature Room with Music Garden view in the Classical Wing. Upon arrival, we were immediately greeted by music emitting from the flat screen TV set amid a marble fireplace. Our room had a marble table, a writing table, chairs, and a sofa. The bathroom features heated towel racks, bidets, beige marble flooring, and a spacious shower. Molton Brown products, bathrobes, slippers, cosmetic mirrors, and ionic hair dryers are all provided.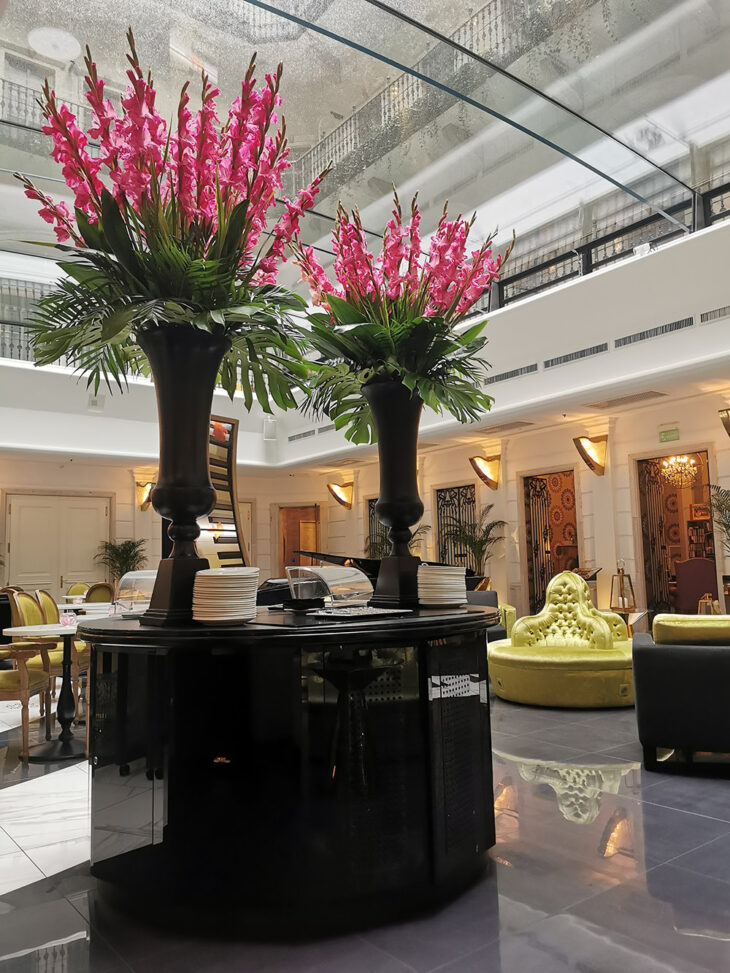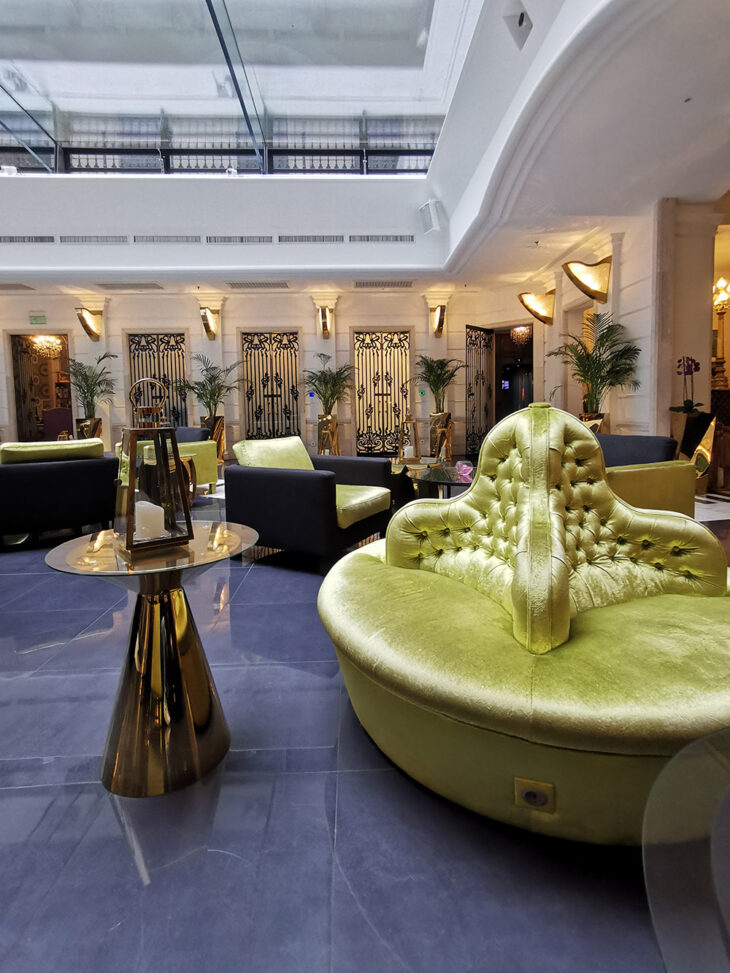 Music Garden
From the lobby, a ribbon of black-and-white keys on the ground keeps you on track as you traverse the hotel's courtyard, which features an original Boganyi Piano as its centerpiece. The unique glass-covered courtyard serves as the building's focal point. From here on you can access the elevators to the sky bar, wellness section, rooms and the hotels other amenities. A glass ceiling lets in plenty of light and provides a view of the starry night sky. The design features luxurious settees, and an abundance of golden embellishments.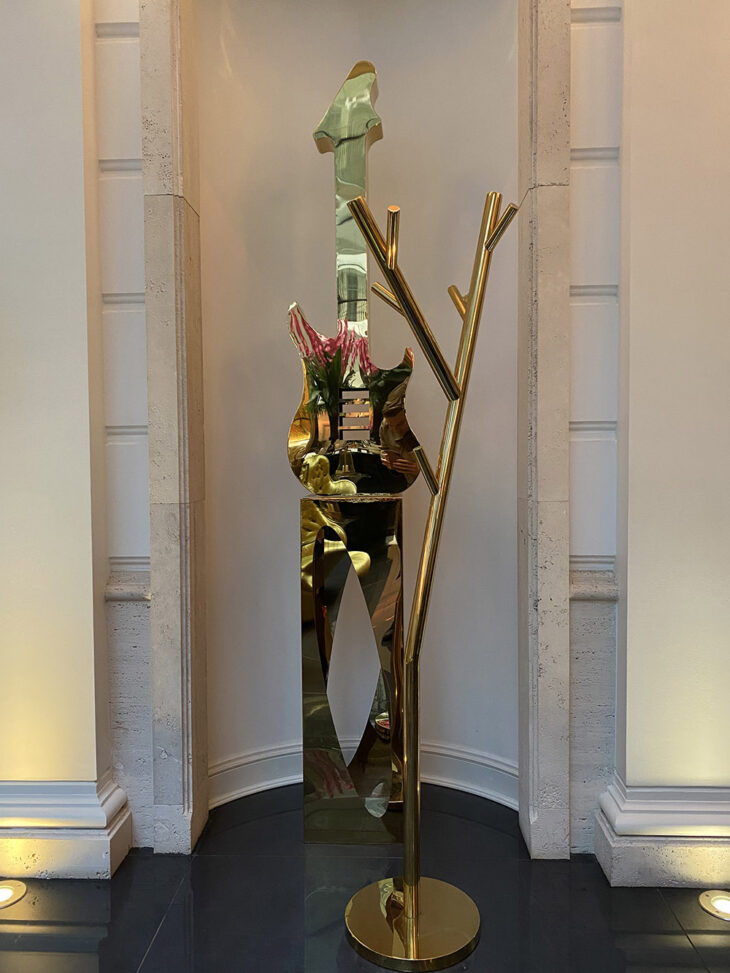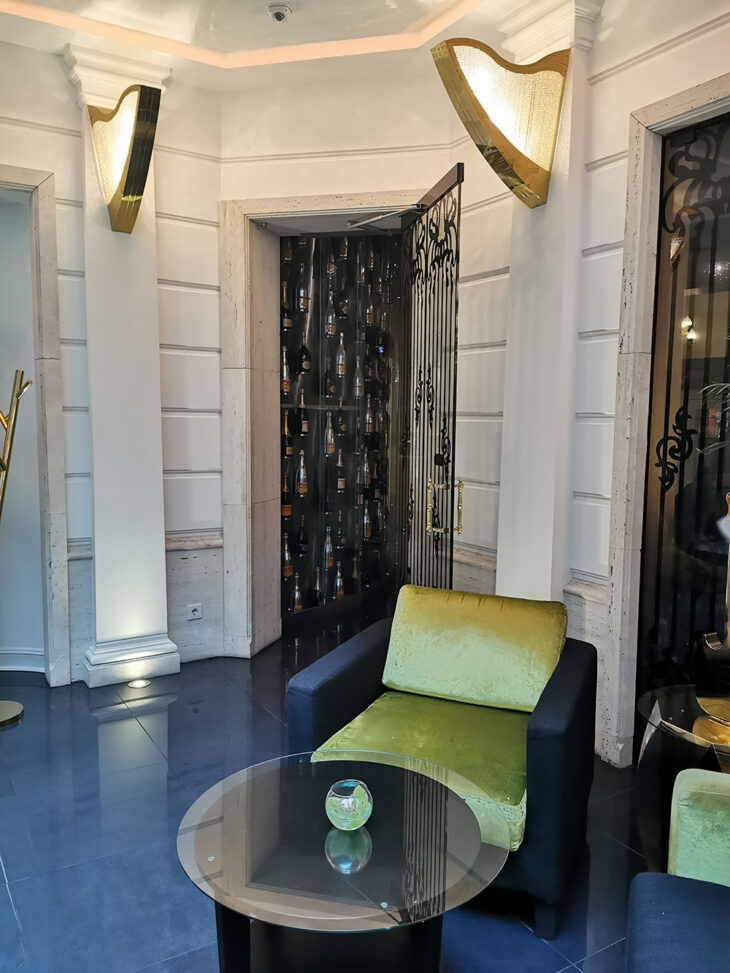 Breakfast is served between 7 a.m. and 11 a.m. at this charming location. From 16.00 to 18.00, a complimentary wine and cheese event is also held here.
From the Music Garden, you can also access Aria Hotel's large music and book library that guests can use for free, as well as a variety of additional services and amenities.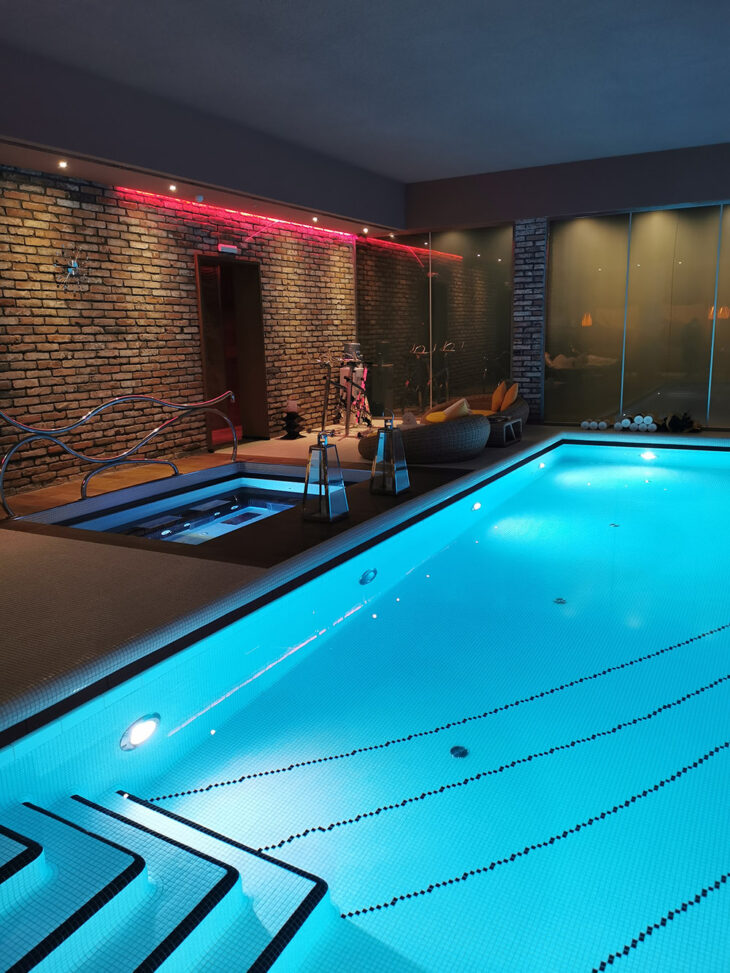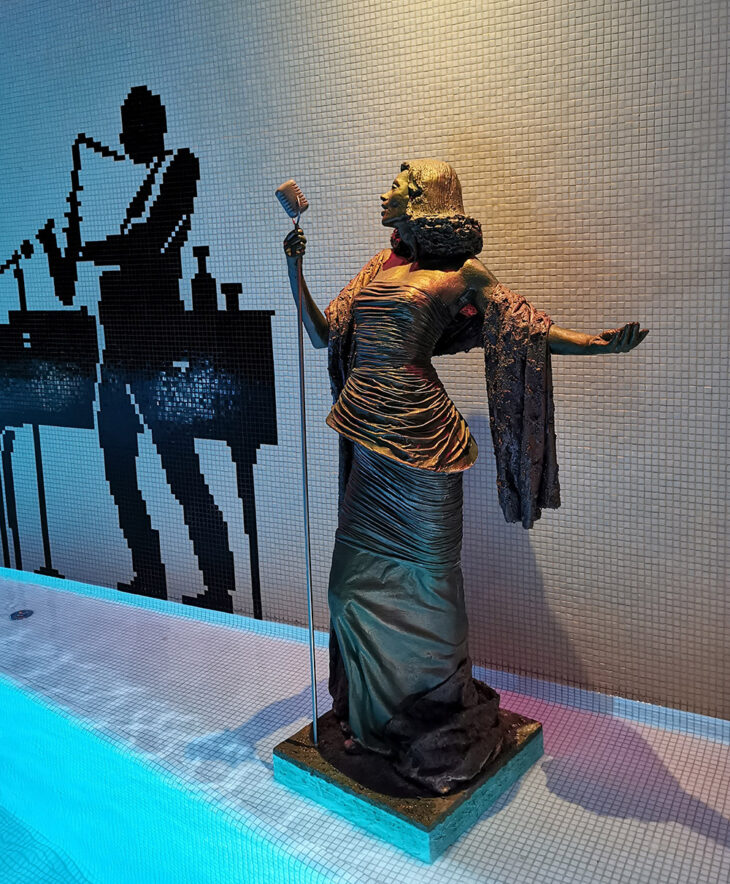 Wellness
The "Harmony Spa," located on the hotel's subterranean floor, is also a real treat. It is a terrific place to come and rest after a long day of sightseeing. It features a 35-foot heated pool, Jacuzzi, Finnish sauna, Aromatic Steam Room, and Infrared Sauna (notable for its anti-aging health advantages). Basically, it contains everything you'd expect and need from a luxury hotel spa.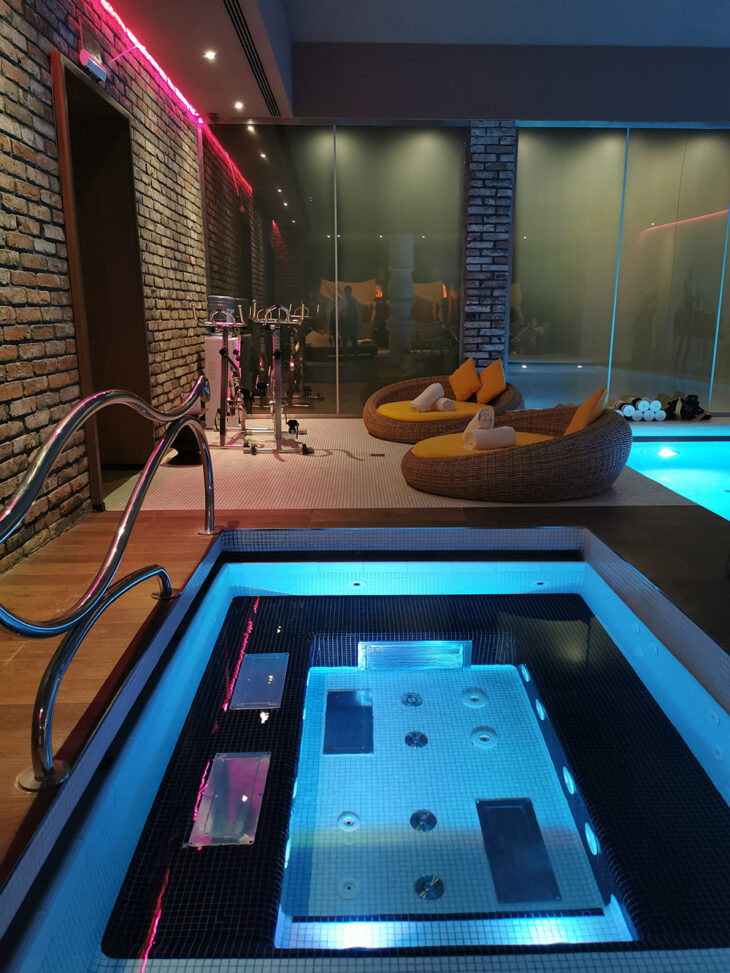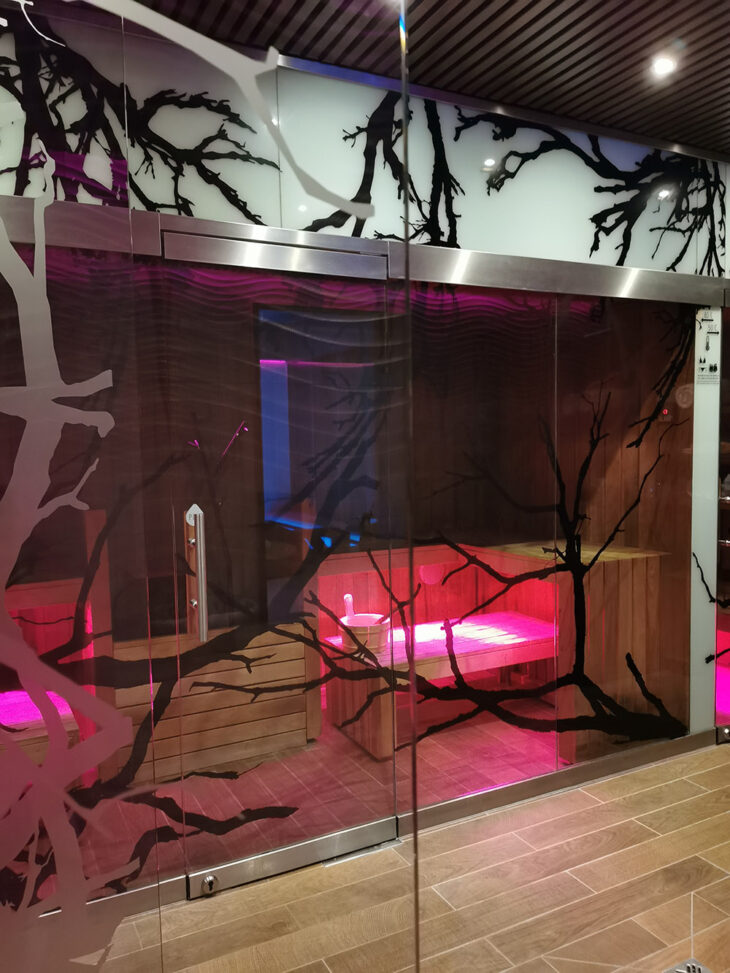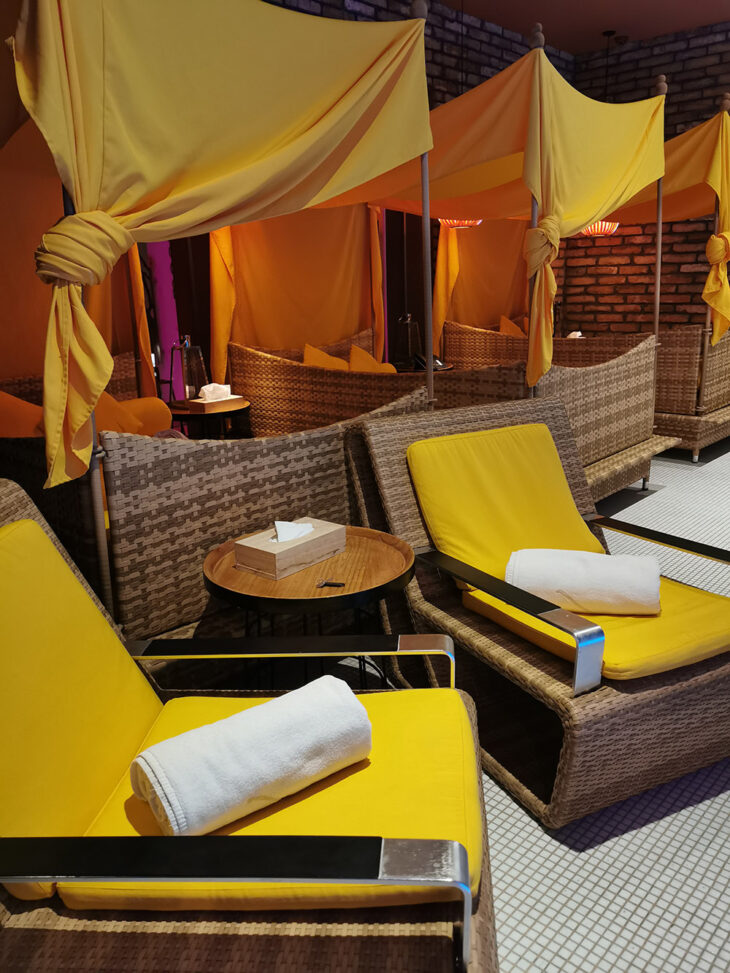 Dining
Breakfast at the Music Garden
A complimentary breakfast buffet and a daily wine and cheese reception are both provided by the hotel in the Music Garden Courtyard. Eggs, fresh fruit, baked bread, smoked salmon, and cereal are some of the hot and cold items served for breakfast. A daily complimentary afternoon reception with wine and cheese is also held in the Music Garden. On certain days, live music is performed at the wine and cheese event. Throughout the day, coffee and tea are provided in the Music Library.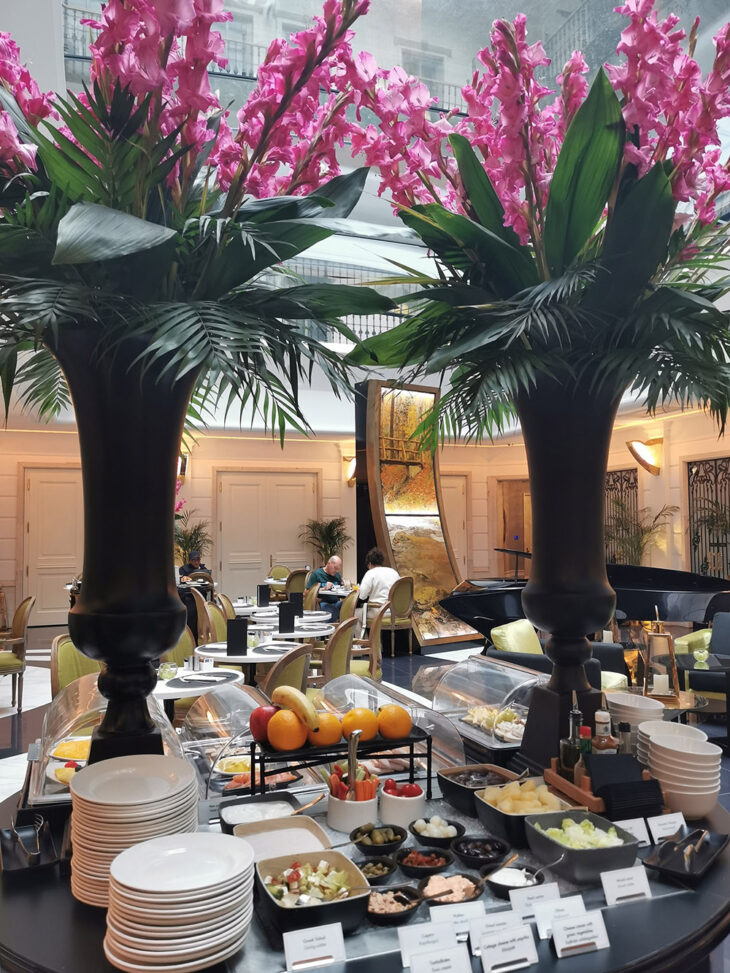 Café Liszt
Easily accessible from the reception area, this bar, lounge, and terrace is decorated with the original signatures of music legends. In the pastry factory Chéz Dodo's creative kitchen, you can sample the macaron, an enticing French treat influenced by the music of the Aria Hotel Budapest. The Executive Chef, Viktor Hiermann's focus is always on creating a harmony of flavours and presenting the natural taste of quality ingredients.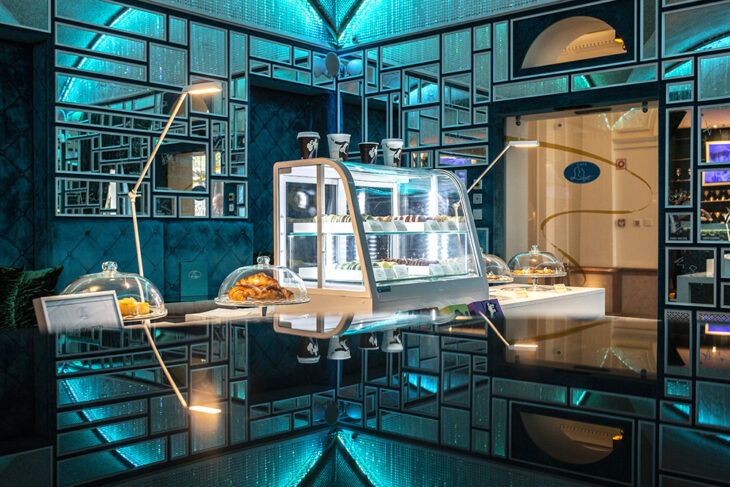 High Note SkyBar
The High Note Sky Bar, an ultra-sophisticated roof top bar with close up views of the Basilica and a spectacular 360 panorama of the city, has to be one of the Aria's main attractions.  The Basilica's spires can be seen from up close. You'll feel as though you can reach out and touch the Basilica's tower. The sky bar serves you high-end cocktails, wine and an extensive bar food selection.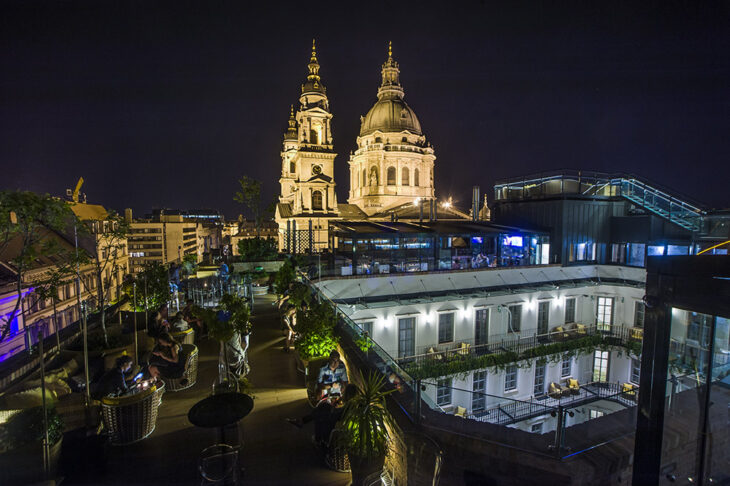 The High Note SkyBar was named as one of the Top 10 Best Rooftop Bars in the World by Condé Nast Traveller in 2018. The terrace can also be covered with a retractable roof so that guests can enjoy the rooftop bar all year. While taking in the breathtaking scenery, do indulge in their state of the art cocktails, wines, food, and sweets.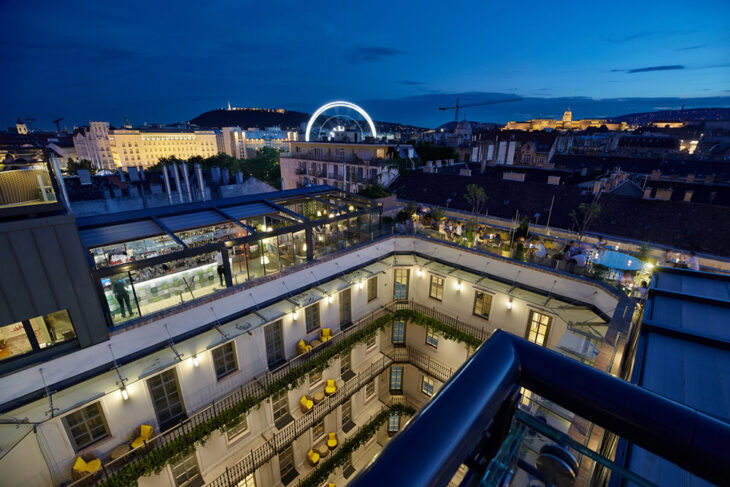 Takeaway
All the conveniences you would anticipate from a contemporary, five-star hotel were available in our accommodation at the Aria Hotel Budapest, along with original Art Nouveau-style décor and furnishings.
The hotel provided us with an excellent base from which to explore Budapest and everything it has to offer. We particularly enjoyed its rooftop bar, where we could enjoy a cocktail while taking in the beautiful views of Budapest.
It is worth noting that the personnel provided excellent service. With every inquiry or request we had, the staff was attentive, courteous, and helpful.
The complimentary afternoon wine and cheese reception, which runs everyday from 4pm to 6pm, was one of our favorite bits of the Aria. It's a real delight, as you can listen to live music performed by talented musicians while sampling some delicious Hungarian red, white, and rose wines.
Aria Hotel Budapest is more than just another luxury hotel. It provides a one-of-a-kind guest experience, particularly for music enthusiasts. The hotel has undoubtedly established a good example for future luxury hotels, particularly in terms of the complimentary amenities it provides and its overall concept.
Aria Hotel Budapest by Library Hotel Collection
Hercegprímás u. 5, 1051 Budapest, Hungary
ariahotelbudapest.com
stay@ariahotelbudapest.com
Keep up with Aria Hotel on Instagram – @ariahotelbudapest