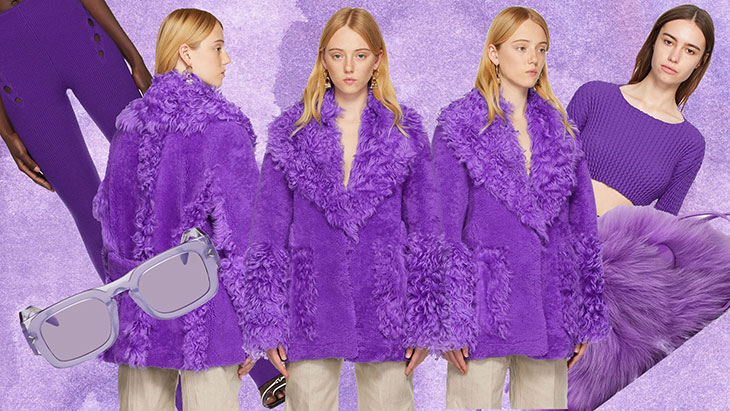 Opting for tones in the same color family can sound like a cliché, but if you know how to do it properly, you can create a striking outfit. The trend has been around for quite some time, but 2022 has seen the monochrome dressing gaining the attention it deserves.
Sometimes it might seem easy to achieve, but it doesn't always go smoothly. The easiest way, of course, is choosing both top and bottom in the same shade. The thing is – it will always look well put together, but it might look a little monotonous. If you want to go all in, add jacket, shoes, bag and accessories in different shades of the same color, and you won't go unnoticed.
There's a perfect monochrome combo for every occasion, you just need to find the right balance. DSCENE Magazine Fashion Editors put together 5 outfits that will serve for every occasion you might have this winter.
We earn a commission when you follow the link to make a purchase. Click here to learn more about how we make money.
Purple Rain
CLIK THE IMAGES TO SHOP THE PIECES AT SSENSE (SALE UP TO 50%)
How about a bold purple look, head to toe? In this case, we're talking a gorgeous textured crop top from Issey Miyake paired with a high-waisted flare trousers from Jean Paul Gaultier, plus a shearling coat from Jacquemus as the final flourish. Accessorize the look with Bottega Veneta fluffy clutch bag, Miista boots, MCQ sunglasses and you're ready to go.
Nearly Nude
CLIK THE IMAGES TO SHOP THE PIECES AT SSENSE (SALE UP TO 50%)
Take monochrome a step further, and try total look in shades of nude. Play with textures and volumes and you won't go wrong. This wool and alpaca-blend coat from Rick Owens is a statement piece that will make every outfit unforgettable. Keep it simple with top and bottoms with this Helena Manzano cotton co-ord. Complete the outfit with MM6 Maison Margiela alpaca gloves, Jacquemus Le sac à l'envers and Isa Boulder SSENSE exclusive expandable boots. This look is a proof that nude doesn't have to mean boring!
Orange Is The New Black
CLIK THE IMAGES TO SHOP THE PIECES AT SSENSE (SALE UP TO 50%)
When each piece is almost the exact same, vibrant shade of orange, the effect can be remarkable. We paired the REMAIN Birger Christensen leather co-ord with Maisie Wilen perforated leggings, and added the Ader Error wool scarf, Kara knot tote. To spice it up include, Rick Owens shield sunnies and La Manso ring in your outfit and you've advanced your monochrome dressing status.
Tangled Up In Blue
CLIK THE IMAGES TO SHOP THE PIECES AT SSENSE (SALE UP TO 50%)
Go with an all blue selection of pieces for monochrome outfit perfection! This gorgeous dress from Coperni stuns on its own. But paired with Marine Serre leather coat and Mach & Mach satin heels, you've got a knockout monochrome outfit. Complete the look with The Atico 24H bag, Hugo Kreit Blue Iris ring and Agmes earrings and you're ready for the NYE party.
Red Red Wine
CLIK THE IMAGES TO SHOP THE PIECES AT SSENSE (SALE UP TO 50%)
When you go so far as to match the color of your socks to your outfit, you've become a pro in monochrome dressing. Here we mixed sporty look with luxe by combining the Vetements oversized hoodie with Feben flare trousers and Adidas x Ivy Park faux-latex jacket. Boots are MM6 Maison Margiela and socks from ERL.