Nearly twenty years after the first restaurant opened in D.C., Zaytinya got its first New York follow-up, inside the newly opened Ritz-Carlton hotel in Nomad. Under the direction of internationally renowned Chef José Andrés together with Concept Chef Michael Costa, the menu reflects the rich regional diversity of classical Turkish, Greek, and Lebanese cuisines. The stunning interior with 140 seats, designed by the award-winning architecture powerhouse Rockwell Group, spread out across a light and airy space with white oak tables, a blue-toned bar, and beige pendant lights.
Building on Chef Costa and José's deep knowledge of Mediterranean cooking, the menu features shared small plates of innovative food, authentic cocktails, and unique wines. Chef Michael Costa sits down for an exclusive interview with DSCENE Magazine to talk about his love for Mediterranean cuisine, favorite ingredients and future plans.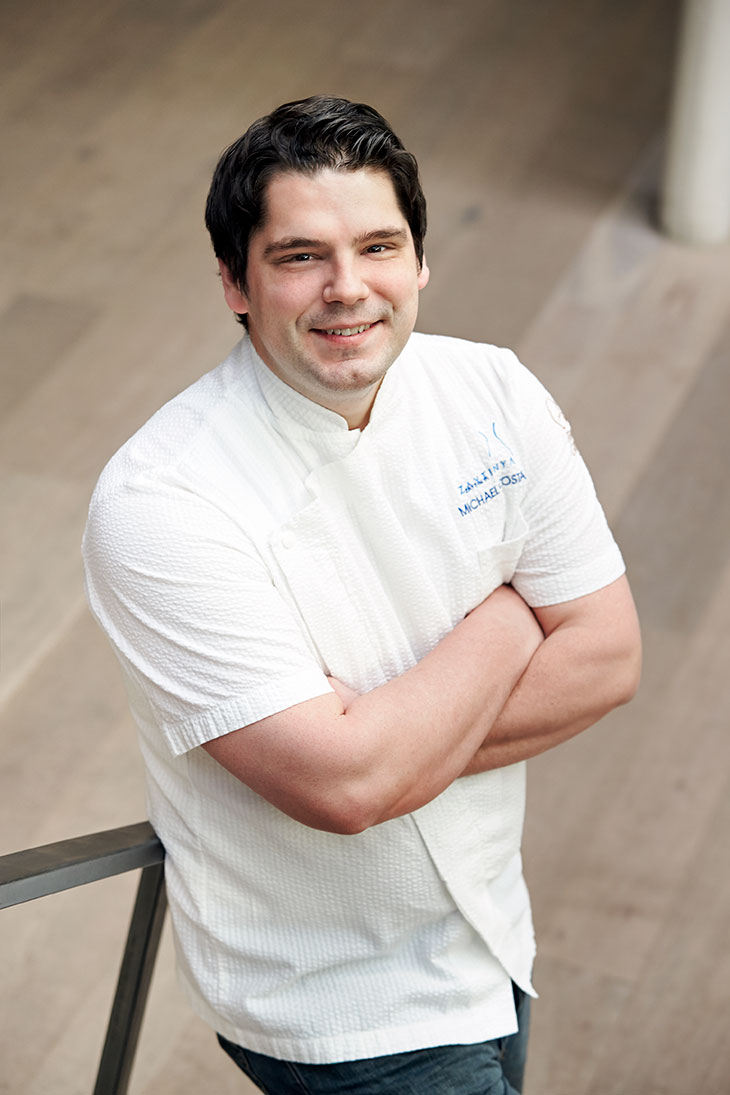 How did you transition from foreign affairs studies to culinary school?
You could say that I never actually did! I just study what people eat in different places rather than how their governments interact. There was a moment during my fourth year that I remember distinctly. I was talking to one of my professors about Heidegger or another philosopher we were reading about at the time and I noticed a Charlie Trotter cookbook on the shelf behind him. We spent the rest of the time talking about food.
When and how did you realize cooking is your true passion?
For as long as I can remember I've spent the majority of my days thinking about what I am going to eat next. My mother would tell you that from the time I could stand on my own I was always trying to help her in the kitchen, even if all I could do was pour milk in my cereal.
How did your story with Zaytinya begin?
I had been a fan of Zaytinya since it opened. My father's office was right down the street. There was nothing like it in DC at the time. My then girlfriend (now wife) and I had our third date there. I was recruited by a friend of a friend to be the chef.
View this post on Instagram
What does working closely with Chef José Andrés look like?
Put simply it is rewarding and challenging in equal measure. Working closely with José means frequently being pushed beyond what you think your limits are. I've learned how to be comfortable with being uncomfortable. The logistics of his life require that a lot of our collaboration take place digitally. We have a WhatsApp group that we use to share pictures and ideas which helps tremendously.
What inspired your love for Mediterranean flavors?
Some people are born into these cuisines. I chose them. I had very little experience with these cuisines before I joined the Zaytinya team. Since then I have had the opportunity to travel and to learn from great mentors like Aglaia Kremezi. The more I learn the more I love it!
Zaytinya's innovative menu is mostly inspired by Turkish, Greek and Lebanese cuisines. What are the main characteristics?
Olive oil is the common thread as our name is a play on the Turkish word for olive oil. The emphasis on seafood and lamb and the use of vegetables like eggplant and tomatoes are also paramount.
What do you do to bring those regional cuisines to the next level?
We always start our research for a dish with by making it the traditional way using the best ingredients we can find. Then the analysis begins. Sometimes we love the classic so much we just serve it that way, particularly if it is a dish that our guests haven't seen before. Sometimes we substitute a fresh ingredient where a dried ingredient is typically used. An example of this would be our spanakopita, which uses fresh phyllo that we make in house in place of the frozen prepared product that so many restaurants use.
If we want to participate in the evolution of a dish we have to love it and honor it by understanding where it comes from.
The menu mostly includes small plates and food for sharing. Tell us about this concept.
It is an extension of the shared, family style experiences that are familiar to Americans. Rather than serving a couple of large items, we serve many smaller ones. This abundance and diversity makes for a much more vibrant dining experience. If you think about it, you most enjoy the first couple of bites of a new food. The rest you eat out of habit or to ease the feelings of guilt associated with waste. With our style of dining your entire meal is comprised of fun, exciting and new tastes.
What do you recommend we order at Zaytinya?
As a busy father of two I sometimes suffer from decision fatigue so I am really grateful when restaurants do the thinking for me by offering tasting menus like our Chefs Experience. When you order the Chefs Experience we send out our greatest hits, so to speak. The menu changes but has many of my favorite dishes like Brussels Sprouts Afelia (brussels sprouts with coriander seed and barberries) and Garides me Anitho (shrimp with dill).
What are some ingredients that you can't live without?
Top quality strained Greek style yogurt is my one indispensable ingredient. It may be the most versatile ingredient in my pantry. It can easily become anything from a sauce for a savory preparation to the base of a fantastic dessert. It goes without saying that top quality olive oil must be there as well. In the decade plus that I've spent at Zaytinya I have come to truly appreciate how much spices like sumac, cumin, urfa pepper and za'atar bring to the table as well.
What's next for Zaytinya?
Having successfully opened our second restaurant at The Ritz-Carlton New York, NoMad, we are focused on making sure that our existing restaurants continue to get better as time goes by. We are looking to expand beyond New York and DC and look forward to happily announcing our plans for the brand as we grow!
Zaytinya is located in The Ritz-Carlton New York, NoMad
1185 Broadway, New York, NY 10001, United States
To find out more, visit www.zaytinya.com