Fashion brand AGL teams up with supermodel Kristen McMenamy and stylist Katie Grand for a capsule collection that fuses the brand's know-how with supermodel's cool and edgy energy and Katie's sophisticated style. The AGL x KRISTEN MCMENAMY Fall Winter 2023 Capsule Collection features eight styles: Pumps with flower-shaped accessories, chain decorations, or with a Texan twist, ankle boots with chains, Texans on kitten heels, ankle boots and boots on solid ultralight high wedges. The collection is completely Made in Italy, from high quality Italian materials, in black, and optical white, as well as in bold and intense purple, with touches of gold and silver to give reflections of light.
The capsule arose from the desire to engage with diverse experimental, innovative, creative minds, the desire to improvise, the urge to get down and do, and experiment with new things. An urge that we have always had. We have always felt at ease working in a group, from the most intimate, when just the 3 of us sisters get together for drawing sessions, to the more open, involving the style office team at the company, the hemmers or seamstresses, or the girls who do the more intricate details. Wall to wall women.
Each of them brings something special to the table to embellish the creative process – they devise, they solve, they help create beauty in a multitude of insights, experimentations and cut-outs. This time we spread our wings and the buzz on the grapevine took us to London, one of our favourite cities, and our all-women creative team was joined by 2 brilliant women, Katie Grand and Kristen McMenamy. The creative sessions turned into explosive exercises because of Kristen's talents. Her coolness, energy, love of shoes and passion for detail encouraged us to think outside the box by enticing us into a wonderland, which was a little dark and a little innocent. Nothing would have been possible without Katie Grand, whose sophisticated culture and intellect brought together disparate minds to produce something exceptionally contemporary – the design of a feminine avant-garde partnership that was bursting with personality. The AGL Kristen McMenamy collection springs from an obsession with shoes as the basic building block in the creation of an outfit, which then takes center stage in the outfit itself. It captures the freedom to be yourself any time, the culture of clutter, inconsistency and the many faces of being a woman – Giusti Sisters.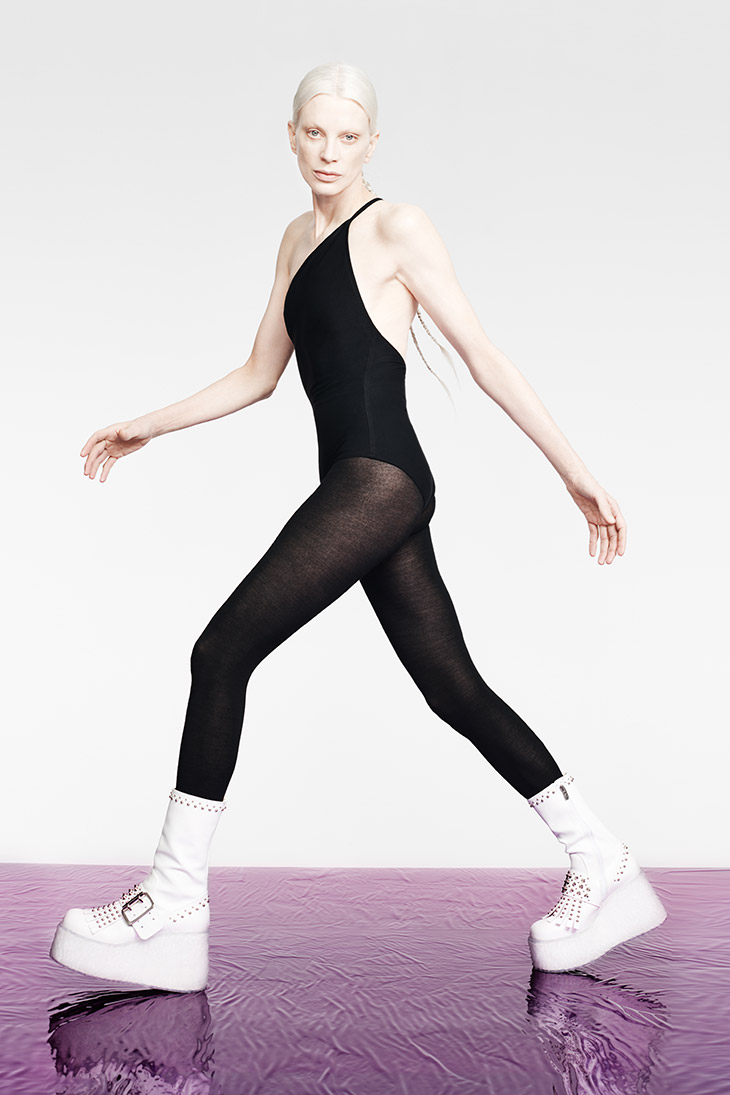 Part of the magic of fashion is the exploration of imagination. Throughout my career, I've been very fortunate to collaborate with the brightest creative minds, in order to bring those ideas to fruition. My collaboration with AGL and Katie Grand feels like an organic, and inevitable next step in that exploration of ideas. Whether in front of the camera, on the runway, or on the sidewalk in my daily life, I've worn every type of style and shape of shoe, and throughout the years, I've always toyed with an idea or two of what I would do if I was behind the sketch book. This collaboration gave me the opportunity to bring those musings to life, and I'm very proud to see, and wear, the final result of mine and Katie's shared vision. – Kristen McMenamy