DSCENE Magazine has collaborated with Korean American artist and creative director, Amber Park on its March 2023 digital cover. A multi-hyphenate creative, Amber has worked with artists such as Lil Nas X, Katy Perry, Lil Yachty, and she's recently launched her fashion-tech platform PLAY! POP! GO!
DSCENE Magazine Digital Editor Maja Vuckovic sits down with Amber to talk about about her creative process, PLAY! POP! GO! and her DSCENE cover design.
Hello Amber, so nice to have you at DSCENE. Can you tell us a bit more about yourself? – Ahh where do I begin? I am 25. Just missed the mark of being a millennial, so that makes me Gen Z. I am a Leo. I don't know what that exactly means. I am not the best when it comes to signs, but I am learning or I should rather say I have friends who are actively trying to make me learn. I was born and raised in Los Angeles. I am Korean American. I am a bit of a dork. My friends give me a hard time about this, but I am naturally shy and quite introverted. I am a weirdo, and proud of it. I love the color yellow – specifically soft tone baby yellow. I love nature and sunshine.
My whole life I felt like I never fit in, and now as an adult – I love that I don't. I think as a creative it's important to live life boldly, unapologetically, and be present in the moment. To really enjoy, to enjoy the excitement of the unknown, and to celebrate the ability to express and share that with others.
This next chapter of my life and where I am at currently is all about grounding myself and my work in positive intention – doing things that will have a positive impact and radiate light and kindness through the power of art.
You have an extensive portfolio of working with artists like Lil Nas X, Katy Perry, to name a few, as well as Vogue and Verizon. What is the most valuable lesson you learned from your partnerships? – Learning how to go with the flow, expect the unexpected. Creativity and collaboration is such a fluid process. Through working with such incredible creatives at the biggest level, it's been incredible seeing how telling stories through art and visuals has the ability to create strong emotional connections and the power to heal. It was so powerful to experience, in these shared collaborative spaces, art bringing people together and allowing them to enter new worlds.
Through these partnerships, I've gained a deeper understanding and appreciation for the power of community and creative conversation.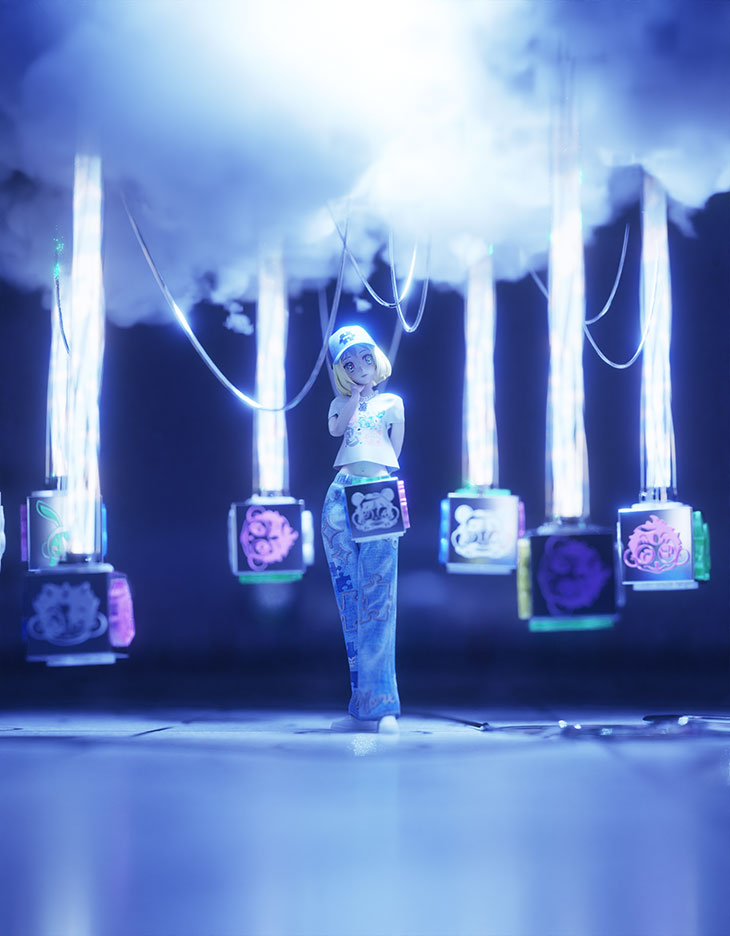 What inspired you to create your own fashion-tech platform PLAY! POP! GO!? – At first PLAY! POP! GO! didn't start off as an idea for a fashion brand. It came from this place of freeing the inner-child within me and thinking of what a younger version of Amber would have wanted to see when she was growing up and feeling alone. I have always had this strong dream to create characters and a world that resonates with people from all walks of life the same way Hello Kitty and Mickey Mouse do. PLAY! POP! GO! is my approach to the next generation of Sanrio and Disney – creating safe inclusive spaces that are wildly colorful, filled with fantasy, wonder and magic, and more importantly that bring people together for their shared love and joy to enter these beautiful and cinematic worlds. At the start of PPG, I designed 6 dream characters that will soon reveal their importance to our story 😉
While designing the world and sample storyboards and creating the universe the characters lived in, I became inspired by my own journey that was pretty out of the box. As a multi-hyphenate creative, I felt that developing my first solo project the brand and universe needed to be a boundless, multi-platform endeavor and reflect where I came from and where I want to go.
As a kid, I was such a huge Bape x Nigo, Yayoi Kusama, Hello Kitty, and Walt Disney fan. Thinking about how I saw PPG existing and the things that had such a special influence at my childhood core, I thought about what would my own Disneyland look like – to me that is a celebration of the storytelling, the immersive experience, the merchandising, the product, the foods, the music and also the gaming and social interaction. This really became the seed and transformation of then moving PPG into this innovative space of a fashion-tech platform.
Fashion is something that I not only have been such a huge fan of since I was a kid, but is something that actively plays a big part in my life today as a consumer. I have always been inspired and a fan of this collector's culture that you see in the sneaker and streetwear worlds and that has such a strong influence and impact in lifestyle and pop culture. I think there is such an immersive storytelling power of clothes. Fashion is an extension of our identities and form of expression that informs how we look and more importantly how it makes us feel. There is this element of fashion that I feel is also so playful, this culture of collector's mentality is very similar to Pokémon – this feeling of seeing these tangible items and wanting to collect them all. There is also this power of fashion in how it transforms us as individuals to become different versions of ourselves and also how we want to present ourselves. Clothing can serve as our superhero suits that give us this special power to be ourselves. It allows us to create and morph an image and reflections of our individual expression and gives us the ability to tell a story in the matter of a first glance. To me this is such a beautiful thing and became the ethos for our virtual ecosystem.
My own journey in Web3 to explore this sense of identity and personal self expression through storytelling also inspired the universe in which I wanted PPG to exist and evolve in. As a creative who experienced the power of owning and fully building out my own IP with no rules, the possibilities to dream are endless. Creating PPG, I wanted to create an infinite playground for creators and dreamers like me to feel like we have a place to play and to create and to have fun!
Ultimately, the main inspiration was how can I bring people together and storytell in a dynamic way not only digitally but also in our physical realities with what we watch, what we wear, how we feel and how we interact. A big part of this is that I want to show all the outcasts and kids and people like me, who at times feel like they don't fit in – that you do belong. You are loved. All those colors and nuances that make you different are your greatest superpowers.
Can you describe to us your creative process? – My creative process is far from linear. I have really been practicing lately to be grounded in the present. To observe. To listen. To experience. To give myself the breath and space to think without the pressures of time, limitation or outside noise. I think lately my creative process is grounded in my own personal storytelling and intention of thinking what would little Amber do. Unlocking and activating all my senses and thinking fully in color, I am finding my creative process extending into different mediums and taking elements of nostalgia but pushing them into the future.
How would you describe PLAY! POP! GO! in three words? – Freedom. Of. Imagination.
What do you think is the most important thing for every young creator out there? – Do things from a place of love, not for love. Create with intention and stay grounded in your intention.
You've created an exclusive artwork for our DSCENE Magazine Digital Issue. What was your thought process when making the cover? Were you inspired by us? 🙂 – I love how DSCENE represents such a celebration of spotlighting creatives and their work in process explorations and pursuits. With my digital cover I wanted to tease some easter eggs for what's to come but also to allow readers to enter the metaphysical reality of my dream factory – the incubation of my mind and the beginning of the PLAY! POP! GO! Story.
Can you tell us a bit more about PLAY3? – PLAY3 is a virtual playground for free-thinkers. Harnessing the community building and technological power of Web3, I wanted to create an easy to access and digestible user interface to play.
At the core of PLAY3 is PLAY3 PARK. "PLAY3 PARK!" is the digital gaming interface of PLAY3. It is a storytelling, community driven collector's experience that seamlessly integrates gaming, entertainment, fashion and social interaction. It is the ultimate social gaming multiverse. We are innovating the classic video gaming format and Web2 internet experience, this is the next gen direct to consumer, immersive user experience that bridges our online personas to meta experiences to IRL.
This is all I can say for now… but I am excited to present this digital world and showcase how we can merge our digital fantasies with our physical realities and bring you along this digital to IRL scavenger hunt with me. PLAY3 will also feature various digital collaborations that will be represented in forms of digital collectibles and sub-stories.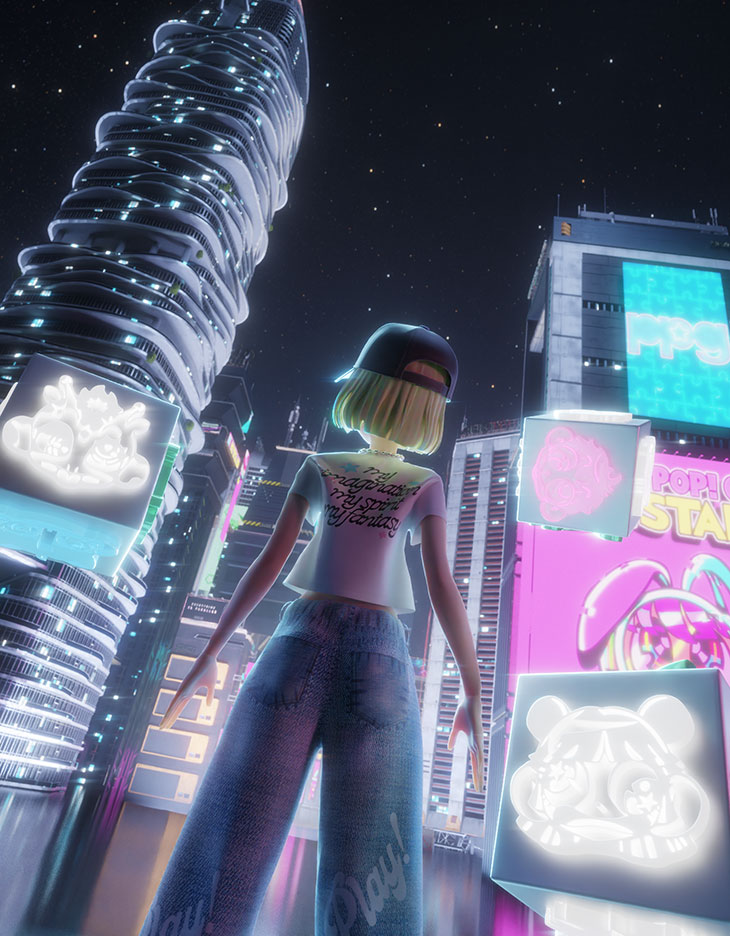 How would you describe your first collection of high-end ready to wear garments? – Modern sophistication with a Gen Z demeanor.
What is your ultimate goal with PLAY! POP! GO!? – To have my own Disneyland 🙂 on planet Earth and in every other dimension our mind lets us travel to.
What can we expect next in your digital world? – In early March, the doors of PLAY3 PARK will open and our story will begin. Our first introduction will be meeting the PLAY3 KIDZ 🙂
Get ready to play!
Keep up with Amber Park on Instagram – @amberpark, @playpopgo