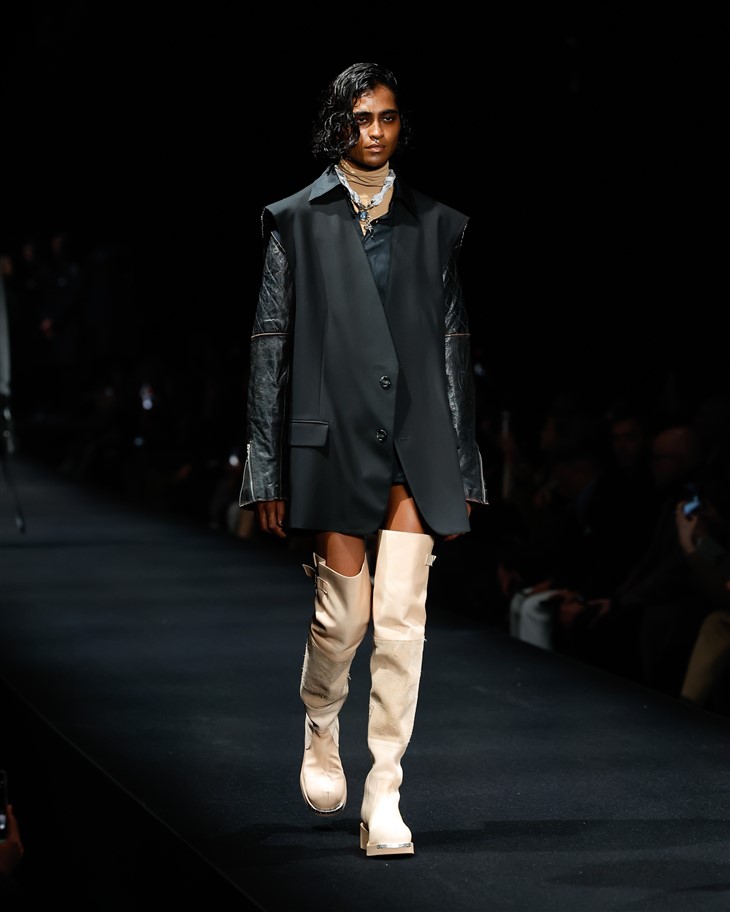 Fashion house MM6 MAISON MARGIELA presented the Fall Winter 2023.24 Collection, with a show held on February 23rd, during the recently finished Milano Fashion Week. Deciphering where one garment begins and another ends does not typically take a detective's eye. A sweatshirt cuff poking out from a trench coat sleeve, for example, would reasonably imply two pieces layered to counter a wintry chill. For this season, however, MM6 Maison Margiela confounds the assumptions projected onto the most familiar of garments, presenting a series of entirely new contexts in which they might be viewed and worn.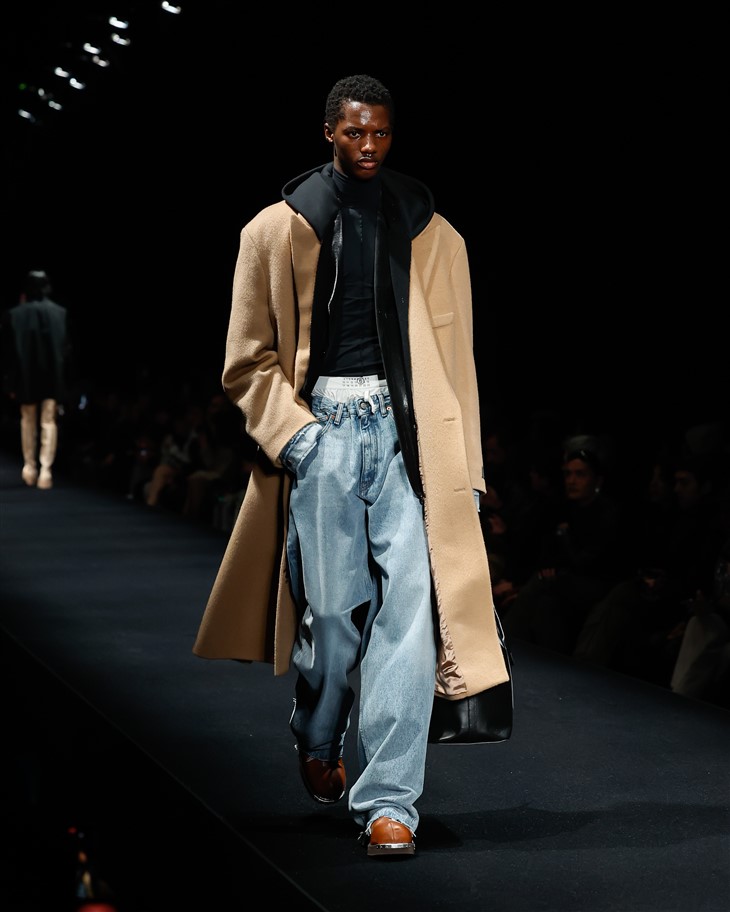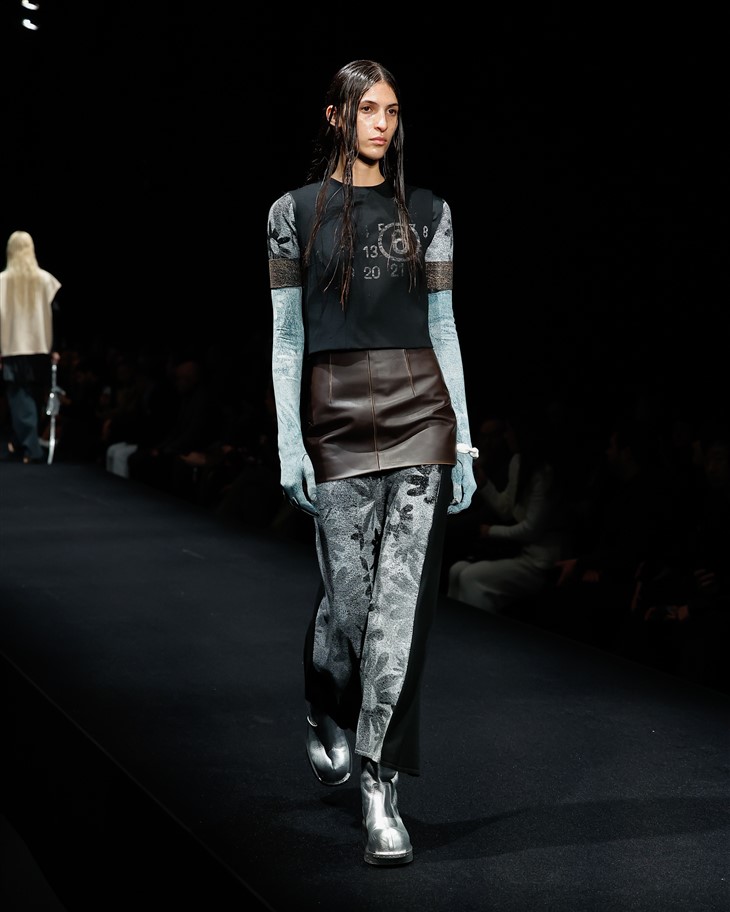 A play of surfaces and perception, looks are constructed with the same methodology as a cadavre exquis. Unexpected fabric textures and treatments are irreverently spliced, disrupting preconceived associations of particular garments, textiles and silhouettes. A shirt with a body in gossamer navy lining fabric comes with bulky leather sleeves; those of a tailored wool blazer are foiled down the front, with the remainder toeing the line of convention – save for the hint of a ribbed tank top that folds over the lapel. A hood emerging from the collar of camel wool greatcoat is in fact a removable scarf, while the boxer short waistband that peeks above straight-leg blue jeans is built into them, fastening with a drawstring. – from MM6 Maison Margiela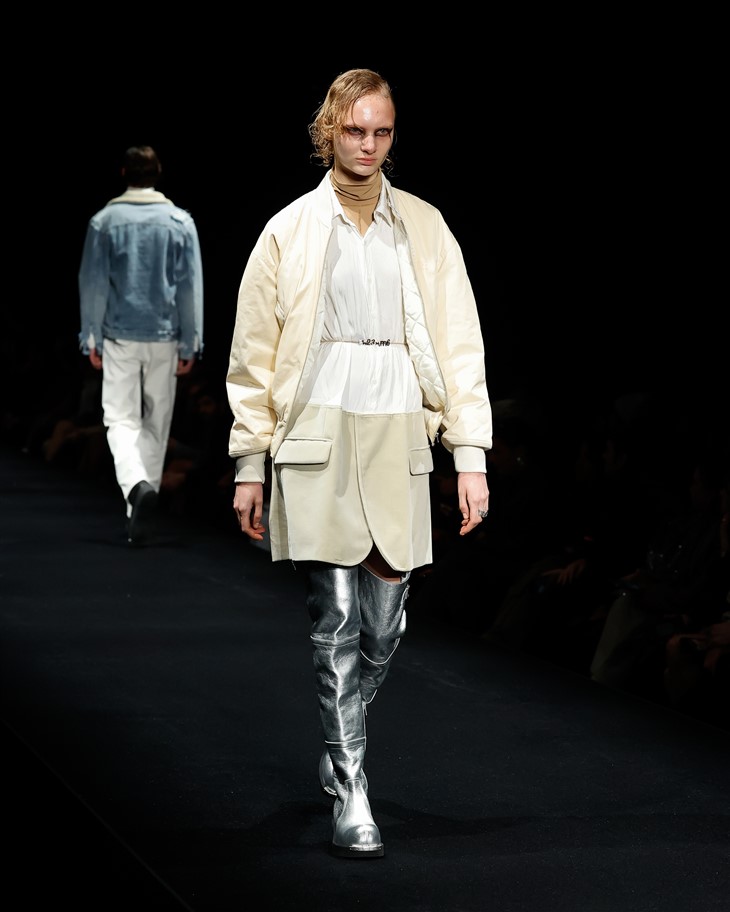 Between garments that smash together disparate tropes and those that subvert first impressions are those that directly invoke the role of styling. Number 6 visual signatures and foiled knit treatments that run across sweaters and overlaying deep-V-neck jersey tunics are interrupted by negative space when the latter layer is removed; a blue denim twinset is styled with a French tuck and printed grey, with the fabric's original hue peeking through along pockets and plackets, and coloring the garment's reverse.