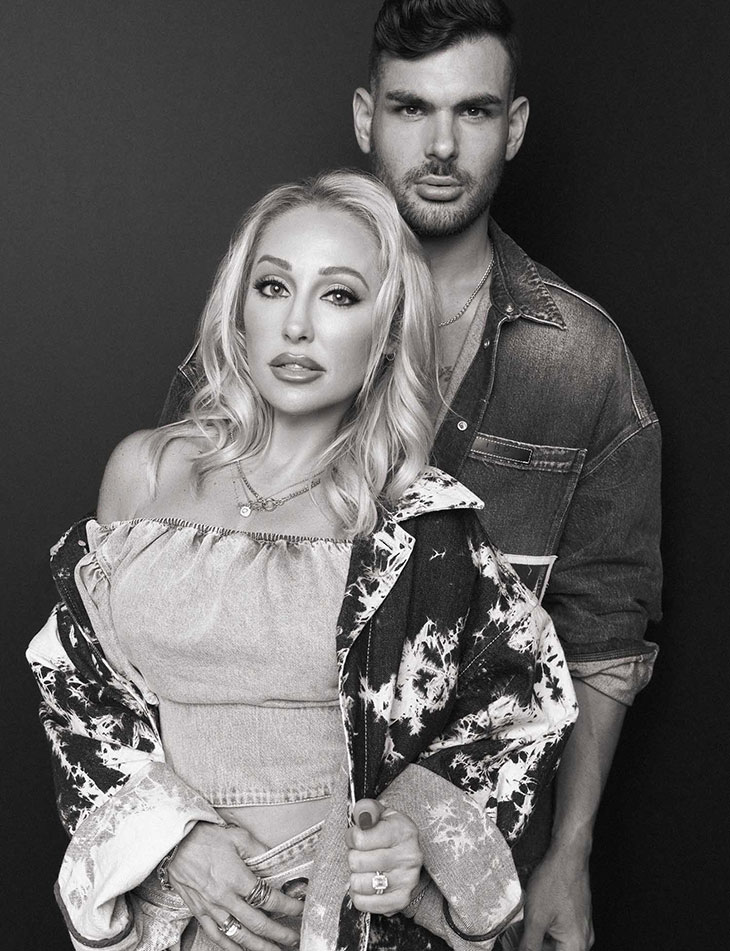 Fan-favorite couple from Netflix's Emmy nominated hit series Selling Sunset, Mary Fitzgerald and Romain Bonnet are the stars of DSCENE magazine's latest editorial captured in their new home in Los Angeles by fashion photographer Kevin Roldan. In charge of styling was Ariel Kochbarski, with beauty from Rachel Hoke and Scott Irving. The couple's charisma and chemistry together instantly captured the fans' hearts, with their 2019 wedding being a storyline of the Second Season of the show. Offering their sweet, vulnerable, relationship moments up for the world, Mary and Romain became a real power couple and a real inspiration.
DSCENE team Zarko Davinic, Katarina Doric and Maja Vuckovic sit down with Mary and Romain to talk about Selling Sunset, their dynamics in real life and at work off camera, as well as the new season of the show.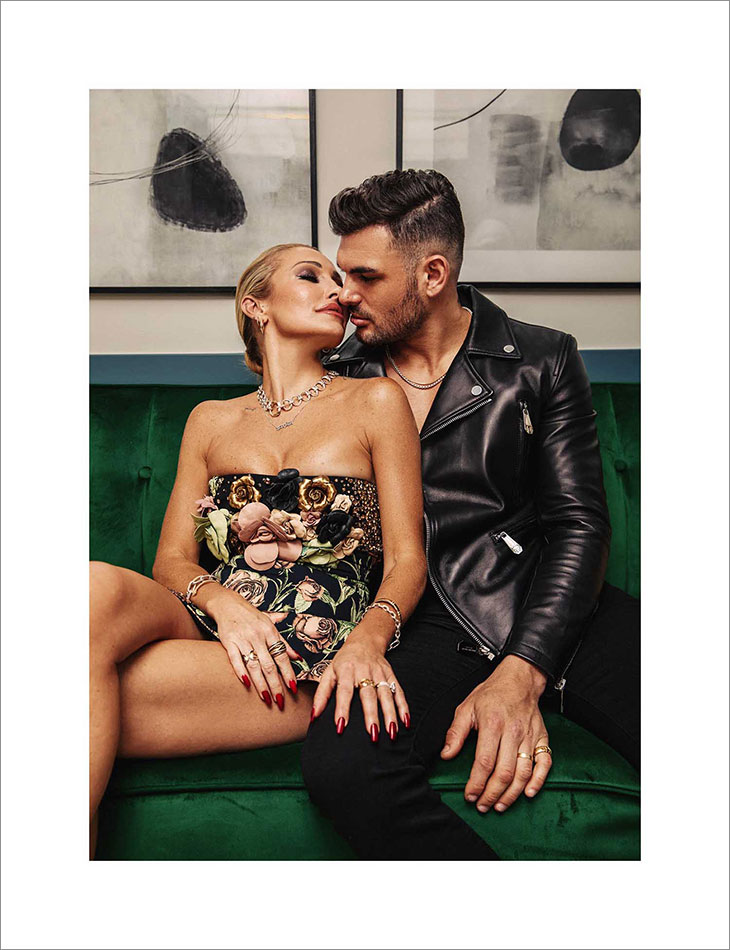 I am not sure if ever during the show we actually heard how you two met?
Mary: We met through work actually. When I first started getting back into real estate. You know real estate is hard in the beginning, I was working two other jobs while building up my clientele in the Hollywood Hills. I was an assistant for a real estate agent, which is something I always recommend to people when they want to start working in an industry. And then I was also bartending. My manager at my bartending job was French, and we became real good friends. A year later, when I was not working there anymore, I stayed in touch with him. He called me up, and he was like "Hey, my friend is a French pastry Chef and owns his business, and he is bringing a couple of guys over from Paris to work here and they need a place to live".
So I found one of them a house, but his visa was delayed, luckily so cause at the time I was dating a guy. I never even looked up for a photo of Romain but we were chatting on WhatsApp.
Romain: We were texting for almost 6 months, before I finally got my Visa.
Mary: So, I never looked at his photo on WhatsApp – and then, my ex and I broke up! Thank God! And maybe a month later I went to France for a wedding, while I was there I got a text from Romain. And he's telling me he's in LA! While I was in France! So, when I got back I went to pick him up, show him the homes. And he hopped in my car, and I was like "O Holy Sh*t! Is this the guy I was talking to!". We instantly just got along so well, that even then when we would go to see the homes, people thought we were a couple looking for a place. It was this instant bond, and we started dating a week later!
Wait Mary, but do you speak a bit of French or no?
Romain: Yes, she does.
Mary: I did, but then Covid hit and I had to stop taking my courses. [Mary reaches to show us her French course book on her desk]. But I am ready to start back up at the beginning of March. I am going to start learning again, I have been saying that for a long time. But when covid hit I couldn't take my courses, and the real estate market just went insane. Both of us were working all the time.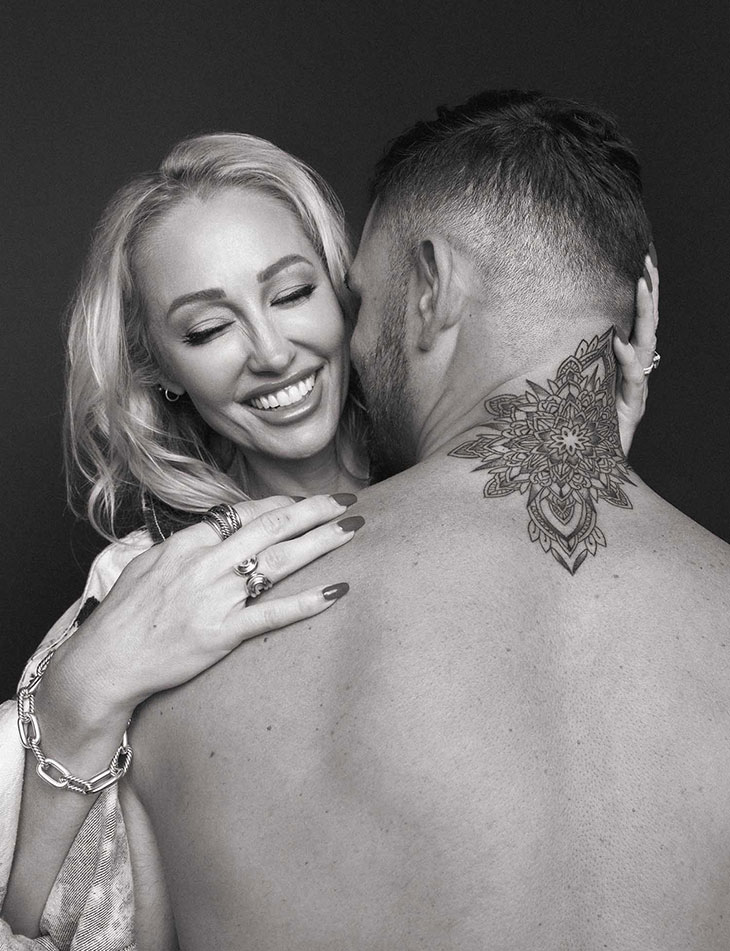 Romain, do you help Mary with French?
Romain: I want her to learn more, and I am more than happy to always help her. But for everyone learning a new language it helps to know the basics. If anyone is going to have a conversation with you, you are not going to understand well, and you will end up frustrated. But in the end, Mary was understanding quite a bit!
Mary: When we went to France, I was starting to pick it up much faster! They said I have a good accent, but you know if you don't use it…
But you have Romain!
Mary: But he is hard! He is such a perfectionist! That is why I still do not pronounce Romain in French! [they both laugh]
Romain: I am used to it! [Laughs]
Romain is from Paris, would you both ever move there?
Mary: I am very adventurous, I would move! If there is a reason to do it, I would totally do it. I love Paris. But our careers are here right now.
Romain: It would need to make sense for both of us. We love travelling and doing everything together. Living in Paris wouldn't be a problem, but it would just have to make sense for us at the time.
Mary: It would be amazing to be closer to his family.
Romain: We always say we are going to retire in France.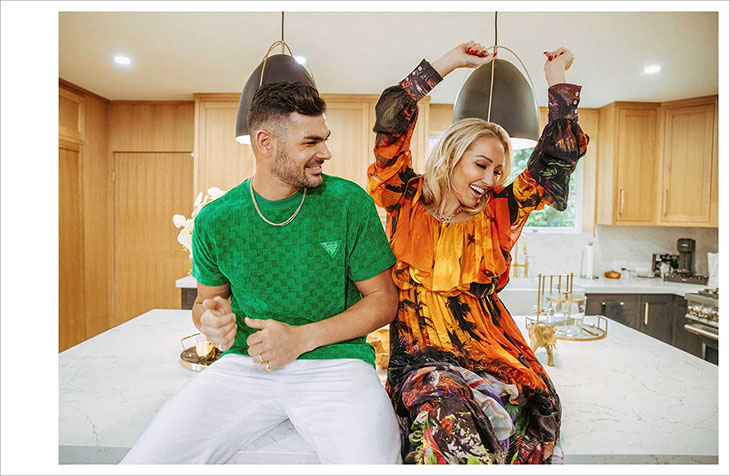 Speaking of "Selling Sunset", you filmed the pilot way before the show went up on Netflix. Did you even hope it was going to get picked up after such a long time?
Mary: We didn't think it was going to actually. When we filmed it, you know you get this excitement, and you believe it's gonna get picked up. And funny enough, it got turned down by almost everybody. From E! to Bravo… They were all telling us they have too many real estate shows. And so, they all turned us down. We all wanted Netflix of course, it is a powerhouse, but we didn't hear back from them for so long. And then Netflix came back to us 6 months later! By then we thought the project was dead in the water. Then the Netflix team came and met us, and they were confident we have the personality to carry the show. They liked the idea of women in business, tying into women empowerment – not sure that has really continued! [laughs] but I am still pushing for that!
You are the boss now in the office!
Mary: I am trying! [laughs].
From the pilot to the actual first season there was a year and a half in between! How do you remember where to pick up from the pilot? Also, there is the editing!
Mary: It was almost three years in the making till the show came out. When it comes to editing, we don't even know what is going on in the scenes that we are not in. And so much gets cut out.
Romain: Well only if you get married on the show then they run it all! [laughs]
Mary: Sometimes for a full week I am doing only real estate and I come back into the office, they are filming, and I am not even aware what the fight is about! Then I think it is not even that big of a deal, but I watch the show and sometimes you are really shocked with what was going on.
Is the dynamic in real life and at work off camera, like what we see on the show?
Mary: It's pretty accurate. I think the camera's always on point.
Romain: Sometimes they are going to focus more on something you don't even think is important. We are like family, but we also do our own things on the side.
Mary: They film so many things that you do not even see. There are hours of material when we are all just quiet in the office, seated and working. What ends up on the show is primarily us chatting, being funny or arguing.
Romain: There's so many of us on the show, and everyone is filmed separately or in small groups. So sometimes it feels as if they filmed years of material.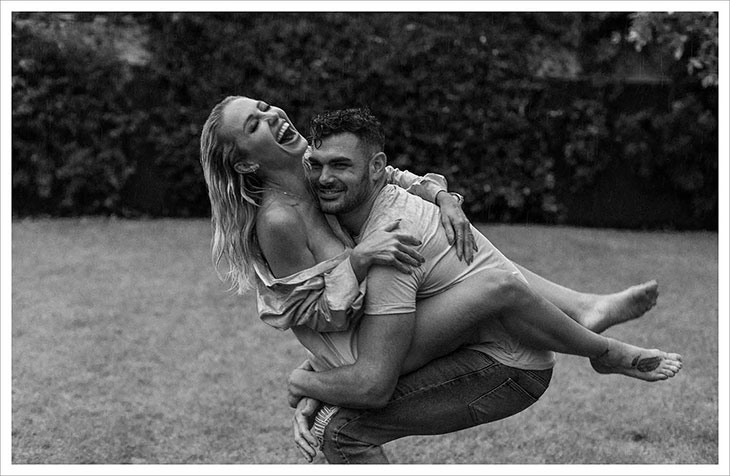 But is what we see the real setup in the office? Are you really just sitting there?
Mary: Well, we are but, a lot of times in our industry if you are sitting in the office, you are not doing much work. A whole group of us is hardly ever in the office. We are out all the time for work. We are together for team meetings and stuff but our job is to be out networking, showing properties, getting and setting up listings, doing inspections. All of that is something that you can't do from the office.
How often do you then see each other?
Romain: We saw a bunch of girls last night, for Chrishell's movie premiere. We are all very good friends, but it's hard to have everyone together at the same time in the same place.
We always joke in the DSCENE office that we should align our tables like in the Selling Sunset office!
Mary: Go for it! I warn you though! You have to make sure you have the right dynamic because there can be hair pulling… It's dangerous! [laughs]
For both of you, how hard was it to put out your relationship in front of the camera? Because you are the biggest couple on the show.
Romain: For me, I don't think it was hard.
Mary: I think in the beginning it was hard for me. There wasn't as much support for us as a couple in Season 1. I think a lot of people thought because of our age difference that Romain was using me.
Romain: On social media it was, but our friends knew the truth, and we had been together for years at that point.
Mary: Our friends love us together. But on social media Romain got a lot of hate.
Oh, I hope you don't read the comments, Romain?
Romain: No, I really couldn't care less what people who don't know us think. If it's good and nice, thank you. I love to hear it. But if it's bad, a lot of times it was just judging and interpreting something. They wouldn't even know what is going on, they only see the small bits of our relationship on the show. Which is not even nearly as close to who and what I actually am.
Mary: It would frustrate me in the beginning! Putting us out there, because that is not what he is. He is so freakin' stubborn, he would not take a penny from me. And he works so hard, so if people would attack his character, which is something I love most about him– that would upset me. That made it difficult and made me question if it was all worth doing it.
At the end of the day, I get to work with my husband, we get to share our life and we enjoy it. So it's definitely a good thing to do this together.
Romain: But at the end of the day, we know who we are. And we know how we feel. I get her point, but they don't know me. As long as she knows who I am and trusts me, and knows I love her…
You know comments are often bad, people often tend to leave bad comments rather than nice ones.
Romain: You know after season 2, once everyone saw that everything was real, and I was not using Mary it changed. Once In a while, there are some trolls, but no matter who you are that is going to happen.
Mary: I think production is also very good when a topic is very sensitive. The production crew gives us the opportunity to tell what is going on in our own way. They do not try to twist the story or create something out of what might be hurtful for us. That makes it much easier to open up. For example, speaking about my fertility. They've been very sensitive to what's important to us.
Romain: The respect is fully there. Obviously like any production they love drama, but I think we got to a point that they understand what's important for us. Whenever there is something sensitive, they understand where we are coming from and work with us while not trying to twist it.
It takes establishing trust on a show like this.
Mary: If we didn't have mutual trust, we would stop sharing.
Romain, now you are also working on developing and building houses, are we going to see more of that next season?
Romain: Yes, you are going to see more. Recently there are a few projects that I have done, on my own but also with the Oppenheim Group that has been filmed.
Mary: I think in Season 6, Romain's project is going to be one of the main ones featured on this show. And his projects are dope! He did a great job!
I see Romain also worked hard on your own new home.
Mary: Yes! Weekends are pretty much the only time we have to get home things done.
Romain: We are turning a bedroom into a closet, and during the weekends I have some of my workers come in to work with me on our house.
When the new season starts. Can we expect some new cast members?
Mary: Yes! One of them has been a friend for a very long time and she's been an agent with Oppenheim also for a while. We have a new cast member Bre [Tiesi], who has been in real estate but has been in the press for different reasons! It's going to be a very interesting dynamic.
Romain: She's nice though.
Mary: Yeah, I like her a lot. I was a little worried when she first came. I was like I can't do any more drama,… please don't give me more drama. [laughs]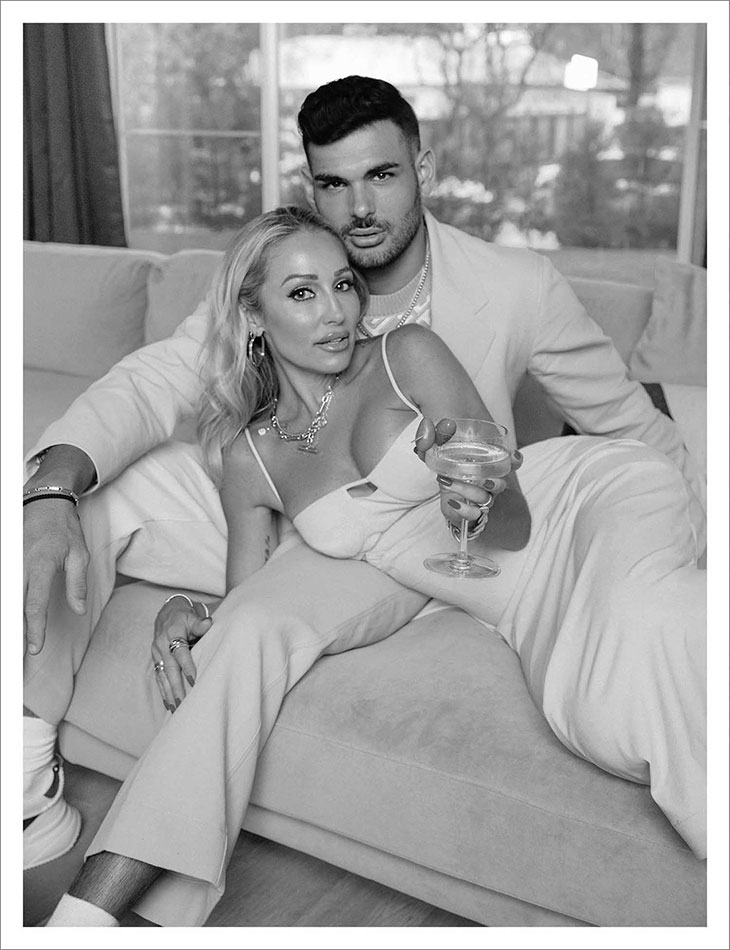 For you, when the cameras are off, did the attachment of the show to your name actually distract from your work. In a way that it didn't help with your clients and with your work.
Mary: It helped get more clients; I have clients from all over the world now. They watch the show, they know who I am as a person and how hard I work. So, they want to work with me. I have a lot of new clients from that, so it has helped in that aspect. Where it didn't help, I think, is in regard to our schedules as they are insane. Now everything takes twice as long, trying to balance the clients we have and get organically in combination with the clients we also get from the popularity of the show itself. Along with that, trying to work on my own, without filming.
Romain: She must filter the clients way more now as there are so many people who are actually not real buyers. They just want to meet her, some of them even go so far as to submit fake papers.
Mary: We must do extensive research on everybody who contacts us right now. We have to take our phone numbers off for everything– and that can be career suicide for a real estate agent. It has been interesting the changes we had to make. We also can't do open houses alone anymore, so we have to be creative. Romain must come with me sometimes, basically as a form of security. But I can't be in an open house alone anymore as you are telling people when and where you will be alone.
You do not expect that when you go on a show about real estate. But was everything okay so far, or did you have some bad experiences?
Mary: We definitely have had a couple!
Oh, sorry to hear that!
Romain and Mary [together]: Nothing too bad!
You ended up with such a massive exposure with the show. Did you ever expect it to grow so big?
Mary: I think we thought if we got three seasons, we succeeded! We thought if we get three seasons that's it, we made it. But it just keeps going and going. We had no idea; we are up against the Kardashians for Reality Show awards!
You know we watch all the seasons in the DSCENE office together. When the season comes out on Netflix, we all stay in our office lounge, eat and binge the whole season!
Mary: I love that! Thank you, guys!
Romain: In one day! And it will take us six months to film it! [laughs]
Mary: We just have had so much support, and so many people love it so much. It is really cool that all of our hard work is enjoyed and appreciated by people.
Photographer KEVIN ROLDAN – @kevinroldan
Stylist ARIEL KOCHBARSKI – @ofthemomnt
Hair & Makeup RACHEL HOKE – @raquelhoque
Grooming & Retouching SCOTT IRVING
Talents: MARY FITZGERALD and ROMAIN BONNET – @themaryfitzgerald @theromainbonnet
Photographer Assistant AUSTIN MALABUYOC – @austindrakem
Stylist Assistant JULIANA DELEHMA
Interview ZARKO DAVINIC, KATARINA DORIC, MAJA VUCKOVIC – @zarkodavinic @katarina.djoric @majavvv