Fashion house JW Anderson presented its Spring Summer 2024 Menswear and Resort 2024 Womenswear collections, that celebrate the beauty of simplicity and the elegance of complexity, on June 18th, during the ongoing Milan Fashion Week. The collection was inspired by rugby, and it brings sporty silhouettes and rugby stripes that went under a captivating transformation. The bold colors and intricate patterns of the original Cornishware ceramics served as inspiration for this reinterpretation. The collection also brings a twist on normality, as the wardrobe's staples, mélange knits, supple leathers, and boldly structured tailoring, tangle and twist with one another, a new aesthetic emerge. The result is an unconventional fusion of textures, creating an intriguing juxtaposition within each garment. Two-dimensional shapes dominate the clothing, deliberately emphasizing an intentionally disheveled aesthetic. This intended chaos emphasizes a sense of artistic expression while challenging the norms of traditional attire.
SPRING SUMMER 2024 COLLECTIONS
The collection also draws inspiration from everyday life and objects, such as the '70s sofa from Anderson's office. Textural exploration takes center stage, with elaborate hand-knits showcasing interlocking patterns and brilliant multi-colored yarns derived from Ireland's picturesque Donegal region. Waxed cotton cable is painstakingly braided into three-dimensional structures to simulate the structured texture of popcorn. This one-of-a-kind design feature is incorporated into ready-to-wear clothes and bags, giving the collection a whimsical touch. Shirting and tailoring textiles are used to reimagine traditional garments. Dresses with a scrunched up waist or a long line are given handkerchief hems, creating a light and floaty form with an air of refined unpredictability.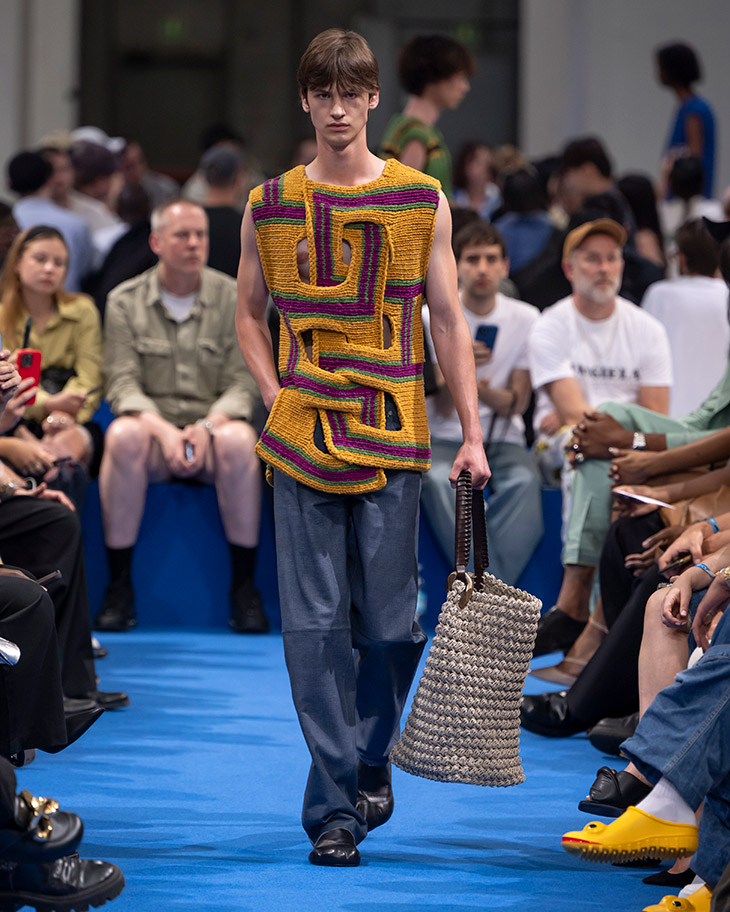 The Anchor Stretch Tote was inspired by workwear, this boxy and utilitarian tote is constructed from rigid canvas, available in two distinct versions: a North/West style and an elongated tool bag-inspired iteration. The signature anchor logo is in the focus, stretched to extreme proportions and crafted from luxurious calf leather to form the functional shoulder strap. The Corner Bag features a soft trapeze shape with rounded edges, standing out with its unique pinch detail, achieved through the use of the brand's distinctive chain link design. This distinctive feature adds a touch of artistic flair to an already stylish accessory. The Platform Clog, which comes in a variety of fabrics and textures such as Smooth Calf, Moire, Hairy Calf, and Laminated Felt, gives an unexpected twist to traditional footwear. Comfort and style are provided by concealed platforms with curved indentations along the sole. A prominent seam runs across the uppers, lifted and exaggerated to curvingly point towards a slightly tilted toe, making a striking statement.
The combination of heritage inspired designs with daring experimentation resulted in a collection that promotes individuality, artistic expression, and a departure from the ordinary.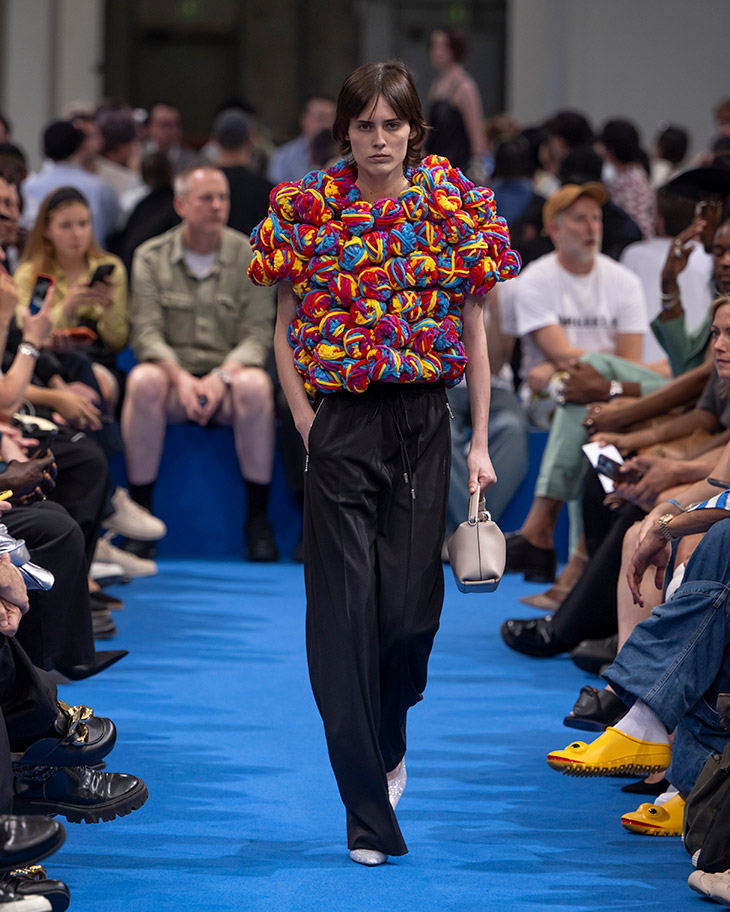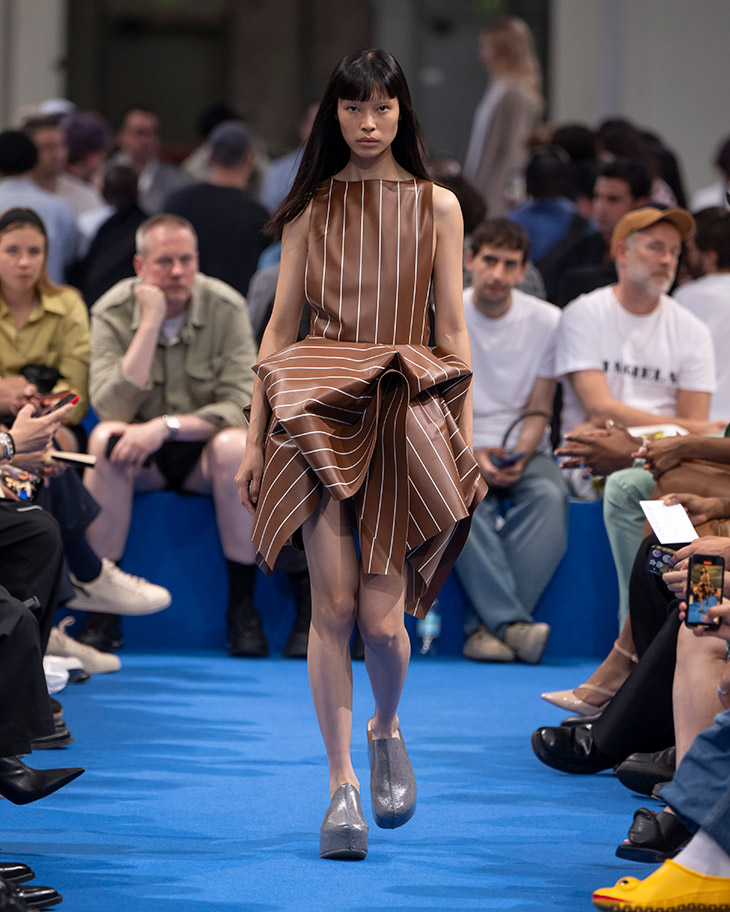 Discover every look from the JW Anderson Spring Summer 2024 Menswear and Resort 2024 Womenswear collections in the gallery below: