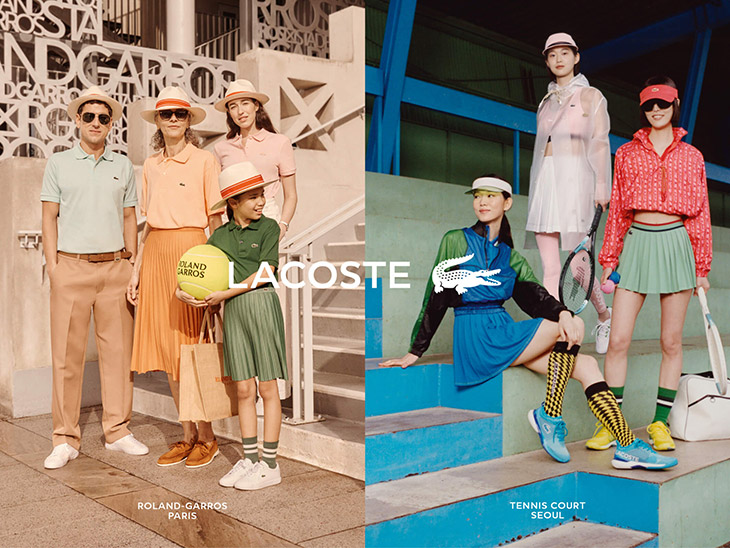 A 90th anniversary is certainly a reason to celebrate. These days, French brand Lacoste celebrates its 90th Birthday: French elegance, movement, grace, creativity and innovative ideas have marked the labels' spirit from past to present. What started as a movement on the court, was developing from sportswear to streetwear. However this celebration is not just any other retrospective. The Crocodile rather honors its history and anniversary with unique energy. Thus, the people that are moving the labels' heartbeat across the globe today, are celebrated.
But how did the labels' history start?
"Inventor: If I had to put a profession on my business card, that is what I would write."
René Lacoste, 1964
Lacoste's founder, René Lacoste, started his career as a celebrated pro tennis player and an incredibly creative inventor. He was born in Paris in 1904 where his interest in sports started from a very young age. He took his inspiration from his father, a rowing enthusiast. However the sport that excited René the most was tennis. He started a very successful career and won his first tournament at the age of 17, in 1921. He then caught the attention of Suzanne Lenglen, who became a close friend and likewise his mentor on the court. She trained him extremely well, for instance she was guiding him to move with spontaneity and a very particular strength. In 1926, René started to wear the short-sleeved shirt on the court. Thanks to this piece of clothing, he reached an even greater freedom of movement which is essential for every tennis player. With this idea, inspired by polo players in London, the concept of functional elegance was born. Being inspired by his own nickname, he asked his friend Robert George to design a crocodile. The logo, which is now famous, was born. It didn't take a long time until he then met the industrialist André Gillier in 1933. Together they created the LACOSTE L.12.12 polo shirt, a revolutionary invention. Worth of mentioning is the fact L stood for Lacoste, 1 for the unique garment: cotton petite piqué, 2 for the short-sleeved version, 12 was the final number of the version René Lacoste selected. On the basis of the composition of a new breathable, lightweight fabric, petite piqué jersey, featuring the crocodile logo, the shirt was extremely pleasant, flexible and practical to wear. Even though his friends advised him not to do so, René listened to his intention and decided to embroider his famous signature Crocodile on it: that was when the first polo was created.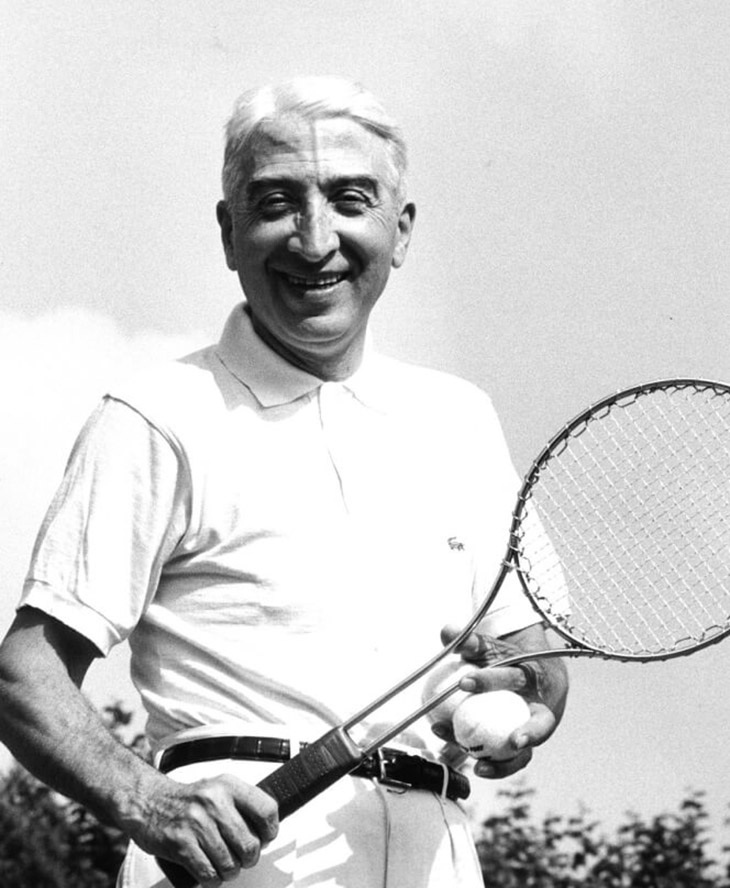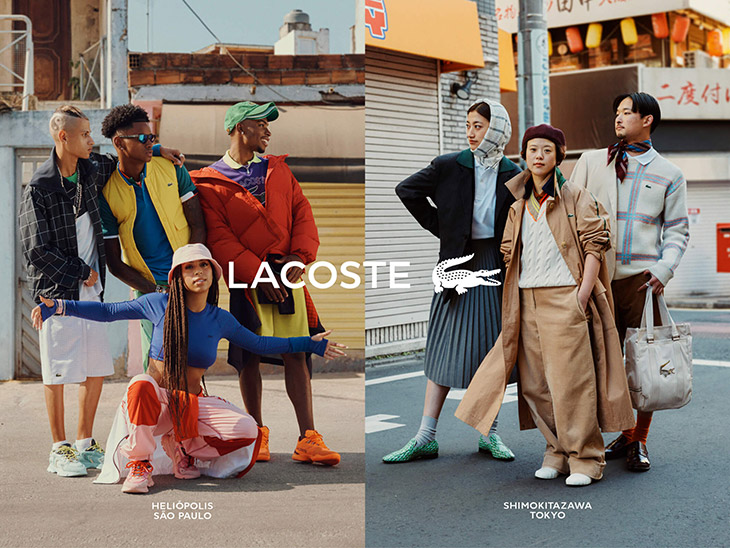 Another interesting fact: Apart of his innovative fashion ideas, René Lacoste also conceived some of the sporting world' most important creations. In 1928, he created the tennis ball machine. With this creation, his aim was to improve his technique. From then on, this machine guided generations of tennis players. In 1963, another of his inventions changed the tennis world: the steel tennis racket. This design provided superior aerodynamics and built the way for the contemporary tennis racket. In 1971 he fabricated the damper, a new vibration absorption device located in the racket handle.
In the beginning Lacoste was mainly celebrated and worn by sports players. However the more time passed by, the more the Crocodile was spread through France, across tennis and golf fields, line and border. And with every new corner of the world Lacoste touched, the brand got brighter and enrichened by a bunch of various influences, such as street culture, making its way to the runways of the world, collaborating with musicians, artists and creators, pursuing its way to the vintage retro scene and being merged into pop culture.
Nowadays the Crocodile symbolizes a living, connected heritage for many that never stops moving.
These days the brand has an impact on fashion and cultures that is incredibly wide spread. In addition to that, also various communities have a very special influence on the brand.
For their anniversary celebration, Lacoste travels the world to celebrate eight subcultures. Due to their passion, individuality and style, they are shaping the brand and are therefore chosen as the heart of Lacoste's 90th anniversary celebrations: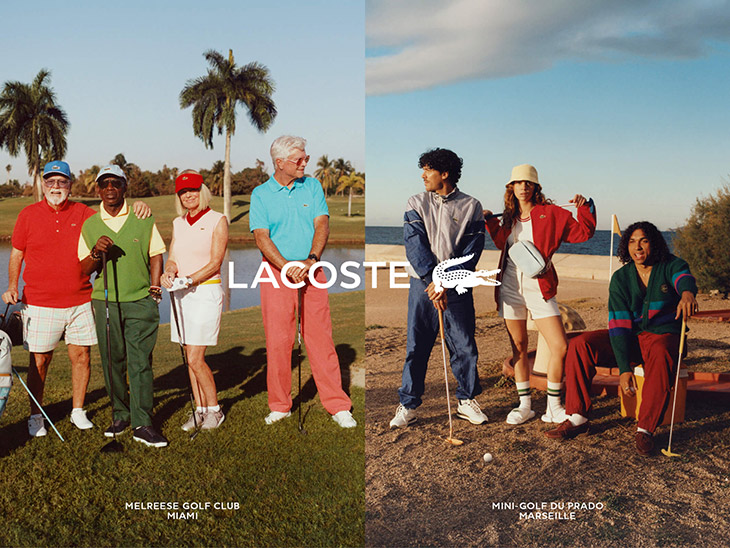 1) Lacosteiros
"WE GO TO EACH FUNK STREET PARTY DRESSED DIFFERENTLY. NO ONE WANTS TO WEAR THE SAME THINGS, SO WE EXCHANGE THEM BETWEEN US, TO MIX THINGS UP A BIT."
Extract from interview with Lacosteiros member
Being significant for the style of the self-named, proudly Lacoste-addicted "Lacosteiros", is their bold coloured street wear. They often wear their eye-popping styles at Sao Paolo´s funk street parties. As key pieces, Limited Edition Collections, colored sunglasses stacked up on the forehead, caps and Lacoste golf umbrellas, are utilized. They are the most active, passionate brand-based community that inspire Brazilian fashion culture.
2) Vintage Fashion Collectors
"THE EMOTION I HAVE WHEN I ENCOUNTER VINTAGE ITEMS…WHAT IS IT? LOVE AT FIRST SIGHT? I THINK THE GREEN CARDIGAN IS THE MOST SPECIAL OF THEM ALL."
Extract from interview with Tokyo vintage Lacoste collector
The vintage-collecting Tokyoites cherish Lacoste because the brand honors history, French savoire faire and cultural impact. From the streets of Shimokitazawa to Harajuku, historic and iconic pieces are creatively paired with contemporary styles. The key looks contain cardigans, pleated skirts and trench coats. Furthermore they are deeply committed to learn more about the history of the pieces they are wearing.
3) French Rap Lovers
"AN OUTFIT SOMEONE WOULD TYPICALLY WEAR FOR GOLF, WE WEAR ON THE STREETS AND SUBURBS. WE CLAIM THOSE CODES OF LUXURY, AND WE KNOW WE WEAR THEM WELL."
Extract from interview with rap lover from Paris Banlieue
This group consists of the originators of Lacoste`s strong connection with street culture, born in the Parisian suburbs in the early '90s rap scene. Being significant for their style is its urban approach. Moreover they are dressed head-to-toe in Lacoste. Their key pieces are iconic tracksuits and girolle caps. "Burgeouis" tennis and sportswear styles are reinterpreted and reappropriated. Thus, they inspire communities around the globe.
4) Amateur Tennis Players
"NEW YORK TENNIS STYLE IS VERY ECLECTIC. IT REFLECTS THE INCREDIBLE DIVERSITY OF THIS CHAOTIC CITY."
Extract from interview with New York amateur tennis player
The amateur tennis community prefers wearing a classic tennis style. Key pieces of this style are polo shirts, tennis socks, tennis bags and classic knit outerwear. This group creatively mixes and matches the contemporary with the classic, the sporty with the street and the trendy with the timeless.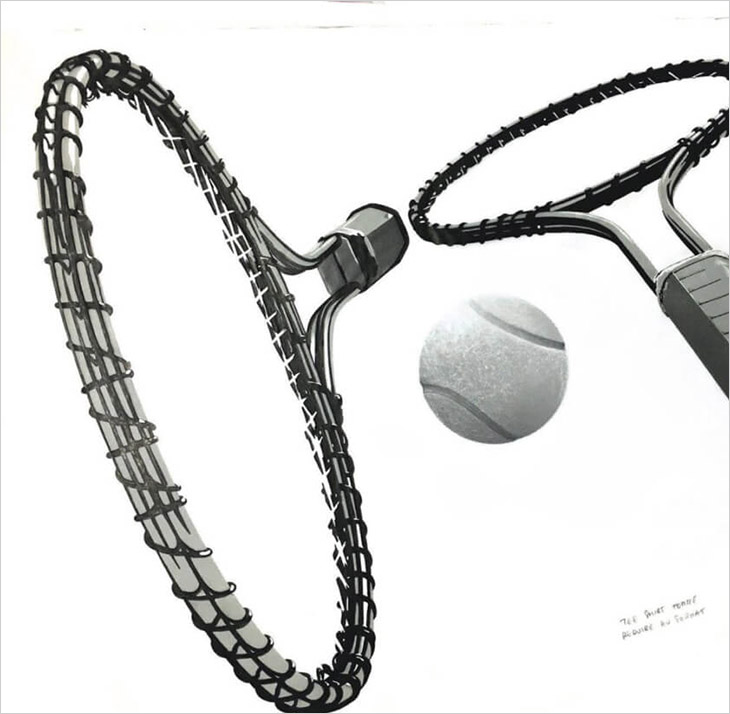 5) Vintage Lacoste Passionates
"GENERALLY, I TEND TO PREFER PIECES THAT LOOK A BIT GRANDPA."
Extract from interview with Lacoste vintage fashion lover from Marseille
You can spot members of this group at the sunny coast of Marseille, wearing colorful vintage creations, such as bright tracksuits and accessories including iconic Lacoste claquettes (sandals). As key pieces, Lacoste slides, bucket hats and cardigans, are worn. This group stands out because of their passion for vintage classics embedded with the Crocodile, cult pieces, rare and limited editions.
6) Amateur Golfers
"I WEAR MY COLLAR UP SO THE NEGATIVE ENERGY THAT COMES MY WAY JUST GOES RIGHT PAST ME. AND OF COURSE, SO I DON'T GET BURNT."
Extract from interview with Miami amateur golfer
As a reflection of their environment and their own mind, the amateur golfers are fond of bright colors & pastels. As keypieces usually vibrant polos, visors and sunglasses are chosen. What matters most for them is good sportmanship, fair play, fun in the sun and outdoor lifestyles.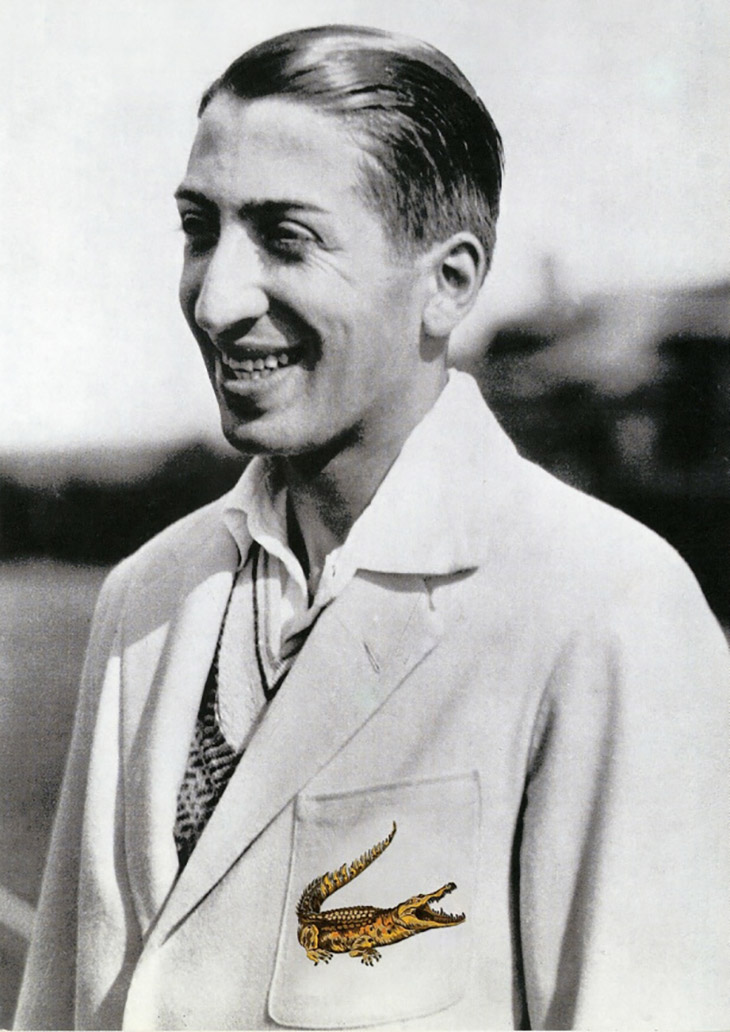 7) Roland Garros-Fans
"TO REALLY SEE THE TENNIS BALL UNDER THE SUN, A PAIR OF SUNGLASSES IS INDISPENSABLE. AND ON THE SIDE OF THOSE SUNGLASSES, YOU'LL ALWAYS SEE A FLASH OF THE CROCODILE."
Extract from interview with Roland Garros spectator
The Roland Garros community are fans of this classic tennis tradition, a legendary event. As keypieces, classic white polo t-shirts, button up shirts, hats and sunglasses are worn. This style radiates elegance and sporting spirit. René Lacoste won several grand slams. In 1971, he became the official sponsor of Roland Garros.
8) Amateur & Pro Tennis Players
"I LOVE THE PLEATED SKIRT WHICH ARE EXTREMELY LIGHT AND FLOWY, SO WITH EVERY ACTIVE MOTION, THE CROCODILE SWIRLS AROUND ME."
Extract from interview with ex-pro tennis player from Seoul
In Seoul, tennis is much more than just a sport. It is a lifestyle and fashion. The players that are loyal to Lacoste appreciate the functionality and elegance of the outfits. As key pieces, old socks, tennis skirts and technical outerwear is worn. The overall image of the looks can be described as colorful, contemporary performance wear.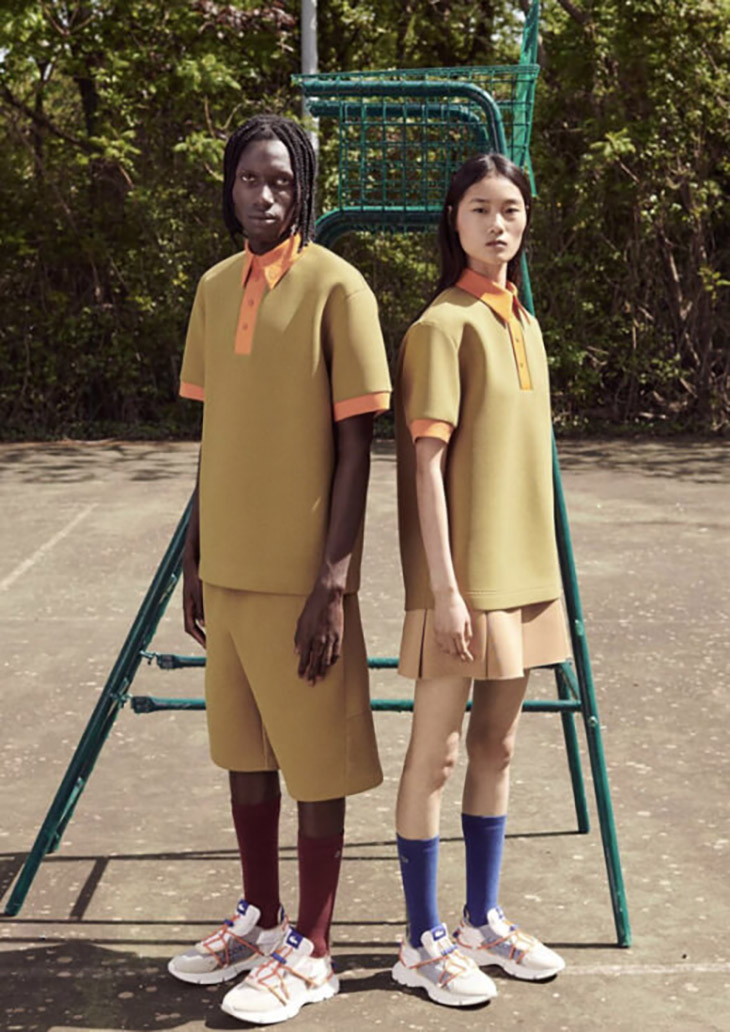 The campaign depicts pairs of each of the eight subcultures, every one shot in their individual meaningful locations and contexts. As a result both their differences and their similarities can be recognized, for instance they are creating a unique symmetry in their favourite meet-up spots. Furthermore surprising parallels in the color palettes they are wearing can be recognized and considerable differences in their preferences for either minimalist or maximalistic styles. Each duo starts an incredible witty fashion dialogue, when they meet and make eye contact with each other and appreciate the others' look. Their two worlds are melted together.
Lacoste created an ingenious, emotion-charged 90th anniversary campaign of "Impossible Encounters". By highlighting the uniqueness of its communities and taking its role as a cross-cultural connector at heart, this campaign certainly stays in mind.
Review by Sussan Zeck for DSCENE Magazine
Picture Credit: LACOSTE