Fashion house MISSONI unveiled its Resort 2024 Collection that explores and celebrates color and brings subtle and weightless pieces. At Missoni, color transcends mere aesthetics and takes on the role of form, silhouette, and shape. It influences and imbues the collection, codifying and defining the clothing while providing rhythm. Color becomes a transformative element, manifesting as patterns, textures, and graphic elements. The collection follows a path aimed at conveying a sense of brightness. It has the softness, weightlessness, and ethereal aspect of a cosmetic palette. Shades of flesh, powder, blue eyeshadow, blush red, light bronze, and eyeliner black intertwine in zigzags, zebra stripes, diagonals, creating a swarm of colors on a varied wardrobe. Bias-cut slip dresses, lace-trimmed petticoats, asymmetrical hem skirts, flowing shirts, miniskirts, mini or maxi cardigans, and masculine-inspired tailoring are all part of the collection.
The Missoni woman embraces her physicality with spontaneity. She enjoys layering, expertly concealing and revealing her figure. She engages with drawstrings to create openings, portholes, and gatherings, while also experimenting with proportions and juxtaposing micro and macro aspects, as well as short and long lengths. This interaction produces a language of shapes, patterns, and surfaces with a textural aspect, especially in the evening when black and sparkling materials come into play. Long earrings, wrap-around sunglasses, and high-heeled sandals with micro-pattern socks complete the look. These accessories provide a light and refined touch. In addition, the collection has a number of essential items that contribute to a well-rounded wardrobe. The pieces include the distinctive zigzag and space-dyed patterns, utilizing a ton sur ton jacquard look, in a neutral palette of gray, sand, and denim blue. These designs exemplify the idea of lightness and freshness, and they serve as versatile additions to one's wardrobe.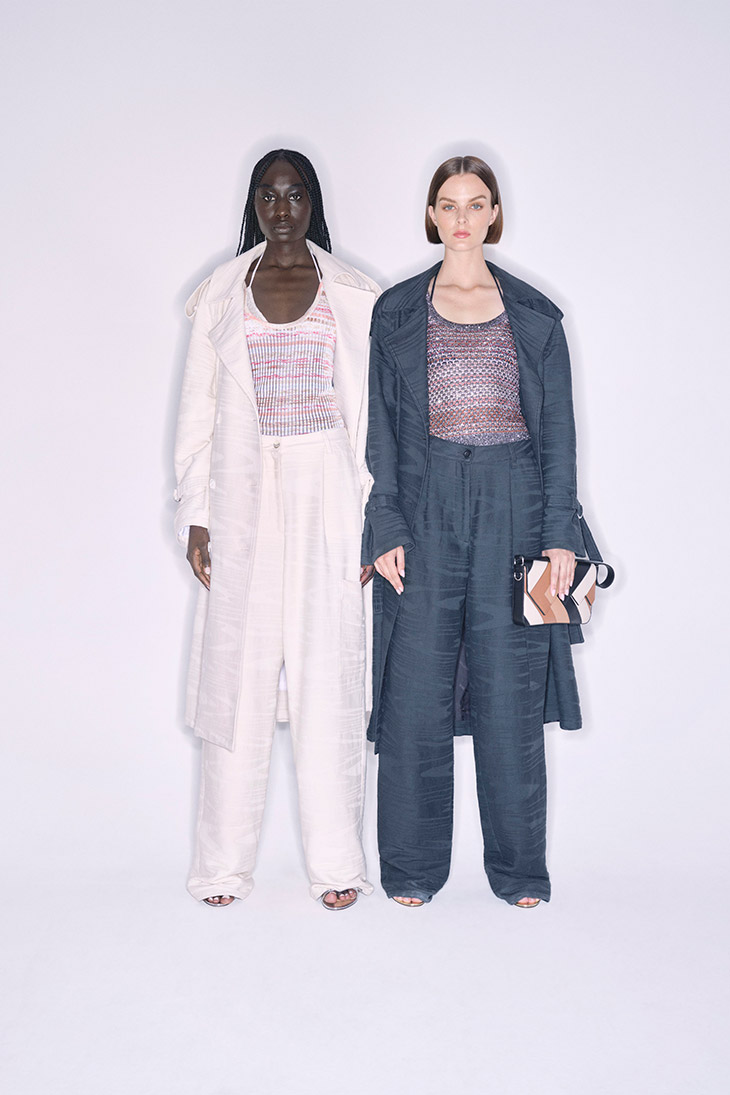 Fashion photographer Walter Pierre captured the Missoni Resort 2024 Collection lookbook featuring models Aylah Peterson, Nyagua Ruea, and Yilan Hua. In charge of styling was Lorenzo Posocco, with creative direction from Filippo Grazioli.