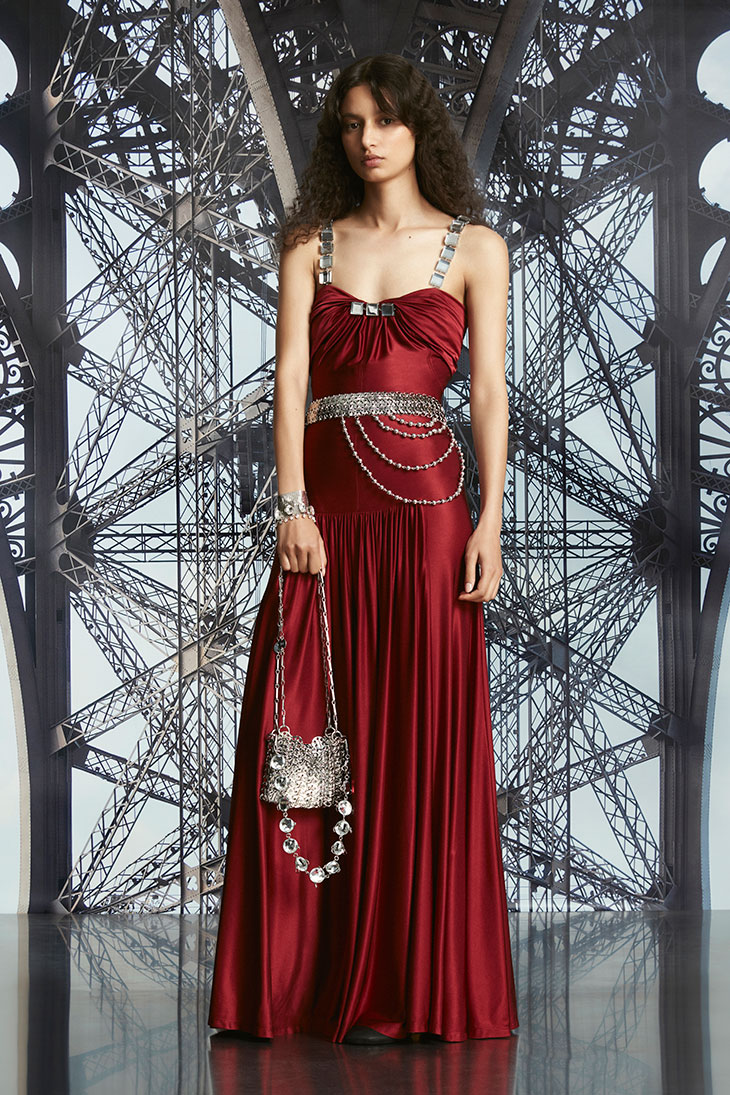 Immersed in the vibrant ambiance of Paris, Paco Rabanne unveils a collection that draws inspiration from the city's electric and eclectic codes of style. The Spring '24 Pre-collection captures the essence of extroverted élan, reinventing '70s and '90s references to craft a contemporary wardrobe.
At the heart of the collection, both eveningwear and everyday looks exude a sense of ease and individuality.
Long dresses take center stage, showcasing a variety of materials and silhouettes. From gathered silk jersey to body-hugging knits, sheer sheaths adorned with metal mesh, and stretch velour with a candy pink gathered torso. The surface details and styling go beyond mere aesthetics, capturing the carefree spirit of the season. Straps resembling ice cubes and belts adorned with draped chains, along with rivets and metal balls, accentuate the overall silhouettes. Unexpected pairings emerge, such as a wraparound snowflake scarf combined with dresses or a knitted layer embellished with geometric assemblage.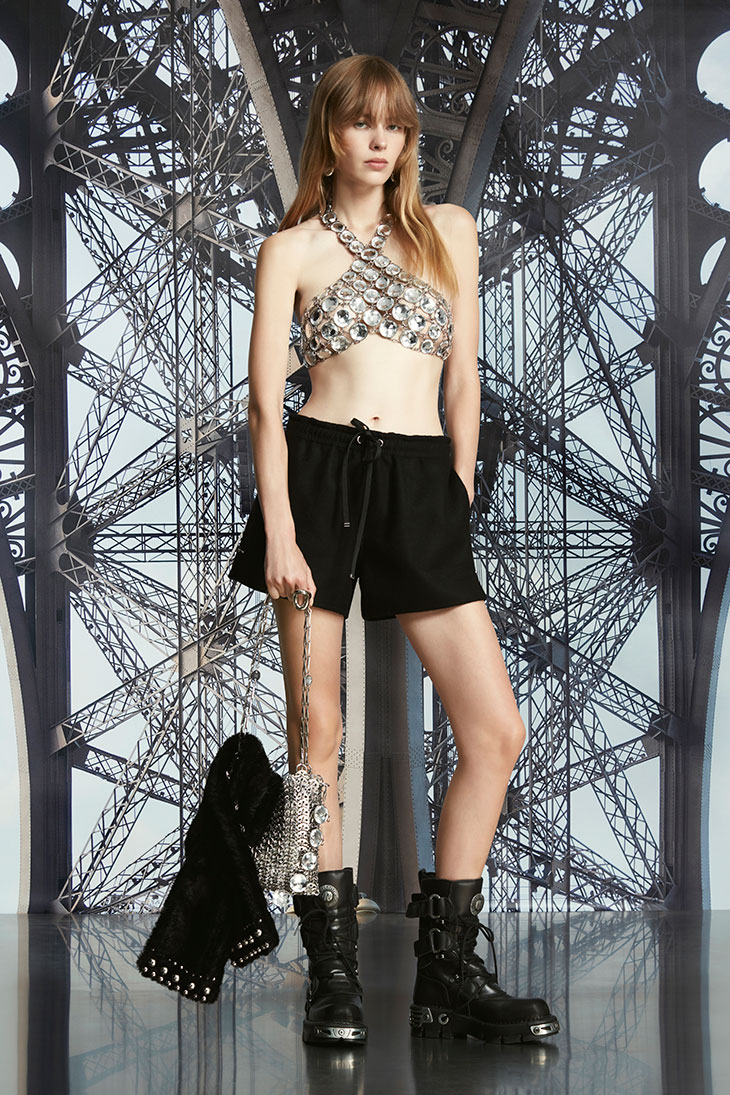 Grunge takes on a festive attitude, as slip dresses in lustrous metal mesh feature intricate lace details, while assemblage halter tops are paired with cashmere shorts. The collection continuously juxtaposes refined elements with relaxed garments, breathing new life into the Maison's DNA—craftsmanship intertwined with eternal youthfulness.
As night transitions into day, the Pre-collection unleashes a spirited range of wearable looks that bring fashion to the streets. Sparkling embroideries are effortlessly dressed down, military elements take on decorative roles, and sporty aesthetics merge with sophistication. A coat trimmed with silver accompanies cargo pants adorned with a pastille belt, showcasing workwear through a distinctive Paco Rabanne lens.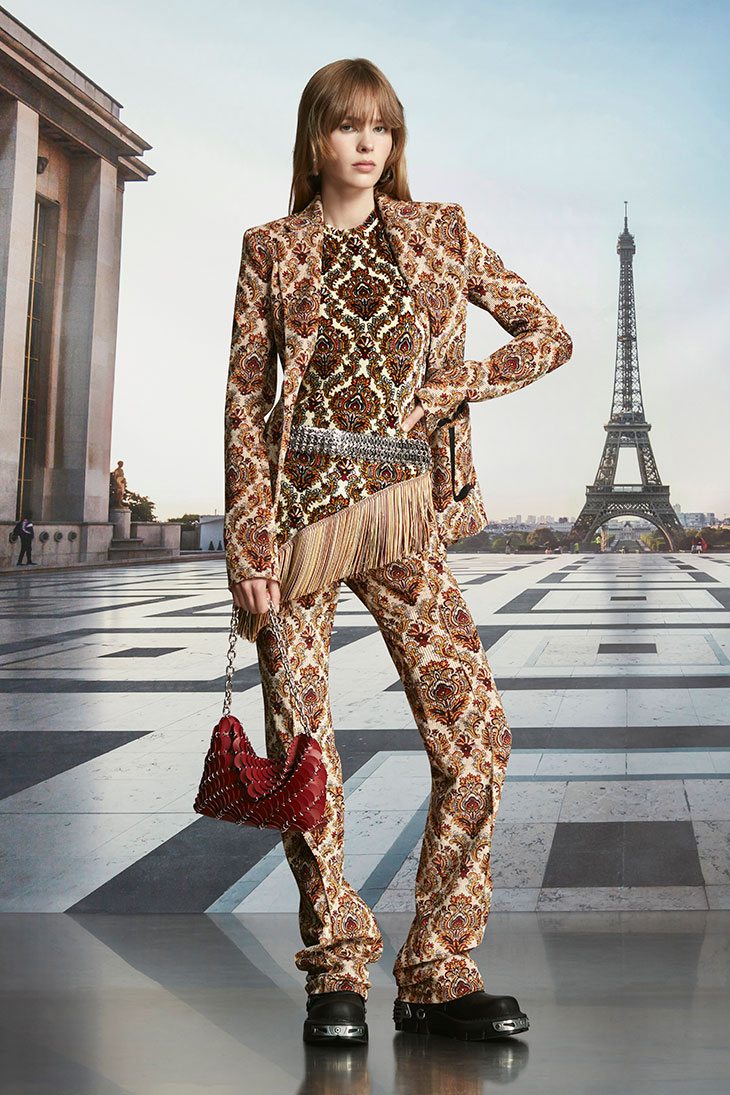 While coordinated ensembles make a bold statement, remixing the pieces ignites cool creativity—flocked denim jackets paired with jeans, billiard green corduroy tailoring, and stretch jersey ensembles featuring lush tapestry patterns.
Collaborative efforts with New Rock result in boots that epitomize elevated grunge and offer remarkable versatility throughout the collections. Among the standout bags, Paco emerges in a compact, slouchy shoulder style, while new iterations in raffia include spacious cabas and small buckets with contrasting black stripes.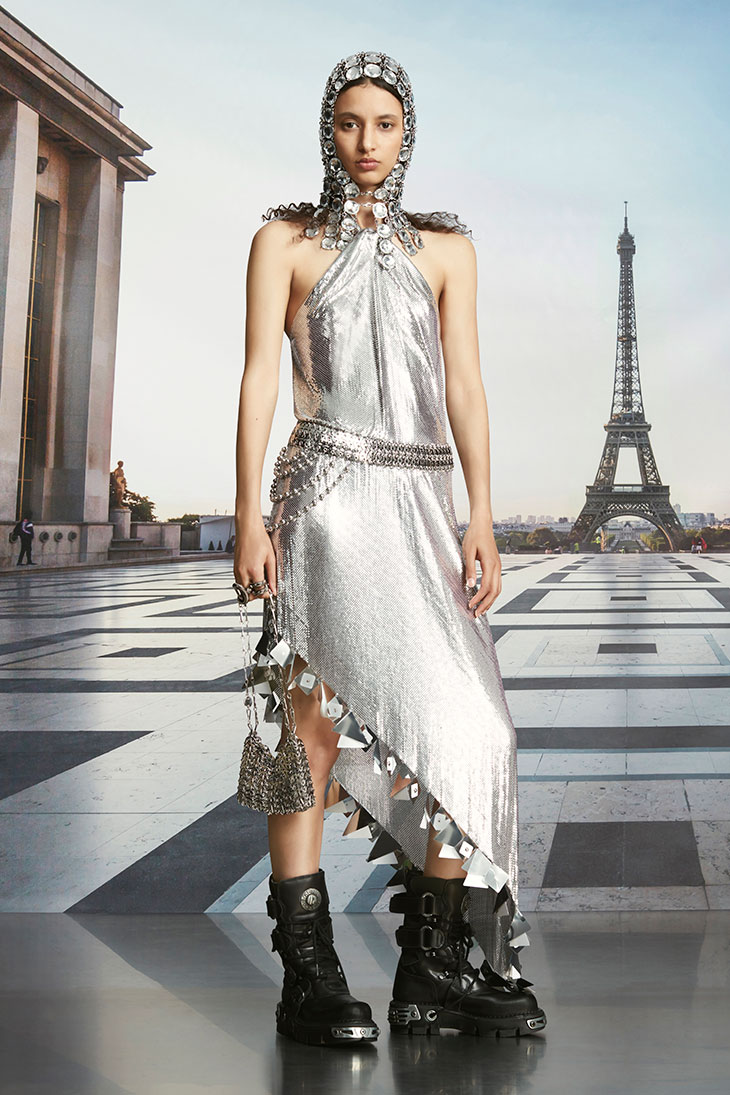 The iconic 1969 pastilles make a triumphant return, gleaming in copper. Tubular mesh accessories like magnet chokers and bracelets, adorned with metal balls, effortlessly complement any look, enhancing the edge of this free-spirited season.