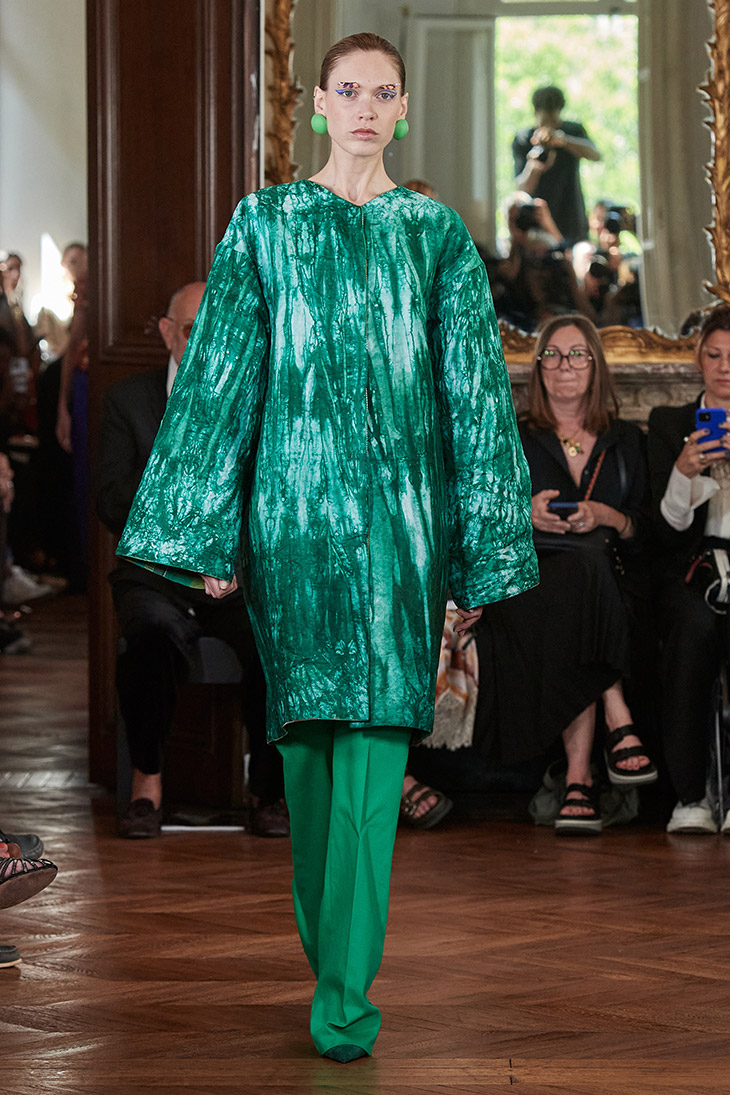 Fashion house Imane Ayissi presented its Fall Winter 2023.24 Haute Couture Collection, that pays tribute to artist Paul Chmaroff, with a fashion show held during the last day of the recently finished Paris Fashion Week. The collection titled Mguilguidigueu – Mteun was inspired by the captivating works of painter Paul Chmaroff found in the Thierry Schneider collection, which contains a vast assortment of his artwork. The designer was unfamiliar with Chmaroff's background, as the artist originates from a Russian culture quite distinct from the designer's own, he was immediately drawn to the paintings' inherent beauty. This prompted the designer to consider the universality of the pursuit of beauty, which transcends cultural barriers and functions as a unifying force for humanity. It became evident that the origin of any visual creation is anchored in a foundation of lines and curves – a fundamental element expressed as a line and a circle (Mguilguidigueu-Mteun in Cameroon's Ewondo language). In this context, any creator can find resonance and affinity in another creator's work.
Building on the resonance of Paul Chmaroff's art, the collection delves into a pure examination of lines, shapes, volumes, movements, colors, and textures. In today's society, however, aesthetic research cannot overlook the need to address its environmental impact. This reality both constrains and stimulates innovation in the design process. As a result, a conscious decision was made to use natural fibers largely in this collection, with linen taking the lead as the most environmentally friendly textile. It's mixed with silk, bamboo viscose (a low-impact, biodegradable material), and embroideries made from fabric scraps. Typical African fibers and textiles, such as raffia, Obom (tapped tree bark), "bazin teinté," and Kenté, were also incorporated, as always.
This collection is an ode to beauty, it connects many cultures while also acknowledging the imperative of ecological responsibility by embracing both artistic exploration and sustainable considerations. It is a celebration of the global language of creativity as well as a tribute to Africa's rich textile legacy.
See every look from the Imane Ayissi Fall Winter 2023.24 Haute Couture Collection in the gallery below: