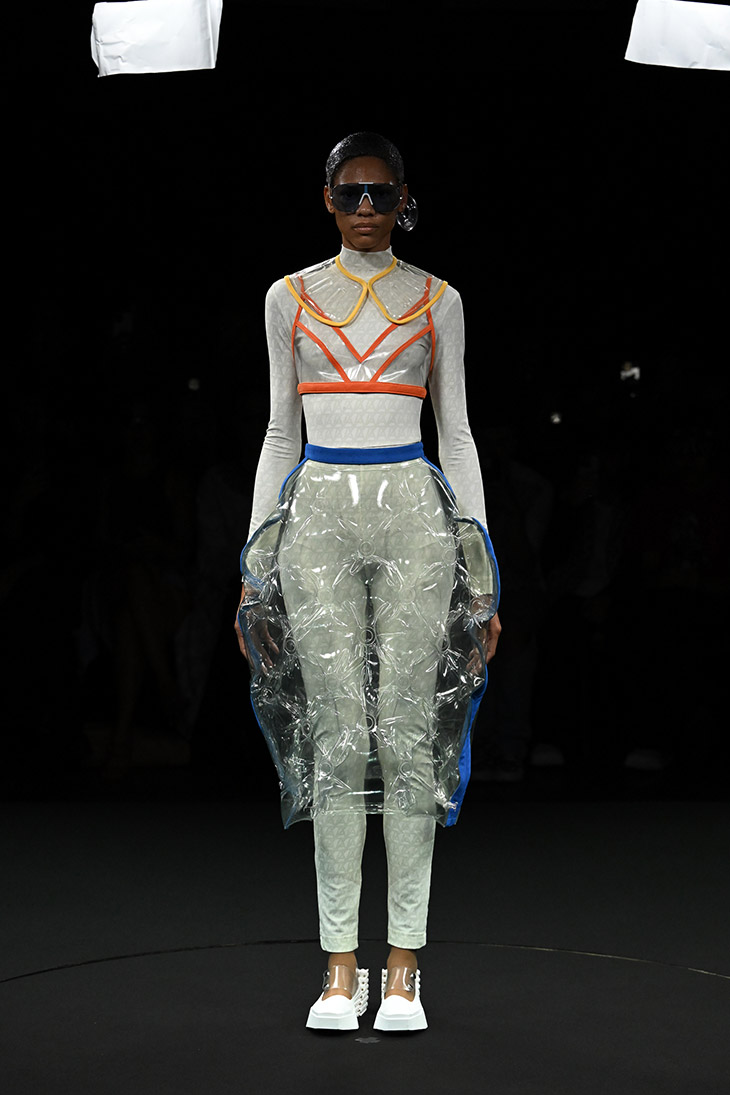 Fashion brand Anrealage unveiled its Spring Summer 2024 Collection, titled "Invisible," on September 26th, during the ongoing Paris Fashion Week. The collection seamlessly blended technology and fashion, weaving a narrative of existence and nonexistence, colors and their absence.
SPRING SUMMER 2024 COLLECTIONS
Kunihiko Morinaga's presentation commenced with a profound poetic exploration, signifying the fade of colors and the bloom of the colorless, denoting the elements of time as light, spreading and disappearing, with a profound interplay of "Existence" and "Nonexistence."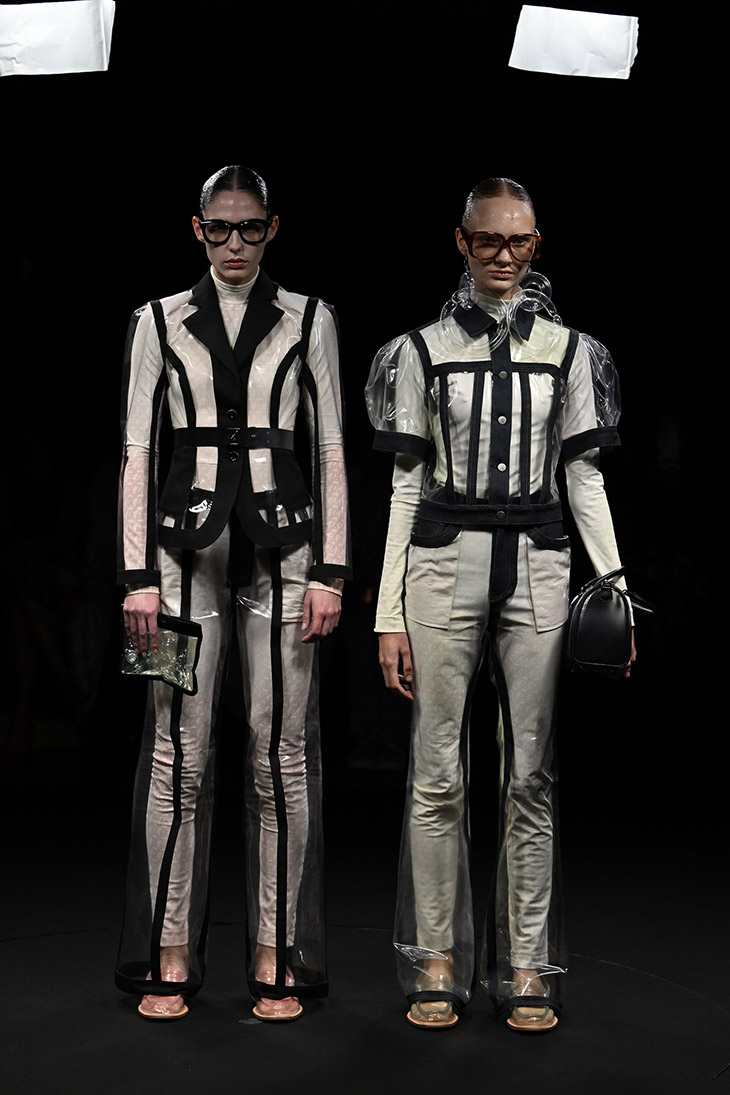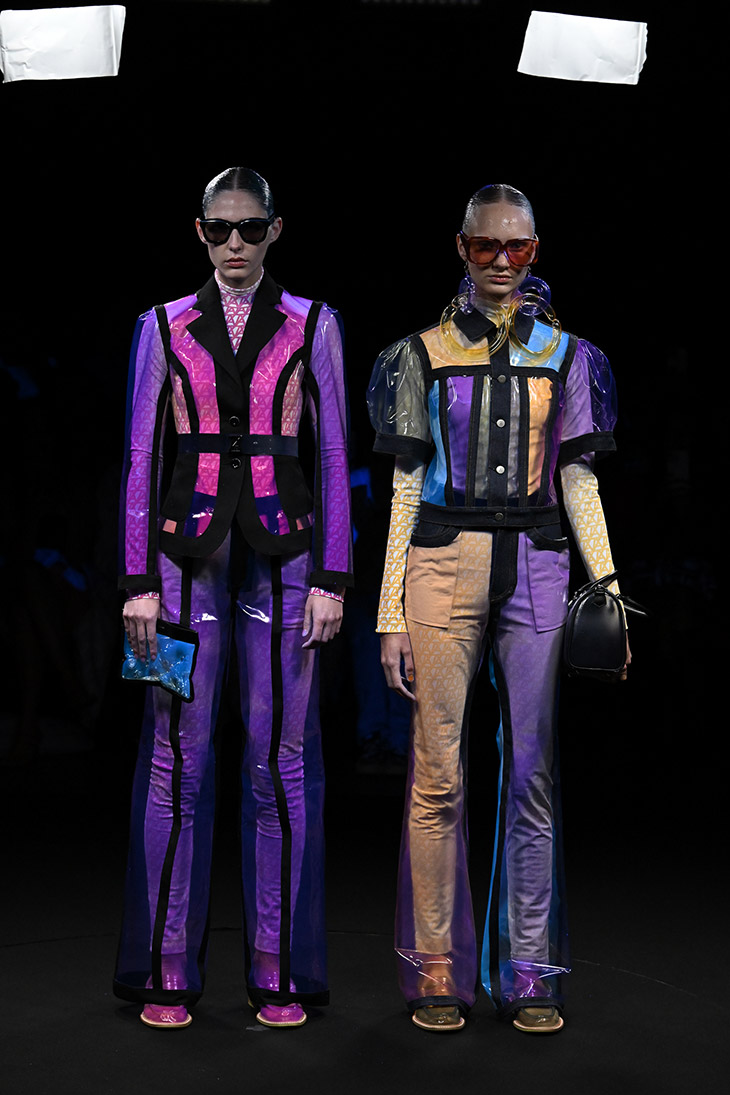 In Act I, Morinaga showcased the brand's innovative ANVISUAL photochromic technology. A series of transparent "empty" garments made of photochromic PVC transformed under ultraviolet lights into vibrant multicolored silhouettes, akin to giant couture bubble wrap filled with air. The contours of these invisible silhouettes were traced with graphic taped seams made of denim, cotton, and Ultrasuede® in contrasting colors. Accompanying these were INVISIBLE PVC accessories, including inflatable earrings, bracelets, balaclavas, and gauntlet-style gloves, and footwear ranging from PVC boots to immaculate white 3D-printed flats. In collaboration with X8, Anrealage also introduced a line of futuristic Sixties-inspired shield sunglasses.
In Act II, Morinaga returned to the concept of Umwelt, demonstrating the relativity of color perception by modulating show lights using hyperspectral color control technology developed by NTT. This led to a breathtaking display of colors transitioning across garment surfaces, akin to the mesmerizing colors of the sky, reflecting changes in mood from subtle and vulnerable to explosions of strong, expressive color and sudden shifts in tone.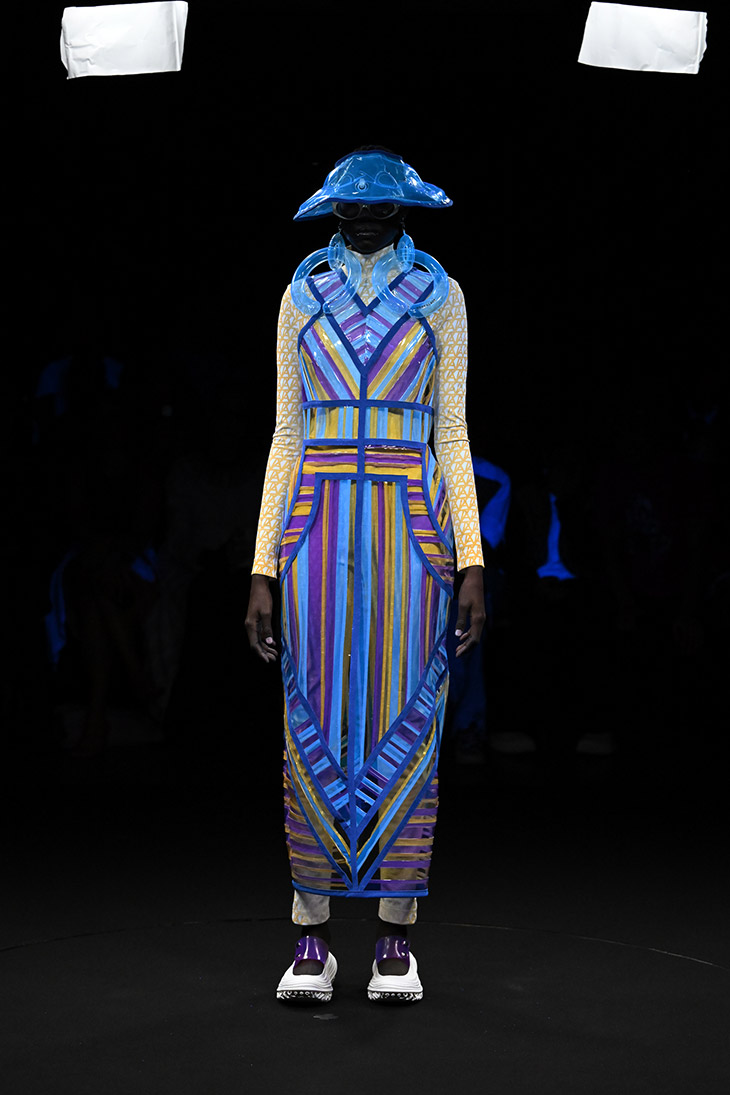 The Anrealage Spring Summer 2024 collection encompassed a diverse range of items from hand-embroidered swirling strips of photochromic PVC to simple tailored pantsuits, dresses, and jacket twin sets with matching balaclavas made of doily-style patchworks of photochromic PVC squares. In different light sources, these looks light up like polychromatic kaleidoscopes, eventually fading back to their initial state in the shadows, embodying their "INVISIBLE" moniker.
Anrealage's SS24 Collection, "Invisible," epitomizes a profound philosophical exploration, reflecting the cycle of life from the existence to the fade of colors, and blooming anew in the domain of the invisible, underscoring the ultimate fate of all living organisms at the mercy of time. The collection is a testament to the brand's commitment to environmentally-friendly fashion, with the exclusive use of next-generation phthalate-free plasticizers in their photochromic PVC, ensuring the safety and sustainability of their groundbreaking designs.