Luxury house Dior unveiled its Spring Summer 2024 Collection with a spellbinding fashion show on Tuesday, September 26th, amidst the ongoing buzz of Paris Fashion Week. The collection, an evocative journey through time, embodies a delicate balance where past and future harmoniously intersect in the vibrancy of the present.
SPRING SUMMER 2024 COLLECTIONS
Maria Grazia Chiuri, Creative Director of Dior women's line, meticulously crafted this Spring Summer 2024 ready-to-wear collection rooted in a contemplative reflection on the essence of the contemporary era. In this harmonious convergence, Chiuri's creations reverberate with echoes of rebellious spirits who have historically challenged the dominion of a masculine world and bravely asserted their unwavering independence.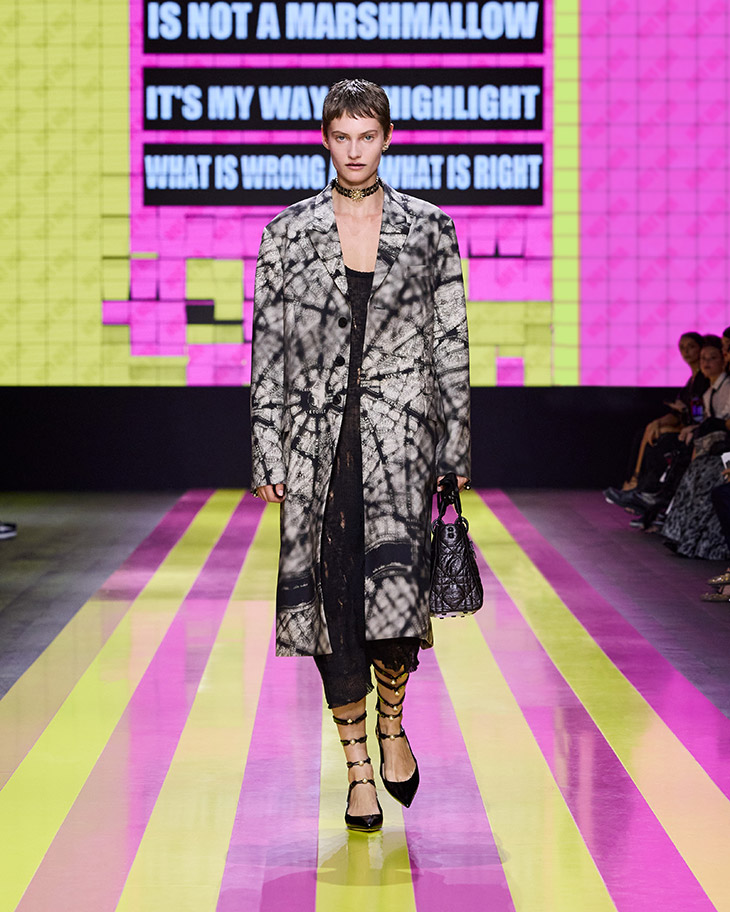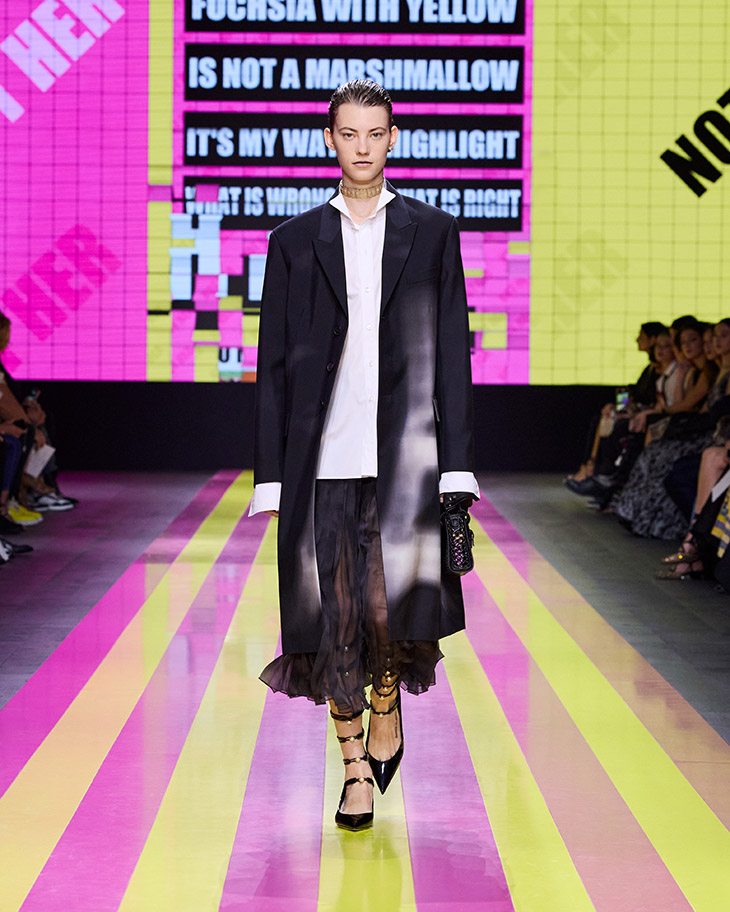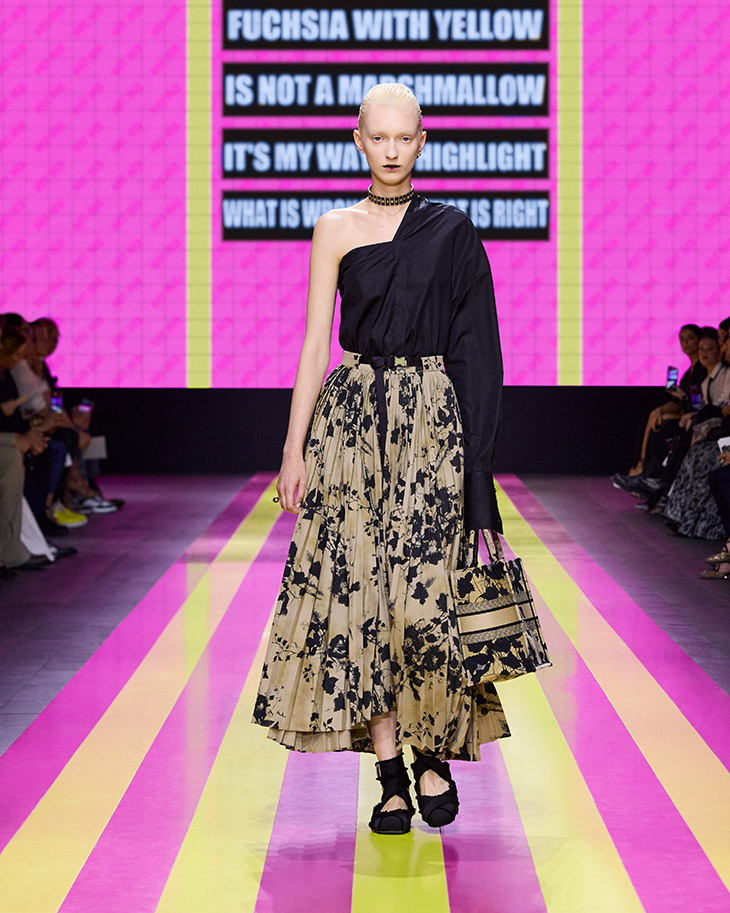 Inspired by the enduring legacy of witches, revered custodians of the ancient knowledge of the mother-goddess, the collection pays tribute to the sacred science of plants and the natural rhythms of the earth. The enigmatic allure of Dior is unveiled through designs imbued with medieval elegance, characterized by architectural silhouettes and masculine-inspired jackets. The timeless fabrics whisper tales of historical richness, bearing the influential imprint of the iconic Italian artist Alberto Burri, where tears, lacerations, and combustions artistically meld into the intrinsic, performative elements of each garment.
In this masterful assemblage, a poetic palette of ash, chamomile, and love potions seamlessly blend, while the iconic Mille-fleurs, a distinctive emblem of Dior, undergoes a transformation into a contrasting, ethereal floral X-ray. This iconic design, adorned with phases of the moon, radiant suns marking the changing seasons, and an enchanting array of medicinal herbs and fantastical animals, imbues each piece with a touch of mythical charm.
The collection's knitwear makes a bold statement, elegantly accentuating the body's curves with a gentle embrace that exudes warmth and sensuality. A light, metallic sweater subtly alludes to the strength of chainmail, signifying the resilient spirit of the contemporary Dior woman.
Amidst this ethereal showcase, the monumental art piece, NOT HER by Elena Bellantoni, commands attention. It vehemently renounces the confining clichés that have historically pigeonholed women into predefined categories. The immersive video installation artistically deconstructs sexist imagery from advertisements, presenting a compelling succession of reworked female figures, including the artist herself, alongside potent counter-narratives challenging dominant stereotypes.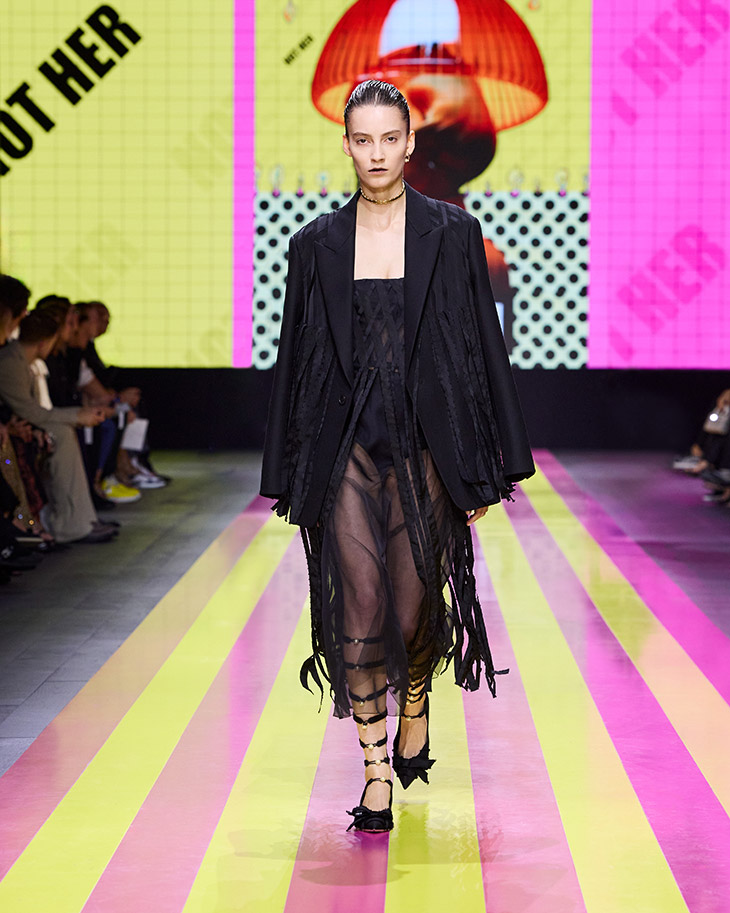 In this breathtaking new collection, Dior triumphantly reaffirms the profound connection between body and clothing, contextualized in the evolving tapestry of time, transcending the fleeting confines of a single day or the nostalgic pull of the past. Maria Grazia Chiuri's creations for Dior are a resonant anthem of empowerment, celebrating the diverse expressions of femininity and the indomitable strength of women, echoing across the corridors of time.