Fashion house Ferragamo unveiled its Spring Summer 2024 Collection, designed by Maximilian Davis, that unfurls a breathtaking tableau of balance, tension, and organic ease, on Saturday, September 23rd, during the ongoing Milan Fashion Week. The array vividly echoes Davis' distinct aesthetic while amplifying the symbiotic relationship between different cultural sartorial traditions and innovative design. Davis articulates his desire for a lighter, more effortless approach to both fabric and construction, inspired by the seamless, unhurried Italian and Caribbean way of life and dress.
SPRING SUMMER 2024 COLLECTIONS
The collection draws parallels between the Italian and Caribbean dress codes while finding a unique muse in Italy's Arte Povera movement. Here, natural materials stand alongside industrial elements, elevating everyday items through detailed, thoughtful design. The Spring Summer 2024 collection reinvents humble linens and cotton, bonded onto satins or transformed to resemble leather, embracing a rigorous finesse in their transformation. Sculptural wooden accessories and precise silhouettes in natural fabrics are polished to perfection, reflecting Davis' commitment to purity and relatability within the collection.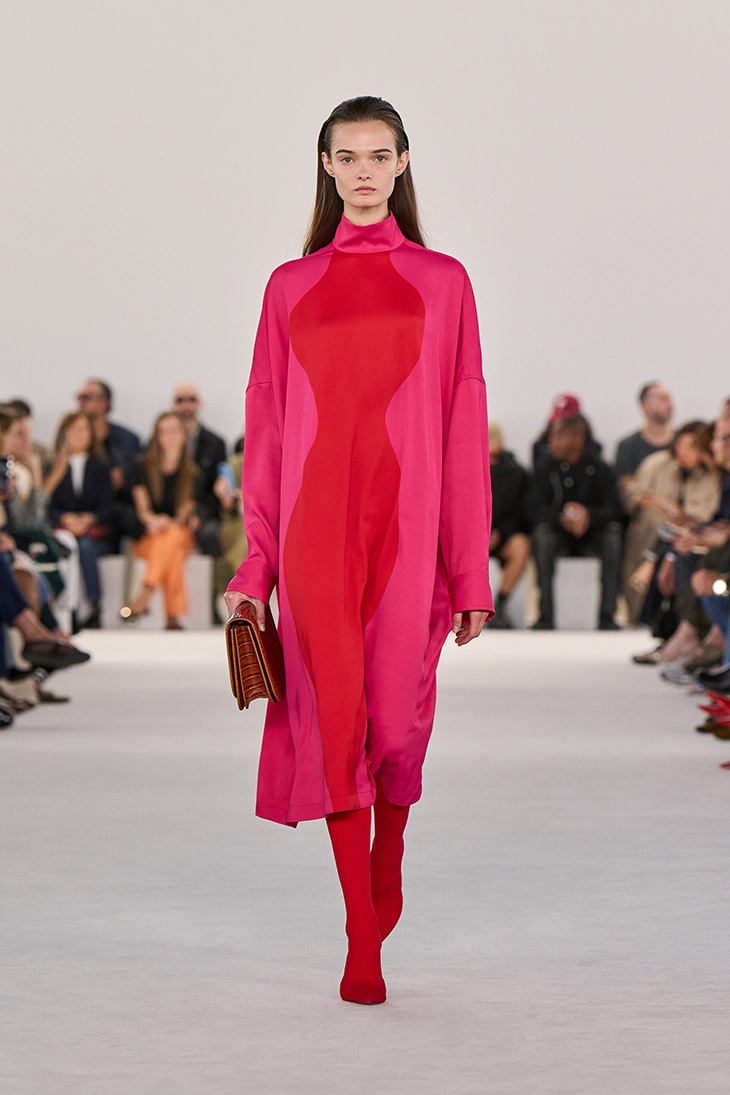 A subversive interplay between restraint and freedom is palpable throughout the collection. The worn texture of leather tailoring and pristine mid-century designs morph into fluidity, resonating with a sense of slouching insouciance. Viscose jersey drapery, rooted in Ferragamo's rich Florentine heritage, is now paired with the language of Renaissance armor, creating a stunning contrast with molded spazzolato leather bodices and high-shine inserts.
Davis' design displays an understated, modern fetishism, visible in the pairing of elegant day dresses with high patent boots, men's loungewear shorts cropped high, and T-shirts twisted as though quickly pulled on. This sensibility is clearly echoed in the collection's footwear, where nappa latex shoes and gaucho lak boots showcase Davis' aesthetic while ensuring comfort and wearability using Ferragamo's esteemed craftsmanship.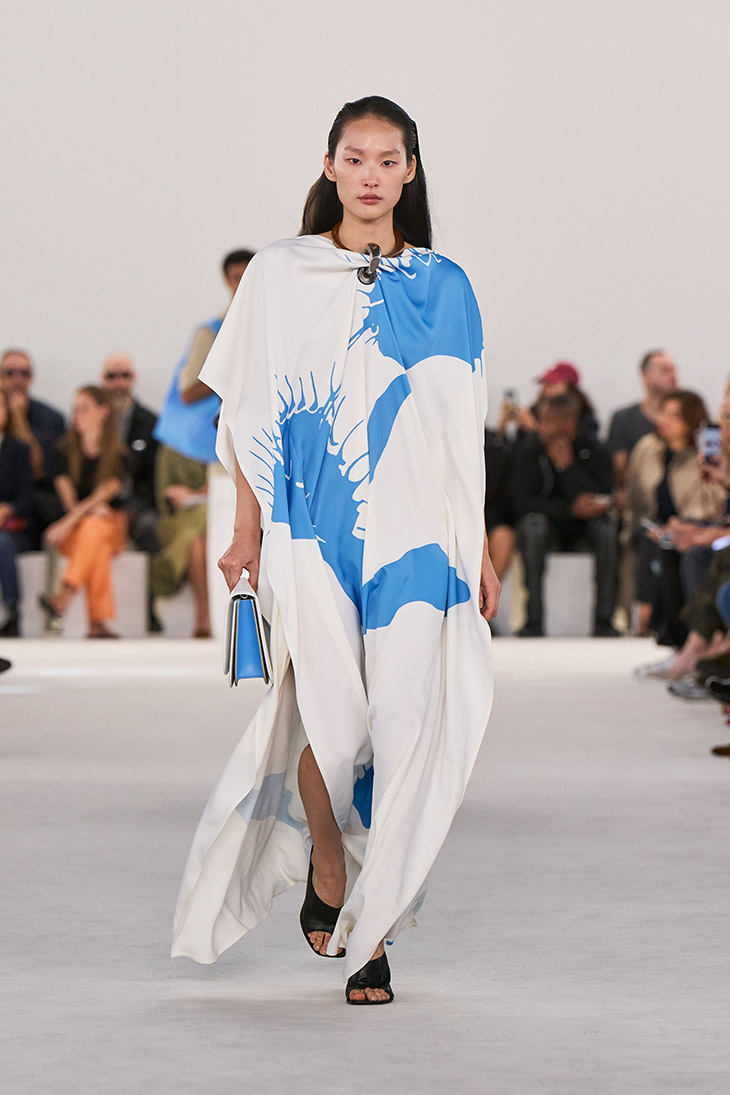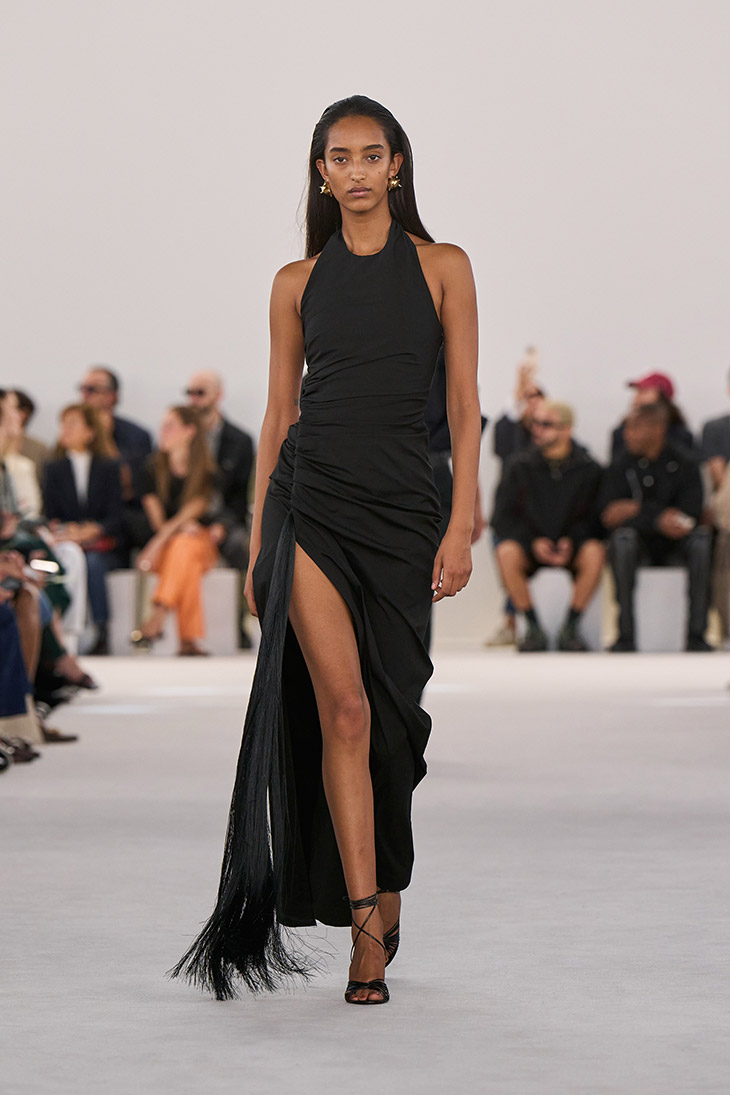 The Ferragamo Spring Summer 2024 collection revisits and reinvents, drawing on a 1955 archival style, the Calypso, informing the design of a banana cage heel, now brought to life with 3D printing and galvanization. The familiar curvilinear heel of a platform now appears in horn as the foundation for a high-shine sandal, and a T-strap strung with natural beads and stones, demonstrating Davis' commitment to exploring and iterating on past collections.
Handbags continue the graphic and geometric forms begun in previous collections, with the contemporary classic, the Hug, appearing as a high-shine pouch in vibrant, saturated shades as well as canvas and leather iterations. The luxurious Fiamma shoulder bag, which repositions an archival Ferragamo lighter as its closure, stands out throughout the collection, alongside a frame bag fringed with wooden beads.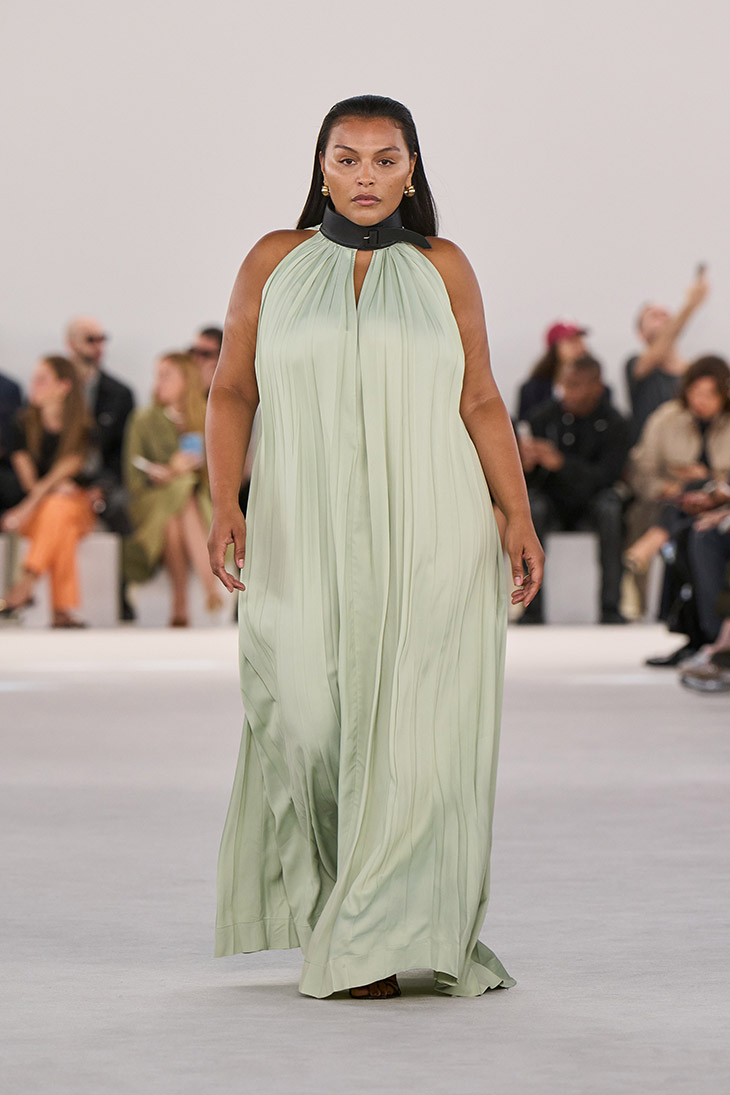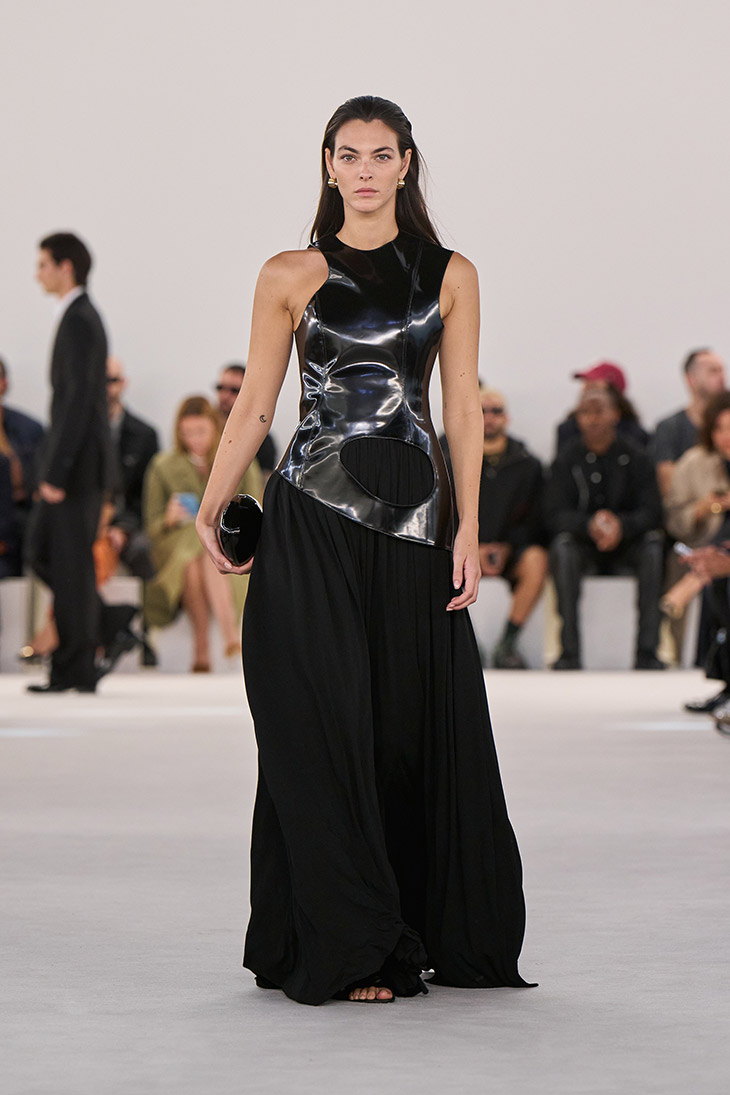 In the Ferragamo Spring Summer 2024 Collection, men's footwear is revived with a modern lexicon. Oxfords, moccasins, and driver shoes are reimagined, inset with contrasting vitello latex, presenting a fresh take on classic designs. The men's Star bag highlights understated purity with its meticulous, bonded construction and absence of hardware, emphasizing its soft and lightweight form.
In this collection, Maximilian Davis gracefully marries effortless style and innovative design, encapsulating the spirit of both Italian and Caribbean aesthetics while pushing the boundaries of fashion.