Luxury house Chanel announced the upcoming "Gabrielle Chanel. Fashion Manifesto" exhibition at the Victoria and Albert (V&A )Museum in London, from 16 September 2023 to 25 February 2024. The exhibition, the first of its kind dedicated to Chanel in the UK,  will unveil the evolution of Chanel's timeless style, tracing her journey from her initial foray into the world of fashion with her Parisian millinery boutique in 1910, right up to her last collection in 1971.
On display will be an impressive array of nearly 200 outfits, many of which will be seen together for the first time. Complementing these will be an assortment of accessories, fragrances, and jewelry, all bearing testament to Chanel's transformative influence on the fashion landscape. What's particularly intriguing about the showcase is its dive into the designer's innovative techniques that championed a new standard of elegance – an influence that still resonates in contemporary fashion.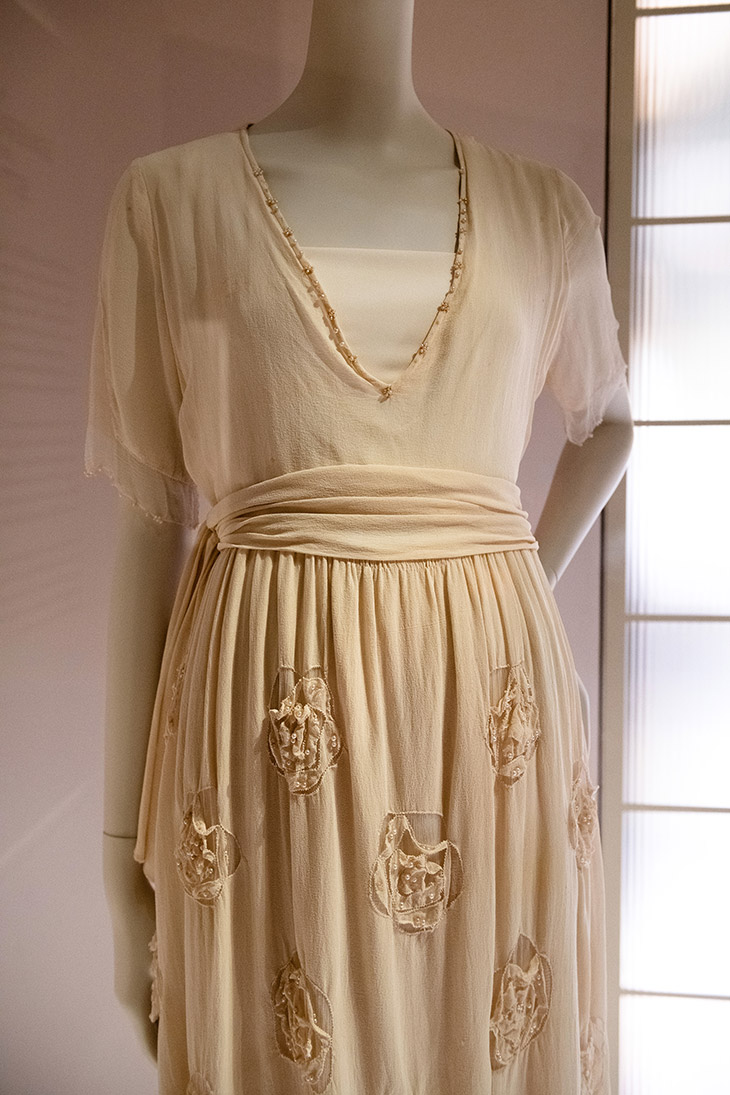 Borrowing elements from the original "Gabrielle Chanel. Fashion Manifesto" at the Palais Galliera in Paris, the V&A iteration further enriches the experience with over 100 new objects including 60 new looks. It features rarely seen pieces from the V&A's collection, alongside looks from Palais Galliera and the Patrimoine de CHANEL, the heritage collections of the fashion House in Paris. Some of the highlights include an enduring Chanel piece dating back to 1916, which stands as one of the earliest surviving examples; the authentic attire meticulously crafted by Chanel for the Ballets Russes' rendition of Le Train Bleu in 1924; fashion ensembles meticulously curated for iconic Hollywood luminaries such as Lauren Bacall and Marlene Dietrich; an early embodiment of Chanel's pioneering evening trousers; and a collection of outfits hailing from Chanel's final fashion line in 1971.
At the core of the exhibition lies the theme of Chanel's self-inspiration. She designed not for the world, but for herself, crafting garments that spoke of independence, modernity, and functionality. The exhibition spans ten detailed sections, each highlighting a unique facet of Chanel's craftsmanship, from her innovative use of fabrics and silhouettes to her groundbreaking evening trousers and the famous Chanel suit.
This comprehensive examination of Chanel's legacy not only delves into her professional trajectory and style evolution but also emphasizes her distinct British inspirations. For instance, her fondness for tweed and collaborations with British textile companies will come under the spotlight.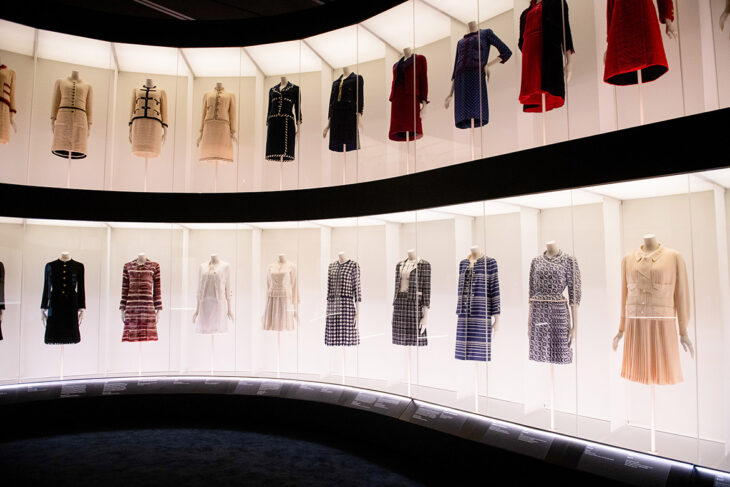 As one of the most successful fashion houses in existence, CHANEL owes much to the templates first laid down by its founder Gabrielle Chanel, over a century ago. We are delighted to be partnering with CHANEL and the Palais Galliera on this exhibition, which provides us with the opportunity to explore the origins and elements of this enduring style and to display little-known historic Chanel garments from the V&A collection. – Tristram Hunt, Director of the V&A
Gabrielle Chanel devoted her long life to creating, perfecting and promoting a new kind of elegance based on freedom of movement, a natural and casual pose, a subtle elegance that shuns all extravagances, a timeless style for a new kind of woman. That was her fashion manifesto, a legacy that has never gone out of style.

Her success was based not only on the functionality, comfort and chic elegance of her designs, but also on her ability to grasp and interpret the needs and desires of the women of her time – Director of the Palais Galliera, Miren Arzalluz
We are happy and honored that the first exhibition dedicated to Gabrielle Chanel to be held in the UK, will be presented at the V&A, one of the most prestigious museums in the world. Gabrielle Chanel was a legend in her own lifetime. This exhibition will analyze her contribution to fashion and her radical vision of a style that created modernity and reflected the aspirations of women and the evolution of their place in society.

CHANEL is delighted to contribute to this project, providing access to the Patrimoine de CHANEL, and thanks the V&A for hosting this exceptional exhibition – Bruno Pavlovsky, President of CHANEL SAS and President of CHANEL Fashion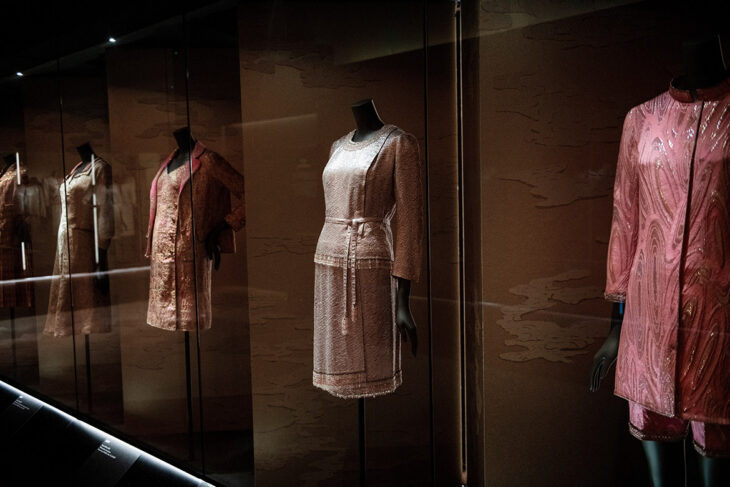 In its ten sections, the exhibition paints a comprehensive portrait of Gabrielle Chanel's genius.
Towards A New Elegance
In this introductory section, viewers are taken back to the early 1910s, where they witness the budding career of Gabrielle Chanel. The exhibit meticulously portrays the birth of Chanel's design principles rooted in minimalism and precision, a stark contrast to the flamboyant fashions of the era. Visitors will be able to explore the progression of her design sensibilities, beginning with her early forays into millinery and gradually extending into clothing.
The Emergence of a Style
This section serves as a testament to Chanel's innovative style that flourished during the 1920s and 1930s. Visitors will delve into the birth of Chanel's signature style, marked by understated designs, fluid materials, and a simple yet sophisticated colour palette. It includes detailed explorations of her collaborations with British textile firms and her impact on the world of theatre and cinema, tracing how Chanel's creations became synonymous with elegance and practicality.
The Invisible Accessory
Here, the exhibition explores the launch of Chanel's first perfume, N°5, which became an embodiment of her fashion house's signature. This section is accentuated by a golden tinted installation representing the iconic N°5 perfume bottle, providing an immersive experience that showcases the perfume's evolution and its significant role in establishing the brand's identity.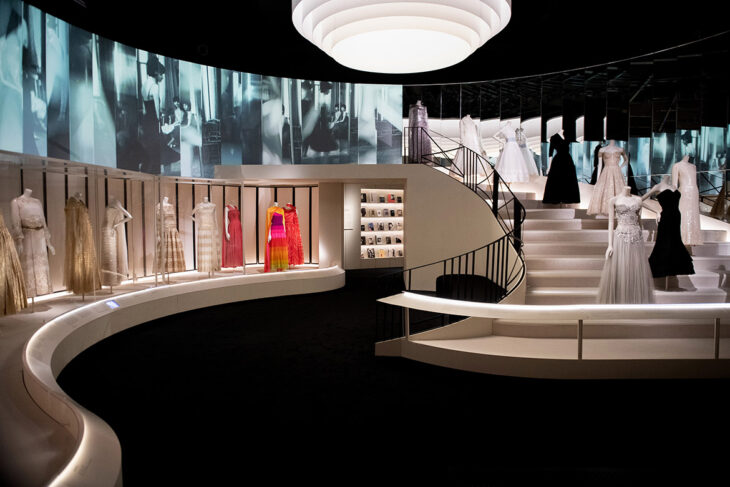 Luxury and Line
This section illuminates Chanel's adeptness in harmonizing the elements of classicism and inventiveness in her eveningwear. It details her meticulous approach to crafting garments that exude elegance while offering freedom and simplicity, highlighted by her unique collection of fine jewellery commissioned in 1932, which showcases a seamless blend of luxury and linearity.
Closing the House
This part of the exhibition details the tumultuous period during World War II, which had a profound impact on Chanel both personally and professionally. Visitors can learn about her retreat from the fashion world and her triumphant return at the age of seventy-one, where she reintroduced the signature hallmarks that revolutionized the fashion industry in the 1920s and 30s.
The Suit
In this section, the spotlight is on the iconic Chanel suit, a revolutionary creation that melded simplicity and style, comfort and elegance. Displayed over two levels, visitors will see a wide array of suits, exploring the evolution of this garment and its significance in shaping modern femininity.
Chanel Codes
Here, the exhibition explores how Gabrielle Chanel transformed accessories into fundamental elements of a harmonious silhouette. It highlights the inception and evolution of iconic accessories like the Chanel 2.55 handbag and two-tone slingback shoes, showcasing how these items became enduring symbols of the fashion world.
Into the Evening
This section is dedicated to the transformative eveningwear created by Chanel during the latter part of her career. The exhibit features a range of cocktail suits, echoing the design of her daytime suits but crafted with luxurious fabrics that shimmer with the allure of the evening. Inspired by the golden hues and black lacquer screens of Chanel's apartment, this section provides an intimate glimpse into her personal aesthetic.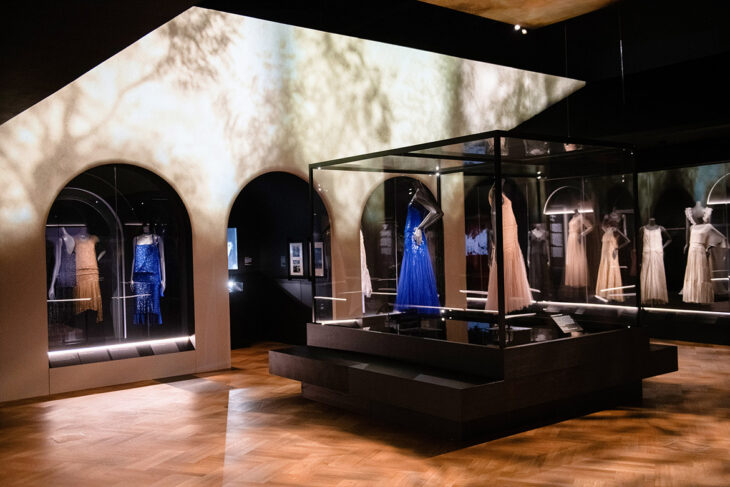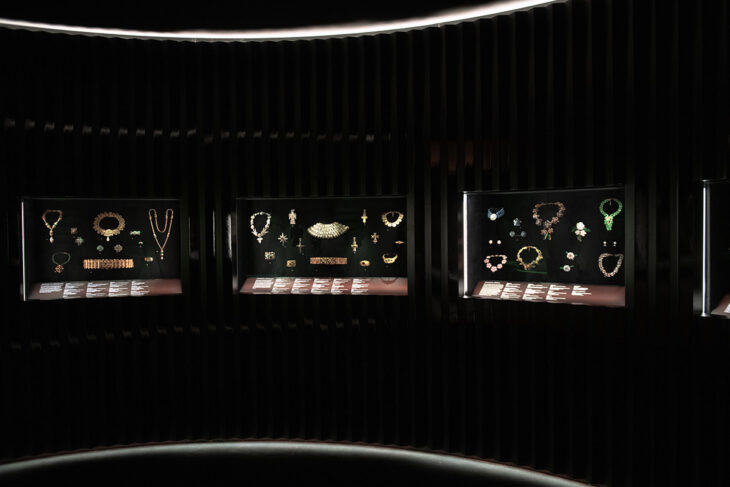 Costume Jewellery
In this part, visitors will witness the rise of costume jewellery as an integral aspect of Chanel's distinct style. Rejecting traditional norms, Chanel elevated costume jewellery to a new status, offering a dazzling array of pieces that perfectly complemented her sleek, fashionable garments. This section explores her inspirations and the historical epochs reflected in her creations.
A Timeless Allure
As the finale, this section celebrates Chanel's eternal style, embodied in her evening dresses that constantly evolved yet remained rooted in her foundational aesthetic principles. Here, visitors will witness a collection of pieces that showcase the continual refinement and reinterpretation of her style, culminating in a mesmerizing display on a recreation of the iconic mirrored staircase from Chanel's atelier, offering a fitting tribute to her enduring legacy.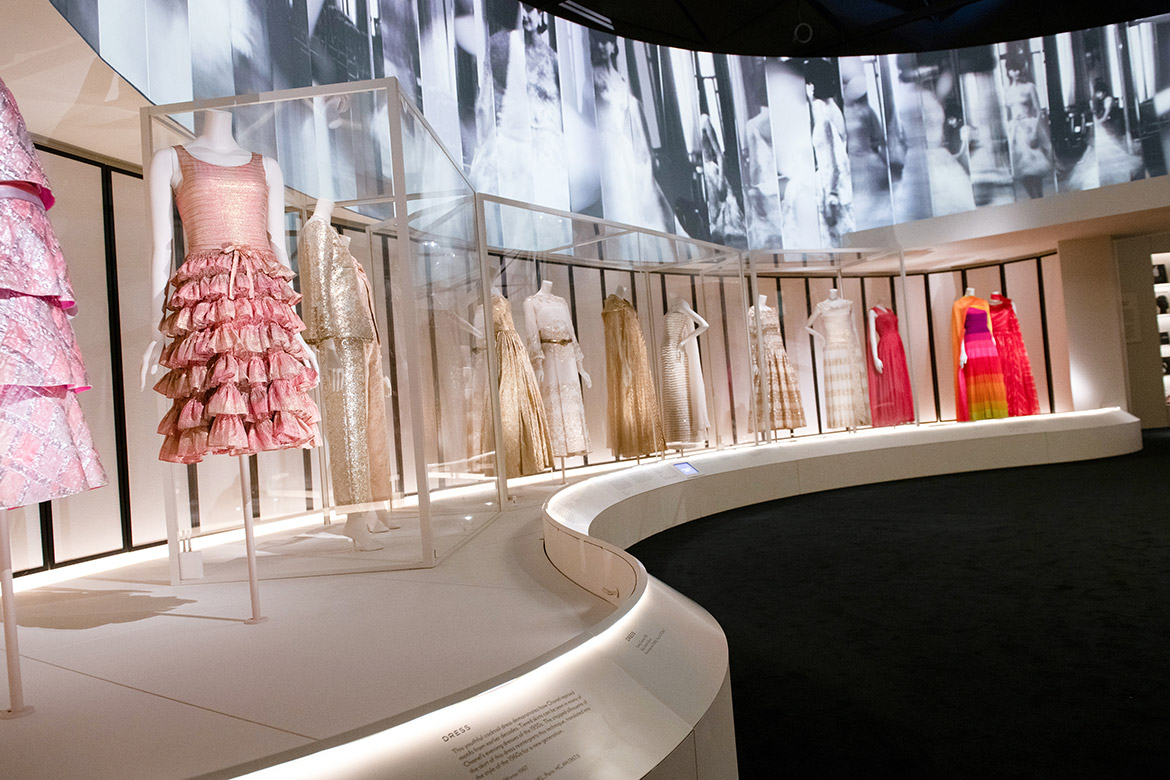 For everyone eager to embark on this sartorial journey, tickets can be secured at vam.ac.uk. The "Gabrielle Chanel. Fashion Manifesto" exhibition emerges as the latest gem in the V&A's rich tapestry of fashion exhibitions, following in the footsteps of iconic showcases featuring the creative genius of legends such as Christian Dior and Alexander McQueen.