Italian fashion brand Luisa Spagnoli unveiled its Spring Summer 2024 Collection on September 24th during Milan Fashion Week, showcasing the dynamic dualities of feminine expression. This intriguing collection explores and embraces the multifaceted dimensions of womanhood, blurring the lines between masculine and feminine, decorative and austere, bohemian and graphic.
SPRING SUMMER 2024 COLLECTIONS
The collection is a harmonious blend of contrasts, beautifully reconciling various elements to offer chic and glamorous creations. It is crafted for the determined and graceful woman, who boldly traverses her life journey embracing various roles and expressions. It's a celebration of the diverse and complex world of femininity, encapsulating a broad spectrum of styles, attitudes, and emotions.
The collection distills the essence of femininity across different eras and spaces, subtly referencing icons from the 1970s and modern-day urban women. This whirlwind collection combines robust attitudes and mood-boosting fashion, enabling both the body and personality to shine.
The Luisa Spagnoli Spring Summer 2024 collection offers a versatile wardrobe perfect for every occasion. The assortment includes summery knitwear, short tunics, transparent evening wear, and business uniforms, enhanced by heraldic floral patterns and folk embroideries. The new double LS logo adds a contemporary touch to these timeless pieces. The brand's mastery in knitwear is showcased through knit tunic minidresses adorned with floral jacquard patterns and matching neck scarves. These stylish pieces transition seamlessly from relaxed off-duty wear to captivating evening outfits.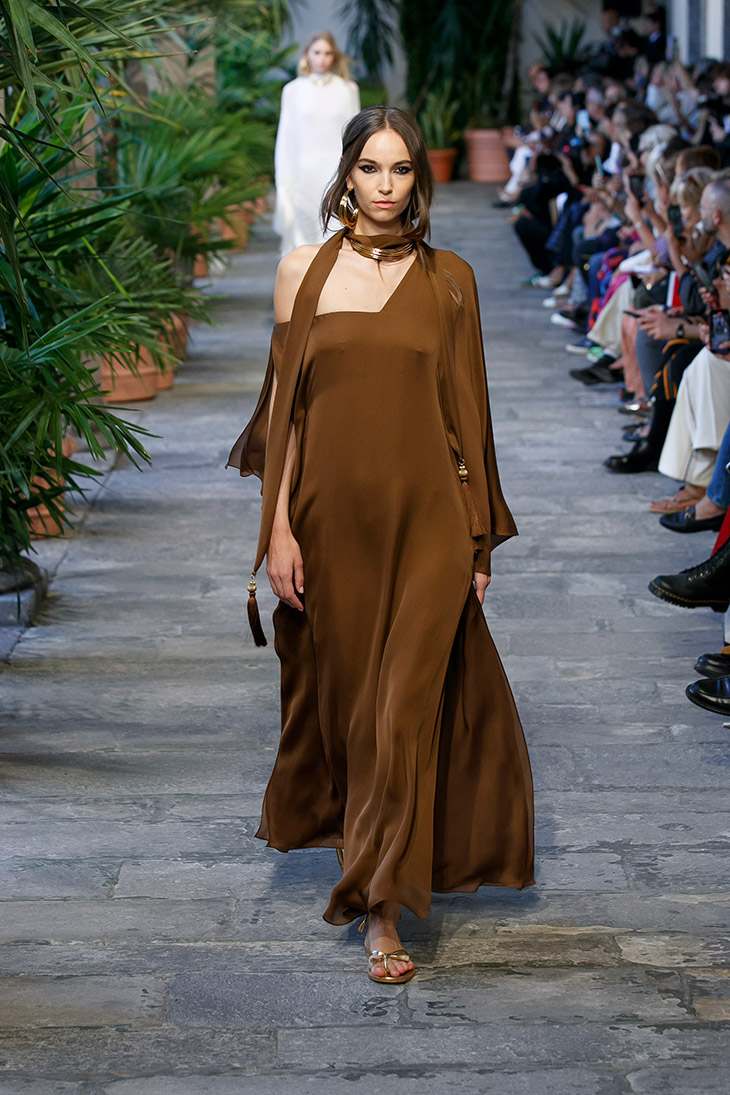 When the hustle and bustle of city life resume, the collection offers loose tuxedo blazers and relaxed vests paired with micro shorts for a contemporary business look. The after-dusk attire embraces drama with diaphanous gowns, romantic puffy-sleeved tops, and lingerie-inspired pieces, exuding an alluring bohemian vibe. Complementing the apparel, the collection presents artisanal accessories reminiscent of long-haul vacation souvenirs. A soft suede clutch and artisanal thong flats or wedged sandals punctuated by crisscross straps add a perfect finishing touch to every look.