The Atlein Spring Summer 2024 Collection unveiled on Sunday, October 1st, 2023, at Palais de Tokyo, during the ongoing Paris Fashion Week, is a visually arresting exploration of cinematic glamour, seduction, and innovative design. Echoing through the corridors of timeless elegance, the collection encapsulates a dialogue between the golden age of cinema and contemporary femininity.
SPRING SUMMER 2024 COLLECTIONS
The mastermind behind the collection, Antonin Tron, delves into the intersection of classic allure and modern sensibilities, seeking inspiration from the quintessential icons of French cinema such as Arletty, a muse to Azzedine Alaïa. In Marcel Carné's renowned film Hôtel du Nord, Arletty's effortless elegance and bold femininity are immortalized, resonating with the brand's ethos of embodying fearless and adaptable femininity in the era of social media evolution.
Paying homage to the transformative power of costume design, notably Adrian's role in elevating Hollywood actresses to stardom through high fashion, the collection reimagines timeless symbols of sensuality and femininity. Traditional elements like lace evolve into stretch lace jacquard, and classic pleating is reinvented with recycled fluid elastic jersey, reflecting Atlein's commitment to sustainability and inclusivity.
The collection eschews the conventional constraints of fashion – boning, zips, and bustiers are omitted, paving the way for couture-inspired designs that champion ease, comfort, and universal fit, accommodating an array of body shapes with stretch materials. This inventive approach to construction, central to Antonin's creations, is highlighted by the meticulous draping, knotting, and molding of fabrics around the body, enhancing the natural grace of the wearer.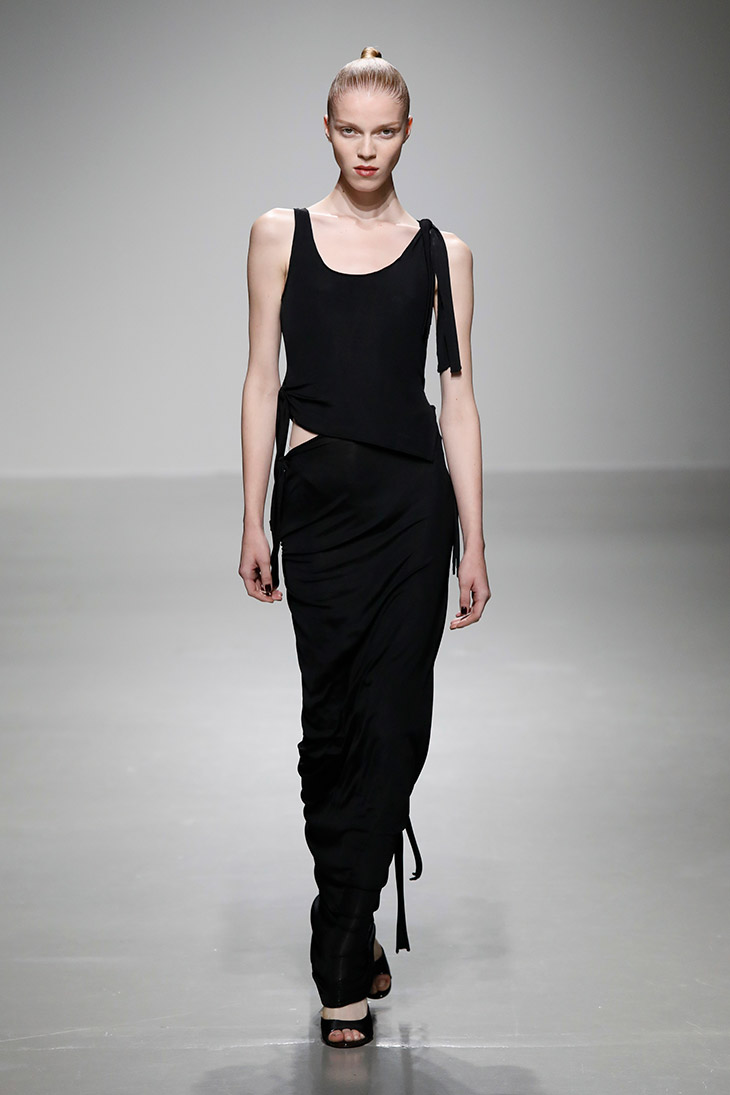 Amidst the cinematic allure, the Atlein SS24 Collection unveils a rich, moody palette featuring novel shades of copper, deep brown, and moss green, further embellished with timeless materials like silk satin, silk chiffon, and stretch lace. The collection extends its sustainability ethos by showcasing a special recycled pleated jersey, introduced in Spring Summer 2023, in new, captivating colorways. Antonin's unwavering commitment to ethical fashion is evident in the exploration of vegan alternatives to leather, employing coated jerseys to mimic the luxurious finish of nappa and suede.
The Atlein Spring Summer 2024 Collection is a harmonious fusion of cinematic glamour and contemporary elegance. It breathes life into a new era of fashion where timeless femininity, innovative design, and ethical consciousness seamlessly intertwine.