In an exclusive interview for DSCENE magazine, L.A-based artist Tahnee Lonsdale provides a glimpse into her unique artistic practice. Her work revolves around celestial motifs, blurring the lines between the celestial and human experience, contemplating whether they are, in essence, one and the same. Lonsdale's paintings carry a transcendental quality through layered oil paint, summoning a meditative state, and an almost pre-state form of creation.
Her artistic inspiration extends to the world of cinema, where films like "The Abyss" and "Dark City" have made a lasting impact on her creative process. Lonsdale's creative journey is also adorned with her emotionally resonant soft sculptures, inviting viewers to connect with her art on a deeply personal level.
Tahnee Lonsdale's art practice is an exploration of the celestial and human experience, a process defined by layered oil paint techniques, cinematic influences, and profound soft sculptures. In an exclusive interview with Katarina Doric, she unveils the multifaceted dimensions of her art practise.
In your artistic practice, celestial figures are a recurring motif. What is the connection between these celestial beings and our human experience? – This is an ever-circulating thought. What is the connection, or even difference, between the celestial and human experience? Are they one and the same? Is the celestial just a human experience? Are we, the human, in fact, the manifestation of our soul? Or are they separate? I'm not sure it's possible to know. I think religion likes to separate them, but to me they are one and the same. They are our inner voice, our intuition. Like two sides of the same coin. They and we are one.
Your use of layered oil paint creates almost a transcendental quality in your works. Can you explain the technical aspects of your process and how it intertwines with your quest for a meditative aesthetic? – To paint is to be in a trance. To be reduced back to some sort of pre-state.
I don't intend to create a meditative aesthetic, but the process of painting does invoke a sort-of séance with another realm, or allows access to a different realm of the self.
I paint a layer of colored acrylic onto the canvas, which is normally random and depends on what I have in the studio. It's the next layer that takes more consideration and will lend the painting to a move in a certain direction: dark, buoyant, ethereal, etc. Then there is the loose outlining of the composition, done with a brush, and from there the image is built up and wiped away and built up again. The strange thing is that there is nothing remarkable about this process, but different painters have remarkably different results. It must come down to something ungraspable, a magic that occurs somewhere between the mind and the hand.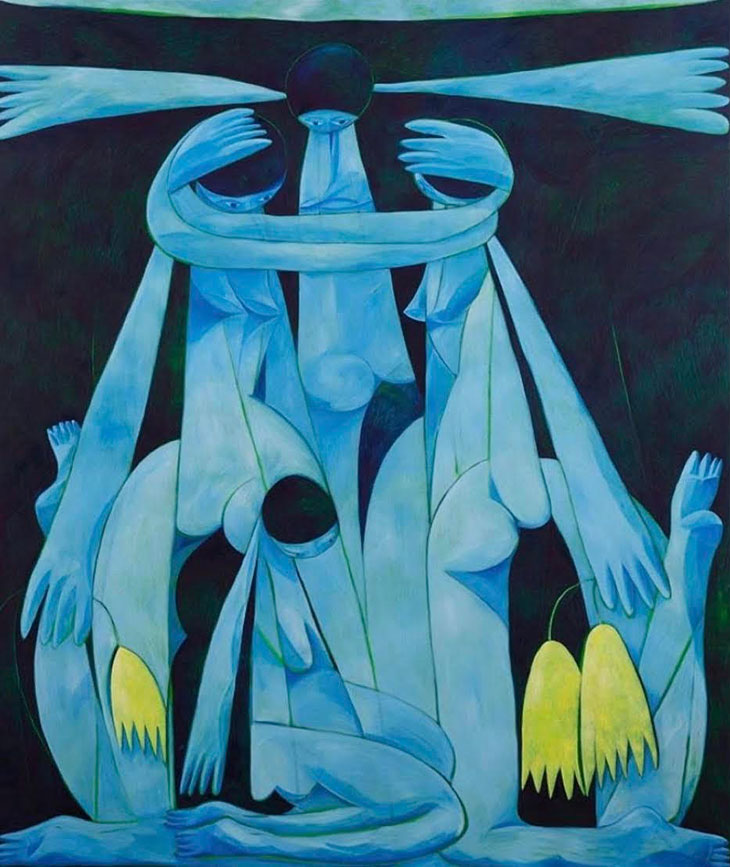 You have a particular fondness for the film "The Abyss." How have movies influenced your artistic narrative, and how do they shape your perception of reality and otherworldly dimensions? – Probably a lot more than I realize. A bit like when you think you have a memory, but in fact, it's just a photograph you've seen that has imprinted as a memory. Films have a habit of infiltrating your mind so entirely, planting a seed somewhere in there, and germinating 30 years later! Abyss was a bit like this. I didn't intentionally make a series of paintings about it, but when I looked at what I had made, I was taken back to watching that movie 30 years ago. I only ever watched it once, but it stayed in there, and years later I am reminded of it.
To paint is to be in a trance. To be reduced back to some sort of pre-state.
Beyond these, are there any other movies, books, or cultural references that have left a lasting impact on your artistic journey, and if so, how? – I'm not sure how it has played a role in shaping my artistic journey, but the movie Dark City left an intangible edginess on my wellbeing, a kind of nagging anxiety. It's such a dark, troubling movie.
Any uncomfortable feeling tends to worm it's way into art as a way to be processed and worked through, but ultimately it stays lodged, like the build-up of limescale in the kettle.
Your soft sculptures, characterized by their enormity and emotional resonance, seem to be an extension of your artistic vision. Could you share your perspective on the transformative power of art, especially when it comes to your sculptures? – Transformative…maybe this is seeing your insides on the wall, and realizing that they are the same as everyone else's? You feel less alone. My sculptures are a great, hulking presence. Sitting with you. Holding space, as they say in L.A.
You mentioned that these soft sculptures are meant to be lived with. Can you share some personal experiences or stories from people who have interacted with your sculptures? – I have the OG in my studio with me. It's made of bright orange polar fleece and has been there ever since it was shown in 2019 at 00LA. It has welcomed many a studio guest within its soft noodley limbs. I meditate in it most days and always end up falling asleep in its arms.
Collaborating with costume designers is a unique approach to realizing your sculptures. Could you walk us through your creative process when working with other artists? – I don't generally work with other artists. Being a painter allows for a selfish amount of autonomy, which is perfect for a control freak. I don't work with assistance and really don't like the idea of sharing the canvas with anyone. But sculptures feel different. I have no experience in sculpture and no preconceived ideas of how something should be done. Previous to my big orange sculpture, I made them all myself. They were pretty basic and a bit Frankenstein-like. That was cool, but I decided that I really wanted them to be perfect — less like fine art sculptures and more like design pieces that could be used (and wouldn't fall apart). So the creative process with the sculpture is that I design it, and James and Moritz, a costume design partnership, make it. Simple!
View this post on Instagram
Outside of your artistic practice, you've mentioned your affinity for solitary nature trips along the California coastline. Can you share a memorable experience or insight gained from one of these journeys that has influenced your creative process? – I just got back from a trip up to Cambria where I stayed in a little hotel on Moonstone Beach. It was the second time I'd been there and I loved it. The coast is so wild and beautiful. It's not as dramatic as Big Sur, but I like it because you can walk, or bike, everywhere. It's less of a big deal. I feel like it's quietly going about its business, which is exactly what I want to do when I'm there. I go on long hikes and I like taking myself out to dinner on my own and looking at everything and listening to everyone. Sometimes I'll talk to other people, but I like that less.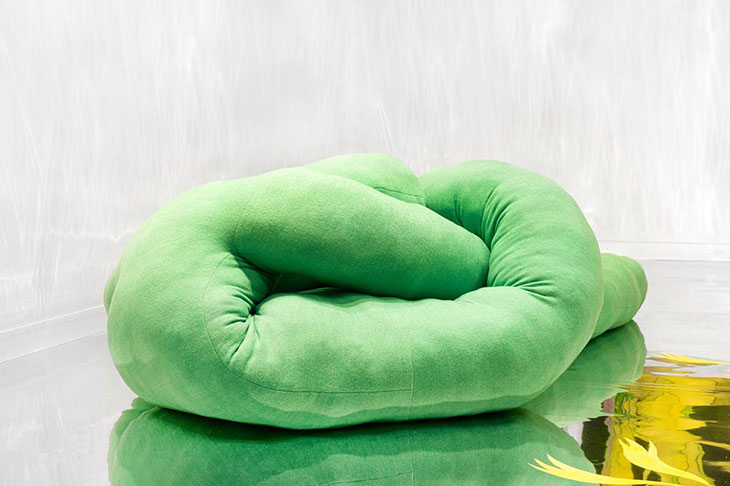 As you navigate the multifaceted role of an artist, mother, and explorer, what rituals or routines do you adhere to that help you maintain a sense of balance and creativity amidst a demanding schedule? – Tea, first thing, before all else. I try to journal, but honestly, I've fallen out of love with it and it feels like a chore. So really, just tea while staring out of my window watching everyone else who is up early, mainly walking their dogs. I like to stand outside in the morning's weak light and get ready for the day before my kids wake up. Then I have to start making packed lunches while trying and failing to get them out of bed!
Can you provide a sneak peek into what audiences can expect from your upcoming exhibitions in Los Angeles and Paris? – I would love to but I actually have no idea myself! I have only just primed the canvas and the compositions have yet to make themselves known.