Italian fashion house Prada unveiled its Holiday 2023 collection, that goes beyond the conventional understanding of festive seasons, painting a canvas of imagination, aspiration, and ethereal luxury. The unique campaign accentuates the enchantment inherent during the festive seasons, beautifully intertwining the intimacy of personal celebrations with the grandeur of impossible voyages that one embarks upon in their dream world.
Drawing inspiration from the checked marble floors of the historic 1913 Prada boutique in Milan's Galleria Vittorio Emanuele II, the campaign seamlessly stretches this vintage charm towards a galactic horizon. It's like a tale that travel over time, capturing the shimmer of bygone eras while twinkling with a futuristic allure.
Esteemed fashion photographer Willy Vanderperre has brought this vision to life with a campaign featuring the brand's ambassadors and world-renowned actors Maya Hawke, Damson Idris, Louis Partridge, and Kim Tae-Ri. Cocooned in their glittering baubles, they symbolize personal space pods – beautiful metaphorical shuttles guiding each to their dreamy destinations. In charge of creative direction was Ferdinando Verderi, with styling from Olivier Rizzo. Beauty is work of hair stylist Anthony Turner, makeup artist Lynsey Alexander, and manicurist Sylvie Macmillan.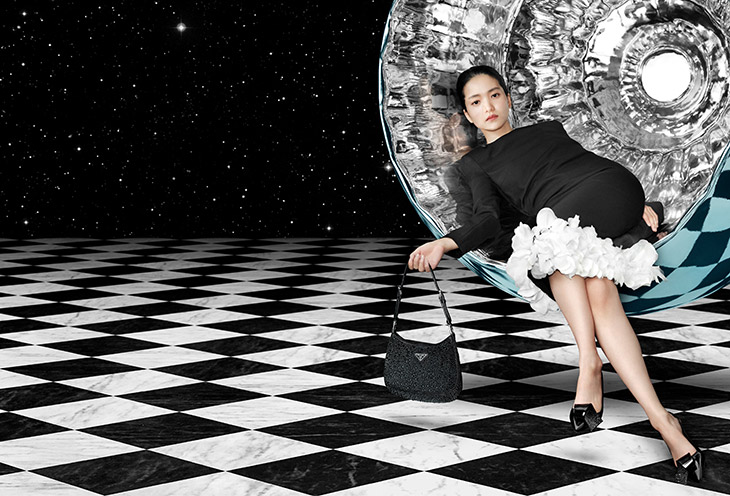 The Prada Holiday 2023 collection is a sensory journey through time and space, that reflects individuality and aspiration. It invites everyone to set forth on their personal voyage of fantasies and dreams this festive season.