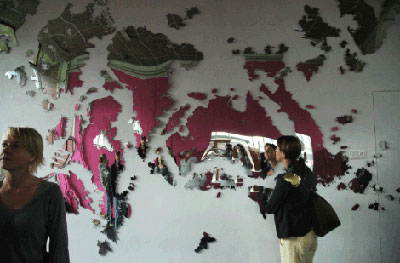 Artist: Pieke Bergmans
Website: www.piekebergmans.com
Pieke Bergman is a young industrial designer from Holland. Piekes work is very spontaneous playfull and fresh. She always aims to combine function, form and message in a single elegant gesture. Whether working with porcelain, plastic or glass it always results in pure objects that are of elementary natural beauty.
Contagion might not seem like an obvious style inspiration. But it was foremost in Pieke Bergmans mind she created the 'Mirror Virus'. Part of her 'Utopia infected' series, it is a world map of mirrors, where each land mass is infected with a 'design virus'. Among Wallpaper* magazines Best Breaktrhough artists of 2007, Bergmans has also caught the attention of Milan's Dilmos gallery.