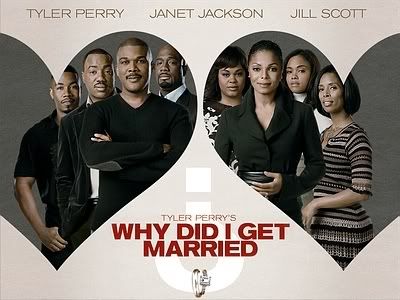 Movie: Why Did I Get Married?
Acting cast: Janet Jackson, Tyler Perry, Jill Scott
A big-screen adaptation of Perry's hit stage play of the same title, "Why Did I Get Married?" is an intimate story about the difficulty of maintaining a solid love relationship in modern times. During a trip to the picturesque showcapped mountains of Colorado, eight married college friends have gathered for their annual seven-day reunion. But the cozy mood is shatter when the group comes face-to-face with one pairs infidelity. As secrets are revealed, each couple begins questioning the validity of their own marriage.
Perry stars alongside a talented ensemble cast that includes Janet Jackson, Malik Yoba, Jill Scott, Sharon Leal, Tasha Smith, Michael Jai White, Denise Boutte and Lamann Rucker.
We only found it kinda strange that on the soundtrack there wasnt a single song from any of the two music stars casted in the movie, at the moment that Janet and Jill both dont have a new album they could have tried to participate on the soundtrack.

More about the movie at the official website: www.whydidigetmarriedthemovie.com